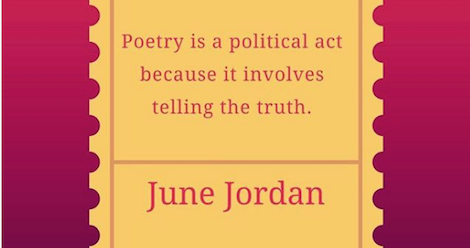 Since we're big fans of poetry here at Book Riot, we've put together this list of thirty quotes about poetry!
"A good poem is a contribution to reality. The world is never the same once a good poem has been added to it. A good poem helps to change the shape of the universe, helps to extend everyone's knowledge of himself and the world around him." —Dylan Thomas
"All poets, all writers are political. They either maintain the status quo, or they say, 'Something's wrong, let's change it for the better.'" —Sonia Sanchez
"Genuine poetry can communicate before it is understood." —T.S. Eliot
"I'm a great believer in poetry out of the classroom, in public places, on subways, trains, on cocktail napkins. I'd rather have my poems on the subway than around the seminar table at an MFA program." —Billy Collins
"If I feel physically as if the top of my head were taken off, I know that is poetry." —Emily Dickinson
"It was at that age, that poetry came in search of me." —Pablo Neruda
"Anon, who wrote so many poems without signing them, was often a woman." —Virginia Woolf
"One should always be drunk. That's all that matters…But with what? With wine, with poetry, or with virtue, as you chose. But get drunk." —Charles Baudelaire
"Only the very weak-minded refuse to be influenced by literature and poetry." —Cassandra Clare, Clockwork Angel
"Poetry and beauty are always making peace. When you read something beautiful you find coexistence; it breaks walls down." —Mahmoud Darwish
"Poetry comes from the highest happiness or the deepest sorrow." —A.P.J. Abdul Kalam
https://www.instagram.com/p/BPcM5ttgYnJ/
"Poetry is a political act because it involves telling the truth." —June Jordan
"Poetry is a way of taking life by the throat." —Robert Frost
"Poetry is an echo, asking a shadow to dance." —Carl Sandburg
"Poetry is emotion, passion, love, grief—everything that is human. It is not for zombies by zombies." —F. Sionil Jose
"Poetry is eternal graffiti written in the heart of everyone." —Lawrence Ferlinghetti
"Poetry is language at its most distilled and most powerful." —Rita Dove
"Poetry is like a bird, it ignores all frontiers." —Yevgeny Yevtushenko
"Poetry is the lifeblood of rebellion, revolution, and the raising of consciousness." —Alice Walker
"Poetry might be defined as the clear expression of mixed feelings." —W.H. Auden
"Poetry, I feel, is a tyrannical discipline. You've got to go so far so fast in such a small space; you've got to burn away all the peripherals." —Sylvia Plath
"Poetry is one of the ancient arts, and it begins as did all the fine arts, within the original wilderness of the earth." —Mary Oliver
"The genesis of a poem for me is usually a cluster of words. The only good metaphor I can think of is a scientific one: dipping a thread into a supersaturated solution to induce crystal formation. I don't think I solve problems in my poetry; I think I uncover the problems." —Margaret Atwood
"The poet is a liar who always speaks the truth." —Jean Cocteau
"The world is full of poetry. The air is living with its spirit; and the waves dance to the music of its melodies, and sparkle in its brightness." —James Gates Percival
"To me, art begets art. Painting feeds the eye just as poetry feeds the ear, which is to say that both feed the soul." —Susan Vreeland
"When I began to listen to poetry, it's when I began to listen to the stones, and I began to listen to what the clouds had to say, and I began to listen to other. And I think, most importantly for all of us, then you begin to learn to listen to the soul, the soul of yourself in here, which is also the soul of everyone else." —Joy Harjo
"There's a reason poets often say, 'Poetry saved my life,' for often the blank page is the only one listening to the soul's suffering, the only one registering the story completely, the only one receiving all softly and without condemnation." —Clarissa Pinkola Estes
"You can find poetry in your everyday life, your memory, in what people say on the bus, in the news, or just what's in your heart." —Carol Ann Duffy
"If I read a book and it makes my whole body so cold no fire can ever warm me, I know that is poetry." —Emily Dickinson
If these quotes about poetry have inspired you, we've got you covered! Here are 58 love poems to read right now. Or if you're short on time, we have short poems so you can sneak more poetry into your life.