This content contains affiliate links. When you buy through these links, we may earn an affiliate commission.
This week's 3 On a YA Theme is sponsored by our What's Up in YA? Newsletter! Sign up to get a biweekly collection of everything that's happening in YA, right in your inbox.
---
The response I got to the "3 On A YA Theme" about older YA books — "older" being 20 years old in this particular post — I knew I'd have to go even further back and pull together another post. So this week, let's take a look back at the YA books that hit shelves 30 years ago in 1986.
This was a little tricky to pull together. Part of the challenge is that prior to 1996, the Young Adult Library Services Association didn't publish a comprehensive list of the best books for young adult readers. You can access their archive of lists here, which makes for some fun reading. Being that I was not a teenager in 1986, I wasn't yet reading these books until much later, so it's hard for me to suss out "hit" YA books from this era. I can, however, take an educated guess based on books that stayed popular well after their publication date.
And honestly? I'm also tossing in a title that looks like the kind of 1986 YA title you'd expect to see. What would an old school YA post be without the kind of books that we can enjoy the covers and/or premise of now with a laugh or two? I guess that technically makes this "4 On A YA Theme."
If you know of other YA titles that published in 1986 or you yourself have read a great book or two from that year, I'd love to hear about it (and SEE it) in the comments.
Redwall by Brian Jacques
War erupts in the Summer of the Late Rose, shattering the peace that had reigned in Mossflower since the magnificent mouse, Martin the Warrior, laid down his mighty sword generations earlier. Now a dark cloud of doom and despair hangs over the ancient stone abbey of Redwall. Cluny the Scourge—the one-eyed embodiment of evil, the most savage bilge rat that ever jumped from a ship to shore—has arrived with his rodent horde to conquer…and to destroy.
You may remember that Redwall appeared on the list of best selling young adult books of all time, too. I didn't realize it was 30 years old, but this series continues to endure. And if you're a cover fan, here's a look at the cover's evolution over its life. Above is the 20th anniversary cover, and below you can see the covers from 1986, 1997, and 2000 (left to right).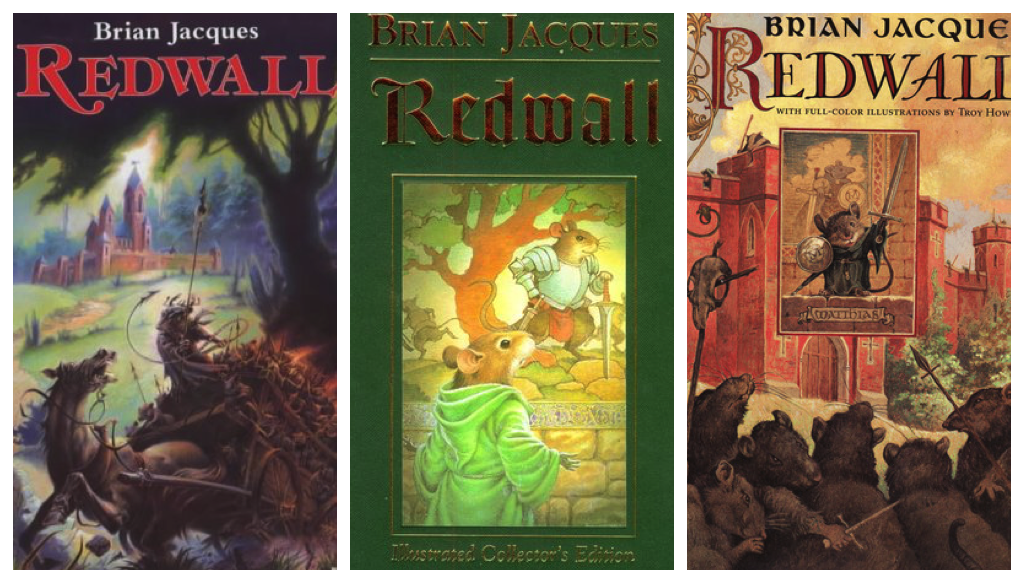 Up next . . .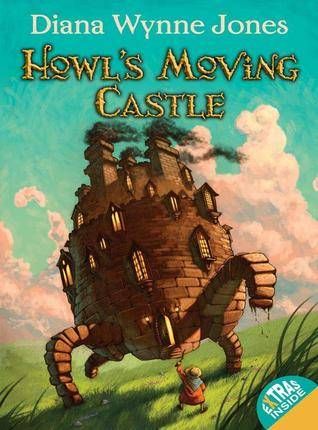 Howl's Moving Castle by Diana Wynne Jones
Sophie has the great misfortune of being the eldest of three daughters, destined to fail miserably should she ever leave home to seek her fate. But when she unwittingly attracts the ire of the Witch of the Waste, Sophie finds herself under a horrid spell that transforms her into an old lady. Her only chance at breaking it lies in the ever-moving castle in the hills: the Wizard Howl's castle. To untangle the enchantment, Sophie must handle the heartless Howl, strike a bargain with a fire demon, and meet the Witch of the Waste head-on. Along the way, she discovers that there's far more to Howl—and herself—than first meets the eye.
Here's a look back at some of the older covers for the book. Above is from the 2011 ebook edition. Below, from left to right, are the original 1986 cover, a cover I can find no date on but cannot not share, and the 2001 cover.
And then there's this classic 1986 YA screamer:
Chain Letter by Christopher Pike
When Alison first read the chain letter signed "Your Caretaker," she thought it was some terrible sick joke. Someone, somewhere knew about that awful night when she and six other friends committed an unthinkable crime in the desolate California desert. And now that person was determined to make them pay for it.One by one, the chain letter was coming to each of them … demanding dangerous, impossible deeds… threatening violence if the demands were not met. No one out of the seven wanted to believe that this nightmare was really happening to them. Until the accidents started happening — and the dying…
Above is the original 1986 cover (and the one I was gifted and never read as a teenager). Here are a few covers from various foreign editions. The two on the ends are from 1989 and I have no idea what that middle one is except German and probably one of the most amazingly 1980s YA covers around.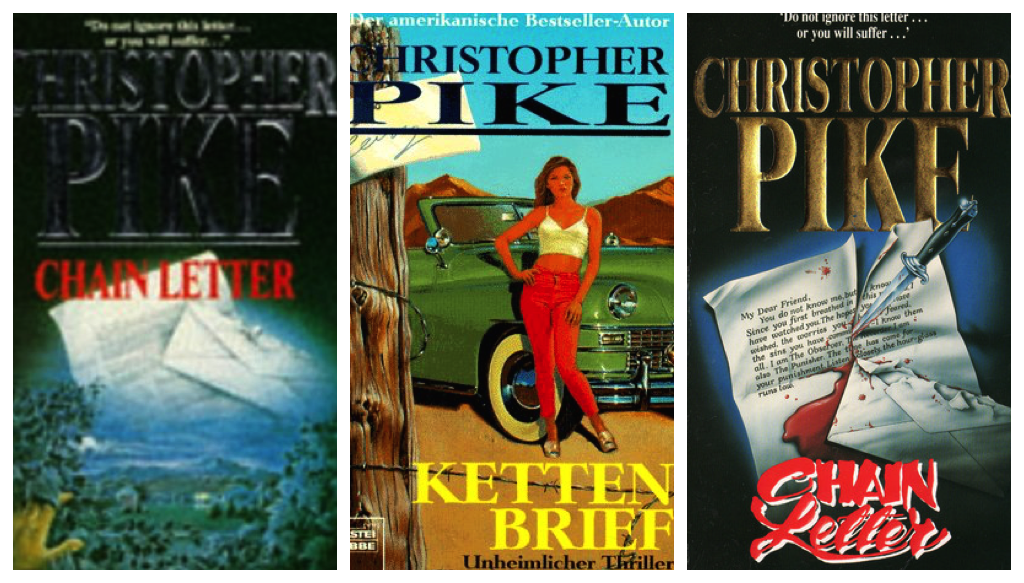 This book got another repackage in 2011, this time combining it with a sequel in a bind-up. Here's a cover that screams 2011 YA cover aesthetic: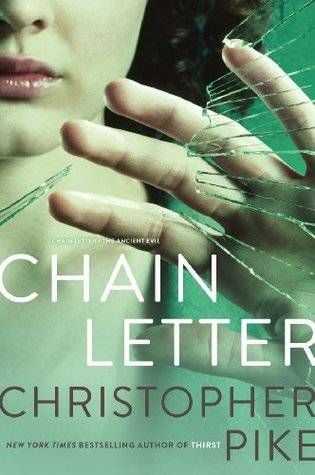 To round this out, here's a look at a classically 1986 YA book that was part of a romance series…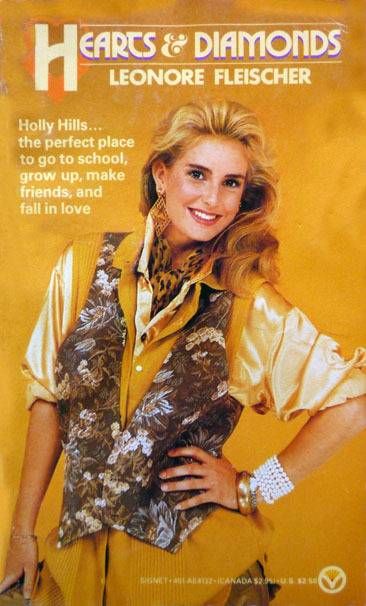 What is the best part of this? The color? The vest? The pearl bracelet? The layers? I cannot choose. You can read more about this series, as well as other long and short running YA series from the 80s at Cliquey Pizza.
Want more "3 On A YA Theme" posts? Gotcha covered.