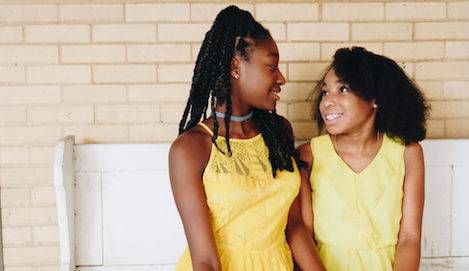 Sponsored
3 On A YA Theme: Verse Novels For Black Poetry Day
This content contains affiliate links. When you buy through these links, we may earn an affiliate commission.
"3 On A YA Theme" is sponsored by Earth Hates Me: True Confessions from a Teenage Girl by Ruby Karp.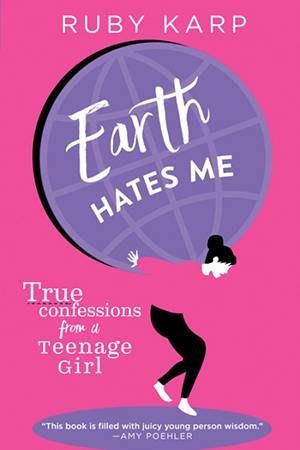 Earth Hates Me presents a look inside the mind of the modern teenager—from a modern teenager's perspective. The Sixteen-year-old author addresses issues facing every high schooler, from grades to peer pressure to Snapchat stories, and their complicated effects on the teen psyche.
Ruby advises her peers on the importance of feminism ("not just the Spice Girls version"), dealing with jealousy and friend break-ups, family life, and much more. The book takes an in-depth look at the effect of social media on modern teens and the growing pressures of choosing the right college and career.
---
Ever heard of Black Poetry Day? As I was poking around looking for inspiration for this week's "3 on a YA theme" post, I stumbled across this annual celebration of the literary legacy of black authors who write poetry. It began in 1986, and has been celebrated annually in October since. The day is meant to highlight black poets past and present.
In honor of the celebration, which occurred on October 17, it seemed fitting to pull together some of the black authors who've written some of YA's best novels in verse.
Because I wanted to make a nice-sized list in order to make your TBRs even larger, I've included some upper-middle grade titles here as well since they are absolute must-reads.
Connor's grandmother leaves his dad a letter when she dies, and the letter's confession shakes their tight-knit Italian American family: The man who raised Dad is not his birth father.
But the only clues to this birth father's identity are a class ring and a pair of pilot's wings. And so Connor takes it upon himself to investigate—a pursuit that becomes even more pressing when Dad is hospitalized after a stroke. What Connor discovers will lead him and his father to a new, richer understanding of race, identity, and each other.
When Wesley Boone writes a poem for his high school English class, some of his classmates clamor to read their poems aloud too. Soon they're having weekly poetry sessions and, one by one, the eighteen students are opening up and taking on the risky challenge of self-revelation. There's Lupe Alvarin, desperate to have a baby so she will feel loved. Raynard Patterson, hiding a secret behind his silence. Porscha Johnson, needing an outlet for her anger after her mother OD's. Through the poetry they share and narratives in which they reveal their most intimate thoughts about themselves and one another, their words and lives show what lies beneath the skin, behind the eyes, beyond the masquerade.
Raised in South Carolina and New York, Woodson always felt halfway home in each place. In vivid poems, she shares what it was like to grow up as an African American in the 1960s and 1970s, living with the remnants of Jim Crow and her growing awareness of the Civil Rights movement. Touching and powerful, each poem is both accessible and emotionally charged, each line a glimpse into a child's soul as she searches for her place in the world. Woodson's eloquent poetry also reflects the joy of finding her voice through writing stories, despite the fact that she struggled with reading as a child. Her love of stories inspired her and stayed with her, creating the first sparks of the gifted writer she was to become.
"With a bolt of lightning on my kicks…The court is SIZZLING. My sweat is DRIZZLING. Stop all that quivering. Cuz tonight I'm delivering," announces dread-locked, 12-year old Josh Bell. He and his twin brother Jordan are awesome on the court. But Josh has more than basketball in his blood, he's got mad beats, too, that tell his family's story in verse, in this fast and furious middle grade novel of family and brotherhood.
Josh and Jordan must come to grips with growing up on and off the court to realize breaking the rules comes at a terrible price, as their story's heart-stopping climax proves a game-changer for the entire family.
Sixteen-year-old Jayson Porter wants to believe things will get better. But the harsh realities of his life never seem to change. Living in the inland-Florida projects with his abusive mother, he tries unsuccessfully to fit in at his predominately white school, while struggling to maintain even a thread of a relationship with his drug-addicted father. As the pressure mounts, there's only one thing Jayson feels he has control over—the choice of whether to live or die.
A cannon. A strap.
A piece. A biscuit.
A burner. A heater.
A chopper. A gat.
A hammer
A tool
for RULE
Or, you can call it a gun. That's what fifteen-year-old Will has shoved in the back waistband of his jeans. See, his brother Shawn was just murdered. And Will knows the rules. No crying. No snitching. Revenge. That's where Will's now heading, with that gun shoved in the back waistband of his jeans, the gun that was his brother's gun. He gets on the elevator, seventh floor, stoked. He knows who he's after. Or does he? As the elevator stops on the sixth floor, on comes Buck. Buck, Will finds out, is who gave Shawn the gun before Will took the gun. Buck tells Will to check that the gun is even loaded. And that's when Will sees that one bullet is missing. And the only one who could have fired Shawn's gun was Shawn. Huh. Will didn't know that Shawn had ever actually USED his gun. Bigger huh. BUCK IS DEAD. But Buck's in the elevator? Just as Will's trying to think this through, the door to the next floor opens. A teenage girl gets on, waves away the smoke from Dead Buck's cigarette. Will doesn't know her, but she knew him. Knew. When they were eight. And stray bullets had cut through the playground, and Will had tried to cover her, but she was hit anyway, and so what she wants to know, on that fifth floor elevator stop, is, what if Will, Will with the gun shoved in the back waistband of his jeans, MISSES.
And so it goes, the whole long way down, as the elevator stops on each floor, and at each stop someone connected to his brother gets on to give Will a piece to a bigger story than the one he thinks he knows. A story that might never know an END…if WILL gets off that elevator.
Have you ever loved someone from the wrong side of the tracks? Damien has everything going for him. His family wants him to date Roxanne. He falls for Junice, whose life is totally messed up. But Junice tells him that he's the one who needs the reality check. Sometimes the greatest obstacle to finding true love is ourselves. Harlem meets Shakespeare.
Want more "3 On A YA Theme" posts? Gotcha covered.
Save