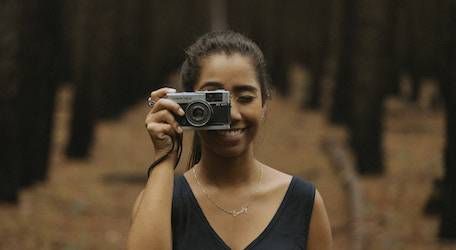 Sponsored
3 On A YA Theme: Teen Photographers
This content contains affiliate links. When you buy through these links, we may earn an affiliate commission.
This week's "3 On A YA Theme" is sponsored by The Gentleman's Guide to Vice and Virtue.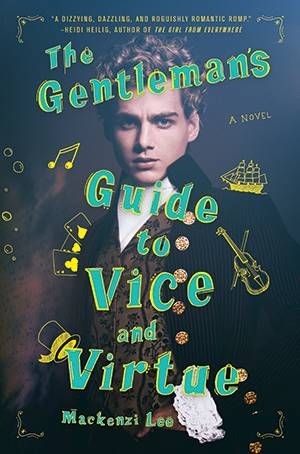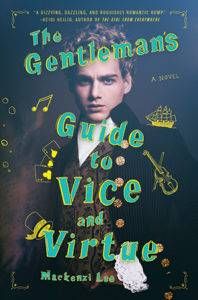 In this hilarious 18th-century romp, bisexual lord Henry "Monty" Montague's roguish passions are far from suitable for a gentleman. But as Monty embarks on his Grand Tour of Europe, his vice-filled days are ending. His father expects him to take over the family's estate, and Monty is also nursing an impossible crush on his best friend, Percy. So Monty vows to make this trip one last hedonistic hurrah and flirt with Percy from Paris to Rome. But a reckless decision turns their journey into a harrowing manhunt and calls everything into question, including Monty's relationship with the boy he adores.
____________________
June 29 is Camera Day. This celebration is exactly what it sounds like: an opportunity to talk about photography and the joy of cameras. It's also a good time to dig into some of the YA books where our main characters are photographers in some capacity.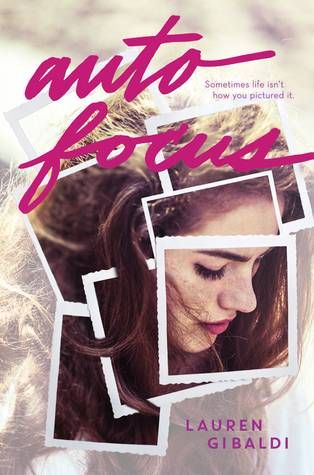 Autofocus by Lauren Gibaldi
Family.
It's always been a loaded word for Maude. And when she is given a senior photography assignment—to create a portfolio that shows the meaning of family—she doesn't quite know where to begin. But she knows one thing: without the story of her birth mother, who died when Maude was born, her project will be incomplete.
So Maude decides to visit her best friend, Treena, at college in Tallahassee, Florida, where Maude's birth mother once lived. But when Maude arrives, she quickly discovers that Treena has changed. With a new boyfriend and a packed social calendar, Treena doesn't seem to have time for Maude—or helping Maude in her search.
Enter Bennett, a cute guy who lives in Treena's dorm. He understands Maude's need to find her mother. And as Bennett helps Maude in her search, she starts to find that her mother's past doesn't have to define her own future.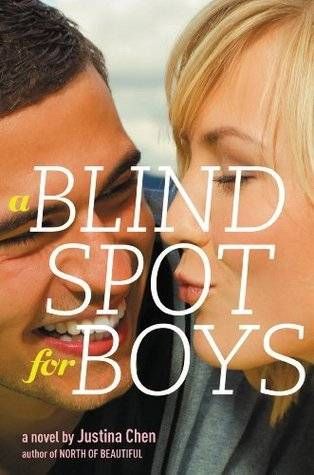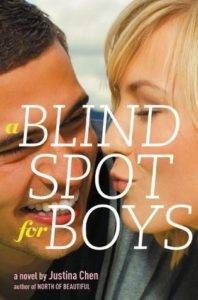 A Blind Spot for Boys by Justina Chen
Shana has always had a blind spot for boys. Can she trust the one who's right in front of her?
Sixteen-year-old Shana Wilde is officially on a Boy Moratorium. After a devastating breakup, she decides it's time to end the plague of Mr. Wrong, Wrong, and More Wrong.
Enter Quattro, the undeniably cute lacrosse player who slams into Shana one morning in Seattle. Sparks don't just fly; they ignite. And so does Shana's interest. Right as she's about to rethink her ban on boys, she receives crushing news: Her dad is going blind. Quattro is quickly forgotten, and Shana and her parents vow to make the most of the time her father has left to see. So they travel to Machu Picchu, and as they begin their trek, they run into none other than Quattro himself. But even as the trip unites them, Quattro pulls away mysteriously.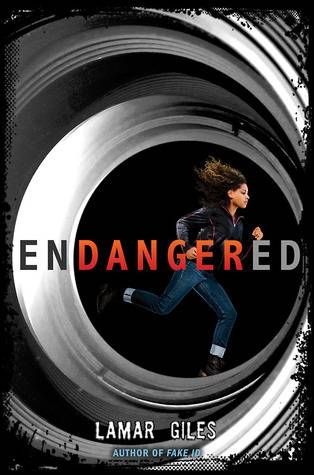 Endangered by Lamar Giles
The one secret she cares about keeping—her identity—is about to be exposed. Unless Lauren "Panda" Daniels—an anonymous photoblogger who specializes in busting classmates and teachers in compromising positions—plays along with her blackmailer's little game of Dare or . . . Dare.
But when the game turns deadly, Panda doesn't know what to do. And she may need to step out of the shadows to save herself . . . and everyone else on the Admirer's hit list.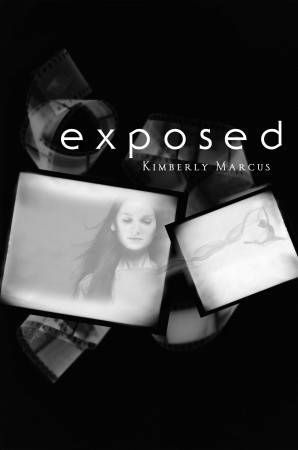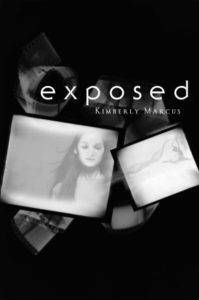 Exposed by Kimberly Marcus
Sixteen-year-old Liz is Photogirl—sharp, focused and confident in what she sees through her camera lens. Confident that she and Kate will be best friends forever.
But everything changes in one blurry night. Suddenly, Kate is avoiding her, and people are looking the other way when she passes in the halls. As the aftershocks from a startling accusation rip through Liz's world, everything she thought she knew about photography, family, friendship and herself shifts out of focus. What happens when the picture you see no longer makes sense? What do you do when you may lose everything you love most?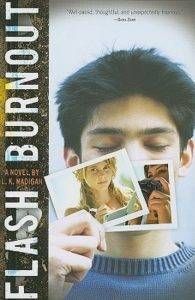 Flash Burnout by LK Madigan
Fifteen-year-old Blake has a girlfriend and a friend who's a girl. One of them loves him; the other one needs him.
When he snapped a picture of a street person for his photography homework, Blake never dreamed that the woman in the photo was his friend Marissa's long-lost meth addicted mom. Blake's participation in the ensuing drama opens up a world of trouble, both for him and for Marissa. He spends the next few months trying to reconcile the conflicting roles of Boyfriend and Friend. His experiences range from the comic (surviving his dad's birth control talk) to the tragic (a harrowing after-hours visit to the morgue).
In a tangle of life and death, love and loyalty, Blake will emerge with a more sharply defined snapshot of himself.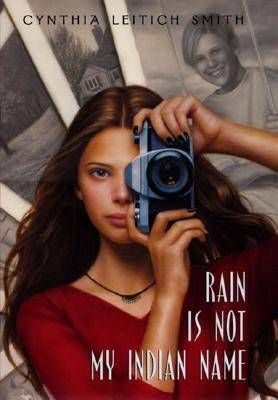 Rain is Not My Indian Name by Cynthia Leitich Smith
It's been six months since her best friend died, and up until now Rain has succeeded in shutting herself off from the world. But when controversy arises around her aunt Georgia's Indian Camp in their mostly white midwestern community, Rain decides to face the outside world again—at least through the lens of her camera.
Hired by her town newspaper to photograph the campers, Rain soon finds that she has to decide how involved she wants to become in Indian Camp. Does she want to keep a professional distance from the intertribal community she belongs to? And just how willing is she to connect with the campers after her great loss?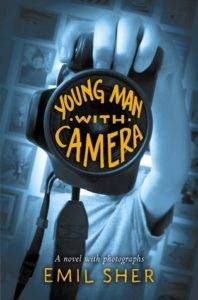 Young Man With Camera by Emil Sher
T– is used to getting grief. He gets it from his mom, who blames herself for his accident years earlier. He gets it from Mr. Lam, who suspects every kid of stealing from his shop. Worst of all, he gets it from Joined at the Hip, a trio of bullies so vicious that they leave T– terrified of even using his entire name.
But T– has his own strength too: his camera, which captures the unique way he sees the world. His pictures connect him to Ms. Karamath, the kind librarian at school; his friend Sean, whose passion for mysteries is matched only by his love for his dog; and especially Lucy, a homeless woman who shares his admiration for the photographer Diane Arbus. When Lucy is attacked by Joined at the Hip, T– documents the assault on film. But the bullies know he has the photographs, and their anger could be deadly. What's the right thing for T– to do? Do pictures ever tell the whole truth? And what if the truth isn't always the right answer?
And because it feels like it's worth popping onto this list, here is a recently-released YA nonfiction book about the birth of photojournalism.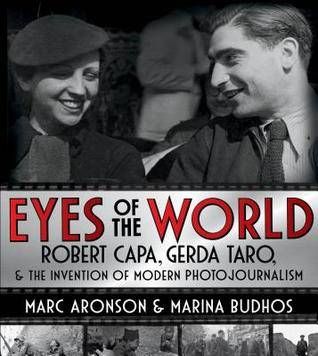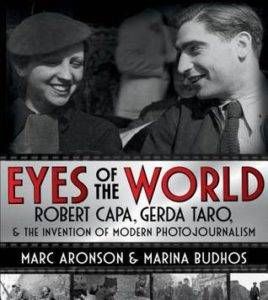 Eyes of the World: Robert Capa, Gerda Taro, and The Invention of Modern Journalism by Marc Aronson and Marina Budhos
Robert Capa and Gerda Taro were young Jewish refugees, idealistic and in love. As photographers, they set off to capture their generation's most important struggle—the fight against Fascism. Among the first to depict modern warfare, Capa and Taro took powerful photographs of the Spanish Civil War that went straight from the devastation to news magazines. In so doing, they helped give birth to the idea of "bearing witness" through technology to bring home tragedies from across the world.
Packed with dramatic photos, posters, and maps, this compelling book captures the fascinating story of how photojournalism began.
Want more "3 On A YA Theme" posts? Gotcha covered.