This content contains affiliate links. When you buy through these links, we may earn an affiliate commission.
As it is National Poetry Month and since I hinted about doing another post of YA verse novels earlier this month, it's time to deliver.
There's not a unifying theme. These are just three great novels in verse worth picking up this month — or any month!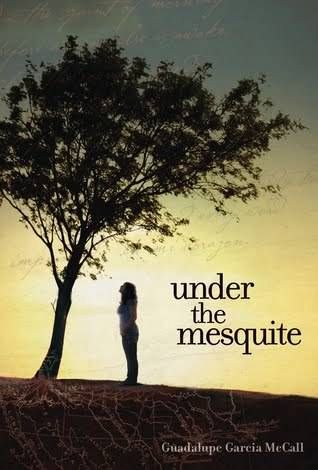 Under The Mesquite by Guadalupe Garcia McCall
Lupita, a budding actor and poet in a close-knit Mexican American immigrant family, comes of age as she struggles with adult responsibilities during her mother's battle with cancer in this young adult novel in verse.
When Lupita learns Mami has cancer, she is terrified by the possibility of losing her mother, the anchor of her close-knit family. Suddenly, being a high school student, starring in a play, and dealing with friends who don't always understand, become less important than doing whatever she can to save Mami's life.
While her father cares for Mami at an out-of-town clinic, Lupita takes charge of her seven younger siblings. As Lupita struggles to keep the family afloat, she takes refuge in the shade of a mesquite tree, where she escapes the chaos at home to write. Forced to face her limitations in the midst of overwhelming changes and losses, Lupita rediscovers her voice and finds healing in the power of words.
Family by Micol Osto
It is a day like any other when seventeen-year-old Melinda Jensen hits the road for San Francisco, leaving behind her fractured home life and a constant assault on her self-esteem. Henry is the handsome, charismatic man who comes upon her, collapsed on a park bench, and offers love, a bright new consciousness, and—best of all—a family. One that will embrace her and give her love. Because family is what Mel has never really had. And this new family, Henry's family, shares everything. They share the chores, their bodies, and their beliefs. And if Mel truly wants to belong, she will share in everything they do. No matter what the family does, or how far they go.
Told in episodic verse, Family is a fictionalized exploration of cult dynamics, loosely based on the Manson Family murders of 1969.
A Girl Named Mister by Nikki Grimes
Mary Rudine, called Mister by almost everyone, has attended church and sung in the choir for as long as she can remember. But then she meets Trey. His long lashes and smooth words make her question what she knows is right, and one mistake leaves her hiding a growing secret.
Another Mary is preparing for her upcoming wedding and has done everything according to Jewish law. So when an angel appears one night and tells her that she—a virgin—will give birth, Mary can't help but feel confused, and soon finds herself struggling with the greatest blessing the world will ever know.
Feeling abandoned, Mister is drawn to Mary's story, and together both young women discover the depth of God's love and the mysteries of his divine plan.
Looking for more YA books? Here's the archive of "3 On A YA Theme" posts to dive into.
____________________
Get a box of YA books and bookish goodies in the mail every quarter with our new YA Quarterly Box! Sign up here.