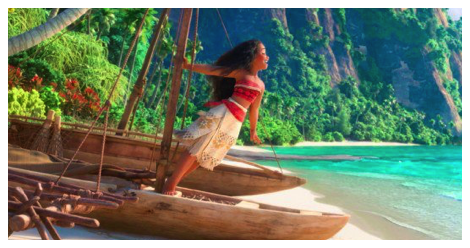 This content contains affiliate links. When you buy through these links, we may earn an affiliate commission.
No need to mince words here: we are giving one lucky Book Riot reader $250 to blow at Amazon. Overstuff those stockings or get a jump on your New Year reading pile–up to you. Go here to enter, or just click on the image below:
---
Have you seen Moana yet? If you haven't, may I suggest rectifying that, whether or not you have kids? The film, which is an entire animation starring brown characters, was an outstanding story of a headstrong, empowered, fierce young girl and her being selected as "the chosen one" to save her people. It's full of adventure, of mythology, of life, of color, and features some elements that are surprisingly unseen in Disney films — Moana has two happily married parents and there is zero, absolutely zero, romance in the film.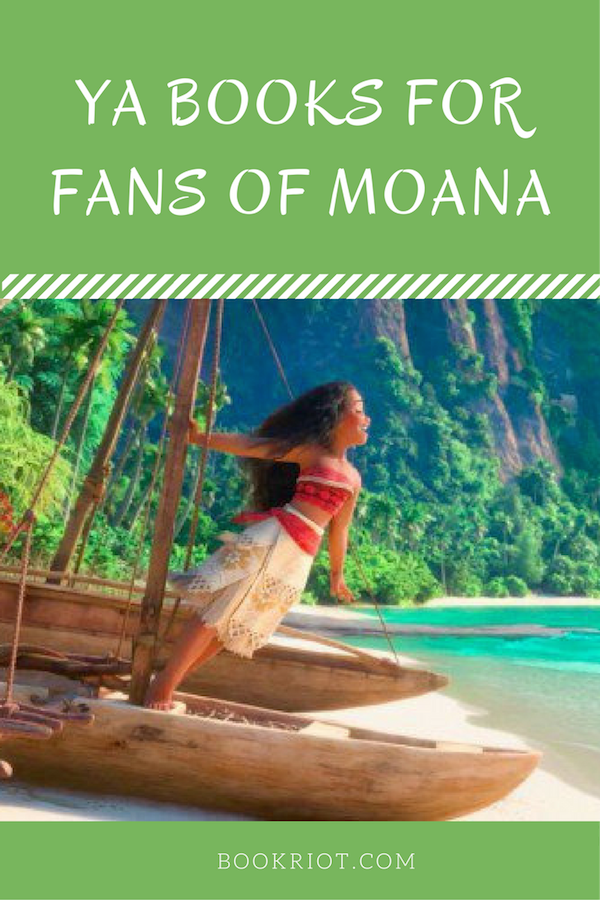 I can't speak to the accuracy of the Polynesian mythology in the story, but it felt like it was respectful and fun in terms of conveying a story that casual audiences would be unfamiliar with. Likewise, the entire film I kept thinking to myself that it was an incredible commentary on the emotional labor men require of women…even "women" who are 8 years old. Now that I've placed that seed, it will be impossible not to see as you watch Maui require Moana to do so much pep talking and guidance for him, despite the fact he is the shape-shifting demigod.
Of course, after watching it, I needed to compile a list of YA books which conveyed some of the same elements as the film. Thus, this week's "3 On A YA Theme" goes beyond three books, and it captures the luminousness of Moana's spirit, her headstrongness, personal identity, her desire for adventure, as well as books that showcase adventure, intrigue, mythology (some Polynesian and some not!), and more.
If you have other titles you think might fit the spirit of the film in the YA world, lay 'em in the comments! This is a chance to really explore identity, strong female characters (in the sense that they're written strong AND they're emotionally/physically strong), being the "chosen one" as a girl, mythology, and more.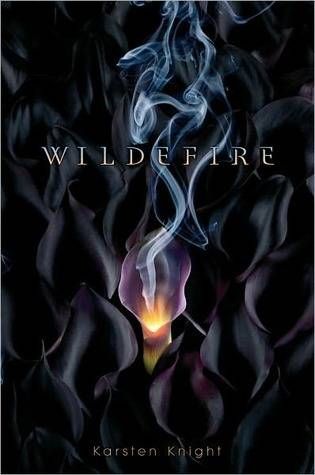 Wildefire by Karsten Knight (series)
Every flame begins with a spark.
Blackwood Academy was supposed to be a fresh start for Ashline Wilde. A secluded boarding school deep in the heart of California's redwood forests, three thousand miles from her old life – it sounded like the new beginning she needed after an act of unspeakable violence left a girl in her hometown dead.
But Blackwood is far from the peaceful haven Ashline was searching for.
Because terrifying, supernatural beasts roam the forests around campus.
Because the murderer from Ashline's hometown – her own sister – has followed her across the country.
Because a group of reincarnated gods and goddesses has been mysteriously summoned to Blackwood…
…and Ashline's one of them.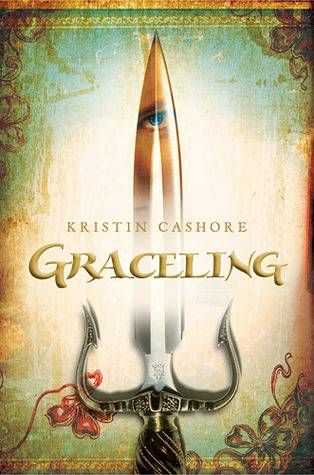 Graceling by Kristin Cashore (series)
Katsa has been able to kill a man with her bare hands since she was eight – she's a Graceling, one of the rare people in her land born with an extreme skill. As niece of the king, she should be able to live a life of privilege, but Graced as she is with killing, she is forced to work as the king's thug.
When she first meets Prince Po, Graced with combat skills, Katsa has no hint of how her life is about to change.
She never expects to become Po's friend.
She never expects to learn a new truth about her own Grace – or about a terrible secret that lies hidden far away.
Island's End by Padma Venkatraman
Uido is ecstatic about becoming her tribe's spiritual leader, but her new position brings her older brother's jealousy and her best friend's mistrust. And looming above these troubles are the recent visits of strangers from the mainland who have little regard for nature or the spirits, and tempt the tribe members with gifts, making them curious about modern life. When Uido's little brother falls deathly ill, she must cross the ocean and seek their help. Having now seen so many new things, will Uido have the strength to believe in herself and the old ways? And will her people trust her to lead them to safety when a catastrophic tsunami threatens? Uido must overcome everyone's doubts, including her own, if she is to keep her people safe and preserve the spirituality that has defined them.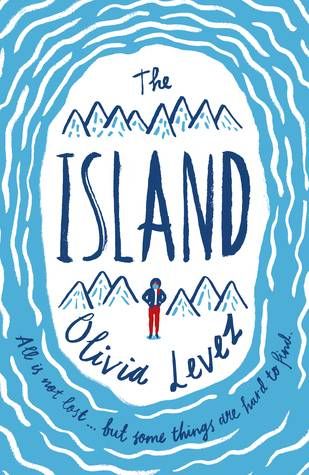 The Island by Olivia Levez
Frances is alone on a small island in the middle of the Indian Ocean. She has to find water and food. She has to survive. And when she is there she also thinks about the past. The things that she did before. The things that made her a monster. Nothing is easy. Survival is hard and so is being honest about the past. Frances is a survivor however, and with the help of the only other crash survivor, she sees that the future is worth fighting for.
The Island is a gripping and thoughtful story about a girl who didn't ask to be the person she is but is also determined to make herself the person she wants to be.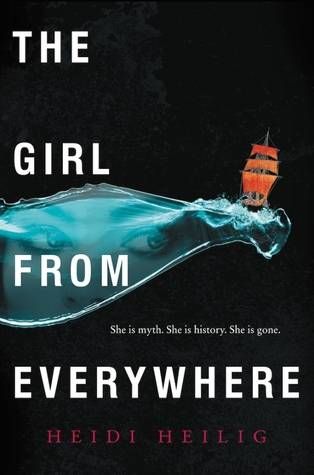 The Girl From Everywhere by Heidi Heilig (duology, second book due out early in 2017)
Nix has spent her entire life aboard her father's ship, sailing across the centuries, across the world, across myth and imagination.
As long as her father has a map for it, he can sail to any time, any place, real or imagined: nineteenth-century China, the land from One Thousand and One Nights, a mythic version of Africa. Along the way they have found crewmates and friends, and even a disarming thief who could come to mean much more to Nix.
But the end to it all looms closer every day.
Her father is obsessed with obtaining the one map, 1868 Honolulu, that could take him back to his lost love, Nix's mother. Even though getting it—and going there—could erase Nix's very existence.
For the first time, Nix is entering unknown waters.
She could find herself, find her family, find her own fantastical ability, her own epic love.
Or she could disappear.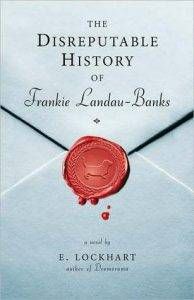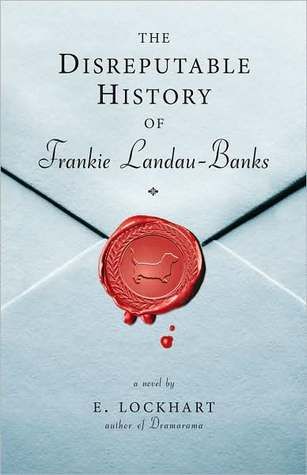 The Disreputable History of Frankie Landau Banks by E Lockhart
Frankie Landau-Banks at age 14:
Debate Club.
Her father's "bunny rabbit."
A mildly geeky girl attending a highly competitive boarding school.
Frankie Landau-Banks at age 15:
A knockout figure.
A sharp tongue.
A chip on her shoulder.
And a gorgeous new senior boyfriend: the supremely goofy, word-obsessed Matthew Livingston.
Frankie Laundau-Banks.
No longer the kind of girl to take "no" for an answer.
Especially when "no" means she's excluded from her boyfriend's all-male secret society.
Not when her ex boyfriend shows up in the strangest of places.
Not when she knows she's smarter than any of them.
When she knows Matthew's lying to her.
And when there are so many, many pranks to be done.
Frankie Landau-Banks, at age 16:
Possibly a criminal mastermind.
This is the story of how she got that way.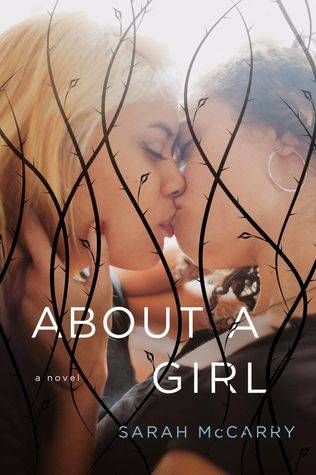 About A Girl by Sarah McCarry (part of a series but you can read it without the others, though All Our Pretty Songs would also be a great Moana read alike)
Eighteen-year-old Tally is absolutely sure of everything: her genius, the love of her adoptive family, the loyalty of her best friend, Shane, and her future career as a Nobel prize-winning astronomer. There's no room in her tidy world for heartbreak or uncertainty—or the charismatic, troubled mother who abandoned her soon after she was born.
But when a sudden discovery upends her fiercely ordered world, Tally sets out on an unexpected quest to seek out the reclusive musician who may hold the key to her past—and instead finds Maddy, an enigmatic and beautiful girl who will unlock the door to her future. The deeper she falls in love with Maddy, the more Tally begins to realize that the universe is bigger—and more complicated—than she ever imagined. Can Tally face the truth about her family—and find her way home in time to save herself from its consequences?
Alanna: Song of the Lioness by Tamora Pierce (series)
"From now on I'm Alan of Trebond, the younger twin. I'll be a knight."
And so young Alanna of Trebond begins the journey to knighthood. Alanna has always craved the adventure and daring allowed only for boys; her twin brother, Thom, yearns to learn the art of magic. So one day they decide to switch places: Disguised as a girl, Thom heads for the convent; Alanna, pretending to be a boy, is on her way to the castle of King Roald to begin her training as a page. But the road to knighthood is not an easy one. As Alanna masters the skills necessary for battle, she must also learn to control her heart and to discern her enemies from her allies. Filled with swords and sorcery, adventure and intrigue, good and evil, Alanna's first adventure begins—one that will lead to the fulfillment of her dreams and make her a legend in the land.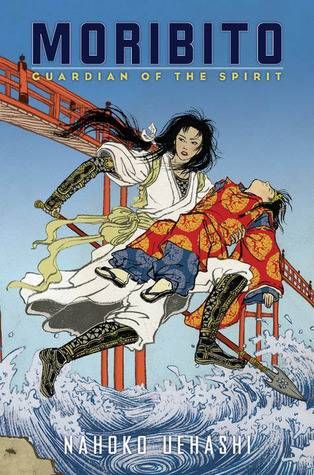 Moribito: Guardian of the Spirit by Nahoko Uehashi (series)
Balsa was a wanderer and warrior for hire. Then she rescued a boy flung into a raging river — and at that moment, her destiny changed. Now Balsa must protect the boy — the Prince Chagum — on his quest to deliver the great egg of the water spirit to its source in the sea. As they travel across the land of Yogo and discover the truth about the spirit, they find themselves hunted by two deadly enemies: the egg-eating monster Rarunga . . . and the prince's own father.
And just to add another title to the list, here's a middle grade book that'd be a great read alike, and it's one with tremendous YA crossover appeal: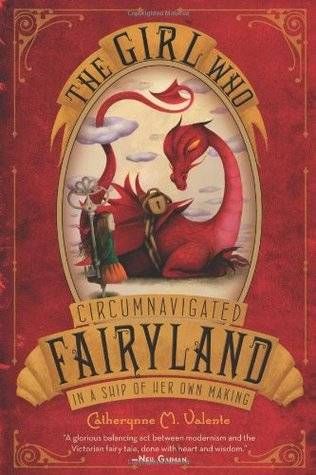 The Girl Who Circumnavigated Fairyland in a Ship of Her Own Making by Catherynne M. Valente
Twelve-year-old September lives in Omaha, and used to have an ordinary life, until her father went to war and her mother went to work. One day, September is met at her kitchen window by a Green Wind (taking the form of a gentleman in a green jacket), who invites her on an adventure, implying that her help is needed in Fairyland. The new Marquess is unpredictable and fickle, and also not much older than September. Only September can retrieve a talisman the Marquess wants from the enchanted woods, and if she doesn't . . . then the Marquess will make life impossible for the inhabitants of Fairyland. September is already making new friends, including a book-loving Wyvern and a mysterious boy named Saturday.
Want more "3 On A YA Theme" posts? Gotcha covered.