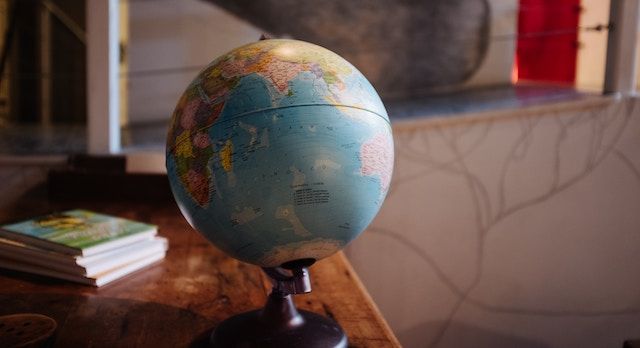 Fiction
Around the World in 8 Books: 2020 Global Historical Fiction
This list of global historical fiction is sponsored by The Stationery Shop by Marjan Kamali, a heart-rending story of family, love, and fate, available from Gallery Books.
THE STATIONERY SHOP, Marjan Kamali's luminous, tender, and unforgettable novel, is as powerful as Khaled Hosseini's The Kite Runner and packs the emotional impact of Nicholas Sparks's The Notebook. Roya and Bahman are young lovers in 1953 Iran, battling family disapproval and political upheaval to stay together. When violent chaos consumes Tehran, the couple is torn apart, and Roya believes her fiancé is lost forever. But decades later and thousands of miles away, a twist of fate may provide answers to the questions she has carried in her heart for years.
---
While my one true love will always be historical romance, I have a lot of love for historical fiction too. It might offer less in the way of thrilling proposals* but the landscape and period description are usually unparalleled. Below, find eight historical fiction books releasing in 2020 which focus on various countries from around the world!
*unless it's Gone with the Wind, of course, aka the one tied with Wuthering Heights as my all-time favourite book. Which is a big statement from a reader.
The Land beyond the Sea by Sharon Kay Penman
Penman is a famed name in the world of historical fiction, and justly so. Her previous books have all focused on Angevin and medieval England, as well as one foray into the Wars of the Roses. But this time she's taking a trip over to the Kingdom of Jerusalem in the year 1172, and telling us the story of Saladin, Sultan of Egypt, and his conflicts with his Crusader contemporaries.
Penman's writing is always excellently researched without being dry. I can't wait to read this one when it comes out on 23/1/20!
Passage West by Rishi Reddi
This debut novel is set in 1913 California, but it doesn't follow the usual Steinbeck-esque cast of characters. Instead we're told the story of Ram Singh, an Indian immigrant who's come to the U.S. to make his fortune. His wife and newborn son are back on the subcontinent. Ram is forced to eke out an unforgiving life on his friend Karam's cantaloupe farm, all the while navigating racial and familial tensions.
Out 21/2/20!
The Mirror and the Light (Thomas Cromwell #3) by Hilary Mantel
Unlike the other books on this list, this one isn't a standalone. It's part of Mantel's award-winning Thomas Cromwell series, tracing the rise and dramatic fall of one of Henry VIII's most trusted courtiers. I will say that the writing is often quite dense and complicated; Mantel has a particular habit of saying 'he' to refer to Thomas, and of course since there are a lot of males in the book (not to mention a lot of Thomases) it can get a bit confusing. But so worth it!
The second book in the series came out all the way back in 2012, and this one is slated for release on 10/3/20. Giving George R.R. Martin a run for his money there…
The Immortals of Tehran by Ali Aragi
Another debut novel here, this time focusing on an intergenerational family saga centred around the 1979 Iranian Revolution. The seeming immortal in question is Aga, an ancient family patriarch, who spends his days telling stories to his great-great-great-great grandson Ahmad. Ahmad himself also grows up to be central to Iran's future.
Out 4/2/20!
The Mercies by Kiran Millwood Hargrave
The Mercies is set in a small coastal Norwegian fishing village in the year 1617. A terrible accident has just wiped out all 40 of the men who inhabit the village, including the father and brother of Maren Bergensdatter. Three years later, a famous witch-burner comes from Scotland, eager to uncover what kind of immoralities these unwatched women have been getting up to. With him comes his beautiful wife Ursa, who is drawn to Maren and her fierce independence.
Out 6/2/20!
The Henna Artist by Alka Joshie
After she left behind her abusive husband in their rural village, Lakshmi has been making a name for herself as a henna artist in 1950s Jaipur, capital of Rajasthan. Slowly, she is regaining her self-respect and independence. But then she discovers the existence of Radha, the sister she never knew she had, and the past is suddenly far too close for comfort.
Out 10/3/20!
The King at the Edge of the World by Arthur Phillips
Okay, so at first, this doesn't seem like extremely groundbreaking historical fiction. It's set in 1601, on the cusp of England turning Stuart from Tudor, a time period that's been covered countless times. But I've never seen a premise like this one. The King at the Edge of the World features Mahmoud Ezzedine, a Muslim physician from the Ottoman Empire. He's recruited by an Elizabethan agent to test the faith of James VI of Scotland. Is he a Catholic, the breed the queen has been trying to stamp out for the last 40 years? Or is he the Protestant he claims to be?
Out 11/2/20!
Run Me to Earth by Paul Yoon
It's 1960s Laos and the country is drowning in war. Teenage orphans Alisak, Prany, and Noi have banded together for survival and support. When they meet a doctor named Vang in a bombed-out hospital, they start helping him by rescuing civilians and searching for supplies. But even when he secures passage for them on a helicopter evacuating people out of the country, they aren't safe yet…
Out 28/1/20!
---
If you're looking for more historical fiction, try this 50 must-reads list!