50 Must-Read Memoirs to Make You Feel
This list of must-read memoirs to make you feel is sponsored by Monkfish Publishing.
Part memoir, part inspiring guide, Spiritual Rebel urges, "How can we uncover the most meaning in our lives?"
Through powerful, thought-provoking anecdotes, Sarah confesses her challenges with her birth religion, descent into addiction, and recovery into a life where everything can be sacred, offering readers easy practices for experiencing more meaningful moments in their own lives.
"Sarah's experience will resonate with so many who, like me, have experienced religious trauma and yet still yearn for a deeper connection. The daily practices are practical, powerful, and enlightening." – Karla Kamstra
---
Sometimes, when everything feels a little too much, there's nothing like a good, cathartic cry to clear your head. One great way to do that is to read one of these amazing memoirs. They're stories of birth, illness, loss, addiction, war, and more, that will help you to appreciate what you have, and also kick you right in your feels. These are thoughtful, insightful, tremendously well-written books that will stick to your heart's rib cage for a long while. (That's a good thing.)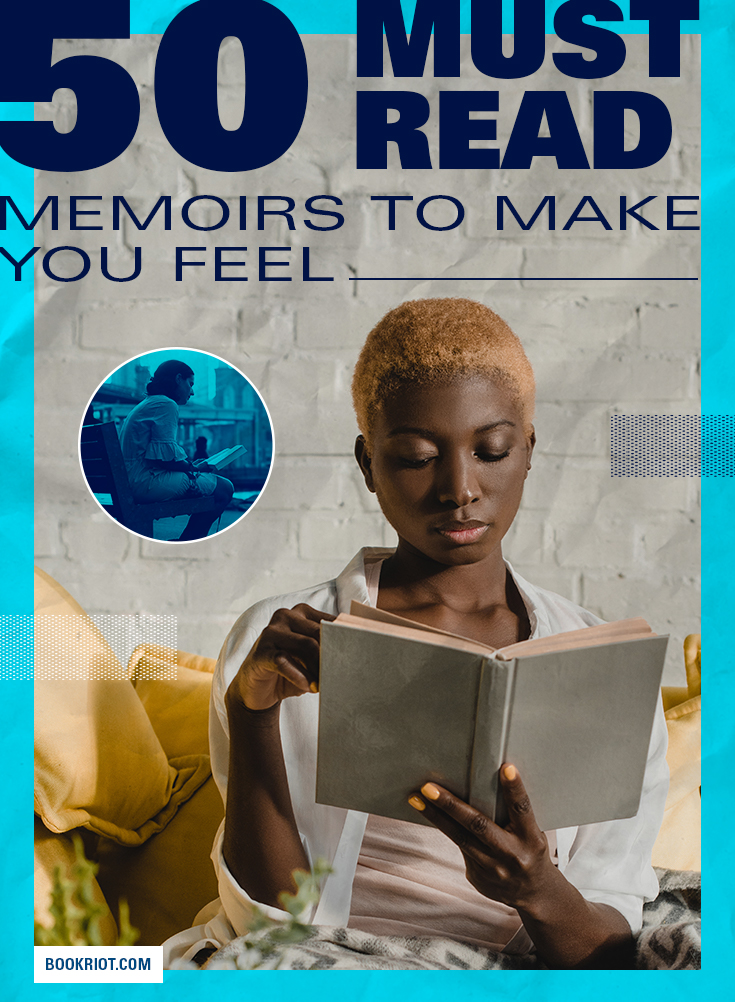 (I've included a brief description from the publisher with each title. Tell us in the comments about which of these you've read or other contemporary essay collections that you love. There are a LOT of them. Yay, books!)
Paula: A Memoir by Isabel Allende
"When Isabel Allende's daughter, Paula, became gravely ill and fell into a coma, the author began to write the story of her family for her unconscious child. In the telling, bizarre ancestors appear before our eyes; we hear both delightful and bitter childhood memories, amazing anecdotes of youthful years, and the most intimate secrets passed along in whispers."
The Diving Bell and the Butterfly: A Memoir of Life in Death by Jean-Dominique Bauby, Jeremy Leggatt (translator)
"After 20 days in a coma, Bauby awoke into a body which had all but stopped working: only his left eye functioned, allowing him to see and, by blinking it, to make clear that his mind was unimpaired. Almost miraculously, he was soon able to express himself in the richest detail: dictating a word at a time, blinking to select each letter as the alphabet was recited to him slowly, over and over again."
A Long Way Gone: Memoirs of a Boy Soldier by Ishmael Beah
"This is how wars are fought now: by children, hopped-up on drugs and wielding AK-47s. Children have become soldiers of choice. In the more than fifty conflicts going on worldwide, it is estimated that there are some 300,000 child soldiers. Ishmael Beah used to be one of them."
The Day That Went Missing: A Family's Story by Richard Beard
"Nearly forty years later, Richard, an acclaimed novelist, is haunted by the missing piece of his childhood, the unexpressed and unacknowledged grief at his core. He doesn't even know the date of his brother's death or the name of the beach where the tragedy occurred."
Life's That Way: A Memoir by Jim Beaver
"Jim Beaver and his wife Cecily Adams appeared to have it all-following years of fertility treatments, they were finally parents and they were building their dream home and successful Hollywood careers. Life was good. But then their daughter, Maddie, was diagnosed as autistic. Weeks later, Cecily, a non-smoker, was diagnosed with Stage IV lung cancer."
Fun Home: A Family Tragicomic by Alison Bechdel
"Meet Alison's father, a historic preservation expert and obsessive restorer of the family's Victorian home, a third-generation funeral home director, a high school English teacher, an icily distant parent, and a closeted homosexual who, as it turns out, is involved with his male students and a family babysitter."
Fire Shut Up in My Bones by Charles Blow
"The story of how Charles escaped that world to become one of America's most innovative and respected public figures is a stirring, redemptive journey that works its way into the deepest chambers of the heart."
Let's Take the Long Way Home: A Memoir of Friendship by Gail Caldwell
""It's an old, old story: I had a friend and we shared everything, and then she died and so we shared that, too." So begins this gorgeous memoir by Pulitzer Prize winner Gail Caldwell, a testament to the power of friendship, a story of how an extraordinary bond between two women can illuminate the loneliest, funniest, hardest moments in life, including the final and ultimate challenge."
Tragedy Plus Time: A Tragi-comic Memoir by Adam Cayton-Holland
"When Adam sunk into a deep depression in college, it was Lydia who was able to reach him and pull him out. But years later as Adam's career takes off, Lydia's own depression overtakes her, and, though he tries, Adam can't return the favor. When she takes her own life, the family is devastated, and Adam throws himself into his stand-up, drinking, and rage."
Wild Swans: Three Daughters of China by Jung Chang
"As the story of each generation unfolds, Chang captures in gripping, moving—and ultimately uplifting—detail the cycles of violent drama visited on her own family and millions of others caught in the whirlwind of history."
How to Write an Autobiographical Novel: Essays by Alexander Chee
"How to Write an Autobiographical Novel is the author's manifesto on the entangling of life, literature, and politics, and how the lessons learned from a life spent reading and writing fiction have changed him. In these essays, he grows from student to teacher, reader to writer, and reckons with his identities as a son, a gay man, a Korean American, an artist, an activist, a lover, and a friend."
Boy Erased: A Memoir of Identity, Faith, and Family by Garrard Conley
"When Garrard was a nineteen-year-old college student, he was outed to his parents, and was forced to make a life-changing decision: either agree to attend a church-supported conversion therapy program that promised to "cure" him of homosexuality; or risk losing family, friends, and the God he had prayed to every day of his life."
Brother, I'm Dying by Edwidge Danticat
"As Edwidge made a life in a new country, adjusting to being far away from so many who she loved, she and her family continued to fear for the safety of those still in Haiti as the political situation deteriorated."
Wave by Sonali Deraniyagala
"In 2004, at a beach resort on the coast of Sri Lanka, Sonali Deraniyagala and her family—parents, husband, sons—were swept away by a tsunami. Only Sonali survived to tell their tale. This is her account of the nearly incomprehensible event and its aftermath."
The Year of Magical Thinking by Joan Didion
"From one of America's iconic writers, a stunning book of electric honesty and passion. Joan Didion explores an intensely personal yet universal experience: a portrait of a marriage–and a life, in good times and bad–that will speak to anyone who has ever loved a husband or wife or child."
What My Mother and I Don't Talk About: Fifteen Writers Break the Silence by Michele Filgate
"As an undergraduate, Michele Filgate started writing an essay about being abused by her stepfather. It took her more than a decade to realize what she was actually trying to write: how this affected her relationship with her mother. When it was finally published, the essay went viral, shared on social media by Anne Lamott, Rebecca Solnit, and many others. The outpouring of responses gave Filgate an idea, and the resulting anthology offers a candid look at our relationships with our mothers."
Finding Fish: A Memoir by Antwone Q. Fisher
"Baby Boy Fisher was raised in institutions from the moment of his birth in prison to a single mother. He ultimately came to live with a foster family, where he endured near-constant verbal and physical abuse. In his mid-teens he escaped and enlisted in the navy, where he became a man of the world, raised by the family he created for himself."
Hunger: A Memoir of (My) Body by Roxane Gay
"As a woman who describes her own body as "wildly undisciplined," Roxane understands the tension between desire and denial, between self-comfort and self-care. In Hunger, she explores her past—including the devastating act of violence that acted as a turning point in her young life—and brings readers along on her journey to understand and ultimately save herself."
Good-Bye to All That: An Autobiography by Robert Graves
"Tracing his upbringing from his solidly middle-class Victorian childhood through his entry into the war at age twenty-one as a patriotic captain in the Royal Welsh Fusiliers, this dramatic, poignant, often wry autobiography goes on to depict the horrors and disillusionment of the Great War, from life in the trenches and the loss of dear friends, to the stupidity of government bureaucracy and the absurdity of English class stratification."
Autobiography of a Face by Lucy Grealy
"It took Lucy Grealy twenty years of living with a distorted self-image and more than thirty reconstructive procedures before she could come to terms with her appearance after childhood cancer and surgery that left her jaw disfigured."
Once More We Saw Stars: A Memoir by Jayson Greene
"As the book opens: two-year-old Greta Greene is sitting with her grandmother on a park bench on the Upper West Side of Manhattan. A brick crumbles from a windowsill overhead, striking her unconscious, and she is immediately rushed to the hospital."
In the Country We Love: My Family Divided by Diane Guerrero
"Diane Guerrero, the television actress from the megahit Orange is the New Black and Jane the Virgin, was just fourteen years old on the day her parents were detained and deported while she was at school."
Rosalie Lightning: A Graphic Memoir by Tom Hart
"Hart creatively portrays the solace he discovers in nature, philosophy, great works of literature, and art across all mediums in this expressively honest and loving tribute to his baby girl. Rosalie Lighting is a graphic masterpiece chronicling a father's undying love."
The Book of My Lives by Aleksandar Hemon
"At the age of twenty-seven, Hemon journeyed to Chicago―a trip that would mark the beginning of another life, this time in the United States. There, he watched from afar as war broke out in Bosnia, his parents and sister fleeing, and Hemon himself unable to return."
The Sun Does Shine: How I Found Life, Freedom, and Justice by Anthony Ray Hinton
"In 1985, Anthony Ray Hinton was arrested and charged with two counts of capital murder in Alabama. Stunned, confused, and only twenty-nine years old, Hinton knew that it was a case of mistaken identity and believed that the truth would prove his innocence and ultimately set him free."
Brothers of the Gun: A Memoir of the Syrian War by Marwan Hisham and Molly Crabapple
"A bracingly immediate memoir by a young man coming of age during the Syrian war, an intimate lens on the century's bloodiest conflict, and a profound meditation on kinship, home, and freedom."
Vacationland: True Stories from Painful Beaches by John Hodgman
"Though wildly, Hodgmaniacally funny as usual, it is also a poignant and sincere account of one human facing his forties, those years when men in particular must stop pretending to be the children of bright potential they were and settle into the failing bodies of the wiser, weird dads that they are."
When Breath Becomes Air by Paul Kalanithi
"When Breath Becomes Air chronicles Kalanithi's transformation from a naïve medical student "possessed," as he wrote, "by the question of what, given that all organisms die, makes a virtuous and meaningful life" into a neurosurgeon at Stanford working in the brain, the most critical place for human identity, and finally into a patient and new father confronting his own mortality."
The Liars' Club: A Memoir by Mary Karr
"Karr's comic childhood in an east Texas oil town brings us characters as darkly hilarious as any of J. D. Salinger's—a hard-drinking daddy, a sister who can talk down the sheriff at age twelve, and an oft-married mother whose accumulated secrets threaten to destroy them all."
Drinking: A Love Story by Caroline Knapp
"Caroline had her first drink at fourteen. She drank through her yeras at an Ivy League college, and through an award-winning career as an editor and columnist. Publicly she was a dutiful daughter, a sophisticated professional. Privately she was drinking herself into oblivion. This startlingly honest memoir lays bare the secrecy, family myths, and destructive relationships that go hand in hand with drinking."
Heavy: An American Memoir by Kiese Laymon
"In Heavy, Laymon writes eloquently and honestly about growing up a hard-headed black son to a complicated and brilliant black mother in Jackson, Mississippi. From his early experiences of sexual violence, to his suspension from college, to his trek to New York as a young college professor, Laymon charts his complex relationship with his mother, grandmother, anorexia, obesity, sex, writing, and ultimately gambling."
Dear Friend, from My Life I Write to You in Your Life by Yiyun Li
"Yiyun Li grew up in China and has spent her adult life as an immigrant in a country not her own. She has been a scientist, an author, a mother, a daughter—and through it all she has been sustained by a profound connection with the writers and books she loves. From William Trevor and Katherine Mansfield to Søren Kierkegaard and Philip Larkin, Dear Friend is a journey through the deepest themes that bind these writers together."
Heart Berries: A Memoir by Terese Marie Mailhot
"Heart Berries is a powerful, poetic memoir of a woman's coming of age on the Seabird Island Band in the Pacific Northwest. Having survived a profoundly dysfunctional upbringing only to find herself hospitalized and facing a dual diagnosis of post traumatic stress disorder and bipolar II disorder; Terese Marie Mailhot is given a notebook and begins to write her way out of trauma."
An Exact Replica of a Figment of My Imagination: A Memoir by Elizabeth McCracken
"In her ninth month of pregnancy, she learned that her baby boy had died. How do you deal with and recover from this kind of loss? Of course you don't–but you go on. And if you have ever experienced loss or love someone who has, the company of this remarkable book will help you go on."
It's Okay to Laugh: (Crying Is Cool Too) by Nora McInerny Purmort
"This is for people who aren't sure if they're saying or doing the right thing (you're not, but nobody is). This is for people who had their life turned upside down and just learned to live that way. For people who have laughed at a funeral or cried in a grocery store. This is for everyone who wondered what exactly they're supposed to be doing with their one wild and precious life."
The Book of Resting Places: A Personal History of Where We Lay the Dead by Thomas Mira y Lopez
"In the aftermath of his father's untimely death and his family's indecision over what to do with the remains, Thomas Mira y Lopez became obsessed with the type and variety of places where we lay the dead to rest. The result is a singular collection of essays that weaves together history, mythology, journalism, and personal narrative into the author's search for a place to process grief."
Redefining Realness: My Path to Womanhood, Identity, Love & So Much More by Janet Mock
"With unflinching honesty and moving prose, Janet Mock relays her experiences of growing up young, multiracial, poor, and trans in America, offering readers accessible language while imparting vital insight about the unique challenges and vulnerabilities of a marginalized and misunderstood population."
The Long Goodbye: A Memoir by Meghan O'Rourke
"What does it mean to mourn today, in a culture that has largely set aside rituals that acknowledge grief? After her mother died of cancer at the age of fifty-five, Meghan O'Rourke found that nothing had prepared her for the intensity of her sorrow."
Her: A Memoir by Christa Parravani
"A few years after Cara was gone, Christa read that when an identical twin dies, regardless of the cause, 50 percent of the time the surviving twin dies within two years; and this shocking statistic rang true to her. "Flip a coin," she thought," those were my chances of survival.""
Barefoot to Avalon: A Brother's Story by David Payne
"In 2000, while moving his household from Vermont to North Carolina, David Payne watched from his rearview mirror as his younger brother, George A., driving behind him in a two-man convoy of rental trucks, lost control of his vehicle, fishtailed, flipped over in the road, and died instantly. Soon thereafter, David's life hit a downward spiral."
Poor Your Soul by Mira Ptacin
"At twenty-eight, Mira Ptacin discovered she was pregnant. Though it was unplanned, she embraced the idea of starting a family and became engaged to Andrew, the father. Five months later, an ultrasound revealed that her child would be born with a constellation of birth defects and no chance of survival outside the womb."
Inheritance: A Memoir of Genealogy, Paternity, and Love by Dani Shapiro
"In the spring of 2016, through a genealogy website to which she had whimsically submitted her DNA for analysis, Dani Shapiro received the stunning news that her father was not her biological father. She woke up one morning and her entire history–the life she had lived–crumbled beneath her."
Beautiful Boy: A Father's Journey Through His Son's Addiction by David Sheff
"What had happened to my beautiful boy? To our family? What did I do wrong? Those are the wrenching questions that haunted David Sheff's journey through his son Nic's addiction to drugs and tentative steps toward recovery."
My Grandfather Would Have Shot Me: A Black Woman Discovers Her Family's Nazi Past by Jennifer Teege, Nikola Sellmair
"At age 38, Jennifer Teege happened to pluck a library book from the shelf—and discovered a horrifying fact: Her grandfather was Amon Goeth, the vicious Nazi commandant depicted in Schindler's List. Reviled as the "butcher of Płaszów," Goeth was executed in 1946. The more Teege learned about him, the more certain she became: If her grandfather had met her—a black woman—he would have killed her."
First They Killed My Father: A Daughter of Cambodia Remembers by Loung Ung
"Then, in April 1975, Pol Pot's Khmer Rouge army stormed into the city, forcing Ung's family to flee and, eventually, to disperse. Loung was trained as a child soldier in a work camp for orphans, her siblings were sent to labor camps, and those who survived the horrors would not be reunited until the Khmer Rouge was destroyed."
The Glass Castle: A Memoir by Jeannette Walls
"When sober, Jeannette's brilliant and charismatic father captured his children's imagination, teaching them physics, geology, and how to embrace life fearlessly. But when he drank, he was dishonest and destructive. Her mother was a free spirit who abhorred the idea of domesticity and didn't want the responsibility of raising a family."
Men We Reaped: A Memoir by Jesmyn Ward
"In five years, Jesmyn Ward lost five young men in her life―to drugs, accidents, suicide, and the bad luck that can follow people who live in poverty, particularly black men. Dealing with these losses, one after another, made Jesmyn ask the question: Why? And as she began to write about the experience of living through all the dying, she realized the truth―and it took her breath away."
Everything Is Horrible and Wonderful: A Tragicomic Memoir of Genius, Heroin, Love, and Loss by Stephanie Wittels Wachs
"n beautiful, unsentimental, and surprisingly funny prose, Stephanie Wittels Wachs alternates between her brother's struggle with addiction, which she learned about three days before her wedding, and the first year after his death, in all its emotional devastation."
Chinese Cinderella: The True Story of an Unwanted Daughter by Adeline Yen Mah
"Adeline's affluent, powerful family considers her bad luck after her mother dies giving birth to her, and life does not get any easier when her father remarries. Adeline and her siblings are subjected to the disdain of her stepmother, while her stepbrother and stepsister are spoiled with gifts and attention."
The Unwinding of the Miracle: A Memoir of Life, Death, and Everything That Comes After by Julie Yip-Williams
"That Julie Yip-Williams survived infancy was a miracle. Born blind in Vietnam, she narrowly escaped euthanasia at the hands of her grandmother, only to flee with her family the political upheaval of her country in the late 1970s."
By signing up you agree to our Terms of Service
Have a listen to our new literary fiction podcast,
Novel Gazing!