50 Must-Read Books About Complicated Marriages
Marriage is the joining of two souls. It brings together two independent people, each with their own strengths and weaknesses, opinions and preferences, joys and sorrows. It can be a blissful experience, but even the best marriages have challenges. And frankly, when it comes to marriage in fiction, it's the couple's struggles that often make the most fascinating reading. We are reminded that relationships are hard sometimes, and marriages take work to succeed.
The list below features some of literature's most memorable and complex stories of matrimonial strife. Some couples face personal challenges—betrayal, incompatibility, falling out of love. Some are vexed by circumstances beyond their control. Some are just disasters from the start. But all these must-read books about complicated marriages focus on the myriad ways that couples can go off the rails.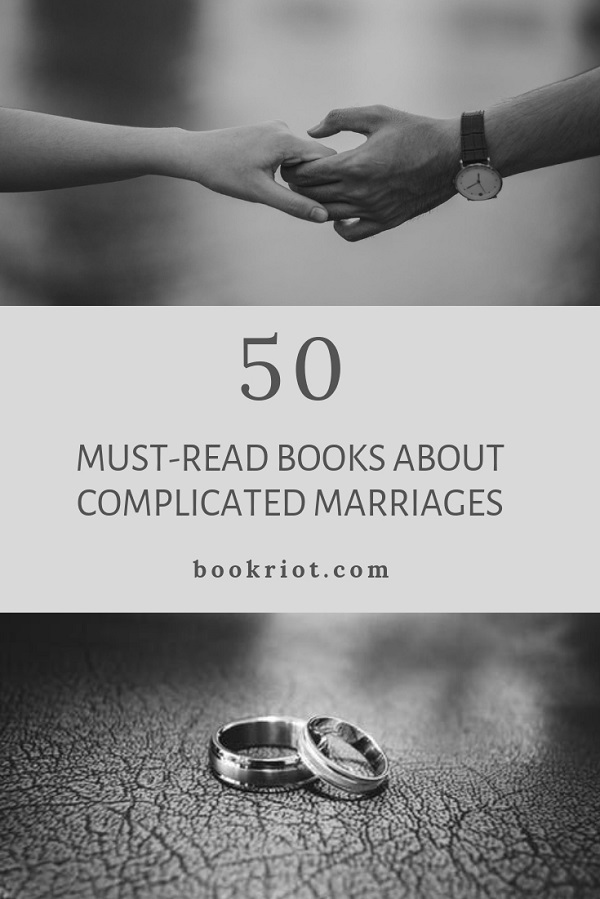 Descriptions taken from publisher descriptions and condensed when necessary.
"Acclaimed by many as the world's greatest novel, Anna Karenina provides a vast panorama of contemporary life in Russia and of humanity in general. Anna is a sophisticated woman who abandons her empty existence as the wife of Karenin and turns to Count Vronsky to fulfil her passionate nature – with tragic consequences."
"After years of chasing the American dream, the Zhen family has moved back to China. Settling into a luxurious apartment in Shanghai, Wei, Lina, and their daughter, Karen, join an elite community of Chinese-born, Western-educated professionals. Wei, a marketing strategist, bows under the guilt of not having engaged in nobler work. Lina, lonely in her new life of leisure, spends her days haunted by the circumstances surrounding her arranged marriage to Wei and her lingering feelings for his brother, Qiang."
"A story of intimacy and infidelity, A Separation is about the gulf that divides us from the lives of others and the narratives we create for ourselves. As the narrator reflects upon her love for a man who may never have been what he appeared, Kitamura propels us into the experience of a woman on the brink of catastrophe."
"Fiona Maye is a High Court judge in London presiding over cases in family court. But Fiona's professional success belies domestic strife. Her husband, Jack, asks her to consider an open marriage and, after an argument, moves out of their house. She decides to throw herself into her work, especially a complex case involving a seventeen-year-old boy. But Jack doesn't leave her thoughts, and the pressure to resolve the case – as well as her crumbling marriage – tests Fiona in ways that will keep readers thoroughly enthralled until the last stunning page."
"Lucky and her husband, Krishna, are gay. They present an illusion of marital bliss to their conservative Sri Lankan–American families, while each dates on the side. But when Lucky's grandmother has a nasty fall, Lucky returns to her childhood home and unexpectedly reconnects with her former best friend and first lover, Nisha. Is she willing to walk away from all that she values about her parents and community to live in a new truth?"
"Under the One Child Policy, everyone plotted to have a son. Now 40 million of them can't find wives. China's One Child Policy and its cultural preference for male heirs have created a society overrun by 40 million unmarriageable men. By the year 2030, more than twenty-five percent of men in their late thirties will not have a family of their own. An Excess Male is one such leftover man's quest for love and family under a State that seeks to glorify its past mistakes and impose order through authoritarian measures, reinvigorated Communist ideals, and social engineering."
"Every story has two sides. Every relationship has two perspectives. And sometimes, it turns out, the key to a great marriage is not its truths but its secrets. At the core of this rich, expansive, layered novel, Lauren Groff presents the story of one such marriage over the course of twenty-four years."
"Olive Kitteridge, a retired schoolteacher, deplores the changes in her little town of Crosby, Maine, and in the world at large, but she doesn't always recognize the changes in those around her: a lounge musician haunted by a past romance; a former student who has lost the will to live; Olive's own adult child, who feels tyrannized by her irrational sensitivities; and her husband, Henry, who finds his loyalty to his marriage both a blessing and a curse."
"When Kathryn Lyons receives word that a plane flown by her husband, Jack, has exploded near the coast of Ireland, she confronts the unfathomable-one startling revelation at a time. Soon drawn into a maelstrom of publicity fueled by rumors that Jack led a secret life, Kathryn sets out to learn who her husband really was, whatever that knowledge might cost."
"Newlyweds Celestial and Roy are the embodiment of both the American Dream and the New South. He is a young executive, and she is an artist on the brink of an exciting career. But as they settle into the routine of their life together, they are ripped apart by circumstances neither could have imagined. A deft exploration of love, loyalty, race, justice, and both Black masculinity and Black womanhood in 21st century America."
"The Time Traveler's Wife depicts the effects of time travel on Henry and Clare's marriage and their passionate love for each other as the story unfolds from both points of view. Clare and Henry attempt to live normal lives, pursuing familiar goals—steady jobs, good friends, children of their own. All of this is threatened by something they can neither prevent nor control, making their story intensely moving and entirely unforgettable."
"Aging and reclusive Hollywood movie icon Evelyn Hugo is finally ready to tell the truth about her glamorous and scandalous life. She chooses unknown magazine reporter Monique Grant for the job. From making her way to Los Angeles in the 1950s to her decision to leave show business in the '80s, and, of course, the seven husbands along the way, Evelyn unspools a tale of ruthless ambition, unexpected friendship, and a great forbidden love."
"Kyung Cho is a young father burdened by a house he can't afford. For years, he and his wife, Gillian, have lived beyond their means. Now their debts and bad decisions are catching up with them, and Kyung is anxious for his family's future. His parents, Jin and Mae, live in the town's most exclusive neighborhood, surrounded by the material comforts that Kyung desires for his wife and son. When an act of violence leaves Jin and Mae unable to live on their own, the dynamic suddenly changes, and he's compelled to take them in."
"Confined to a wheelchair, retired historian Lyman Ward sets out to write his grandparents' remarkable story, chronicling their days spent carving civilization into the surface of America's western frontier. But his research reveals even more about his own life than he's willing to admit. What emerges is an enthralling portrait of four generations in the life of an American family."
"Wolitzer flashes back fifty years to 1950s Smith College and Greenwich Village — the beginning of the Castleman relationship — and follows the course of the famous marriage that has brought them to this breaking point, culminating in a shocking ending that outs a carefully kept secret. The Wife is a wise, sharp-eyed, compulsively readable story about a woman forced to confront the sacrifices she's made in order to achieve the life she thought she wanted."
"Fair and long-legged, independent and articulate, Janie Crawford sets out to be her own person — no mean feat for a black woman in the '30s. Janie's quest for identity takes her through three marriages and into a journey back to her roots."
"Mamah Borthwick Cheney struggles to justify her clandestine love affair with Frank Lloyd Wright. Four years earlier, in 1903, Mamah and her husband, Edwin, had commissioned the renowned architect to design a new home for them. During the construction of the house, a powerful attraction developed between Mamah and Frank, and in time the lovers, each married with children, embarked on a course that would shock Chicago society and forever change their lives."
"Lydia is the favorite child of Marilyn and James Lee, and her parents are determined that she will fulfill the dreams they were unable to pursue. But when Lydia's body is found in the local lake, the delicate balancing act that has been keeping the Lee family together is destroyed, tumbling them into chaos. A profoundly moving story of family, secrets, and longing."
"Inspired by a brief passage in Moby Dick, it is the story of Una, exiled as a child to live in a lighthouse, removed from the physical and emotional abuse of a religion-mad father. It is the romantic adventure of a young woman setting sail in a cabin boy's disguise to encounter darkness, wonder, and catastrophe; the story of a devoted wife who witnesses her husband's destruction by obsession and madness."
"On a warm summer morning in North Carthage, Missouri, it is Nick and Amy Dunne's fifth wedding anniversary. Presents are being wrapped and reservations are being made when Nick's clever and beautiful wife disappears from their rented McMansion on the Mississippi River. Nick stands by his innocence. Trouble is, if Nick didn't do it, where is that beautiful wife?"
"They met in Hong Kong after the war. Betty had spent the duration in a Japanese internment camp. Filth was already a successful barrister, handsome, fast becoming rich, in need of a wife but unaccustomed to romance. A perfect English couple of the late 1940s. As a portrait of a marriage, with all the bittersweet secrets and surprising fulfillment of the 50-year union of two remarkable people, the novel is a triumph."
"Before the nightmare, Yeong-hye and her husband lived an ordinary life. But when splintering, blood-soaked images start haunting her thoughts, Yeong-hye decides to purge her mind and renounce eating meat. And as her passive rebellion manifests in ever more extreme and frightening forms, scandal, abuse, and estrangement begin to send Yeong-hye spiraling deep into the spaces of her fantasy."
"Yejide and Akin have been married since they met and fell in love at university. Though many expected Akin to take several wives, he and Yejide have always agreed: polygamy is not for them. But four years into their marriage Yejide is still not pregnant. She assumes she still has time–until her family arrives on her doorstep with a young woman they introduce as Akin's second wife."
Rebecca by Daphne Du Maurier
"The novel begins in Monte Carlo, where our heroine is swept off her feet by the dashing widower Maxim de Winter and his sudden proposal of marriage. Orphaned and working as a lady's maid, she can barely believe her luck. It is only when they arrive at his massive country estate that she realizes how large a shadow his late wife will cast over their lives–presenting her with a lingering evil that threatens to destroy their marriage from beyond the grave."
Us by David Nicholls
"Douglas Petersen may be mild-mannered, but behind his reserve lies a sense of humor that, against all odds, seduces beautiful Connie into a second date and eventually into marriage. Now, almost three decades after their relationship first blossomed in London, they live more or less happily in the suburbs with their moody seventeen-year-old son, Albie; then Connie tells him she thinks she wants a divorce. Us is the story of a man trying to rescue his relationship with the woman he loves and learning how to get closer to a son who's always felt like a stranger."
"Imagine that your husband wrote you a letter, to be opened after his death. Imagine, too, that the letter contains his deepest, darkest secret—something with the potential to destroy not just the life you built together, but the lives of others as well. Imagine, then, that you stumble across that letter while your husband is still very much alive."
"Meet Stanley Huang: father, husband, ex-husband, man of unpredictable tastes and temper, aficionado of all-inclusive vacations and bargain luxury goods, newly diagnosed with pancreatic cancer. For years, Stanley has claimed that he's worth a small fortune. But the time is now coming when the details of his estate will finally be revealed, and Stanley's family is nervous. As Stanley's death approaches, the Huangs are faced with unexpected challenges that upend them and eventually lead them to discover what they most value."
"Seven months into her pregnancy, Rachel Samstat discovers that her husband, Mark, is in love with another woman. The fact that the other woman has 'a neck as long as an arm and a nose as long as a thumb and you should see her legs' is no consolation. Food sometimes is, though, since Rachel writes cookbooks for a living. And in between trying to win Mark back and loudly wishing him dead, Ephron's irrepressible heroine offers some of her favorite recipes."
"When first published in 1899, The Awakening shocked readers with its honest treatment of female marital infidelity. Audiences accustomed to the pieties of late Victorian romantic fiction were taken aback by Chopin's daring portrayal of a woman trapped in a stifling marriage, who seeks and finds passionate physical love outside the confines of her domestic situation."
"It is 1953 and Pearlie, a dutiful housewife, finds herself living in the Sunset district of San Francisco, caring not only for her husband's fragile health but also for her son, who is afflicted with polio. Then, one Saturday morning, a stranger appears on her doorstep and everything changes. All the certainties by which Pearlie has lived are thrown into doubt. Does she know her husband at all? For six months in 1953, young Pearlie Cook struggles to understand the world around her, most especially her husband, Holland."
"In the hopeful 1950s, Frank and April Wheeler appear to be a model American couple: bright, beautiful, talented, with two young children and a starter home in the suburbs. Perhaps they married too young and started a family too early. Maybe Frank's job is dull. And April never saw herself as a housewife. Yet they have always lived on the assumption that greatness is only just around the corner. But now that certainty is now about to crumble."
"Jende Jonga, a Cameroonian immigrant living in Harlem, has come to the United States to provide a better life for himself, his wife, Neni, and their six-year-old son. In the fall of 2007, Jende can hardly believe his luck when he lands a job as a chauffeur for Clark Edwards, a senior executive at Lehman Brothers. When the financial world is rocked by the collapse of Lehman Brothers, the Jongas are desperate to keep Jende's job—even as their marriage threatens to fall apart."
"In 1980, a rural Cuban family is torn apart during the Mariel Boatlift. Uxbal Encarnación—father, husband, political insurgent—refuses to leave behind the revolutionary ideals and lush tomato farms of his sun-soaked homeland. His wife Soledad takes young Isabel and Ulises hostage and flees with them to America. Each struggles and flourishes in their own way. But just as the Encarnacións begin to cultivate their strange new way of life, Cuba calls them back. Uxbal is alive, and waiting."
"Pauline, impulsive, impractical, tumbles hit-or-miss through life; Michael, plodding, cautious, judgmental, proceeds deliberately. While other young marrieds, equally ignorant at the start, seemed to grow more seasoned, Pauline and Michael remain amateurs. Even when they find themselves, almost thirty years later, loving, instant parents to a little grandson, they still cannot bridge their deep-rooted differences. Flighty Pauline clings to the notion that the rifts can always be patched. To the unyielding Michael, they become unbearable."
"George, a professor at a small college, and his wife, Martha, have just returned home, drunk from a Saturday night party. Martha announces that she has invited a young couple—an opportunistic new professor at the college and his shatteringly naïve new bride—to stop by for a nightcap. It becomes clear that Martha is determined to seduce the young professor, and George couldn't care less. But underneath the edgy banter lurks an undercurrent of tragedy and despair: a secret that has seemingly been the foundation for their relationship."
"Some days Nora Nolan thinks that she and her husband, Charlie, lead a charmed life. Then one morning she returns from her run to discover that a terrible incident has shaken the neighborhood, and the fault lines begin to open: on the block, at her job, especially in her marriage. With humor, understanding, an acute eye, and a warm heart, Anna Quindlen explores what it means to be a mother, a wife, and a woman at a moment of reckoning."
"Mireille Duval Jameson has an adoring husband, a precocious infant son, by all appearances a perfect life. The fairy tale ends one day when Mireille is kidnapped in broad daylight by a gang of heavily armed men, in front of her father's Port au Prince estate. Held captive by a man who calls himself The Commander, Mireille waits for her father to pay her ransom. It is the story of a wilful woman attempting to find her way back to the person she once was."
"This is Newland Archer's world as he prepares to marry the beautiful but conventional May Welland. But when the mysterious Countess Ellen Olenska returns to New York after a disastrous marriage, Archer falls deeply in love with her. Torn between duty and passion, Archer struggles to make a decision that will either courageously define his life—or mercilessly destroy it."
Landline by Rainbow Rowell
"Two days before they're supposed to visit Neal's family in Omaha for Christmas, Georgie tells Neal that she can't go. She's a TV writer, and something's come up on her show; she has to stay in Los Angeles. She knows that Neal will be upset with her — Neal is always a little upset with Georgie — but she doesn't expect him to pack up the kids and go home without her. When her husband and the kids leave for the airport, Georgie wonders if she's finally done it. If she's ruined everything."
"Howard Belsey is an Englishman abroad and a long-suffering professor at Wellington, a liberal New England arts college. He has been married for thirty years to Kiki, an American woman who no longer resembles the sexy activist she once was. Then Jerome, Howard's older son, falls for Victoria, the stunning daughter of the right-wing icon Monty Kipps. An infidelity, a death, and a legacy set in motion a chain of events that sees all parties forced to examine the unarticulated assumptions which underpin their lives."
"Althea, the eldest sister and substitute matriarch, is a force to be reckoned with and her younger sisters have alternately appreciated and chafed at her strong will. They are as stunned as the rest of the small community when she and her husband Proctor are arrested, and in a heartbeat the family goes from one of the most respected in town to utter disgrace. The worst part is, not even her sisters are sure exactly what happened."
"When their paths first cross, Ben Livingston is a fledgling screenwriter on the brink of success; Tatum Connelly is a struggling actress tending bar in a New York City dive. They fall in love, they marry, they become parents, and they think only of the future. But as the years go by, Tatum's stardom rises while Ben's fades. In a marriage that bears the fallout of ambition and fame, Ben and Tatum are at a crossroads."
"The year is 1929, and newlyweds George and Serena Pemberton plan to create a timber empire. Together this lord and lady of the woodlands ruthlessly kill or vanquish all who fall out of favor. When Serena learns that she will never bear a child, she sets out to murder the son George fathered without her. When Serena suspects George is protecting his illegitimate family, the Pembertons' intense, passionate marriage starts to unravel as the story moves toward its shocking reckoning."
"In 1933 three young, gifted anthropologists are thrown together in the jungle of New Guinea. They are Nell Stone, fascinating, magnetic and famous for her controversial work studying South Pacific tribes, her intelligent and aggressive husband Fen, and Andrew Bankson, who stumbles into the lives of this strange couple and becomes totally enthralled. Within months the trio are producing their best ever work, but soon a firestorm of fierce love and jealousy begins to burn out of control, threatening their bonds, their careers, and, ultimately, their lives."
"Offill's heroine, referred to in these pages as simply 'the wife,' once exchanged love letters with her husband postmarked Dept. of Speculation, their code name for all the uncertainty that inheres in life and in the strangely fluid confines of a long relationship. As they confront an array of common catastrophes – a colicky baby, a faltering marriage, stalled ambitions – the wife analyzes her predicament as she confronts the friction between domestic life and the seductions and demands of art."
"In 1964, Dr. David Henry is forced by a blizzard to deliver his own twins. His son, born first, is perfectly healthy. Yet when his daughter is born, he sees immediately that she has Down's Syndrome. Rationalizing it as a need to protect Norah, he asks his nurse to take the baby away to an institution and never to reveal the secret. But Caroline, the nurse, cannot leave the infant and disappears into another city to raise the child herself. Two families, ignorant of each other, are yet bound by the fateful decision made that long-ago winter night."
"When the communist-backed army from the north invades her home, sixteen-year-old Haemi Lee, along with her widowed mother and ailing brother, is forced to flee to a refugee camp. For a few hours each night, she escapes her family's tragic circumstances with her childhood friend, Kyunghwan. Kyunghwan doesn't realize his older and wealthier cousin, Jisoo, is determined to marry her before joining the fight. But as Haemi becomes a wife, then a mother, her decision to forsake the boy she always loved for the security of her family sets off a dramatic saga that will have profound effects for generations to come."
"Lee introduces readers to Henry Park. Park has spent his entire life trying to become a true American—a native speaker. Park's harsh Korean upbringing has taught him to hide his emotions, to remember everything he learns, and most of all to feel an overwhelming sense of alienation. But the very attributes that help him to excel in his profession put a strain on his marriage to his American wife and stand in the way of his coming to terms with his young son's death."
"Regina Gottlieb had been warned about Professor Nicholas Brodeur long before arriving as a graduate student at his prestigious university high on a pastoral hill. He's said to lie in the dark in his office while undergraduate women read couplets to him. He's condemned on the walls of the women's restroom, and enjoys films by Roman Polanski. But no one has warned Regina about his exceptional physical beauty—or his charismatic, volatile wife."
Lila by Marilynne Robinson
"Lila, homeless and alone after years of roaming the countryside, steps inside a small-town Iowa church – the only available shelter from the rain – and ignites a romance and a debate that will reshape her life. She becomes the wife of a minister, John Ames, and begins a new existence while trying to make sense of the life that preceded her newfound security."
By signing up you agree to our Terms of Service
Enter to win a
new Kindle Paperwhite!