15 Of Your Picks For The Best Modern Fantasy Series
This Riot Recommendation asking for the best modern fantasy series is sponsored by In the Night Wood by Dale Bailey, published by Houghton Mifflin Harcourt (HMH).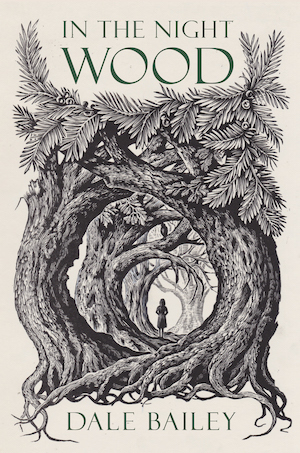 Welcome to Dale Bailey's In the Night Wood, where fairy tales are not just for kids. In this contemporary, spellbinding fantasy, the grieving biographer of a Victorian fantasist finds himself slipping inexorably into the supernatural world that consumed his subject. Bestselling author Karen Joy Fowler praises In the Night Wood claiming "Every story is a ghost story. But not every ghost story is as haunting as this one. Nor as luminously written, literate, absorbing, transporting, and all-around excellent. I couldn't put it down."
---
Magic and creatures set in modern times—yes, please! Thank you. More! We can't wait for this list, which will break our TBR (because we're going to read them all)! So we asked for the best modern fantasy series and here are your picks:
Zoraida Cordova's Brooklyn Brujas
Shadowshaper by Daniel José Older
The Stormlight Archive by Brandon Sanderson
A Song of Ice and Fire by George R. R. Martin
The Kingkiller Chronicle by Patrick Rothfuss
Trail of Lightning, The Sixth World #1 by Rebecca Roanhorse
Akata Witch by Nnedi Okorafor
Throne of Glass series by Sarah J Maas
Inheritance Trilogy or Broken Earth Trilogy by N.K. Jemisin
The Iron Druid Series by Kevin Hearne
Every Heart a Doorway by Seanan McGuire
Dresden Files by Jim Butcher
The Soul Stone Trilogy by Matt Moss
Kate Daniels series by Ilona Andrews
Sandman Slim by Richard Kadrey
We have 5 copies of 
the
Forbidden Hearts series
by Alisha Rai to give away to Book Riot readers!
Go here to enter for a chance to win
, or just click the image below. Good luck!