Finalists Announced for the 2018 World Fantasy Awards
Finalists for the 2018 World Fantasy Awards have been announced. These awards honor fiction and artists with nominated material published in 2017 or with a 2017 cover date. I am personally excited to see many books that fellow friends and I adored nominated, including Mahvesh Murad and Jared Shurin for The Djinn Falls in Love, Carmen Maria Machado for Her Body and Other Parties, and Sofia Samatar for Tender: Stories.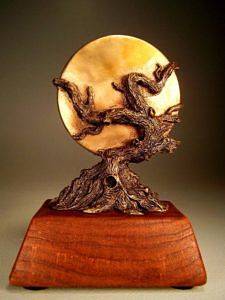 The first World Fantasy Convention was held in Rhode Island in 1975. Last year was the first that the Awards had a newly designed trophy, and it honored many SFF greats. This year's winners will be announced at the World Fantasy Convention, which is November 1–4, 2018, in Baltimore. The theme this year is "Port in a Storm," which will include celebrating the 200th anniversary of the science fiction classic, Mary Shelley's Frankenstein. 
NOVEL
LONG FICTION (10,000 to 40,000 words)
SHORT FICTION (under 10,000 words)
"Old Souls" by Fonda Lee (Where the Stars Rise: Asian Science Fiction and Fantasy)
"Welcome to Your Authentic Indian Experience™" by Rebecca Roanhorse (Apex Magazine, Aug. 2017)
"The Birding: A Fairy Tale" by Natalia Theodoridou (Strange Horizons, Dec. 18, 2017)
"Clearly Lettered in a Mostly Steady Hand" by Fran Wilde (Uncanny Magazine, Sept.–Oct. 2017)
"Carnival Nine" by Caroline Yoachim (Beneath Ceaseless Skies, May 11, 2017)
ANTHOLOGY
COLLECTION
ARTIST
Gregory Manchess
Victo Ngai
Omar Rayyan
Rima Staines
Fiona Staples
SPECIAL AWARD – PROFESSIONAL
Harry Brockway, Patrick McGrath, and Danel Olson for Writing Madness (Centipede Press)
C. C. Finlay, for F&SF editing
Irene Gallo, for Art Direction at Tor Books and Tor.com
Greg Ketter, for DreamHaven Books
Leslie Klinger, for The New Annotated Frankenstein (Liveright Publishing Corp.)
SPECIAL AWARD – NON-PROFESSIONAL
Scott H. Andrews, for Beneath Ceaseless Skies: Literary Adventure Fantasy
Justina Ireland and Troy L. Wiggins, for FIYAH: Magazine of Black Speculative Fiction
Khaalidah Muhammed-Ali and Jen R Albert, for PodCastle
Ray B. Russell and Rosalie Parker, for Tartarus Press
Lynne M. Thomas and Michael Damian Thomas, for Uncanny Magazine
LIFE ACHIEVEMENT AWARD
Charles de Lint
Elizabeth Wollheim
By signing up you agree to our Terms of Service
We're giving away five copies of Leslie Jamison's new essay collection
Make it Scream, Make it Burn
.
Click here to enter
, or click the image below!