6 Native American Cookbooks
November, Native American Heritage Month, is also capped by one of America's favorite holidays: Thanksgiving. Offensive and inaccurate depictions of the First Thanksgiving aside, Thanksgiving seems like a good time to appreciate the culinary prowess of Indigenous peoples with Native American cookbooks.
Native peoples in the Americas cultivated a huge array of foods that are staples of our diets. Did you eat corn, beans, pumpkin, potatoes, or tomatoes today? That's Indigenous farming that cultivated it for you. Where would we be without Native American farmers? Somewhere with no imitation pumpkin flavor for pumpkin spice lattes, that's for sure!
Eating French fries and thinking of the Inca aren't quite going to give you an appreciation for Native culinary arts. So I have collected a list of 6 cookbooks which focus on Native recipes, most without European ingredients at all.
Food traditions place a particularly important role for modern Native activists seeking to combat obesity and diabetes. Several of these cookbooks describe traditional eating habits as a way to improve the health of Native communities.
In trying not to further stomp on cultural practices, I'd ask anyone who uses these cookbooks to be sensitive to any cultural practices mentioned in the text. Food is an important part of culture. If a recipe mentions a cultural practice around preparing or serving the food, please observe and respect that such as you are able.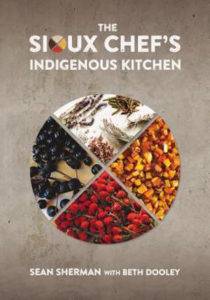 Sherman is an Oglala Lakota man who goes by the name Sioux Chef. (Get it?) He leaves all European ingredients out—no flour, sugar, or dairy; frybread is deliberately not featured. Instead, Sherman provides recipes that modernize traditional food from the Dakotas and Minnesota region. Highlights include cedar braised bison, amaranth crackers with smoked white bean paste, roasted corn sorbet, and hazelnut-maple bites.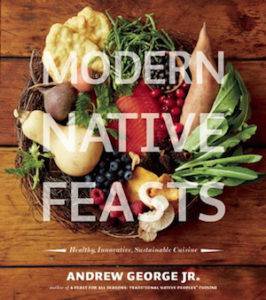 Andrew George Jr. is a member of the Wet'suwet'en Nation in British Columbia. He was the Head Chef for Aboriginal Foods at the 2010 Vancouver Olympics, and his recipes specifically target the nutrition problems plaguing many Native and First Nations communities. George updates traditional recipes to reduce their calories and in some cases fuses them with East Asian flavors for a new dish. Recipes in this book include: wild berry crumble, seas asparagus salad, and buffalo tourtière
The Watts mother/daughter team offers a proud Native perspective and professional experience toward indigenous foods and recipes. Recipes include Smoked Salmon Mousse, Indian Tacos, Alder-Grilled Breast of Pheasant, Blackberry-Glazed Beets, Wild Rice Pancakes, and Wild Blueberry Cobbler. The Watts took their years running a Native American fine dining restaurant and created this book of mouthwatering dishes.
Original Local: 

Indigenous Foods, Stories, and Recipes from the Upper Midwest
 

by Heid E. Erdrich

Heid Erdrich (yes, sister of Louise) combines indigenous recipes with a view of how the environment affects the food we eat. She brings together recipes from her own Ojibwe heritage as well as from other Native peoples from the Upper Midwest, such as Ho-Chunk, Menominee, Potawatomi, and Mandan. Ramp Kimchi, Manoomin Lasagna, and Venison Mole Chili promise happy bellies at the end of the meal.

Richard Hetzler is the executive chef at the Smithsonian's Museum of the American Indian, overseeing The Mitsitam Cafe. The cafe serves foods from Native cultures across North and South Americas. Pick it up for recipes such as Fiddlehead Fern Salad and Potato and Pinto Bean Enchiladas.

Originally published in 1991, Spirit of the Harvest organizes Native recipes by region. Each region is introduced by an expert who describes the cultures and communities of the region, as well as explaining how the cultural history of the foods. Cox balances traditional recipes and modern kitchens, offering recipes for Smoked Salmon Soup, Maple-Basted Broiled Bluefish, Cranberry Fritters.

What are your favorite Native American cookbooks? Find even more cookbook recommendations here. 

By signing up you agree to our Terms of Service