Your 40 Favorite Case-Cracking Reporters in Fiction
This giveaway is sponsored by Invisible City by Julia Dahl.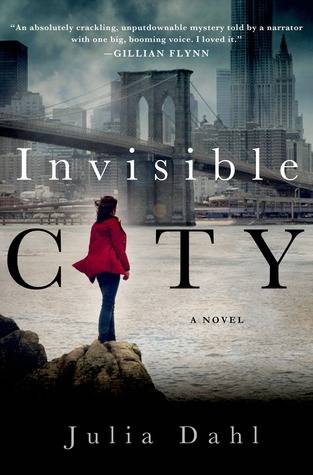 Just months after Rebekah Roberts was born, her mother, an Hasidic Jew from Brooklyn, abandoned her Christian boyfriend and newborn baby to return to her religion. Neither Rebekah nor her father have heard from her since. Now a recent college graduate, Rebekah has moved to New York City to follow her dream of becoming a big-city reporter. But she's also drawn to the idea of being closer to her mother, who might still be living in the Hasidic community in Brooklyn.

Then Rebekah is called to cover the story of a murdered Hasidic woman. Rebekah's shocked to learn that, because of the NYPD's habit of kowtowing to the powerful ultra-Orthodox community, not only will the woman be buried without an autopsy, her killer may get away with murder. Rebekah can't let the story end there. But getting to the truth won't be easy—even as she immerses herself in the cloistered world where her mother grew up, it's clear that she's not welcome, and everyone she meets has a secret to keep from an outsider.

In her riveting debut Invisible City, journalist Julia Dahl introduces a compelling new character in search of the truth about a murder and an understanding of her own heritage.
____________________
For this giveaway, we asked you to weigh in with your favorite case-cracking reporters in fiction and you responded with loads of favorites — over 40. Some of these are more case-crackers than reporters, but they're still the folks who you'd call if you needed someone to take care of dirty business on the public record. Because there were so many answers, I separated them out for you by recurring characters in series and those who are in stand alone works.
Favorite Case-Cracking Reporters In A Series
Cotton Malone from The Cotton Malone Series by Steve Berry
Britt Montero from The Britt Montero Series by Edna Buchanan
Dave Robicheaux from The Dave Robicheaux Series by James Lee Burke
Miss Marple from The Miss Marple Books by Agatha Christie
Dillon Savich from The FBI Suspense Thrillers Series by Catherine Coulter
Emma Lord from The Emma Lord Mystery Series by Mary Daheim
Sherlock Holmes from The Sherlock Holmes Stories by Sir Arthur Conan Doyle
Thursday Next from The Thursday Next Series by Jasper Fford
The reporters from The Hollywood Headlines Series by Gemma Halliday
Sookie Stackhouse from The Southern Vampire Mysteries Series by Charlaine Harris
Freddie Lounds from The Hannibal Lecter Series by Thomas Harris
Olivia Paras from The White House Chef Series by Julie Hyzy
Walt Longmire from The Walt Longmire Series by Craig Johnson
Mikael Blomkvist and Lizbeth Salander from The Girl With the Dragon Tattoo Trilogy by Stieg Larsson
Tess Monaghan from The Tess Monaghan Series by Laura Lippman
Annika Bengtzon from The Annika Bengtzon Series by Liza Marklund
Paddy Meehan from The Paddy Meehan Series by Denise Mina
Alex Cross from The Alex Cross Series by James Patterson
Eddie Dunford from The Red Rising Quartet by David Peace
Bill Smithback from Relic, Cemetery Dance, and various other entries in the series by Douglas Preston and Lincoln Child
Nadine Furst and Eve Dallas from the In Death Series by J. D. Robb
Rita Skeeter and Harry Potter from The Harry Potter Series by J. K. Rowling
Lois Lane and Clark Kent from Superman comics
Stand Alone Case-Crackers
Ford Prefect from The Hitchhiker's Guide to the Galaxy by Douglas Adams
The Narrator from World War Z: An Oral History of the Zombie War by Max Brooks
Wendy Tynes from Caught by Harlan Coben
Jack McEvoy from The Poet by Michael Connelly
Camille Preaker from Sharp Objects by Gillian Flynn
Frank Mackey from Broken Harbor by Tana French
Rob Ryan from In the Woods by Tana French
Gray Grantham from The Pelican Brief by John Grisham
Julia Shumway in Under the Dome by Stephen King
Ashley from Tell Me Your Dreams by Sidney Sheldon
Skeeter from The Help by Kathryn Stockett
Hildy Johnson from Steel Beach by John Varley
Jack Burden from All The King's Men by Robert Penn Warren
Never miss a giveaway! Sign up to get notified with our giveaways newsletter.
Celeste Ng, Jesmyn Ward, and Robin Sloan recommend their favorite books in our newest podcast,
Recommended
. Download it for free from
Apple Podcasts
 or 
Google Play
.