A Bookish Hotel for Your Bucket List
Hi, Fairy Bookmother, it's me again.
Yes, yes, I know it's not my birthday or a gift-ish holiday, but hear me out.
I just learned about the hotel in the Alps that is a destination for those who adore Thomas Mann's The Magic Mountain. How could I not have heard of this before?? You NEEED to fund my trip there. (Please).
You see, just the other day, I was skimming through my Twitter feed when…wuuuut?…a headline from the New Yorker popped out at me about The Magic Mountain. Since I only know a few other people who adore this book like I do, I sometimes forget that others even know about it and go to the trouble of actually visiting the places that Mann references. It truly never occurred to me to go questing for the equivalent of the Berghof in the Swiss Alps (probably because the next time I get to go to Switzerland, my hair will be gray instead of brown).
But then the New Yorker drops this in my lap and voila! I'm saving up my pennies to go to Davos, Switzerland.
Ok, so lemme explain: The Magic Mountain takes place at a fictional Alpine sanatorium just before WWI, in which an otherwise unremarkable young man visits his cousin and winds up staying for seven years, gradually becoming absorbed by the insular, isolated, omphaloskeptical atmosphere. But the conversations about health/disease, music, life and death, technology- they are fantastic. And the fully-developed, luminous characters…don't get me started.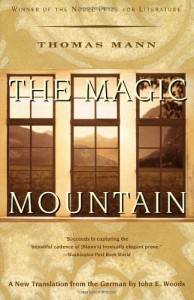 The sanatorium culture referenced in the novel, though, declined after an antibiotic cure for tuberculosis was found in the mid-20th century. There was simply no more need for sanatoriums (like the Schatzalp) that isolated and cared for TB victims. If you've spent much time in 19th-century novels, you'll be very familiar with the storyline of the wealthy European whisking him/herself away to a mountaintop sanatorium in the hopes that the terrible disease could be defeated (it often wasn't). The sanatorium movement also caught on in parts of the U. S. (in fact, an old sanatorium- since converted- sits atop a hill right here in Madison).
Anyway, the Schatzalp (built in 1900) was turned into a hotel in the 1950s and is now undergoing renovation. And it's become a destination for Mann-loving pilgrims from around the world. Though Mann's fictional sanatorium was not modeled specifically on the Schatzalp or any other similar institution, it did take elements from the former. And the Schatzalp is the only sanatorium mentioned by name in The Magic Mountain.
But you don't have to take my word for it, Fairy Bookmother; here are some useful websites that list the delights of the renovated hotel.
Switzerland's official tourism site virtually sings of it's "nostalgic Art Nouveau style" and "Belle Époque atmosphere," while unsurprisingly referencing Mann's novel. Along with turn-of-the century elegance you can have free WLAN access at the hotel and even in the skiing area! The Schatzalp was even voted Historic Hotel of Switzerland in 2008 by the Swiss Committee of the International Council on Monuments and Sites. I mean, check out this crazy-wonderful interior (note the "Belle Époque" arches):
You can't just drop in to the Alps like it's a major airport, though. You have to work for your culture! Therefore, tourists are told that the hotel is "reachable with the Schatzalp funicular. The station is located in the centre of Davos Platz, between the Credit Suisse and the hotel Europe." And in case you don't know what a "funicular" is…
The hotel also includes fully-equipped rooms with radios, telephones, a sauna, a restaurant, bar, open deck, playground, and more.
A review from the Telegraph joyfully notes that "there are no cars up here: just endless walks with spectacular views."
Even Kaiser Wilhelm II had three rooms permanently reserved for his chillin' pleasure.
And so, Fairy Bookmother, I ask you to fund this trip to the Hotel Schatzalp. I mean, how many other times have I asked you to take me on a bookish trip?!
Sincerely, Rachel
Save
Save
We have 5 copies of 
the
Forbidden Hearts series
by Alisha Rai to give away to Book Riot readers!
Go here to enter for a chance to win
, or just click the image below. Good luck!