Gatsby's American Dream: The Most Literary Band You've Never Heard Of
This is a guest post from Eric Smith. Eric is the social media and marketing manager at Quirk Books. When he isn't busy talking to the Internet about books, he sometimes tries to write them (The Geek's Guide to Dating, Dec 2013). Follow him on Twitter @ericsmithrocks.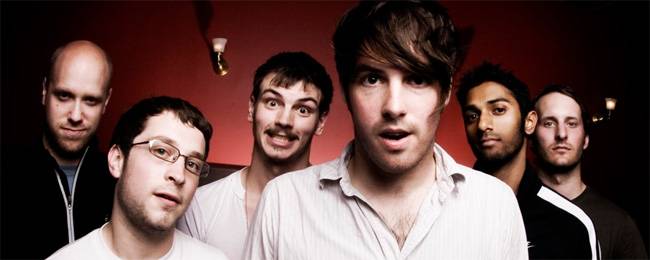 I love Gatsby's American Dream. I first discovered them in 2005 when they signed to a label (Fearless Records) I grew up with, standing out as a unique, multi-genre band on a roster with guilty pleasure pop-punk groups like the Plain White Ts, Mayday Parade, and Sugarcult.
I was pretty crushed when they went on hiatus in 2007, but was thrilled at their soft return in 2010 and the release of a new track (which you can listen to on their website). Now here I sit, anxiously awaiting some more music. These days, the band has a seemingly endless amount of side projects (for a comprehensive list, visit their Wikipedia page), but none of those other bands hold as dear a place in my heart as GAD.
This band, they got me. Their music was chock full of pop culture references, and when it came to the literary world… well, just look at the band's name. Come on. These guys love books.
Seriously, look at all this. From the titles of their albums to individual songs, Gatsby fills their music with the literary. Let's take a look.
Ribbons & Sugar: The title of their 2003 album isn't just a brilliant reference to Animal Farm (remember Snowball's claim that Mollie didn't need sugar, and that the ribbons the horse loved so much were badges of slavery?), but explains the concept of the entire record… the retelling of Orwell's masterpiece.
This is one of Gatsby's earlier albums, and with songs like Snicker at the Swine (Napoleon and Snowball?), The Horse You Rode In On (Boxer "I will work harder" the horse?), and A Manifesto of Tangible Wealth (a reference to Old Major's speech?), one of the most literary.

In the Land of Monsters: While this EP was written as an angry response to the music industry, the title is a line from Beowulf about Grendel ("This unhappy being had long lived in the land of monsters…"), and the last track of the album, The Dragon of Pendor, is a reference to Yevaud in A Wizard of Earthsea by Ursula K. Le Guin.

Volcano: My personal favorite in their discography (and the album that first introduced me to the band back in 2005), Volcano is a really awesome concept album that tells the story of the city of Pompeii, while still dishing out tons of pop culture and (of course) literary references through out.
Lord of the Flies by William Golding: The song fifth song on Volcano, Fable, is one of the catchiest on the record, and retells the story of Lord of the Flies. "We came here on a plane, Just a bunch of little boys. Dance around the fire, then we strike him down. We'll burn the island down. Kill the pig pig, kill the pig pig…"
The Lord of the Rings by J. R. R. Tolkien: The song A Mind Of Metal And Wheels isn't really about Tolkien's classic trilogy, but the title definitely references it. Treebeard describes Saruman has a man who has a mind of metal and wheels.
Ender's Game by Orson Scott Card: The Giant's Drink on Volcano references Card's most famous book… it's the title of chapter 6 and one of the games.
The album also references A Wizard of Earthsea by Ursula K. Le Guin again, with the end track The Loosing of the Shadow, Shadow being a character in that book. Clearly I need to get into this fantasy author.
Gatsby's American Dream (Self Titled): Before we even look at the music, just look at the cover of their self titled album. That's totally a tripod alien straight out of War of the Worlds. As for the songs?
We Can Remember It for You Wholesale by Phillip K. Dick: The second song on the album shares a title with Dick's famous short story, which all of you know as the film Total Recall. The awesome one, not the one with Colin Farrell.
The Hanging Stranger by Phillip K. Dick: Dick gets more love (heh) in the song Me and Ed Loyce. The main character in that short story? That's his name.
Watchmen by Alan Moore: Track four on their self title album is My Name Is Ozymandias. Of course, this could also reference the popular sonnet by Percy Shelley. I just really like Watchmen. So I'll let you take your pick.
So there you have it. I encourage you to add these guys to your Spotify, Last.fm, or whatever service you use for streaming music, or pick up one of their albums. You'll love 'em.
By signing up you agree to our Terms of Service
In 1975, Truman Capote published a short story that ended his literary career. Listen to
Annotated
on
Apple Podcasts
or
Google Play
to hear how.