20 More Books to Steam Up Your Love Life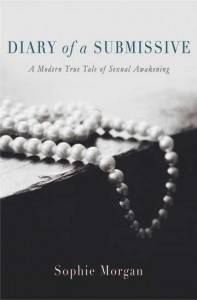 This post is sponsored by Diary of a Submissive by Sophie Morgan available at Amazon, Barnes & Noble, and wherever books and ebooks are sold.
Already an international bestseller, Diary of a Submissive is Sophie Morgan's candid account of what an independent, 21st century woman gets out of relinquishing her power and personal freedom in a submissive relationship with a dominant man for their mutual sexual pleasure.
In the wake of Fifty Shades of Grey, here is a memoir that offers the real story of what is means to be a submissive and follows Sophie's story as she progresses from her early erotic experiences through to experimenting with her newfound awakened sexuality.  From the endorphin rush of her first spanking right through to being collared, she explains in frank and explicit fashion her sexual explorations.  But it isn't until she meets James, a real life 'Christian Grey,' that her boundaries and sexual fetishism are really pushed. As her relationship with James travels into darker and darker places, the question becomes: Where will it end? Can Sophie reconcile her sexuality with the rest of her life, and is it possible for the perfect man to be perfectly cruel?
_________________________
Last week, we hit you with a big ol' reading list for getting it on and asked you to submit your own favorite steam-it-up reads. Here's a round-up of your suggestions from Facebook, Twitter, and email.
The Nice Girl's Guide to Talking Dirty by Ruth Neustifter
Slow Sex: The Art and Craft of the Female Orgasm by Nicole Daedone
Sexual Healing by Barbara Keesling
The Big Book of Sex Toys by Tristan Taormino
Daily Sex: 365 Positions and Activities for a Year of Great Sex by Jane Seddon
Peep Show by Rachel Kramer Bussel
The Joy of Sex: Ultimate Revised Edition by Alex Comfort
Sexual Teachings of the White Tigress by Hsi Lai
The Ethical Slut: A Practical Guide to Polyamory, Open Relationships, and Other Adventures by Dossie Easton
The Gift of Sex by Clifford and Joyce Penner
Bared to You by Sylvia Day
I Love Female Orgasm: An Extraordinary Orgasm Guide by Dorian Solot
Red Hot Touch: A Head-to-Toe Handbook by Jaiya and Jon Hanauer
Passionista: The Empowered Woman's Guide to Pleasuring a Man by Ian Kerner
Wisdom of the Body by Evelyn Eaton Whitehead and James Whitehead
Vagina: A New Biography by Naomi Wolf
How to Have Him Begging for More by Anna Maxted
Nerve.com's Position of the Day Playbook: Sex Every Day in Every Way 
Tickle His Pickle by Sadie Allison
Cosmo's Steamy Sex Games
By signing up you agree to our Terms of Service
We have 5 copies of
The Library Book by Susan Orlean
to give away!
Go here to enter for a chance to win
, or just click the image below. Good luck!