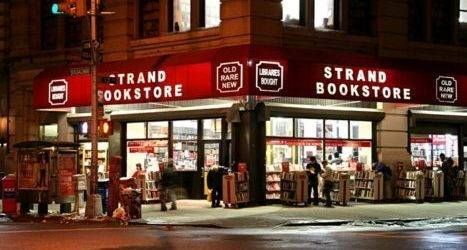 This is a guest post from Holly Genovese. Holly is a Ph.D student in history and women's studies at Temple University. She is contributing editor at Auntie Bellum Mag, contributor at Rabble Lit, and a blogger for USIH. Her work has appeared in Bustle, The Establishment, and Scalawag Magazine. She enjoys writing, scouring flea markets, painting creepy birds, and reading home decor blogs. Follow her on Twitter @hollyevanmarie.
---
Last week I attended my first BookCon in New York–a feast of writers, publishers, reporters, and their fans. It also served as a bookish tote bag fashion show like I've never seen. I love a good bookish tote bag, often using them as purses in the summer months, larger varieties as beach bags, and of course to haul books home from the library/bookstore/convention of bookish people. I've amassed quite the collection: a hip Virginia Woolf tote, a "pretty girls read" tote used exclusively as a beach bag, one from Penn Book Center in Philly, one from Asheville's Malaprop's, one from Quirk Books, about a million from Temple University Libraries and of course, my obligatory Strand bag (I chose the John Waters version–felt a little more subversive than their average fare). At this point, the intersection of book culture and tote bags is just assumed (and it makes sense, practically speaking). But where did this connection start?
While The Strand's totes have become synonymous with tourists (though I'm willing to bet a bunch of New Yorker's have one or two shoved in the back of their closets), The Strand arguably started the phenomenon writ large. In the '80s, the now classic plain tote with the red Strand logo premiered, when Nancy Bass began working alongside her father. Surely, The Strand's status in the book world has helped it thrive through the age of Amazon, but the tote bags (and other merch) have helped them weather the storm. There are currently 148 items available on their "totes and pouches page," everything from the afore mentioned classic tote to collaborations with Kate Spade to those featuring Michelle Obama. I can't be sure if The Strand made the first bookish tote bag on the market, but in many ways that is irrelevant: The Strand jump started the craze because of its status in the book world and its location. It makes sense then, that something that was once rare has become ubiquitous among NYU freshman and out of town tourists (those who are "too cool" for typical tourist fare).
Bookish totes aren't just for bookstores anymore either. Companies like Out of Print (have you seen their Poe pattern?) and Litographs sell bookish stuff, much of which are tote bags. Smaller, more creative ventures, like Brooklyn based Obvious State, are proliferating too. Obvious State's totes, notebooks, and cards are all manufactured by hand in Brooklyn and designed by their staff. Publishers are in on it too: The Penguin Classic series of tote bags was quite popular at BookCon this year. In the last decade, bookish tote bags have transformed from a fun add-on in the book store check-out line to full-fledged business and creative ventures.
So, as you search for a new bookish tote, hipper than your last, remember that The Strand started it all.