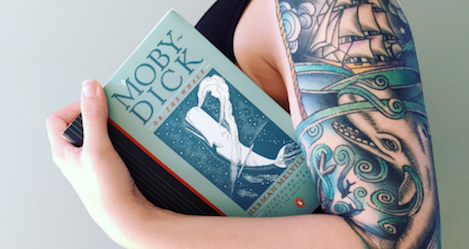 Lists
12 Badass Book Tattoos From Rioters (With The Books That Inspired 'Em)
This content contains affiliate links. When you buy through these links, we may earn an affiliate commission.
We've already discussed Rioter's literary book tattoos before, but this time we thought we'd put another spin on it: show off those badass and beautiful literary tattoos right next to the text that inspired them. And, after you've seen ours, we want you to share yours! Hit the comments or social with #textandtats to share your literary ink. Ready to see the best book tattoos?
---
1. Harry Potter tattoo
Rioter: Ashley Holstrom
Inspiration: Harry Potter and the Sorcerer's Stone by J.K. Rowling.
The text: "Of course it is happening inside your head, Harry, but why on earth should that mean that it is not real?"
Why I got it: Harry Potter is the reason I love books. I was never a reader until I saw the first movie and wanted to read the book to spot the differences between the two. I was hooked, devoured the next three, and joined the herd who sat eagerly by the front door on release days for the rest of the books. My li'l lightning bolt is a reminder of all the things Harry has done for me and how far I have come.
2. Fahrenheit 451 tattoo
Rioter: Nikki VanRy
Inspiration: Fahrenheit 451 by Ray Bradbury
The text: "'Stuff your eyes with wonder,' he said, 'live as if you'd drop dead in ten seconds. See the world. It's more fantastic that any dream made or paid for in factories. Ask no guarantees, ask for no security, there never was such an animal. And if there were, it would be related to the great sloth which hangs upside down in a tree all day every day, sleeping its life away. To hell with that,' he said, 'shake the tree and knock the great sloth down on his ass.'"
Why I got it: I get tattoos as vehicles to remind me of what I know is important. Bradbury's quote is perfect for reminding me to get up off my ass–to do more, to be more. The figure in exaltation or joy in the middle is also from the logo of City Lights Bookstore in San Francisco, a city and a spot in that city that's been important in both my reading and wider life.
3. Daughter of Smoke and Bone tattoo
Rioter: Molly Wetta
Inspiration: Daughter of Smoke and Bone by Laini Taylor
The text: "The only tattoos visible as she dug out her sketchbook and handed it over were the ones on her wrists like bracelets—a single word on each: true and story."
Why I got it: The Daughter of Smoke and Bone trilogy by Laini Taylor just blew my mind, and elevated my idea of what fiction and story could be. The imagery and themes are so simple yet so complex. The inspiration is quite literal. The main character, Karou, literally has the words "true" and "story" tattooed on her wrist, and I just added the feather, which she spent her childhood playing with on the floor of a demon's lair, and the wishbone, which held the truth of her past life. For me, this is a reminder that fiction is the lie that tells the truth, and that a story of angels and demons can reveal so much about humanity.
4. Bitch Planet non-compliant tattoo
Rioter: Amy Diegelman
Inspiration: Bitch Planet by Kelly Sue Deconnick, Valentine De Landro, Taki Soma, and Robert Wilson
The text: 'NC' for non-compliant
Why I got it: In the world of Bitch Planet, women who don't abide by patriarchal societal ideals are labeled "non-compliant" and locked up. On the prison planet they're casually referred to as NCs and everything is marked with the distinctive symbol. Kelly Sue is not only a favorite author of mine, she's a personal idol too. The tattoo is a small tribute to her, but more than that I have been so moved by Bitch Planet (Issue 3 left me in tears, the kind that come from feeling deeply understood) and the way it so closely reflects our reality. This tattoo is a badge of honor for me. I always have been, and always will be, non-compliant.
5. Ampersand tattoo
Rioter: Kelly Jensen
Inspiration: Sweet, sweet punctuation
The text: There is no specific text that inspired my tattoo. Rather, it was inspired by my lifelong love of punctuation and symbols. The first time I considered an ampersand tattoo was a time when creative writing — poetry, specifically — was a huge part of my life. The humble "&" was a big visual cue in what I was reading and what I was writing. Years later, the symbol still carries such a wonderful weight of meaning and design for me.
Why I got it: I mulled it over for ten years (!) and decided if I didn't do it then, I wouldn't. So I did & I love it & I will never regret it. I've read some really nice pieces from others who have "&" tattoos who've talked about it meaning that their life keeps going, but for me, it's sheer love and appreciation for language and for the beauty language makes possible.
6. Moby Dick tattoo
Rioter: Rachel Smalter Hall
Inspiration: Moby-Dick by Herman Melville
The text: " … then all collapsed, and the great shroud of the sea rolled on as it rolled five thousand years ago."
Why I got it: Moby-Dick is about so many themes that fascinate me — mystery, unknowable depths, obsession, the weird drive we can have to do things that are clearly terrible ideas. It's a powerful (and somehow comforting) reminder to me that good and evil are two sides of the same coin, and that everything is ultimately just part of nature. (And it doesn't hurt that Melville is frickin weird and hilarious — seriously you guys, he is super funny and I love him forever.)
7. Fairy tales tattoo
Rioter: Monica Friedman
Inspiration: Fairy tales! On my right shoulder, the Dewey Decimal code for fairy tales. On my left shoulder, so far I have Little Red Riding Hood from Trina Schart Hyman's interpretation of the story, the prince and the princess from Grimm's "The Lady and the Lion," illustrated by Fritz Kredel, and Mercer's Mayer's dragon from Everyone Knows What a Dragon Looks Like by Jay Williams. I'm still looking for the perfect examples of a golden apple, a raven, and Coyote being the moon to finish this piece.
8. The Grapes of Wrath tattoo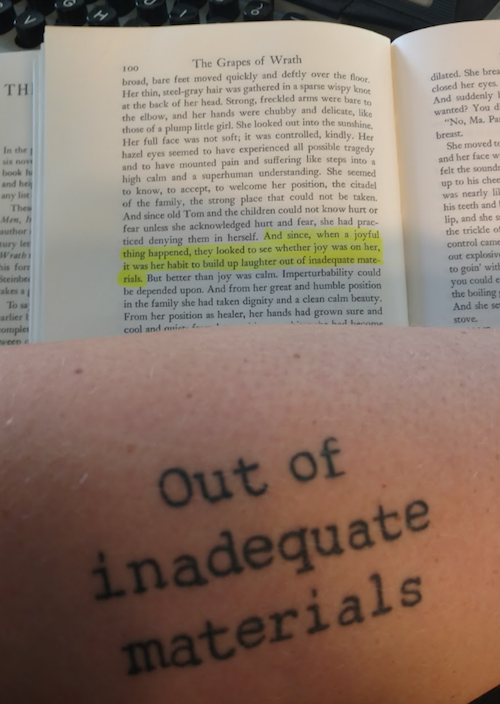 Rioter: Tracy Shapley
Inspiration: The Grapes of Wrath by John Steinbeck
The text: "And since, when a joyful thing happened, they looked to see whether joy was on her, it was her habit to build up laughter out of inadequate materials."
Why I got it: I love The Grapes of Wrath. I love Ma Joad. I love the reminder that even in the worst of times there is joy and laughter to be found.
9. Red or Dead, Dancer, and Harry Potter tattoos
Rioter: Preeti Chhibber

Inspiration: Red or Dead by David Peace, Dancer by Colum McCann, and Harry Potter and the Sorcerer's Stone by JK Rowling
The text: From Red or Dead: "But the word was not finished. The word was not satisfied. LI-VER-POOL, LI-VER-POOL, LI-VER-POOL. The word insatiable, the word voracious. LI-VER-POOL, LI-VER-POOL, LI-VER-POOL. In the last two minutes of the game. St John shot again. Gregg saved again. The ball flew back out of the ruck. Byrne drove the ball back into the ruck. And Milne diverted the ball. Into the net, into a goal. LI-VER-POOL, LI-VER-POOL, LI-VER-POOL. The word triumphant, the word victorious."
From Dancer: "…but as they walk away the dance is still in their bodies and they search for the quiet point the still point where there is no time no space only pureness moving."
And then, the Hogwarts skyline.
Why I got them: For Red or Dead and Dancer, I got these lines because they are moments in streams of prose to which I reacted so viscerally, I couldn't get them out of my head. Both excerpts are describing a scene of physical movement, football and ballet, respectively, and they both made my body react like I was actually seeing the action. My heart was racing the hair on my arms stood up. They're incredible. And Hogwarts, because… well, Harry Potter. It's my longest running fandom, I'll love it till I die. It's my problematic fav.
10. When She Woke tattoo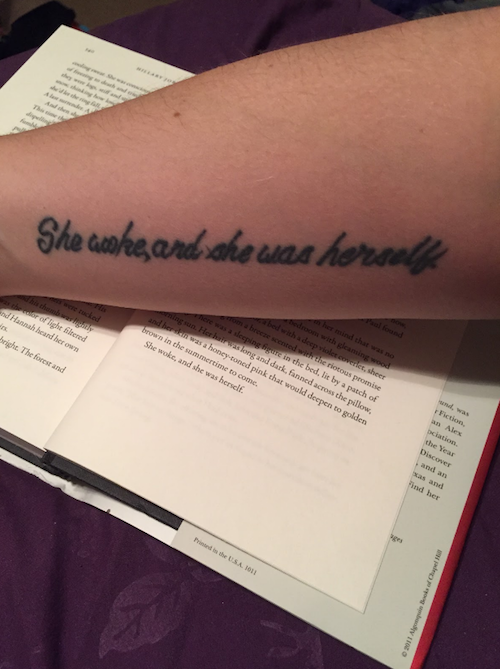 Rioter: Cassandra Neace
Inspiration: When She Woke by Hillary Jordan
The text: "She woke, and she was herself."
Why I got it: The novel is a futuristic retelling of The Scarlet Letter. The last line stood out to me at first because it is a reflection of the first line, and I appreciated the way the story came full circle. Later, when I experienced some hard times in my own life, the line came back to me as a reminder that no matter how bad things got, no matter how lost I felt, I would find myself again. I wanted those words to be in a place where I could easily see them first thing every morning and any other time I need some inspiration.
11. Sappho poem tattoo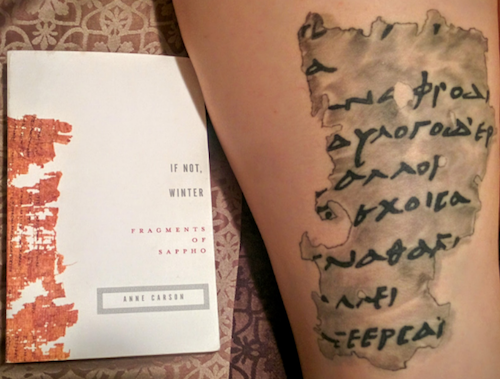 Rioter: Zoe Dickinson
Inspiration: If Not, Winter: Fragments of Sappho by Sappho (Translated by Anne Carson)
The text: An ancient fragment of papyrus from Oxyrhynchus, Egypt containing part of a poem in Ancient Greek. There isn't much left of this particular piece of papyrus, but what's there has been identified as a fragment of poetry by Sappho.
Why I got it: I was a Classics major in my undergraduate degree, and I've always been fascinated by the fact that we're still discovering fragments of ancient poetry thousands of years later. Sappho is one of my particular favorites. I got this tattoo to remind myself that we have so much more to discover, even about periods of history that we've been studying for centuries.
12. The Little Prince tattoo
Rioter: Marceline Cook
Inspiration: The Little Prince by Antoine De Saint-Exupery
The text: "Here is my secret. It's quite simple: One sees clearly only with the heart. Anything essential is invisible to the eyes."
Why I got it: My fox runs down my side, I had a secret that only I could see with my heart. The quote from The Little Prince worked wonderfully with how I felt about myself as someone who is transgender. I knew I was in my heart but I couldn't see it with my eyes. Although finally I am starting to. It's also what my wife calls me – her fox.
---
We've shown you ours, now it's time to show off your book tattoos! You can hit the comments here or hit social with #textandtats to share your literary tattoos and the text that inspired them (we seriously can't be held responsible, though, for some of the positions you'll have to get into to take these photos).