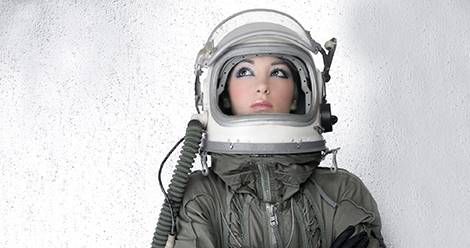 This content contains affiliate links. When you buy through these links, we may earn an affiliate commission.
With new Star Wars films coming out every year, a new Star Trek series on the air, and no end in sight of science-based speculative books and films like The Martian, Arrival, Interstellar, and the upcoming Annihilation, it's no surprise that more and more YA sci-fi books feature teens in spacesuits. Each of these recent titles takes place in either in an alternate present or the near future, exploring what life might really be like for a teen today to wind up in outer space.
After rounds of crazy-competitive testing, teens Rosa and Eddie land jobs as part of NASA's mysterious Multi-World Agency. What they don't expect is that aliens will arrive from another dimension, and look just like us. The teens steal a spacecraft and head to Earth2. There, the teens will find more than their alternate selves: they'll face existential questions and high-stakes adventure, with comedy that's out of this world.
Cassandra Gupta's entire life has been leading up to the opportunity to travel to space. Cassie thought she was ready to compete against the best and brightest to secure a spot. But she wasn't ready for the bonds she would form with the very people she hopes to beat. Or that with each passing day it would be more and more difficult to ignore the feeling that the true objective of the mission is being kept from her.
Nyxia by Scott Reintgen
Emmett is one of ten teens, all with troubled pasts, recruited by the Babel Corporation. They each must earn the right to travel down to the planet of Eden to mine a substance called Nyxia that has quietly become the most valuable material in the universe. But the ship is full of secrets, and Emmett will face the ultimate choice: win the fortune at any cost, or find a way to fight that won't forever compromise what it means to be human.
Moon 2 is a space station that orbits approximately 250 miles above Earth. It's also the only home that Leo, Orion, and Libra have ever known. They've been "parented" by teams of astronauts since birth and have run countless drills to ready themselves for every conceivable difficulty they might face on the flight. But while Earth may be home to billions of people, living there is more treacherous than Leo and his friends could ever have imagined, and their very survival will mean defying impossible odds.
Romy is the only surviving crew-member of a spaceship, the loneliest girl in the universe. Until she hears about a new ship which has launched from Earth—with a single passenger on board, a boy called J. Their only communication with each other is via email, which take months to transmit. What does Romy really know about J? And what do the mysterious messages which have started arriving from Earth really mean?
The reality show Waste of Space finds ten teens alone in space, their every movement captured on camera. Or so they, and their audience, thinks. In reality, they're on a spaceship replica in a desert warehouse. And then, suddenly, all communication is severed. Trapped and paranoid, the kids must figure out what to do when this reality show loses its grip on reality.
Everyone knows that a massive comet will hit Earth on January 29, 2035. Biracial, autistic Denise and her mother and sister have been assigned to a temporary shelter to wait out the blast. Then they learn they may have room on a ship scheduled to leave Earth after the comet hits. But everyone on the ship has been chosen because of their usefulness. Can she obtain a spot before the ship takes flight? When the future of the human race is at stake, whose lives matter most?
Phaet has lived her whole life in a colony on the Moon. When her mother is arrested, she must enlist in the Militia. Rank high, save her siblings, free her mom: that's the plan. Until Phaet's logically ordered world begins to crumble…Suspenseful, intelligent, and hauntingly prescient, Dove Arising stands on the shoulders of our greatest tales of the future to tell a story that is all too relevant today.
Exo by Fonda Lee
It's been a century of peace since Earth became a colony of an alien race with far reaches into the galaxy. Then Donovan, the son of a high-ranking human official, is abducted by a revolutionary group. Left in the hands of terrorists who have more uses for him dead than alive, the fate of Earth rests on Donovan's survival. Because if he's killed, it could spark another intergalactic war. And Earth didn't win the last one…
Tara Krishnan feels out of place as a scholarship student at a rigorous prep school. Then, a message from an alternate Earth, light years away, is intercepted by NASA. On another planet, there is another version of Tara, a Tara who could be living better, burning brighter, because of tiny differences in her choices. As a new era of scientific history dawns, only one thing is clear: Nothing on Earth—and for Tara—will ever be the same again.