Quizzes
Who and What Done it? Sleuth out the Culprit based on Your Favorite YA Books
This YA mystery quiz is sponsored by In The Hall with the Knife by Diana Peterfreund.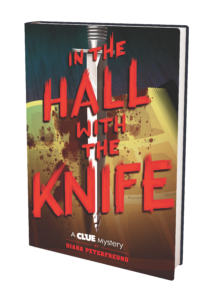 At Blackbrook Academy everyone has a motive . . . for murder. When a storm strikes at Blackbrook Academy, an elite prep school nestled in the woods of Maine, a motley crew of students—Beth "Peacock" Picach, Orchid McKee, Vaughn Green, Sam "Mustard" Maestor, Finn Plum, and Scarlet Mistry—are left stranded on campus with their headmaster. Hours later, his body is found in the conservatory and it's clear his death was no accident. With this group of students, everyone is hiding something and nothing is as it seems. Fans of the CLUE board game and cult classic film will delight in Diana Peterfreund's modern reimagining of the brand and its characters.
CLUE and all related characters are trademarks of Hasbro and are used with permission. © 2019 Hasbro. All Rights Reserved. Licensed by Hasbro.
---
Your average gumshoe doesn't sleuth out all the clues the way you do—in fact, a lot of your detective skills come from your favorite YA books. From thrillers to mystery novels; from magic to horror books; from hardboiled private investigators to amateur spies, find out how your childhood preferences determine who committed the murder and what weapon they used!
To quit lallygagging around and solve the case of who and what done the murder, take this short personality quiz! It's time we all knew: whodunit?