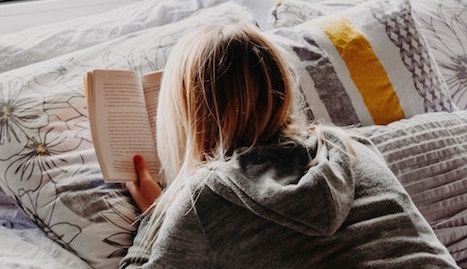 This content contains affiliate links. When you buy through these links, we may earn an affiliate commission.
Sponsored by Flatiron Books, publishers of Mirage by Somaiya Daud
An "enriching, thrilling, and captivating" (BuzzFeed) epic fantasy inspired by the author Somaiya Daud's Moroccan heritage about a poor young woman who must become the body double of a princess of a ruthless empire.
---
Hold on to your hats, YA readers! September is upon us, and you know what that means…new release season! Fall is packed with so many delicious new books, it's going to be hard to highlight them all—let alone read them. But we are going to do our valiant best! I've left off some big ones that are certainly already on your radar (ahem, A Heart in a Body in the World by Deb Caletti drops this month! Sadie by Courtney Summers is already a Book Riot fave and out September 4!) but here are some more great September YA books for your library holds list! May your holds restrictions be loose, and your reading time unimpeded by too many life responsibilities.
Bina has never forgotten the time she and her mother ran away from home. Her mother promised they would hitchhike to the city to escape Bina's cruel father and start over. But before they could even leave town, Bina had a new stepfather and two new stepsisters, and a humming sense of betrayal pulling apart the bond with her mother—a bond Bina thought was unbreakable.
Eight years later, after too many lies and with trouble on her heels, Bina finds herself on the side of the road again, the city of her dreams calling for her. She has an old suitcase, a fresh black eye, and a room waiting for her at Catherine House, a young women's residence in Greenwich Village with a tragic history, a vow of confidentiality, and dark, magical secrets. There, Bina is drawn to her enigmatic downstairs neighbor Monet, a girl who is equal parts intriguing and dangerous. As Bina's lease begins to run out, and nightmare and memory get tangled, she will be forced to face the terrible truth of why she's come to Catherine House and what it will cost for her to leave…
In A Room Away from the Wolves, critically acclaimed and New York Times bestselling author Nova Ren Suma weaves a spellbinding ghost story about who deserves a second chance, how we lie to those around us and ourselves, and what lengths girls will go to in order to save each other.
Out September 4th.
Rumi Seto spends a lot of time worrying she doesn't have the answers to everything. What to eat, where to go, whom to love. But there is one thing she is absolutely sure of—she wants to spend the rest of her life writing music with her younger sister, Lea.
Then Lea dies in a car accident, and her mother sends her away to live with her aunt in Hawaii while she deals with her own grief. Now thousands of miles from home, Rumi struggles to navigate the loss of her sister, being abandoned by her mother, and the absence of music in her life. With the help of the "boys next door"—a teenage surfer named Kai, who smiles too much and doesn't take anything seriously, and an eighty-year-old named George Watanabe, who succumbed to his own grief years ago—Rumi attempts to find her way back to her music, to write the song she and Lea never had the chance to finish.
Aching, powerful, and unflinchingly honest, Summer Bird Blue explores big truths about insurmountable grief, unconditional love, and how to forgive even when it feels impossible.
Out September 11th.
Pride by Ibi Zoboi
Zuri Benitez has pride. Brooklyn pride, family pride, and pride in her Afro-Latino roots. But pride might not be enough to save her rapidly gentrifying neighborhood from becoming unrecognizable.
When the wealthy Darcy family moves in across the street, Zuri wants nothing to do with their two teenage sons, even as her older sister, Janae, starts to fall for the charming Ainsley. She especially can't stand the judgmental and arrogant Darius. Yet as Zuri and Darius are forced to find common ground, their initial dislike shifts into an unexpected understanding.
But with four wild sisters pulling her in different directions, cute boy Warren vying for her attention, and college applications hovering on the horizon, Zuri fights to find her place in Bushwick's changing landscape, or lose it all.
In a timely update of Jane Austen's Pride and Prejudice, critically acclaimed author Ibi Zoboi skillfully balances cultural identity, class, and gentrification against the heady magic of first love in her vibrant reimagining of this beloved classic.
Out September 18th.
Bijan Majidi is:
Shy around girls
Really into comics
Decent at basketball
Bijan Majidi is not:
A terrorist
What happens when a kid who's flown under the radar for most of high school gets pulled off the bench to make the winning basket in a varsity playoff game?
If his name is Bijan Majidi, life is suddenly high fives in the hallways and invitations to exclusive parties—along with an anonymous photo sent by a school cyberbully that makes Bijan look like a terrorist.
The administration says they'll find and punish the culprit. Bijan wants to pretend it never happened. He's not ashamed of his Middle Eastern heritage; he just doesn't want to be a poster child for Islamophobia. Lots of classmates rally around Bijan. Others make it clear they don't want him oranybody who looks like him at their school. But it's not always easy to tell your enemies from your friends.
Here to Stay is a painfully honest, funny, authentic story about growing up, speaking out, and fighting prejudice.
Out September 18th.
This anthology explores disability in fictional tales told from the viewpoint of disabled characters, written by disabled creators. With stories in various genres about first loves, friendship, war, travel, and more, Unbroken will offer today's teen readers a glimpse into the lives of disabled people in the past, present, and future.
The contributing authors are award winners, bestsellers, and newcomers, including Kody Keplinger, Kristine Wyllys, Francisco X. Stork, William Alexander, Corinne Duyvis, Marieke Nijkamp, Dhonielle Clayton, Heidi Heilig, Katherine Locke, Karuna Riazi, Kayla Whaley, Keah Brown, and Fox Benwell. Each author identifies as disabled along a physical, mental, or neurodiverse axis—and their characters reflect this diversity.
Out September 18th.
Ever since her mom died three years ago, Analee Echevarria has had trouble saying out loud the weird thoughts that sit in her head. With a best friend who hates her and a dad who's marrying a yogi she can't stand, Analee spends most of her time avoiding reality and role-playing as Kiri, the night elf hunter at the center of her favorite online game.
Through Kiri, Analee is able to express everything real-life Analee cannot: her bravery, her strength, her inner warrior. The one thing both Kiri and Analee can't do, though, is work up the nerve to confess her romantic feelings for Kiri's partner-in-crime, Xolkar—a.k.a. a teen boy named Harris whom Analee has never actually met in person.
So when high school heartthrob Seb Matias asks Analee to pose as his girlfriend in an attempt to make his ex jealous, Analee agrees. Sure, Seb seems kind of obnoxious, but Analee could use some practice connecting with people in real life. In fact, it'd maybe even help her with Harris.
But the more Seb tries to coax Analee out of her comfort zone, the more she starts to wonder if her anxious, invisible self is even ready for the real world. Can Analee figure it all out without losing herself in the process?
Out September 18th.
Want more "3 On A YA Theme" posts? Gotcha covered.