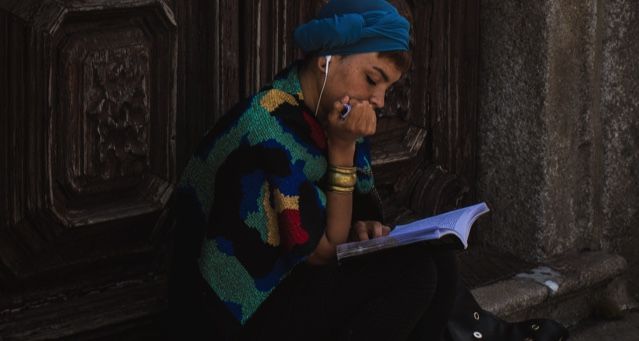 Lists
12 YA Books About Obsessive-Compulsive Disorder
This content contains affiliate links. When you buy through these links, we may earn an affiliate commission.
I remember the first time I read a book about someone with obsessive-compulsive disorder. Although I'd first begun treatment for the disorder in middle school, I didn't read a book featuring a character with OCD until a decade later—during my senior year of college. It had a profound effect on me. I'd undergone years of therapy and understood that I was more than my mental illness, but I felt so much less alone and ashamed of my condition after encountering a narrator who understood what I was going through.
Obsessive-compulsive disorder affects 2.2 million people in the United States, and about 25% receive a diagnosis by age 14—though one-third report experiencing symptoms in childhood. For that reason, it's essential for YA books to portray characters with OCD and other mental health issues.
Read on to discover 12 books featuring protagonists with obsessive-compulsive disorder. From 2019 debuts to well-loved classics, these books can help those with OCD feel less alone and those without it understand what it's like to have this condition.
From the outside looking in, Samantha McAllister looks like anyone else at her high school. But none of her friends, she believes, would ever understand her battle with obsessive-compulsive disorder. Sam has a subset of the condition called purely-obsessional OCD, which causes a stream of intrusive thoughts and worries to invade her mind all of the time. But then Sam meets Caroline, a classmate who seems to understand what it's like to struggle with mental illness. And when Caroline introduces her to a spoken word poetry club at their school, she's able to find a way to creatively express her doubts and worries.
Like many girls growing up in Malaysia during the 1960s, Melati Ahmad loves music—especially anything to do with the Beatles. But Mel harbors a dark secret: unless she performs tapping and counting rituals every day, she believes that she will cause her mother's death. When racial tensions turn her city into a war zone on the evening of May 16th, she and her mother become separated. Worrying that her greatest fears have come true, she enlists the help of a Chinese boy named Vincent to find her mom. But to do so, she must not only overcome her obsessive-compulsive thoughts but also her own racial prejudices.
Griffin's best friend and ex-boyfriend Theo was the only person who understood his obsessive and sometimes consuming rituals with numbers. Even when they broke up and Theo started dating someone else, Griffin always thought that they were soulmates. But then Theo dies in a drowning accident, which sends Griffin's depression and OCD into a spiral that threatens to derail his entire life. So, after Theo's funeral, he turns to the only person who could understand his grief and help him pick up the unfinished pieces: Theo's boyfriend, Jackson.
This book is considered a classic in the mental health community, and for good reason: it was one of the first mainstream YA books to portray the diagnosis and treatment of obsessive-compulsive disorder. From a young age, Tara Sullivan has lived in fear that unless she performs time-consuming rituals every day, the people she cares about will die. But when she reaches her teen years, her compulsive behavior reaches new heights that agonize her friends and loved ones to watch. Through serendipity, she meets a boy named Sam who puts a name to her worries (OCD) and helps her find treatment. With the help and support of her psychologist, her family, and Sam, can she find peace against the intrusive thoughts that have plagued her since childhood?
Aza Holmes sometimes feels like a prisoner in her own mind. It's so easy for her to get trapped in the never-ending spiral of her obsessive thoughts. But then the billionaire Russel Pickett goes missing with a $100,000 reward on his head. Ada and her friends are determined to find him and claim the prize. Their search, however, takes them to unexpected places. Such as, for example, the home of a childhood friend. Not only does this search cause Aza to confront her own past, but it escalates her OCD to a crisis point that she can't overcome on her own.
This YA contemporary follows five teens as they support and rely on each other while overcoming their mental health issues. Clarissa is determined to confront her OCD—and her overbearing mother—once and for all. Andrew wants to deal with his eating disorder so he can pursue his dreams of becoming a musician. Mason has narcissistic personality disorder, but he's starting to realize that it's not just everyone else in his life who has a problem. Film lover Ben struggles with depersonalization, but he wants to experience more of life than just what he sees in movies. And Stella's depression causes anger issues that are hard for her and others to understand. A wilderness therapy program brings these five together and, during the most difficult month in their lives, they're able to address their issues together and begin to heal.
Addie doesn't want to leave her mom or her dog Duck, but her obsessive-compulsive disorder has taken over her life. Between the counting rituals and fixation with rhythms, she knows that she can't go on like this. So she begins treatment as at the inpatient ward of the Seattle Regional Hospital. Here she meets Fitz, a boy with schizophrenia who shares her love of puns, existentialism, and absurdist theater. But Fitz is haunted by his past, as well as delusions that don't give him much peace. Addie and Fitz cling to each other in a world full of uncertainties and try to find the courage to face their inner demons.
Danielle Levine knows that, even at her alternative high school, she's what others would consider an "outcast." Between her sarcastic attitude, her plus-sized body, and her obsessive-compulsive tendencies, she's decided to embrace the misanthropic stereotype that others have assigned her. But when her scathing and mildly scandalous English essay sends her to the school psychologist, she's forced to enroll in a "social skills" class. Here she meets Daniel, a quirky classmate who's obsessed with The Big Lebowski, who convinces her that she doesn't have to go through high school alone.
Fifteen-year-old Adam's OCD support group is what some would call "unconventional." His counselor encourages them to see themselves as superheroes in charge of their own fates and mental health issues. So when a new girl named Robyn joins the group, Adam longs to be her Batman. But Adam has a lot more going on in his life than a crush: between his parents' divorce, his mom's hoarding tendencies, and his own intrusive thoughts, he often feels anything but "normal." With Robyn and the rest of his support group's help, however, he's able to find something better than normalcy: closure.
Chuck Taylor's shared name with a shoe brand isn't even the worst thing going on for him. His OCD has always been an issue but by high school, it has consumed his life. His elaborate hand-washing routines and intrusive thoughts frighten his friends and isolate him from his peers. Unless he gets a closer reign on it, he worries that he'll never have control over his mental illness again. But with graduation approaching, Chuck is determined to face his issues head-on—even if it means getting his hands a little dirty.
When 16-year-old Tiffany Sly loses her mother to cancer, she leaves her friends in Chicago to live with a dad that had never really been present in her life. Her OCD and generalized anxiety clashes with her dad's strict house rules. And her four stepsisters are used to a lifestyle of wealth and luxury that she'd never known. Nobody seems to understand her grief or her mental health struggles until she meets Marcus, the boy next door. Through their blossoming friendship, Tiffany is finally able to make peace with her mother's death and take risks to overcome her OCD.
Between her obsessive-compulsive disorder and agoraphobia, Norah is trapped in her home and her mind. From the moment she wakes up to her last thoughts before falling asleep, she's paralyzed by fears that no amount of compulsions alleviate. She tries to convince herself that she's content with the glimpse of the outside world she gets from social media until a boy named Luke knocks on her door. Luke knows that Norah is more than her mental illness, and he wants her to see that, too. Through their friendship and eventual romance, Norah finds the courage to face her fears and stop viewing herself as broken.