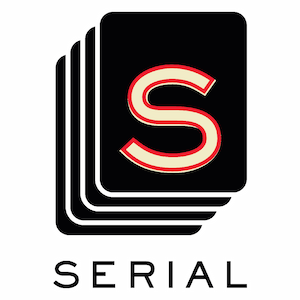 Nonfiction
Out on the Wire: Serial, Structure, and Storytelling
This content contains affiliate links. When you buy through these links, we may earn an affiliate commission.
Last October I got completely addicted to the podcast Serial.
I wasn't alone. For a while it seemed like everyone was talking about it, anxiously waiting for Thursday to roll around with a new episode. It got so big there was even a Saturday Night Live parody.
Serial was the fastest podcast ever to reach five million downloads…it did so well that it actually boosted the popularity of podcasts in general. (Ira Glass even did a video on How to Listen to a Podcast for all the newbies.) In June it became the first podcast to win a Peabody Award.
Serial is riveting. (If you haven't listened to it yet, do it! Do it today!) I hadn't really listened to podcasts before but I've slowly started to get into them post-Serial. Now I'm hooked on Harmontown, and a few others. Elizabeth Gilbert has a good one called Magic Lessons and Book Riot, of course, has a slew of interesting podcasts. (Reading Lives, anyone?)
I'm interested in what makes these shows work. What keeps us listening? What creates this thing called the "driveway moment" – when you're listening to a show, and your drive is over but you just don't want to stop listening so you sit there in your car because you just have to hear what happens next.
The whole concept of STORY has become popular lately. There are books about it and rules to follow and conversations filled with words like protagonist and narrative and arc. Part of me has resisted this whole idea because it seemed imposed somehow, sort of fake.
Why should every story fit a certain structure, and who decides? Why should one structure work, universally? Who says "story" is so important anyway? Does the world really revolve around stories and the telling of them in a very particular way?
But then there's Serial. That is some damn fine storytelling and it can't have happened by accident. What if there really is a way to tell a story that is so intrinsic that we all recognize it on some level? Maybe certain stories are almost universally popular because there is something deep in us that recognizes the structure, whether we realize it or not.
Dan Harmon says this: "Storytelling comes naturally to humans, but since we live in an unnatural world, we sometimes need a little help doing what we'd naturally do."
(He has this whole Story Circle theory that I'm completely obsessed with.)
I'd been thinking about all this – Serial and storytelling and structure – when I saw a tweet from Crown Publishing about a new book they were publishing called Out on the Wire: The Storytelling Secrets of the New Masters of Radio. The tweet called it "a fascinating exploration of the podcast phenomenon."
I got my hands on it and I read it like it was a thriller or something… I couldn't put it down. It's about podcasts and storytelling and radio and how to create compelling stories that keep you listening even after you've driven home and are sat there in your driveway. Oh and it's a comic!
Serial isn't actually in this book, by the way. (Most of the research was done before Serial really became a thing.) But Serial is basically a spin off of This American Life, and Out on the Wire is full of This American Life. It's so easy to see how their method of storytelling became Serial-style storytelling.
In fact, weirdly, there were moments when reading this book felt a bit like listening to Serial (despite the fact that Serial is a podcast about a murder case and Out on the Wire is a comic about radio) because the set up is similar. Most noticeably because the main reporter is part of the story – we're getting her actions and her thoughts and her feelings right along with the rest of it.
So she's not only telling you the secrets of storytelling… she's using those secrets to tell her story. And that turns this non-fiction "how to" comic into a compelling story in it's own right.