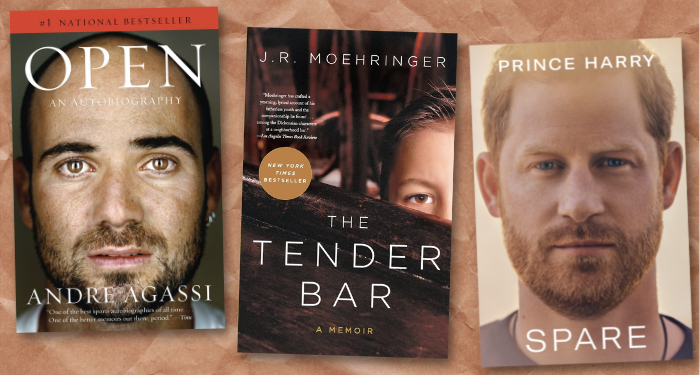 Essays
Ghostwriter to the Stars: Who Is J.R. Moehringer?
This content contains affiliate links. When you buy through these links, we may earn an affiliate commission.
J.R. Moehringer has been one of the biggest names in celebrity memoir since long before we were all discussing Prince Harry's frostbitten penis. It sounds like an oxymoron to be a publicly-recognized ghostwriter, but it seems as though in recent years, ghostwriting has begun to be presented more as a collaboration than like a celebrity trying to "pull one over" on readers. Queer Eye's Tan France specifically mentioned his ghostwriter in interviews. New Yorker writer Ariel Levy worked with actress Demi Moore on her book, though her name does not appear on the cover. Most recent articles I've seen on ghostwriters are interviews with the ghostwriters themselves, whereas there are a plethora of interviews from a decade back about which celebrities "got busted" for working with ghostwriters. No matter how big the name may be, a good ghostwriter must fade into the background, and J.R. Moehringer is widely recognized as one of the best.
Not all ghostwriters are, or wish to be, identified publicly (and it is in the agreement for some that they never will be). Some are thanked in the acknowledgements of a book, others are not. Moehringer is listed in Harry's book as his "collaborator and friend, confessor and sometime sparring partner." Even if he hadn't been open about working with a ghostwriter, it would not be a huge stretch to know that Prince Harry, who went to great lengths to tell the reader that he himself is not a big reader or writer, did not write his book by himself. But who is J.R. Moehringer, and how did he get this job, for which he was reportedly paid in the neighborhood of seven figures?
John Joseph Moehringer was born on December 7, 1964 and grew up in Manhasset, New York and Scottsdale, Arizona. His father was a radio DJ who disappeared from his life early. He was raised by his single mother, whom he has also called "his best editor." As a child, he spent a lot of time in a bar where his uncle bartended, which provided the groundwork for his own 2005 memoir, The Tender Bar, which more recently turned into a movie starring Ben Affleck. He graduated from Yale "by a hair's breadth," according to a New York Times profile written ahead of the publication of his memoir.
He has worked as a journalist since the early 1990s. He reported a story for the Los Angeles Times about an unhoused man who claimed to be heavyweight boxer Bob Satterfield, which was a finalist for the Pulitzer Prize and eventually became the 2007 movie Resurrecting the Champ. He has also won a Pulitzer for feature writing for an article on Gee's Bend, a community in Alabama where many descendants of enslaved people lived.
Moehringer is also the author of a historical novel, Sutton, about a 1920s bank robber, which was written in response to the 2008 financial crisis. In interviews, he expressed a similarly extensive research process to that of ghostwriting. He also edited the 2013 edition of The Best American Sports Writing.
Before Spare, Moehringer was known for his work on Nike co-founder Phil Knight's memoir, Shoe Dog, as well as tennis star Andre Agassi's book, Open. Agassi has been open and laudatory about how it was to work with Moehringer. Moehringer moved to Las Vegas, a mile away from Agassi's home, and lived there for two years while working on the book.
He spoke to NPR in 2012 about his ghostwriting process:
"When you're writing a memoir the trick, I think, is to treat yourself as a character — to distance yourself from yourself. You write about yourself in the first person, but you think about yourself in the third person. That's the only way you can gain any perspective, any clarity, and keep the dogs of narcissism at bay. And then when you're writing someone else's memoir, you do just the opposite. You try and inhabit their skin, and even though you're thinking third person, you're writing first person, so the processes are mirror images of each other…"
More than just a surprisingly lucrative life path, Moehringer appears to see helping others tell their stories as something of a sacred duty. I am sure I am not the only person to be interested to see where he goes after Spare. You'll have to keep an eye out, though, since he won't be telling.