This content contains affiliate links. When you buy through these links, we may earn an affiliate commission.
This is a guest post from Dana Lee. Dana lives East Haven, CT with her rescue cat Belle. She works for that Ivy League institution down the street and tries to read as many books as possible in her free time. Audiobooks and print books get equal love. Also, she judges books by their covers and makes way too many playlists. Twitter: @lucyhenley115
---
There is a genre of books, my favorite genre actually, that I'm forever combing the world for more, more, more. I don't think it's recognized anywhere else except for a shelf in the corner of my living room and the great big space that it takes up in my imagination. This genre is the "warm fuzzies," sometimes known as the "warm nerd fuzzies." Characterized by the way these books make me feel when I'm reading them; when I finish them and can't stop thinking about all the beautiful characters living their beautiful lives in outer space; or staring at the lovely covers and sighing interminably.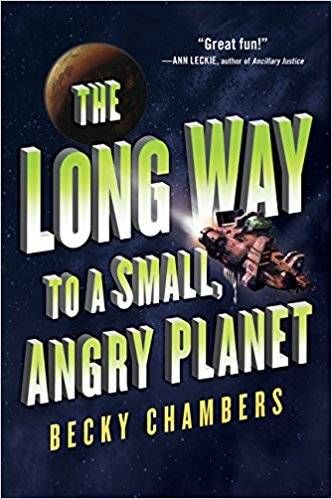 The first two books that started me on what will no doubt be a lifelong pilgrimage were The Long Way to a Small Angry Planet and its follow-up A Closed and Common Orbit by Becky Chambers. The first book follows the crew of a working spaceship and explores in stunning detail the worlds and species that inhabit planets and ports along the way. I know I won't do it justice, but the book is equal parts sci-fi and space opera, and celebrates diversity and inclusivity. It's just so pretty. The follow-up picks up the origin story of a few secondary characters and runs away to the warm fuzzy reaches of my cold heart.
Since I started this journey last summer, I've found a few more sci-fi fuzzies, namely The Wrong Unit by Rob Dircks and The Wanderers by Meg Howrey. These two made the cut because they followed a few simple fuzzy guidelines: 1) sci-fi: there's nothing like leaving the real world behind for a bit. 2) a nice adventure plot without starting with a death or ending with a late-page murder. I can't tell you how many times i've been hopefully reading and then BAM, somebody dies and my inner—crackling fire, furry slippers, steaming coffee—mood turns to nail biting stress. 3) inclusivity, robots, AIs, feathered aliens—I love when books immediately bypass the boy-hero and take me right into a diverse cast of characters.
And bonus points for female sci-fi writers.
I'm kind of a cynical or let's say "realistic" person IRL, I read a lot of news and it can bring you way down sometimes and so I always find myself longing to discover the next warm and fuzzy book. Basically, I'm just writing this post so that you lovely people will recommend more books to me that hopefully make it to my corner shelf. So comment away (especially with those warm *nerd* fuzzy sci-fi picks).