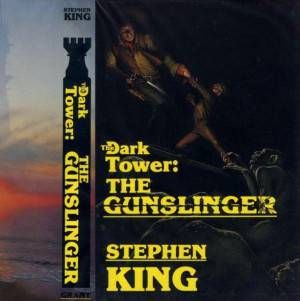 This content contains affiliate links. When you buy through these links, we may earn an affiliate commission.

original cover art by Michael Whelan
The single biggest sticking point that I hear from people about reading Stephen King's Dark Tower series is that they can't stand the first book. "It's pretentious," they say, which is probably true–King wrote it at 19 as an exercise in style, and the combination of youth and stylizing makes it quite different from the writing voice we all know. "I couldn't get into it." "It's boring." "I want to throw it across the room and then set it on fire."
Personally, I loved The Gunslinger, so much that I sought out a used original copy after King released a revised edition. (I've probably owned five copies of The Gunslinger at this point. I don't know why. They just disappear.) But I get it. It's not the kind of book that everyone loves, and it's definitely not the kind of book that one expects from Stephen King.
I have good news for people who think the series sounds great but aren't enthralled with the first volume: from the second book on, the voice is classic King. In fact, I think it's some of his best work; I doubt I'm alone in that. If you loved IT, The Stand, The Talisman, 'Salem's Lot, Insomnia, and/or The Eyes of the Dragon, you're due for a reading of the series. Trust.
"But Susie," you might be saying. "Haven't we already covered that I cannot get through The Gunslinger to move on to the rest of the series?"
What I'm about to suggest is going to be blasphemy to a lot of serious series readers, but my suggestion on dealing with The Gunslinger if it's the major stumbling block to enjoying a large and important chunk of King's work? Skip it.
No, really. Just don't read it.
There are important things that happen during the first book, so you can check out the summary on Wikipedia or this Dark Tower wiki (the latter has a spoiler alert in bold just past the book summary, so mind it if you don't want to be spoiled for later books). Since the first book is so stylistically different than the subsequent books, though, and since we don't actually get a ton of character development until The Drawing of the Three (not to mention, we don't even meet most of the characters until after The Gunslinger), I think you could fully enjoy the series without reading the first book. If you're grooving on it, you can go back later and try again.
It's not ideal. Ideally, everyone would love The Gunslinger as much as I do; that's not reality, though, and the series is too different from the first book and too awesome to let it be a deterrent. As an avid Dark Tower junkie, I give you permission not to read it if you don't like it. (I can do that, right? Right. I think.)
So go pick up The Drawing of the Three and get to know some of King's most beloved characters. If you still don't like it…well, at least you'll have judged it based on what the bulk of the series is like. You can then be satisfied you're not missing anything you might love.
____________________
Sign up for our Quarterly Box and get books and bookish goodies in the mail every three months. Because book mail > other mail.