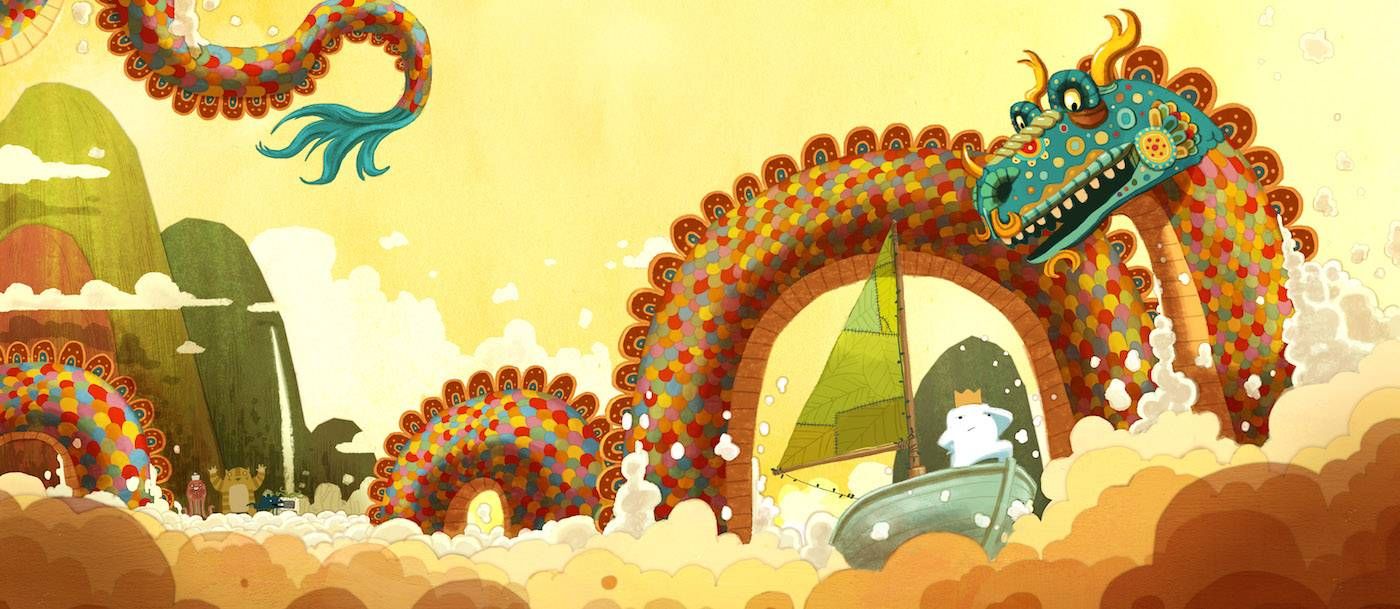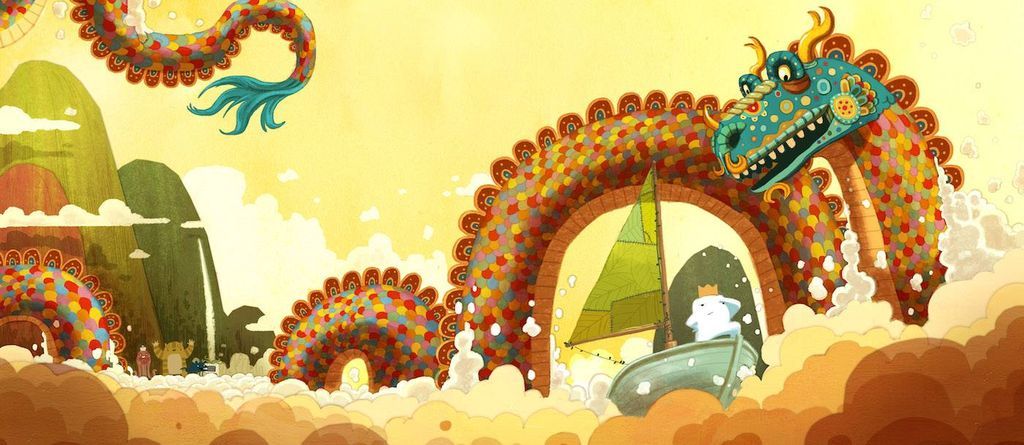 Children's
Doing the Unimaginable: An Interview with BEEKLE's Dan Santat
This content contains affiliate links. When you buy through these links, we may earn an affiliate commission.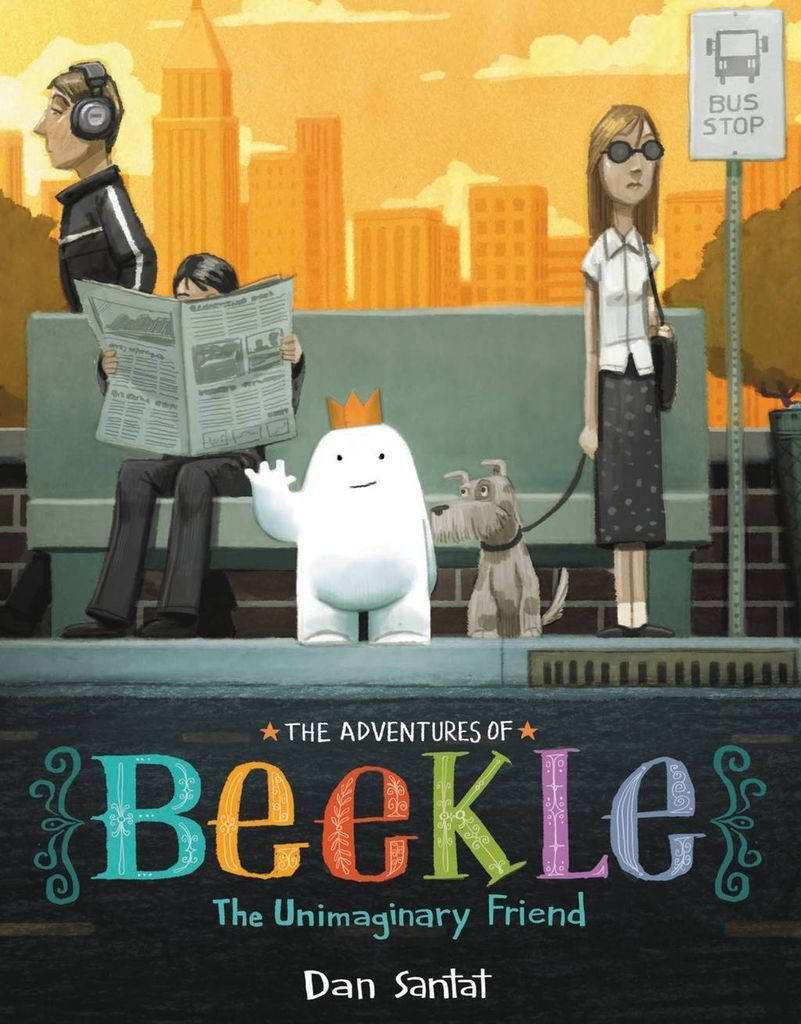 Yesterday, a curious little character named Beekle introduced himself to readers all over the world. And in my humble opinion, this marshmallowy figure with a scotch-taped crown stands head and shoulders above the rest of this year's picture book offerings.
(Note: It's unclear whether or not he actually has shoulders, but that's beside the point.)
The Adventures of Beekle: The Unimaginary Friend by Dan Santat (which hit shelves on April 8, 2014), starts on an island where imaginary friends are born. There they wait for a child to imagine them into being, at which point they are whisked away to the real world. One character (the aforementioned marshmallowy fellow), grows tired of waiting and decides to take matters into his own hands… setting off for the real world in search of a friend.
It's a book about bravery, friendship, the power of storytelling… and to top it all off, it's pretty as all get out. Santat's bold visual style provides the perfect balance to this very tender tale. As I mentioned before, this is my favorite book of the year so far and it would take quite a lot for another book to surpass Santat's masterful blend of artistry, humor, and heart.
With yesterday's arrival, Beekle has officially made it to the real world. To mark the occasion, I asked Dan Santat to take a few minutes out of his (unimaginably) busy schedule for a few questions about his latest book.
---
Minh: I've heard that Beekle is somewhat autobiographical… is that true? If yes, how so?
Dan: Beekle embodies a lot of metaphors relating to my life. In one respect, it's a metaphor about the birth of my first son. I think every new parent imagines what their child to be will be like before they are born. You wonder what their personality will be like, what unique habits they'll have and so forth. Then when you finally witness the birth of your child you meet this person whom you instantly love unconditionally and it just feels right and it's at that same moment you give that child his/her name. In the story, Beekle is born on this magical island. There's a gathering around him like when family gathers at a hospital when a birth is happening.
He then goes on a journey, a transformation in a sense, to discover who he truly is and during the entire time he's nervous and excited at the same time, much like a first time parent. Then when Beekle meets his child all that fear suddenly disappears and he instantly loves this person he has just met and it feels just right.
The book is also a metaphor about the worry a child has about going out into the real world and making their first friend and wondering if there's someone out in the world for them. Beekle is like my son at his first day of school worrying about whether or not he will fit in with the other kids in school, or if he can even make friends. In the end it takes is just one person to understand who he is and everything feels right.
Lastly, it's the metaphor about how two people can collaborate to make a story together. Beekle is the writer, the girl is the illustrator, and they meet under a tree. Paper. Life. A book.
M: As an artist, do you relate more to Beekle or to the child who imagines him into being?
D: As an artist I embody both characters equally. The child imagines this entire story and draws the entire adventure which is fully inspired by her surroundings and life experiences. For example, the stars in the sky bring imaginary friends to their child, which is inspired by the star shaped leaves in the tree she is sitting under.
Beekle's journey is much like my transition from science into a career in art. There was a lot of uncertainty going through my mind about whether or not I was making the right decision for my life, but I pressed on in hopes of realizing what I truly wanted in my life. It wasn't until years later after art school and working professionally that I changed into someone who I was happy to be and fully understood my purpose.
M: At the end of the book, you attribute the name "Beekle" to a boy named Alek. Can you tell us the story behind that?
D: Alek is my oldest son who is eight years old. Years before he was born, the idea of an imaginary friend who couldn't be imagined was something I was tinkering with for years. There was never any real substantial ideas because I was always too busy with other projects to tackle the project and so it basically just sat as a one line concept. I didn't even have a name or a look for the main character. Even the original working title for the book was "Unimaginable".
When Alek was born, and when he could finally speak, his first word was Beekle, which was his word for bicycle. At the time, my wife mentioned that it would be a great name for a children's book character and I immediately realized that I had a name for my new character. Once I named the character the rest of the story flowed right out of me naturally and because of that the scene where Beekle learns his name is especially precious to me.
M: Did you have imaginary friends as a child? Or, for that matter, do you have any imaginary friends now?
D: It's funny you mention that because I never had an imaginary friend that I made up on my own while growing up. I was an only child so one would probably think that it was natural to make up a friend but when I played make believe with myself I would often pretend the imaginary friends I was surrounded by were things I had seen on TV. Smurfs and Bugs Bunny were a particularly popular play dates for me at the time. I couldn't get enough of them. As an adult you'd be surprised. I don't even have dreams, or on the rare occasion that I do they're really plain dreams. I'll have dreams about eating cereal and that's the whole dream. Real creative, Santat. Real creative…. sigh.
M: You were the author and illustrator of this book, but in the past you've often illustrated other people's stories. How does the process of working on your own story compare with illustrating someone else's text?
D: The most obvious thing that I notice is that I stress out a lot more about all the decisions I make when I'm serving as both author and illustrator of a book. When my primary task is to just illustrate a book then I know that I'm only shouldering half the responsibility. Lately I've had the luxury of being able to accept only those projects that I've read and I'm truly in love with and so the task is much easier., but if I'm doing both tasks then whatever reviews come out then it's like a full reflection on me. I find myself second guessing a lot when I try to illustrate my own text because I think it's my need for everything to be perfect.
M: Which authors/artists (not limited to children's lit) do you consider as influences?
D: William Joyce for his skill in composition and lighting, Saul Bass for his graphic simplicity in symbology, Chipp Kidd for his brilliant thinking for covers, David Sedaris for his sense of humor, NC Wyeth for his narrative abilities in illustratin, JC Leyendecker for his energy in dynamic posing, Dean Cornewell for his form, and Masamune Shirow for being so darn skilled with pen and ink
M: What are you working on now?
D: I just completed re-illustrating the first four books to Ricky Ricotta's Mighty Robot by Dav Pilkey and I'm in the process of re-illustrating the next three and then moving on to illustrating two new Ricky Ricotta adventures after that. I'm illustrating the sequel to Crankenstein called A Crankenstein Valentine by Samantha Berger as well as books five and six of the Imaginary Veterinary series by Suzanne Selfors and, at some point this year, starting on art for Invasion of the Fluffy Bunnies (the sequel to Attack of the Fluffy Bunnies) by Andrea Beaty. As for my personal projects, I'm working on my next picture book entitled, Are We There Yet with Little, Brown and my next graphic novel with Scholastic called, The Aquanaut. All in a day's work.
---
See, I wasn't kidding when I said his schedule was unimaginably busy.
As you can tell from his responses, Beekle is a true labor of love and it shows on every intricately illustrated page. Now, having finally arrived, the first leg of Beekle's journey is complete… but I'm pretty sure that his adventure is just beginning. I recommend that you venture out and introduce yourself.
I hear he's looking for a friend.