Featured
The Ultimate Book Lover's Guide to the 2016 Oscar Nominees
This content contains affiliate links. When you buy through these links, we may earn an affiliate commission.
When the Oscar nominees are announced every January, it kicks off one of my annual entertainment peak seasons, as I quest (and a quest it is) to watch every single Oscar nominee. This year, that means 57 total films across all 24 categories. As is the case every year, movies based on books are heavily represented across all the categories. But this year, there seem to be a greater-than-usual number of bookish nominees. In fact, 18 of the 57 movies have bookish origins.
Combining my two favorite things, I'm here to break down all the book-to-movie nominees for you: from the well-known – The Martian – to the not-so-well-known – When Marnie Was Here – I've got all the info, broken down alphabetically by film.
45 Years
Nominations: Best Actress (Charlotte Rampling)
Adapted from: Short story "In Another Country" by David Constantine, featured in the collection of the same name that gathers the celebrated British author's work from the last 30 years
A couple's preparations for a party celebrating their 45th anniversary are interrupted when startling news about the husband's ex-girlfriend from 50 years before arrives and throws their marriage into upheaval.
The 100-Year-Old Man Who Climbed Out the Window and Disappeared
Nominations: Make-up and Hairstyling
Adapted from: The 100-Year-Old Man Who Climbed Out the Window and Disappeared by Jonas Jonasson, originally published in 2010 in Sweden and in 2012 in the U.S.
To avoid his 100th birthday party, Jonasson's reluctant and engaging centenarian literally climbs out the window of his nursing home, intending to get as far away as the money in his pocket will take him. But a twist of fate takes him on a wild journey that is just the latest in a life full of adventures. Think 100-year-old Forrest Gump with an affinity for vodka.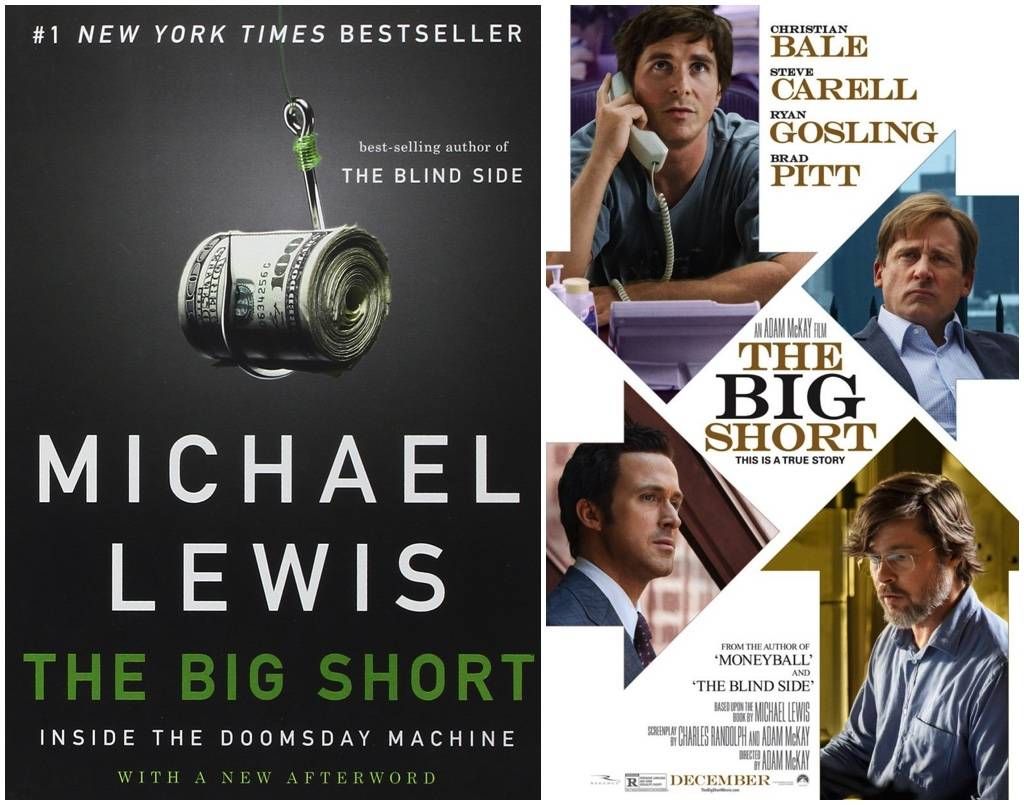 The Big Short
Nominations: 5 total, including Best Picture, Best Director (Adam McKay), Best Supporting Actor (Christian Bale), Film Editing, and Best Adapted Screenplay (Charles Randolph and Adam McKay)
Adapted from: The Big Short: Inside the Doomsday Machine by Michael Lewis, published in 2010
Michael Lewis has written many books that have been adapted into award-winning films, like The Blind Side and Moneyball. This one turns a journalistic eye to the build-up and collapse of the housing market in 2008 and to the key players who bet against the bubble and made a fortune when the bubble burst. What could easily cover a topic to make your eyes glaze over, this film does a brilliant job of explaining and making funny.
Bridge of Spies
Nominations: 6 total, including Best Picture, Best Original Screenplay (Matt Charman and Ethan Coen & Joel Coen), Best Supporting Actor (Mark Rylance), Production Design, Sound Mixing, and Original Score
Based on: Strangers on a Bridge: The Case of Colonel Abel and Francis Gary Powers by James Donovan
Though it's not a true adaptation, the film Bridge of Spies is partly based on the true events about a prisoner exchange on a bridge connecting East and West Germany during the Cold War, depicted in Donovan's memoir which was originally published in 1964. Tom Hanks plays Donovan in the film.
Brooklyn
Nominations: 3 total, including Best Picture, Best Actress (Saoirse Ronan), and Best Adapted Screenplay (Nick Hornby)
Adapted from: Brooklyn by Colm Toibin, published in 2009
Yes, that Nick Hornby. Adapting Irish writer Toibin's most accessible novel, Hornby's film portrays a young woman who comes of age in 1950s Ireland, but moves to Brooklyn after she cannot find a job in the depressed Irish economy. In Brooklyn, she meets and falls in love with a blonde Italian, who threatens everything she thinks she knows about her family and her heritage.
Carol
Nominations: 6 total, including Best Actress (Cate Blanchett), Best Supporting Actress (Rooney Mara), Best Adapted Screenplay (Phyllis Nagy), Original Score, Cinematography, Costume Design
Adapted from: The Price of Salt by Patricia Highsmith
The story of a chance encounter between two lonely women whose forbidden romance has far-reaching implications into both of their lives has become a cult lesbian classic. Originally published in 1952 under a pseudonym, The Price of Salt was a departure for Highsmith who was more well-known for her psychological thrillers.
Cinderella
Nominations: Costume Design
Based on: Charles Perrault's folktale "Cendrillon," later interpreted by the Brothers Grimm
One of the most recognizable and well-loved folktales, the original French version by Perrault dates to 1697, though the Grimm version was the basis for Disney's animated feature in 1950 and in part, for this live-action feature.
The Danish Girl
Nominations: 4 total, including Best Actor (Eddie Redmayne), Best Supporting Actress (Alicia Vikander), Costume Design, Production Design
Adapted from: The Danish Girl by David Ebershoff
Loosely based on the true story of Danish artist Einer Wegener, who, in 1931, became the first man to undergo gender reassignment surgery, David Ebershoff's novel (and the film) tells the story of the relationship between Einer and his wife, Gerda, who is the one who originally encourages him to dress as a woman and to begin calling himself Lili. (Lili Elbe's manuscripts, letters and diary were later compiled and published as a memoir, called Man into Woman.)
Fifty Shades of Grey
Nominations: Original Song ("Earned It" – Music and Lyrics by The Weeknd, Ahmad Balshe, Jason Daheala Quenneville and Stephan Moccio)
Adapted from: Fifty Shades of Grey by E.L. James
What more can I say that hasn't already been said? I'm just laughing at Oscar completists like myself who now have to watch this movie they'd been avoiding. (I'm good though – I saw it after boozy brunch with girlfriends when it first came out.)
The Martian
Nominations: 7 total, including Best Picture, Best Actor (Matt Damon), Best Adapted Screenplay (Drew Goddard), Production Design, Visual Effects, Sound Mixing, Sound Editing
Adapted from: The Martian by Andy Weir, published in 2014
One of the most successful film adaptations – commercially and critically – in 2015, The Martian follows Mark Watney, an astronaut on a mission to Mars who is injured during a sandstorm and presumed dead by his crew. They leave his body behind, not realizing that he's survived. What follows is one of the most epic (and hilarious) battles for survival as Mars tries to kill him over and over again. The novel was also a huge commercial success for Weir, who originally self-published the novel.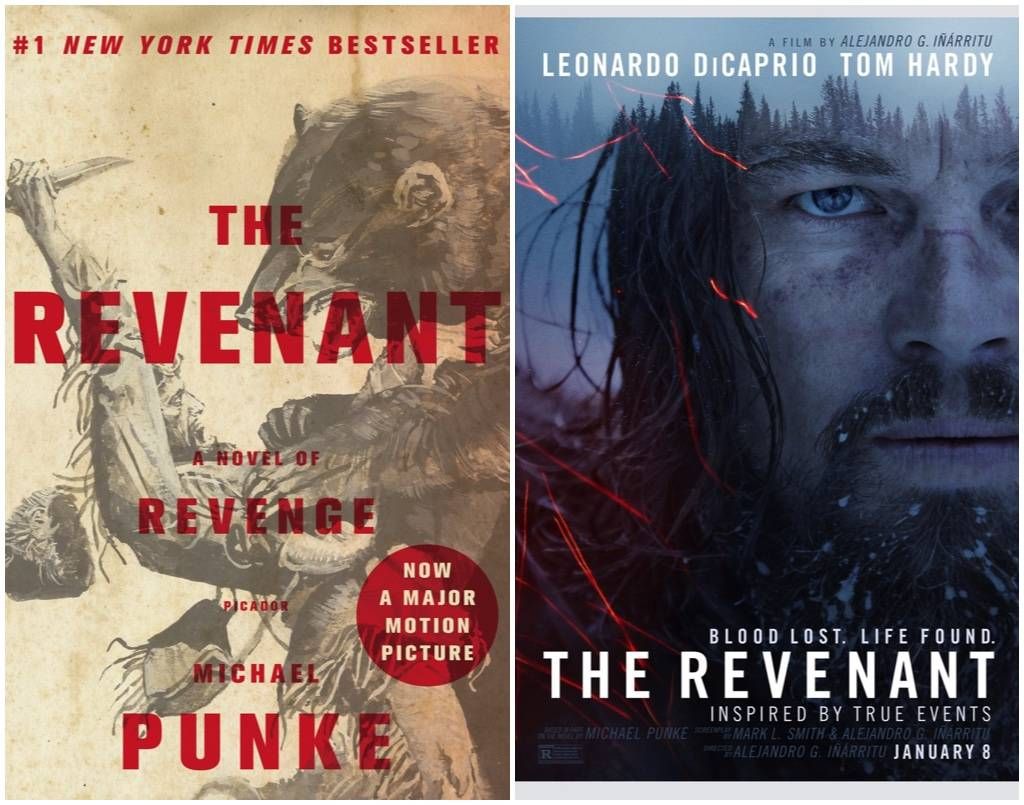 The Revenant
Nominations: 12 total, including Best Picture, Best Director (Alejandro G.Iñárritu), Best Actor (Leonardo DiCaprio), Best Supporting Actor (Tom Hardy), Cinematography, Production Design, Sound Editing, Sound Editing, Visual Effects, Film Editing, Makeup and Hairstyling, and Costume Design
Based on: The Revenant: A Novel of Revenge by Michael Punke
Though the script is based in part on the novel by Punke, it's not considered a full adaptation. Especially since the novel is also based on the real-life experiences of Rocky Mountain fur trader Hugh Glass and his incredible tale of survival after he's mauled by a bear and abandoned by his fellow trappers. He sets out, fighting tooth-and-nail, to find and seek revenge on the men who left him for dead, across 3000 miles of American frontier.
Room
Nominations: 4 total, including Best Picture, Best Actress (Brie Larson), Best Adapted Screenplay (Emma Donoghue), and Best Director (Lenny Abrahamson)
Adapted from: Room by Emma Donoghue
In a victory for book nerds, author Emma Donoghue garnered a nomination for the adapted screenplay of her own book, about a mother and her five-year-old son, Jack, who have been imprisoned in an 11'x11′ room, the only home that Jack has ever known. The film brings to life the horrors of that prison and the unique and truly special voice of Jack, in a way that only the author herself could do.
Spectre
Nominations: Original Song ("Writing's On The Wall" – Music and Lyrics by Jimmy Napes and Sam Smith)
Based on: characters created by Ian Fleming
Whenever we talk Oscars in recent years, we're usually including a Bond film, for no other reason than the movie's theme song. Despite less-than-stellar reviews, the song is still up for an Oscar. But Spectre does actually have some basis in original characters and storylines by Ian Fleming in the original Bond novels, namely the character Franz Oberhauser, who is named in the short story "Octopussy" as having raised a young James Bond.
Spotlight
Nominations: 6 total, including: Best Picture, Best Supporting Actor (Mark Ruffalo), Best Supporting Actress (Rachel McAdams), Best Director (Tom McCarthy), Best Original Screenplay (Josh Singer & Tom McCarthy), Film Editing
Based on: investigative journalism work done by the Boston Globe, later compiled into a book, Betrayal: The Crisis in the Catholic Church
The film follows the investigative Spotlight team at the Boston Globe that uncovered the sexual abuse scandal in the Catholic Church in the early 2000s, focused on the work that team did in reporting what would go on to be over 600 stories and culminating in a Pulitzer Prize. The book mentioned above compiles all the reporting into one place. There is no narrative outside of the original articles, but it's compelling and important journalistic work nonetheless.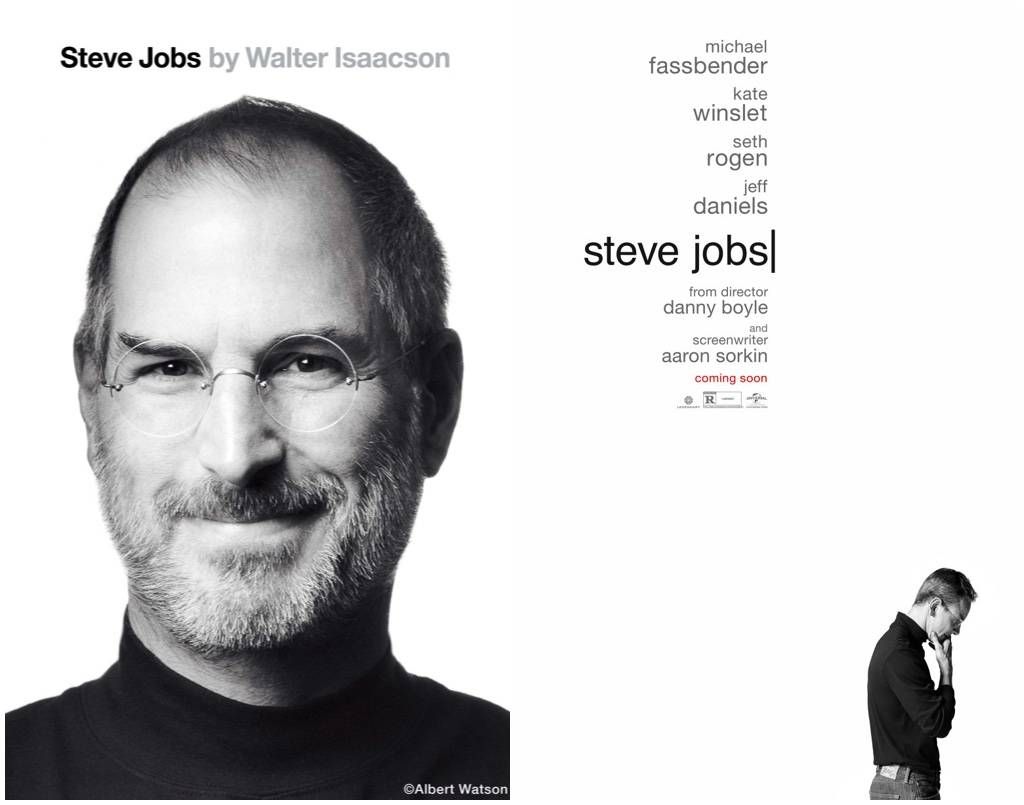 Steve Jobs
Nominations: Best Actor (Michael Fassbender), Best Supporting Actress (Kate Winslet)
Based on: Steve Jobs by Walter Isaacson
The screenplay, written by Aaron Sorkin, is a marvel, for no other reason than it condenses a comprehensive 656-page biography of arguably the most influential man in modern computing technology into a sleek narrative that still manages to encapsulate Jobs' life. The original biography is as readable and engrossing as biographies get, but Sorkin chooses to focus the film around three key product launches as a way to mark the evolution of Jobs' career and personal life.
Trumbo
Nominations: Best Actor (Bryan Cranston)
Based on: TRUMBO by Bruce Cook
Most of us know Dalton Trumbo as the National Book Award-winner for his 1939 novel Johnny Got His Gun, but Trumbo was more well known in his time for being a successful screenwriter and a member of the Communist party, for which he was blacklisted in Hollywood and spent 18 months in jail after he refused to answer questions before Congress. The film – and his biography by Bruce Cook – focus on his life as a struggling screenwriter and the ways in which he subverted the blacklist. (Bryan Cranston is absolute perfection as the enigmatic Dalton Trumbo).
What Happened, Miss Simone?
Nominations: Best Documentary Feature
Inspired: What Happened, Miss Simone? by Alan Light
Rather than a film being adapted from a movie, this is a book that was basically adapted from a film. Inspired by the documentary, former rock critic Alan Light pulls together source material that was used in the film as well as additional recordings, interviews and Nina Simone's own diaries to create a biography of the iconic soul singer. Available for pre-order, the book will be published on Feb. 9th, 2016.
When Marnie Was There
Nominations: Best Animated Feature Film
Adapted from: When Marnie Was There by Joan G. Robinson
The last film produced by Studio Ghibli after the retirement of Hayao Miyazaki, the animated feature is based on a 1967 children's novel that Miyazaki selected as one of his top 50 children's books.