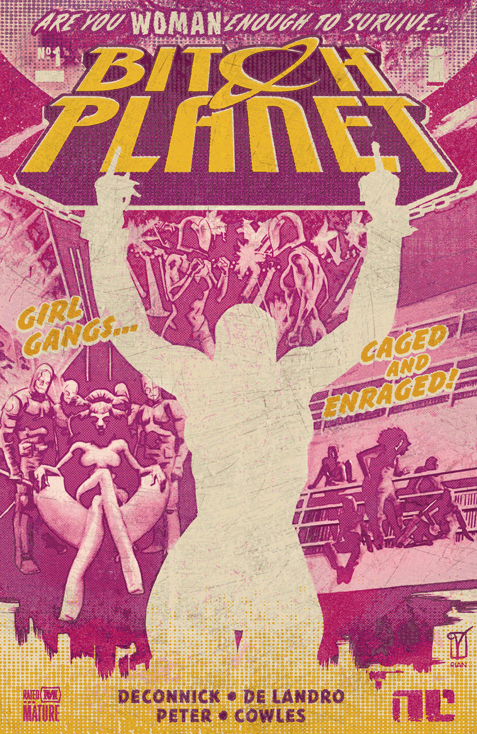 This content contains affiliate links. When you buy through these links, we may earn an affiliate commission.
Sometimes- and I figure I'm not the only one who feels this way- you start reading a story and within two sentences, you know that it's a winner. It fits your thinking like a glove and sticks in your head for hours. That's what happened the first time I read Bitch Planet.
I'm not a comics person. In my time, I've read the occasional longer graphic novel (Maus, My Friend Dahmer, Palestine) but I've never settled into a series of comics- I'm not entirely sure why. I suspect it's because I grew up in a small city with limited access to comics in a time when dial up was a thing and my parents allowed me 15 minutes online each night (ahhhhh, nostalgia!) Also, I'm incredibly impatient (more on this later, ironically).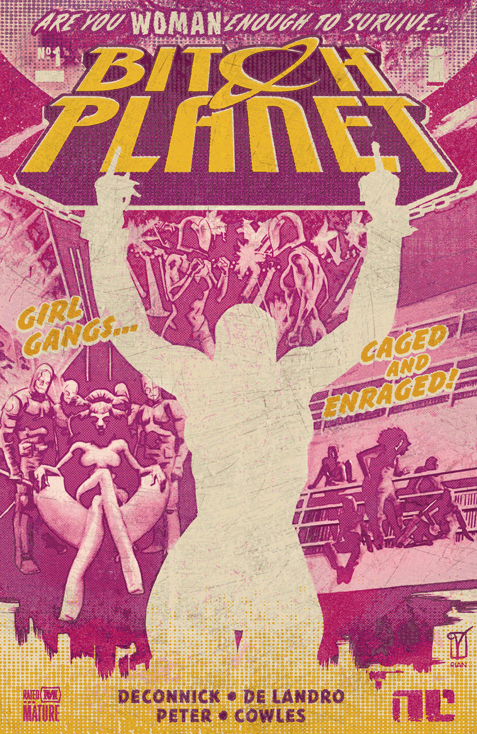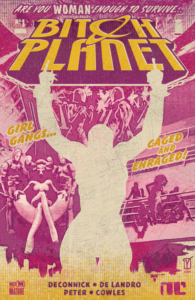 My boyfriend- a fully grown comics aficionado, complete with armfuls of superhero tattoos- handed me a bundle of comics a few months ago and said "You'll like these." He had handed me eight issues of Bitch Planet, which has been discussed and recommended on this site (and many others), but I had missed them entirely. I read the lot in the space of a day and grab new ones from him when he picks them up.
Let me tell you, I am absolutely besotted. The concept, of women imprisoned for rejecting the status quo, is nothing new, but the expression of it in Bitch Planet is wonderful. Even though we're talking about a futuristic world where other planets have been colonised, it doesn't seem even moderately unrealistic that women would be held captive, given the constant barrage of judgements laid down on women in the 21st century.
Bitch Planet is feminism unbound and unafraid- it's a feminism that understands and accepts trans women, black women, Asian women, gay women, straight women- all women. It's a feminism that comprehends the larger picture: we women are all in this together. We may not like each other sometimes, and we have our own prejudices to address- but our disunity serves only the regimes that imprison us.
I was only a few pages in when I recognised myself as 'non-compliant'- unable (and unwilling) to bow down to any patriarchy. A few more pages passed and I realised just about every woman I know is non-compliant. We are legion.
The difficulty with a story like Bitch Planet is that small installments aren't enough. The waiting is killing my soul. How do frequent comic readers cope with these constant cliffhangers and moments of suspense?! My impatience has the potential to ruin the story for me, just because one slice at a time is never enough. I find myself going back through the pages again, enjoying the essays at the back and falling in love with the clever ads and placements on the back covers- these comics are saturated with a sharp, dry wit.
Bitch Planet's writer, Kelly Sue DeConnick, has drafted a diverse series of characters, dealing bluntly with the permanent suffering of women. The constant barrage of fat-shaming in the world feels lessened when one character's 'ideal version' of herself is her, exactly as she looks and is. She is enough, all on her own. I live in London and 'makeup for the gym' has recently become a thing here, so this one floored me- any story with that kind of heart is a story for me.
There's more though. DeConnick and artist Valentine De Landro set out to represent every type of woman and the intersectionality is wonderful. It is a pure delight to see a story where women with multiple expressions are core to a story, and where their struggles are no less worthy than anyone else's. I realise that intersectionality needs more time to become properly mainstreamed in our books, but work like Bitch Planet pushes every creator to do better when representing women.
I know that many readers have found Bitch Planet something of a hard read. There's a lot of truth in there about the female experience, from sexual and physical violence, brutality and cruelty to snide, regressive comments and judgements. It all feels a little close to home, for something that's supposed to be a dystopian creation. That realisation, when it came to me, was a little disconcerting. All of a sudden, the Gilead of Margaret Atwood's Handmaid's Tale felt less like fiction and more like threat.
These stories are important. Kam, Penny, and the non-compliant residents of Bitch Planet are in a prime place to shine a light on the dark burden of misogyny that seems, if anything, to grow with each passing year.
Here's to non-compliance.