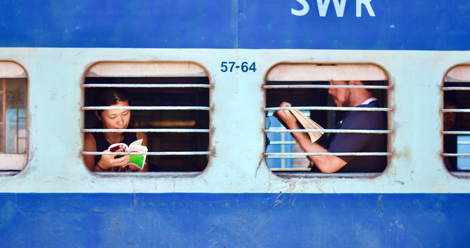 Lists
100 Must-Read Travel Books
This content contains affiliate links. When you buy through these links, we may earn an affiliate commission.
Real travel is awesome when we can manage it, but sometimes we just have to travel from our armchairs, right? When armchair travel is the most we can do, it's good to have many reading options from which to choose. So I put together a list of 100 of the best travel books that will take you around the world without requiring any more effort than lifting your hand to turn the pages.
I did my best to organize these by geographical region, although sometimes that's tricky since there are many ways to divide up the regions of the world. And I had to include a large category of "various locations" since some travel books really do take you everywhere. Within the geographical region, the books are organized chronologically.
I hope you will find some books on this list that pique your interest and can help you find adventures from the safety of your own home. Or maybe they will inspire you to go on a journey, or prepare you for an upcoming trip. Maybe you will read one of these on an airplane. Whatever the case, if travel is something that interests you, I hope this list helps you find new books to love.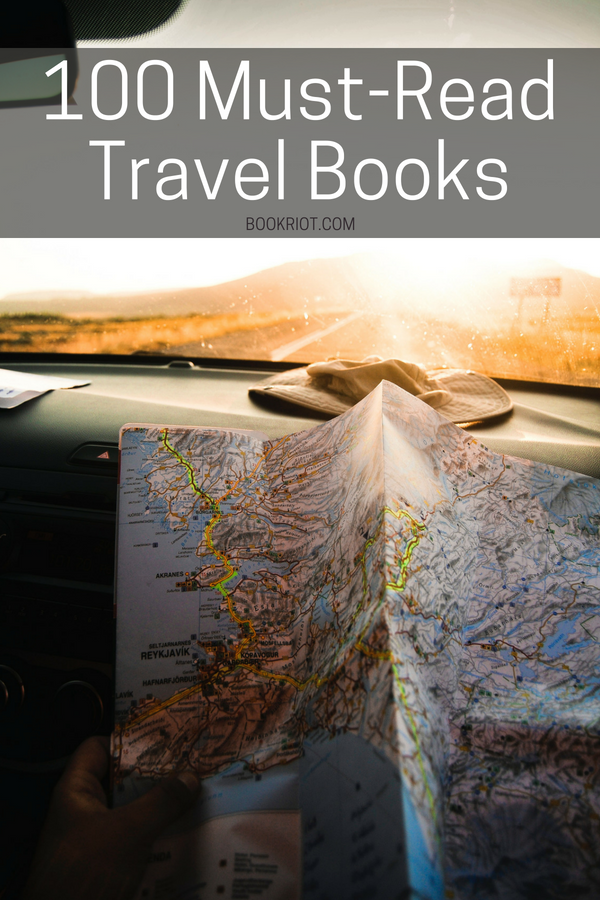 Best Travel Books Set In Europe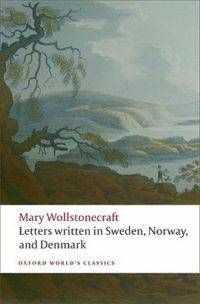 Mary Wollstonecraft, Letters Written During a Short Residence in Sweden, Norway, and Denmark (1796)
"Originally published in 1796, Mary Wollstonecraft's account of her trip to Denmark, Norway, and Sweden, is compelling both in its picture of countries rarely visited in Regency times and insights into Mary's personal life."
Robert Louis Stevenson, Travels with a Donkey in the Cévennes (1879)
"Ever hopeful of encountering the adventure he yearned for and raising much needed finance at the start of his writing career, Stevenson embarked on the120 mile, 12 day trek and recorded his experiences in this journal."
Edith Wharton, A Motor-Flight Through France (1908)
"Shedding the turn-of-the-century social confines she felt existed for women in America, Edith Wharton set out in the newly invented 'motor-car' to explore the cities and countryside of France."
D.H. Lawrence, Sea and Sardinia (1921)
"Written after the First World War when he was living in Sicily, Sea and Sardinia records Lawrence's journey to Sardinia and back in January 1921. It reveals his response to a new landscape and people and his ability to transmute the spirit of place into literary art."
George Orwell, Down and Out in Paris and London (1933)
"This unusual fictional account – in good part autobiographical – narrates without self-pity and often with humor the adventures of a penniless British writer among the down-and-out of two great cities."
Rebecca West, Black Lamb and Grey Falcon (1941)
"Written on the brink of World War II, Rebecca West's classic examination of the history, people, and politics of Yugoslavia illuminates a region that is still a focus of international concern."
Mary McCarthy, The Stones of Florence (1956)
"Mary McCarthy offers a unique history of Florence, from its inception to the dominant role it came to play in the world of art, architecture, and Italian culture, that captures the brilliant Florentine spirit and revisits the legendary figures Dante, Michelangelo, Machiavelli, and others who exemplify it so iconically."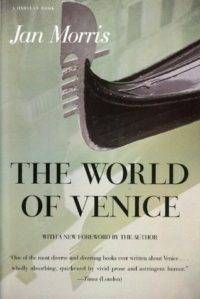 Jan Morris, The World of Venice (1960)
"Often hailed as one of the best travel books ever written, Venice is neither a guide nor a history book, but a beautifully written immersion in Venetian life and character, set against the background of the city's past."
Patrick Leigh Fermor, A Time of Gifts (1977)
"In 1933, at the age of 18, Patrick Leigh Fermor set out on an extraordinary journey by foot – from the Hook of Holland to Constantinople. A Time of Gifts is the first volume in a trilogy recounting the trip, and takes the reader with him as far as Hungary."
Tété-Michel Kpomassie, An African in Greenland (1981)
"Tété-Michel Kpomassie was a teenager in Togo when he discovered a book about Greenland—and knew that he must go there. Working his way north over nearly a decade, Kpomassie finally arrived in the country of his dreams."
Peter Mayle, A Year in Provence (1989)
"In this witty and warm-hearted account, Peter Mayle tells what it is like to realize a long-cherished dream and actually move into a 200-year-old stone farmhouse in the remote country of the Lubéron with his wife and two large dogs."
Frances Mayes, Under the Tuscan Sun (1996)
"Frances Mayes—widely published poet, gourmet cook, and travel writer—opens the door to a wondrous new world when she buys and restores an abandoned villa in the spectacular Tuscan countryside."
Adam Gopnik, Paris to the Moon (2000)
"Paris. The name alone conjures images of chestnut-lined boulevards, sidewalk cafés, breathtaking façades around every corner–in short, an exquisite romanticism that has captured the American imagination for as long as there have been Americans."
Lori Tharps, Kinky Gazpacho: Life, Love & Spain (2008)
"Magazine writer and editor Lori Tharps was born and raised in the comfortable but mostly White suburbs of Milwaukee, Wisconsin, where she was often the only person of color in her school and neighborhood. At an early age, Lori decided that her destiny would be discovered in Spain."
Sue Monk Kidd and Ann Kidd Taylor, Traveling with Pomegranates: A Mother-Daughter Story (2009)
"Between 1998 and 2000, Sue and Ann travel throughout Greece and France. Sue, coming to grips with aging, caught in a creative vacuum, longing to reconnect with her grown daughter, struggles to enlarge a vision of swarming bees into a novel. Ann, just graduated from college, heartbroken and benumbed by the classic question about what to do with her life, grapples with a painful depression."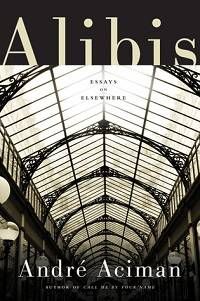 André Aciman, Alibis: Essays on Elsewhere (2011)
"From beautiful and moving pieces about the memory evoked by the scent of lavender; to meditations on cities like Barcelona, Rome, Paris, and New York; to his sheer ability to unearth life secrets from an ordinary street corner, Alibis reminds the reader that Aciman is a master of the personal essay."
Sarah Moss, Names for the Sea: Strangers in Iceland (2012)
"Novelist Sarah Moss had a childhood dream of moving to Iceland, sustained by a wild summer there when she was nineteen. In 2009, she saw an advertisement for a job at the University of Iceland and applied on a whim, despite having two young children and a comfortable life in an English cathedral city."
Robert Macfarlane, The Old Ways: A Journey on Foot (2012)
"In this exquisitely written book, Robert Macfarlane sets off from his Cambridge, England, home to follow the ancient tracks, holloways, drove roads, and sea paths that crisscross both the British landscape and its waters and territories beyond."
Best Travel Books Set In Latin America

Zora Neale Hurston, Tell My Horse: Voodoo and Life in Haiti and Jamaica (1938)
"Based on Zora Neale Hurston's personal experience in Haiti and Jamaica, where she participated as an initiate rather than just an observer of voodoo practices during her visits in the 1930s, this travelogue into a dark world paints a vividly authentic picture of ceremonies and customs and superstitions of great cultural interest."
Sybille Bedford, A Visit to Don Otavio (1953)
"In the mid-1940s, Sybille Bedford set off from Grand Central Station for Mexico, accompanied by her friend E., a hamper of food and drink (Virginia ham, cherries, watercress, a flute of bread, Portuguese rosé), books, a writing board, and paper. Her resulting travelogue captures the rich and violent beauty of the country as it was then."
V.S. Naipaul, The Middle Passage, (1962)
"In 1960 the government of Trinidad invited V. S. Naipaul to revisit his native country and record his impressions. In this classic of modern travel writing he has created a deft and remarkably prescient portrait of Trinidad and four adjacent Caribbean societies–countries haunted by the legacies of slavery and colonialism."
Bruce Chatwin, In Patagonia (1977)
"An exhilarating look at a place that still retains the exotic mystery of a far-off, unseen land, Bruce Chatwin's exquisite account of his journey through Patagonia teems with evocative descriptions, remarkable bits of history, and unforgettable anecdotes."
Paul Theroux, The Old Patagonian Express: By Train Through the Americas (1979)
"Beginning his journey in Boston, where he boarded the subway commuter train, and catching trains of all kinds on the way, Paul Theroux tells of his voyage from ice-bound Massachusetts and Illinois to the arid plateau of Argentina's most southerly tip."
Salman Rushdie, The Jaguar Smile: A Nicaraguan Journey (1987)
"In this brilliantly focused and haunting portrait of the people, the politics, the land, and the poetry of Nicaragua, Salman Rushdie brings to the forefront the palpable human facts of a country in the midst of a revolution."
Mary Morris, Nothing to Declare: Memoirs of a Woman Traveling Alone (1987)
"Traveling from the highland desert of northern Mexico to the steaming jungles of Honduras, from the seashore of the Caribbean to the exquisite highlands of Guatemala, Mary Morris, a celebrated writer of both fiction and nonfiction, confronts the realities of place, poverty, machismo, and selfhood."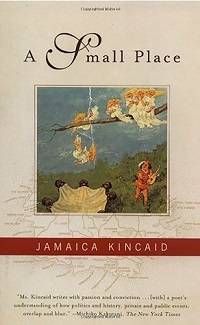 Jamaica Kincaid, A Small Place (1988)
"Lyrical, sardonic, and forthright, A Small Place magnifies our vision of one small place with Swiftian wit and precision. Jamaica Kincaid's expansive essay candidly appraises the ten-by-twelve-mile island in the British West Indies where she grew up, and makes palpable the impact of European colonization and tourism."
Isabel Allende, My Invented Country: A Nostalgic Journey Through Chile (2003)
"Isabel Allende evokes the magnificent landscapes of her country; a charming, idiosyncratic Chilean people with a violent history and an indomitable spirit, and the politics, religion, myth, and magic of her homeland that she carries with her even today."
Best Travel Books Set In North America
Olaudah Equiano, The Interesting Narrative of the Life of Olaudah Equiano (1789)
"Widely admired for its vivid accounts of the slave trade, Olaudah Equiano's autobiography — the first slave narrative to attract a significant readership — reveals many aspects of the eighteenth-century Western world through the experiences of one individual."
Isabella Bird, A Lady's Life in the Rocky Mountains (1879)
"Bird was born in 1831 in Cheshire, England, and became one of a distinguished group of female travellers famous in the nineteenth century–a time when it was considered that a lady's place should be confined to the home. Isabella travelled and explored the world extensively and became a notable writer and natural historian."
John Steinbeck, Travels with Charley in Search of America (1962)
"In September 1960, John Steinbeck embarked on a journey across America. He felt that he might have lost touch with the country, with its speech, the smell of its grass and trees, its color and quality of light, the pulse of its people."
Edward Abbey, Desert Solitaire (1968)
"This is a rare view of a quest to experience nature in its purest form — the silence, the struggle, the overwhelming beauty. But this is also the gripping, anguished cry of a man of character who challenges the growing exploitation of the wilderness by oil and mining interests, as well as by the tourist industry."
Robert Pirsig, Zen and the Art of Motorcycle Maintenance: An Inquiry into Values (1974)
"A narration of a summer motorcycle trip undertaken by a father and his son, the book becomes a personal and philosophical odyssey into fundamental questions of how to live."
Edmund White, States of Desire: Travels in Gay America (1980)
"In this city-by-city description of the way homosexual men lived in the late seventies, Edmund White gives us a picture of Gay America that will surprise gay and straight readers alike."
William Least Heat-Moon, Blue Highways: A Journey into America (1982)
"William Least Heat-Moon set out with little more than the need to put home behind him and a sense of curiosity … His adventures, his discoveries, and his recollections of the extraordinary people he encountered along the way amount to a revelation of the true American experience."
Gretel Ehrlich, The Solace of Open Spaces (1984)
"Poet and filmmaker Gretel Ehrlich went to Wyoming in 1975 to make the first in a series of documentaries when her partner died. Ehrlich stayed on and found she couldn't leave. The Solace of Open Spaces is a chronicle of her first years on "the planet of Wyoming," a personal journey into a place, a feeling, and a way of life."
Jonathan Raban, Bad Land: An American Romance (1985)
"In towns named Terry, Calypso, and Ismay (which changed its name to Joe, Montana, in an effort to attract football fans), and in the landscape in between, Raban unearths a vanished episode of American history, with its own ruins, its own heroes and heroines, its own hopeful myths and bitter memories."
Jon Krakauer, Into the Wild (1996)
"In April 1992 a young man from a well-to-do family hitchhiked to Alaska and walked alone into the wilderness north of Mt. McKinley. His name was Christopher Johnson McCandless. He had given $25,000 in savings to charity, abandoned his car and most of his possessions, burned all the cash in his wallet, and invented a new life for himself."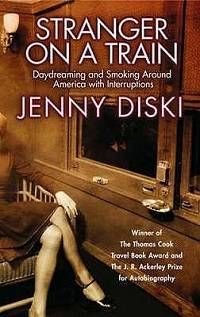 Jenny Diski, Stranger on a Train: Daydreaming and Smoking Around America with Interruptions (2002)
"Using two cross-country trips on Amtrak as her narrative vehicles, British writer Jenny Diski connects the humming rails, taking her into the heart of America with the track-like scars leading back to her own past."
Rebecca Solnit, A Field Guide to Getting Lost (2005)
"A Field Guide to Getting Lost draws on emblematic moments and relationships in Solnit's own life to explore the issues of wandering, being lost, and the uses of the unknown. The result is a distinctive, stimulating, and poignant voyage of discovery."
Sarah Vowell, Assassination Vacation (2005)
"With Assassination Vacation, [Vowell] takes us on a road trip like no other—a journey to the pit stops of American political murder and through the myriad ways they have been used for fun and profit, for political and cultural advantage."
Cheryl Strayed, Wild: From Lost to Found on the Pacific Crest Trail (2012)
"At twenty-two, Cheryl Strayed thought she had lost everything. In the wake of her mother's death, her family scattered and her own marriage was soon destroyed. Four years later, with nothing more to lose, she made the most impulsive decision of her life."
Suzanne Roberts, Almost Somewhere: Twenty-Eight Days on the John Muir Trail (2012)
"It was 1993, Suzanne Roberts had just finished college, and when her friend suggested they hike California's John Muir Trail, the adventure sounded like the perfect distraction from a difficult home life and thoughts about the future. But she never imagined that the twenty-eight-day hike would change her life."
Gloria Steinem, My Life on the Road (2015)
"Gloria Steinem—writer, activist, organizer, and one of the most inspiring leaders in the world—now tells a story she has never told before, a candid account of how her early years led her to live an on-the-road kind of life, traveling, listening to people, learning, and creating change."
Best Travel Books Set In Asia
Matsuo Bashō, The Narrow Road to the Deep North (1689)
"In later life Basho turned to Zen Buddhism, and the travel sketched in this volume reflect his attempts to cast off earthly attachments and reach out to spiritual fulfillment. The sketches are written in the 'haibun' style–a linking of verse and prose."
Alexandra David-Néel, My Journey to Lhasa (1927)
"In order to penetrate Tibet and reach Lhasa, she used her fluency of Tibetan dialects and culture, disguised herself as a beggar with yak hair extensions and inked skin and tackled some of the roughest terrain and climate in the World."
Eric Newby, A Short Walk in the Hindu Kush (1958)
"No mountaineer, Newby set out with a friend to explore the formidable peaks of the Nuristan Mountains in northeast Afghanistan. His witty, unorthodox report is packed with incidents both ghastly and ecstatic as he takes us where few Western feet have trod."
Peter Matthiessen, The Snow Leopard (1978)
"When Matthiessen went to Nepal to study the Himalayan blue sheep and, possibly, to glimpse the rare and beautiful snow leopard, he undertook his five-week trek as winter snows were sweeping into the high passes. This is a radiant and deeply moving account of a 'true pilgrimage, a journey of the heart.'"
Michael Ondaatje, Running in the Family (1982)
"In the late 1970s Ondaatje returned to his native island of Sri Lanka. As he records his journey through the drug-like heat and intoxicating fragrances of that 'pendant off the ear of India,' Ondaatje simultaneously retraces the baroque mythology of his Dutch-Ceylonese family."
Vikram Seth, From Heaven Lake: Travels Through Sinkian and Tibet (1983)
"After two years as a postgraduate student at Nanjing University in China, Vikram Seth hitch-hiked back to his home in New Delhi, via Tibet. From Heaven Lake is the story of his remarkable journey and his encounters with nomadic Muslims, Chinese officials, Buddhists and others."
Christina Dodwell, Traveller in China (1985)
"Christina Dodwell s wanderlust, combined with her inventive and unorthodox methods of travel and her unquenchable curiosity about people, make her the ideal guide to the remoter parts of China's vast territory."
Pico Iyer, Video Night in Kathmandu (1988)
"Why did Dire Straits blast out over Hiroshima, Bruce Springsteen over Bali and Madonna over all? The author was eager to learn where East meets West, how pop culture and imperialism penetrated through the world's most ancient civilisations. Then, the truths he began to uncover were more startling, subtle, and more complex than he ever anticipated."
Pankaj Mishra, Butter Chicken in Ludhiana: Travels in Small Town India (1995)
"From a convent-educated beauty pageant aspirant to small shopkeepers planning their vacation in London, Pankaj Mishra paints a vivid picture of a people rushing headlong to their tryst with modernity."
Andrew Pham, Catfish and Mandala: A Two-Wheeled Voyage Through the Landscape and Memory of Vietnam (1999)
"Catfish and Mandala is the story of an American odyssey—a solo bicycle voyage around the Pacific Rim to Vietnam—made by a young Vietnamese-American man in pursuit of both his adopted homeland and his forsaken fatherland."
Ma Jian, Red Dust: A Path Through China (2001)
"In 1983, at the age of thirty, dissident artist Ma Jian finds himself divorced by his wife, separated from his daughter, betrayed by his girlfriend, facing arrest for 'Spiritual Pollution,' and severely disillusioned with the confines of life in Beijing. So with little more than a change of clothes and two bars of soap, Ma takes off to immerse himself in the remotest parts of China."
Suketu Mehta, Maximum City: Bombay Lost and Found (2004)
"The book combines elements of memoir, travel writing as well as socio-political analysis of the history and people of Mumbai. Mehta writes as a person who is at one level outsider to this magnificent city and on the other hand is the one who is born here and has lived his childhood in the city then known as Bombay."
Faith Adiele, Meeting Faith: The Forest Journals of a Black Buddhist Nun (2004)
"Reluctantly leaving behind Pop Tarts and pop culture to battle flying rats, hissing cobras, forest fires, and decomposing corpses, Faith Adiele shows readers in this personal narrative, with accompanying journal entries, that the path to faith is full of conflicts for even the most devout."
Barbara Demick, Nothing to Envy: Ordinary Lives in North Korea (2009)
"Award-winning journalist Barbara Demick follows the lives of six North Korean citizens over fifteen years–a chaotic period that saw the death of Kim Il-sung, the rise to power of his son Kim Jong-il, and a devastating famine that killed one-fifth of the population."
Katherine Boo, Behind the Beautiful Forevers (2012)
"In this brilliant, breathtaking book by Pulitzer Prize winner Katherine Boo, a bewildering age of global change and inequality is made human through the dramatic story of families striving toward a better life in Annawadi, a makeshift settlement in the shadow of luxury hotels near the Mumbai airport."
Best Travel Books Set In Africa
Mary Kingsley, Travels in West Africa (1897)
"Upon her sudden freedom from family obligations, a sheltered Victorian spinster traded her stifling middle-class existence for an incredible expedition in the Congo."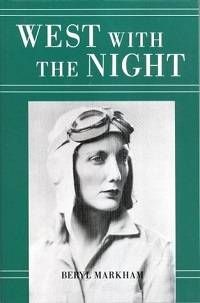 Beryl Markham, West with the Night (1942)
"[Markham's] successes and her failures—and her deep, lifelong love of the 'soul of Africa'—are all chronicled here with wrenching honesty and agile wit. Hailed by National Geographic as one of the greatest adventure books of all time, West with the Night is the sweeping account of a fearless and dedicated woman."
Maya Angelou, All God's Children Need Traveling Shoes (1986)
"Once again, the poet casts her spell as she resumes one of the greatest personal narratives of our time. In this continuation, Angelou relates how she joins a "colony" of Black American expatriates in Ghana–only to discover no one ever goes home again."
Eddy L. Harris, Native Stranger: A Black American's Journey into the Heart of Africa (1992)
"Recounting his journey into the heart of Africa, an African American describes his encounters with beggars and bureaucrats, his visit to Soweto, a night in a Liberian jail cell, and more."
Philip Gourevitch, We Wish to Inform You That Tomorrow We Will Be Killed with Our Families (1998)
"Philip Gourevitch's haunting work is an anatomy of the killings in Rwanda, a vivid history of the genocide's background, and an unforgettable account of what it means to survive in its aftermath."
Colleen McElroy, Over the Lip of the World: Among the Storytellers of Madagascar (1999)
"McElroy's tale of an African American woman's travels among the people of Madagascar is told with wit, insight, and humor. Throughout it she interweaves English translations of Malagasy stories of heroism and morality, royalty and commoners, love and revenge, and the magic of tricksters and shapechangers."
Charlayne Hunter-Gault, New News Out of Africa: Uncovering Africa's Renaissance (2006)
"In New News Out of Africa, this eminent reporter offers a fresh and surprisingly optimistic assessment of modern Africa, revealing that there is more to the continent than the bad news of disease, disaster, and despair."
Noo Saro-Wiwa, Looking for Transwonderland: Travels in Nigeria (2012)
"She finds [Nigeria] as exasperating as ever, and frequently despairs at the corruption and inefficiency she encounters. But she also discovers that it is far more beautiful and varied than she had ever imagined, with its captivating thick tropical rainforest and ancient palaces and monuments."
Best Travel Books Set In The South Pacific

Robyn Davidson, Tracks: A Woman's Solo Trek Across 1700 Miles of Australian Outback (1980)
"Robyn Davidson's opens the memoir of her perilous journey across 1,700 miles of hostile Australian desert to the sea with only four camels and a dog for company with the following words: 'I experienced that sinking feeling you get when you know you have conned yourself into doing something difficult and there's no going back.'"
Dea Birkett, Serpent in Paradise (1997)
"Acclaimed British travel writer and journalist Dea Birkett, obsessed like many with the island's image as a secluded Eden and its connection to the mysterious and intriguing Bounty legend, traveled across the Pacific on a cargo ship and became one of the very few outsiders permitted to land on Pitcairn."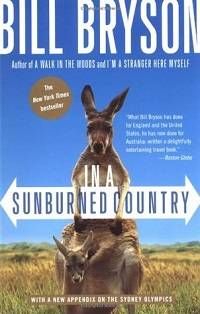 Bill Bryson, In a Sunburned Country (2000)
"Despite the fact that Australia harbors more things that can kill you in extremely nasty ways than anywhere else, including sharks, crocodiles, snakes, even riptides and deserts, Bill Bryson adores the place, and he takes his readers on a rollicking ride far beyond that beaten tourist path."
Kira Salak, Four Corners: A Journey into the Heart of Papua, New Guinea (2001)
"Traveling by dugout canoe and on foot, confronting the dangers and wonders of a largely untouched world, [Salak] became the first woman to traverse this remote country and write about it."
Best Travel Books Set In The Middle East/North Africa

Mary Wortley Montagu, The Turkish Embassy Letters (1716)
"Her lively letters offer insights into the paradoxical freedoms conferred on Muslim women by the veil, the value of experimental work by Turkish doctors on inoculation, and the beauty of Arab poetry and culture."
Robert Byron, The Road to Oxiana (1937)
"In 1933 the delightfully eccentric Robert Byron set out on a journey through the Middle East via Beirut, Jerusalem, Baghdad and Teheran to Oxiana -the country of the Oxus, the ancient name for the river Amu Darya which forms part of the border between Afghanistan and the Soviet Union."
Isabelle Eberhardt, The Nomad: The Diaries of Isabelle Eberhardt (1987, written in late 19th century)
"Eberhardt's journal chronicles the daring adventures of a late 19th- century European woman who traveled the Sahara desert disguised as an Arab man and adopted Islam."
Sara Suleri, Meatless Days (1989)
"In this finely wrought memoir of life in postcolonial Pakistan, Suleri intertwines the violent history of Pakistan's independence with her own most intimate memories—of her Welsh mother; of her Pakistani father, prominent political journalist Z.A. Suleri; of her tenacious grandmother Dadi and five siblings; and of her own passage to the West."
Amitav Ghosh, In an Antique Land: History in the Guise of a Traveler's Tale (1993)
"Interspersing his quest with accounts of his stay in 'Masr' and the people he met, Ghosh weaves together a narrative packed with exuberant detail, exposing ties that have bound together India and Egypt, and Hindus and Muslims and Jews, from the Crusades to Operation Desert Storm."
Rory Stewart, The Places in Between (2004)
"In January 2002 Rory Stewart walked across Afghanistan–surviving by his wits, his knowledge of Persian dialects and Muslim customs, and the kindness of strangers … Along the way Stewart met heroes and rogues, tribal elders and teenage soldiers, Taliban commanders and foreign-aid workers."
Colin Thubron, Shadow of the Silk Road (2007)
"Making his way by local bus, truck, car, donkey cart, and camel, Colin Thubron covered some seven thousand miles in eight months out of the heart of China into the mountains of Central Asia, across northern Afghanistan and the plains of Iran into Kurdish Turkey and explored an ancient world in modern ferment."
Gertrude Bell, A Woman in Arabia: The Writings of the Queen of the Desert (2015, written in early 20th century)
"This is the epic story of Bell's life, told through her letters, military dispatches, diary entries, and other writings. It offers a unique and intimate look behind the public mask of a woman who shaped nations."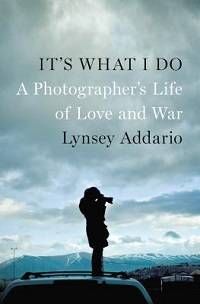 Lynsey Addario, It's What I Do: A Photographer's Life of Love and War (2015)
"Lynsey Addario was just finding her way as a young photographer when September 11 changed the world. One of the few photojournalists with experience in Afghanistan, she gets the call to return and cover the American invasion."
Best Travel Books Set In Arctic/Antarctic
Ernest Shackleton, South: The Story of Shackleton's Last Expedition, 1914-1917 (1919)
"In an epic struggle of man versus the elements, Shackleton leads his team on a harrowing quest for survival over some of the most unforgiving terrain in the world."
Barry Lopez, Arctic Dreams (2001)
"Lopez offers a thorough examination of this obscure world-its terrain, its wildlife, its history of Eskimo natives and intrepid explorers who have arrived on their icy shores. But what turns this marvelous work of natural history into a breathtaking study of profound originality is his unique meditation on how the landscape can shape our imagination, desires, and dreams."
Sara Wheeler, Terra Incognita: Travels in Antarctica (1996)
"Terra Incognita is a meditation on the landscape, myths and history of one of the remotest parts of the globe, as well as an encounter with the international temporary residents of the region – living in close confinement despite the surrounding acres of white space – and the mechanics of day-to-day life in extraordinary conditions."
Gretchen Legler, On the Ice: An Intimate Portrait of Life at McMurdo Station, Antarctica (2005)
"Sent to Antarctica as an observer by the National Science Foundation, Gretchen Legler arrives at McMurdo Station in midwinter, a time of -70 degree temperatures and months of near-total darkness."
Various Locations
Ibn Battuta, The Travels of Ibn Battuta, (14th century)
"Ibn Battutah—ethnographer, bigrapher, anecdotal historian and occasional botanist—was just 21 when he set out in 1325 from his native Tangier on a pilgramage to Mecca. He did not return to Morocco for another 29 years, traveling instead through more than 40 countries on the modern map, covering 75,000 miles and getting as far north as the Volga, as far east as China, and as far south as Tanzania."
Martha Gellhorn, Travels With Myself and Another (1979): "Out of a lifetime of travelling, Martha Gellhorn has selected her 'best horror journeys.' She bumps through rain-sodden, war-torn China to meet Chiang Kai-Shek, floats listlessly in search of u-boats in the wartime Caribbean and visits a dissident writer in the Soviet Union against her better judgment."
Barbara Savage, Miles from Nowhere: A Round-The World Bicycle Adventure (1983)
"This is the story of Barbara and Larry Savage's sometimes dangerous, often zany, but ultimately rewarding 23,000 miles global bicycle odyssey, which took them through 25 countries in two years."
Elaine Lee, editor, Go Girl!: The Black Woman's Book of Travel and Adventure (1997)
"Globe-trotting attorney Lee assembled 52 travel pieces presenting the uncommon perspective of black women, mostly African Americans. Assembled under the headings 'Back to Africa,' 'Sistren Travelin',' and 'Trippin' All Over the World,' many initially appeared in popular women's or travel magazines."
Cheryl J. Fish, editor, A Stranger in the Village: Two Centuries of African-American Travel Writing (1999)
"Dispatches, diaries, memoirs, and letters by African-American travelers in search of home, justice, and adventure-from the Wild West to Australia."
Caryl Phillips, The Atlantic Sound (2000)
"Liverpool, England; Accra, Ghana; Charleston, South Carolina. These were the points of the triangle forming the major route of the transatlantic slave trade. And these are the cities that acclaimed author Caryl Phillips explores–physically, historically, psychologically–in this wide-ranging meditation on the legacy of slavery."
Alain de Botton, The Art of Travel (2002)
"Any Baedeker will tell us where we ought to travel, but only Alain de Botton will tell us how and why … de Botton considers the pleasures of anticipation; the allure of the exotic, and the value of noticing everything from a seascape in Barbados to the takeoffs at Heathrow."
Geoff Dyer, Yoga for People Who Can't Be Bothered to Do It (2003)
"As he travels from Amsterdam to Cambodia, Rome to Indonesia, Libya to Burning Man in the Black Rock Desert, Dyer flounders about in a sea of grievances, with fleeting moments of transcendental calm his only reward for living in a perpetual state of motion."
Susan Orlean, My Kind of Place: Travel Stories from a Woman Who's Been Everywhere (2004)
"In this irresistible collection of adventures far and near, Orlean conducts a tour of the world via its subcultures, from the heart of the African music scene in Paris to the World Taxidermy Championships in Springfield, Illinois–and even into her own apartment, where she imagines a very famous houseguest taking advantage of her hospitality."
Ryszard Kapuściński, Travels with Herodotus (2004)
"Just out of university in 1955, Kapuscinski told his editor that he'd like to go abroad. Dreaming no farther than Czechoslovakia, the young reporter found himself sent to India. Wide-eyed and captivated, he would discover in those days his life's work—to understand and describe the world in its remotest reaches, in all its multiplicity."
Elizabeth Gilbert, Eat, Pray, Love (2006)
"Setting out for a year to study three different aspects of her nature amid three different cultures, Gilbert explored the art of pleasure in Italy and the art of devotion in India, and then a balance between the two on the Indonesian island of Bali."
Tahir Shah, Travels with Myself (2011)
"Travels with Myself is a collection of selected writings by Tahir Shah, acclaimed Anglo-Afghan author and champion of the intrepid. Written over twenty years, the many pieces form an eclectic treasury of stories from Latin America, Asia, Africa, and beyond.
Elisabeth Eaves, Wanderlust: A Love Affair with Five Continents (2011)
"Spanning 15 years of travel, beginning when she is a sophomore in college, Wanderlust documents Elisabeth Eaves's insatiable hunger for the rush of the unfamiliar and the experience of encountering new people and cultures."
Paula Young Lee, Deer Hunting in Paris: A Memoir of God, Guns, and Game Meat (2013)
"What happens when a Korean-American preacher's kid refuses to get married, travels the world, and quits being vegetarian? She meets her polar opposite on an online dating site while sitting at a café in Paris, France and ends up in Paris, Maine, learning how to hunt."
Emily Raboteau, Searching for Zion: The Quest for Home in the African Diaspora (2013)
"On her ten-year journey back in time and around the globe, through the Bush years and into the age of Obama, Raboteau wanders to Jamaica, Ethiopia, Ghana, and the American South to explore the complex and contradictory perspectives of Black Zionists."
Amanda Epe, A Fly Girl: Travel Tales of an Exotic British Airways Cabin Crew (2014)
"A Fly Girl gives insight to the highs and lows in the world of a former BA cabin crew, in an intriguing travel writing memoir. In the global landscape the memoirist meticulously documents personal adventures, social structures and political history throughout her daring and exciting expeditions."
Robert Moor, On Trails: An Exploration (2016)
"Throughout, Moor reveals how this single topic—the oft-overlooked trail—sheds new light on a wealth of age-old questions: How does order emerge out of chaos? How did animals first crawl forth from the seas and spread across continents?"
---
What do you think are the best travel books? Check out even more recommendations for travel memoirs here!
Save