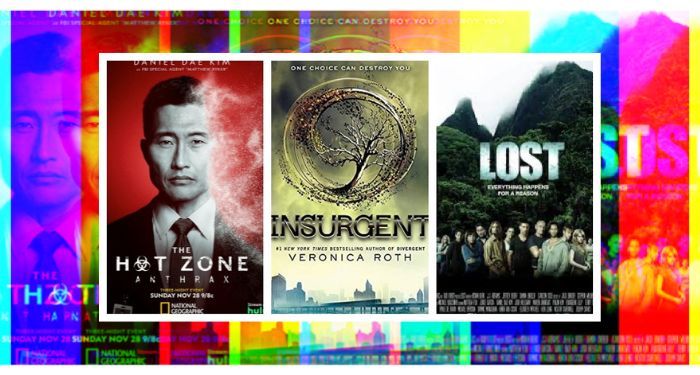 Essays
The Bookish Life of Daniel Dae Kim
This content contains affiliate links. When you buy through these links, we may earn an affiliate commission.
Daniel Dae Kim was born August 4, 1968, in Busan, South Korea, and was raised in New York City and eastern Pennsylvania. After earning a Bachelor of Arts with a double major in Theater and Political Science, he earned an MFA from New York University's acting program and has gone on to live a bookish life and career.
Although best known for his role on Lost in the mid-aughts, Kim's acting career began in the early '90s with guest roles on television and a supporting role in American Shaolin, a martial arts movie that gave him a chance to put his black belt to use. In 1994, he was on an episode of All-American Girl, the first Asian American sitcom. The show was loosely based on Margaret Cho's experience of growing up Korean American. She has since written I'm the One That I Want and I Have Chosen to Stay and Fight about her life.
In 1997, Kim appeared in the pilot episode of Night Man, based on the Malibu Comics series The Night Man. The same year, he was in the movie Jackal, a loose remake of Day of the Jackal, which was based on the book The Day of the Jackal by Frederick Forsyth. Jackal was Sidney Poitier's final theatrical film role.
In 1998, he appeared in the television movie adaptation of Aldous Huxley's novel Brave New World, which starred Leonard Nemoy and Peter Gallagher. In 1999, he was in the Sam Raimi–helmed movie adaptation of For the Love of the Game by Michael Shaara, which starred Kevin Costner and Kelly Preston.
Between 1999 and 2003, Kim had roles on Charmed; Star Trek: Voyager; Murder, She Wrote; Angel; and in the Babylon 5 spin-off series Crusade. All of these series have spawned long-running book and/or comic series.
In 2003, Kim had a small role in Hulk, the Ang Lee–helmed movie about the Marvel Comics character. The following year, he was in Spider-Man 2 as an assistant in Otto Octavius's lab. That year, he also had a recurring role on Star Trek: Enterprise.
From 2004 to 2010, Kim was a main cast member on the hit series Lost, playing Jin-Soo Kwon. The show has inspired a series of novels as well as books like The Lost Chronicles and Ultimate Lost and Philosophy: Think Together, Die Alone. During his tenure on Lost (and its spin-off show Lost: Missing Pieces), he provided a guest voice on Justice League Unlimited, based on the DC Comics characters. In 2008, he starred on the series The Andromeda Strain, based on the Michael Crichton novel The Andromeda Strain, playing Dr. Tsi Chou, and was in The Onion Movie, based on the satire newspaper.
In 2015 and 2016, Kim played Jack Kang in the adaptations of Veronica Roth's Divergent series books Insurgent and Allegiant. In 2019, he played BPRD employee Ben Daimio in the Neil Marshall adaptation of Hellboy by Mike Mignola.
He has recently played bookish roles on television in New Amsterdam, based on the book Twelve Patients: Life and Death at Bellevue Hospital by Eric Manheimer; The Hot Zone based on The Hot Zone by Richard Preston; Patheon, based on short stories by Ken Liu; and Star Wars: Visions.
In 2006, Kim voiced General Fong on the cartoon series Avatar: the Last Airbender, which has several spin-off comics. He later loaned his voice to the Avatar: the Last Airbender video game, playing General Fong again. And in 2012, he joined the cast of its sequel series, The Legend of Korra, playing an unrelated character. Next year (2024), he will appear on the live-action Netflix series of Avatar: the Last Airbender, playing Fire Lord Ozai, who was voiced in the cartoon by Mark Hamill.
In his personal life, Kim is married with two children, and his family lives in Hawaii. He has spoken out about anti-Asian hate, particularly during the height of the COVID-19 pandemic. He has also helped to raise awareness about voter ID laws that posed difficulties for students at HBCUs during the Georgia run-off election in 2022. He also works as a producer via his company 3AD, with a historic first-look deal with CBS television — the first of its kind with an Asian American actor — where he is a producer on The Good Doctor.