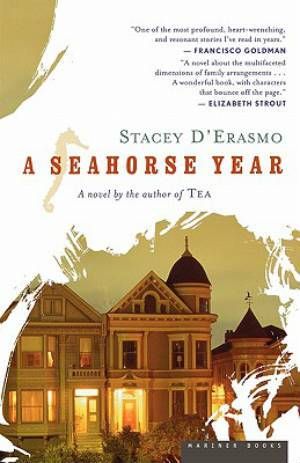 Fiction
The Book I Can't Stop Recommending: Novelist Meredith Maran
This is a guest post from Meredith Maran. Meredith Maran is a seasoned journalist and the author of more than ten works of nonfiction. Her debut novel A Theory of Small Earthquakes is out now. Follow her on Twitter @MeredithMaran.
In the summer of 2004 I read A Seahorse Year by Stacey D'Erasmo for the first of what would be many, many times, and it became my favorite book, the book I turn to when my own writing won't stop sucking, the book I name when anyone asks me what to read or what inspires me to write, and for these and many other reasons, it will remain my favorite book, I'm sure, forevermore.
In the summer of 2004, I was ripe to allow a book to change my life. I was 53; I'd been supporting myself since age 16. I'd published dozens of magazine articles and eight nonfiction books, and raised two sons on a freelance mom's scavenged spoils: thrift store sneakers, bedtime stories read from library books, free Mime Troupe plays in the park. And then, in 2004, a stunning reversal of non-fortune. Out of the blue, I landed a golden gig. A university made me their Writer-in-Residence, a two-year appointment that paid me more than I needed and required me to do not much. My sons were launched. My income was assured. I was free. Free!
Being a Person of the Book, I used that freedom as I suspect you yourself might, dear Book Riot reader. I indulged myself with the greatest luxury of all. I stopped hustling to get assignments and consulting jobs and editing projects and dove into the warm womb of the time and space it takes to deeply, deeply read, and think, and write.
All my life I'd wanted to write a novel. Toward that end, I'd written three, none worthy of even an agent's read. In the interest of the common good, I'd buried my wannabe-novelist self alive. But then, in the summer of 2004, I read Margot Livesey's New York Times review of A Seahorse Year and I ran out and bought the book and gobbled it up like a starving woman who's caught a fish with her hands off the shore of a barren island, and as I devoured the novel I found myself thinking, I can't do this. And so I have to try.
What was it about A Seahorse Year that resurrected my fictional fantasy? The protagonists spoke to me, for sure: two women, a man, and their child, presented without a whisper of fuss about the family's orientation or configuration. The setting resonated: San Francisco, a city I knew well, a city I heard breathing through D'Erasmo's prose, though the bio beneath her flap photo said she lived in New York. The tense, my favorite; present. The deceptive simplicity of the sentences. Sometimes he just can't handle her—her persistence, her smooth face, the way she occupies any chair as if she has just built it herself out of a tree she felled with her little saw.
More than anything, though, it was the shimmering beauty of D'Erasmo's writing that compelled me to face my own frailties and try for a novel again. I knew I didn't write as well as she did and probably never would. But if Stacey D'Erasmo had done whatever it took to gift the world with words like these—Trumpet vines tumble wantonly over the fence toward earth. Midway down the garden is a slender, deep purple, flowering plum that has never flowered or plummed but maintains a hopeful, leafy look—the least I could do to thank her, I felt, was to give my own story a try.
Eight years later, I published my first novel. It was hell to write and rewrite and rewrite and even harder to sell. Rejected by many, rescued from obscurity by a prestigious indie press with limitless love and minimal money, A Theory Of Small Earthquakes is my private homage to A Seahorse Year, the book that will always be my favorite, because it made me want to be—and work hard to be—a better writer than I was.