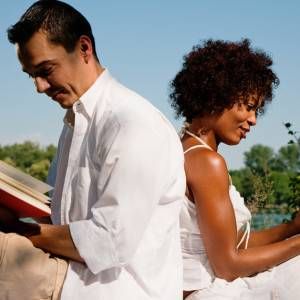 This content contains affiliate links. When you buy through these links, we may earn an affiliate commission.
I married a guy who didn't crack a book 'til he was 30.
Okay, that's a bit of an exaggeration. My husband graduated from an elite private high school and got through NYU in three years, so he obviously read a book or two along the way. But early in our relationship, most of the times I mentioned a classic book—whether for kids or adults—he hadn't read it. When I expressed incredulity that he could have gone three decades without making the acquaintance of Huckleberry Finn or John Yossarian, his response was, "Well…while you were in your room reading, I was outside playing with my friends."
Ouch.
But he had a point. I was a book nerd before book nerds were cool. As my mother tells it, I toddled downstairs one day at three years old and asked, "What sound does 'c' make?" She replied, then I announced, "Okay, I can read this book now," and proceeded to read the book in question aloud to her right then and there. That was Go, Dog. Go! (aptly part of the "I Can Read it All by Myself, Beginner Books" series edited by Dr. Seuss).
I moved on to my first chapter book, Charlotte's Web, and I'm not too proud to admit that I flitted among the chapters based on which titles sounded most intriguing to me that day; I didn't know yet that you were supposed to read them in order. Years later I played a chubby, pink satin-clad Wilbur in the middle school play, no doubt while my husband was busy eating pizza with his soccer team after the big game.
I read anything I could get my hands on: Bridge to Terabithia, Island of the Blue Dolphins, The Best Christmas Pageant Ever, and Roald Dahl book after Roald Dahl book (including his excellent memoir, Boy). As I got older, I graduated to my mother's Mary Higgins Clark mysteries, a couple of Brontës, most of Jane Austen, and everything V.C. Andrews ever wrote. In high school and as a college English major, I read the canon. The Good Earth, Mrs. Dalloway, Middlemarch, Tess of the D'Urbervilles, The Great Gatsby. I didn't like every book (I'm looking at you, F. Scott Fitzgerald) but I never left one unfinished.
Well, maybe The Brothers Karamazov…
Anyway, for the last fifteen years I've been employed as a book editor, so you'd be forgiven for thinking it's a bit odd that I married a guy who—at least when I met him, and for a good ten years after that—didn't like to read. It just wasn't his commemorative Strand Bookstore bag, baby.
But about five years ago, for some unknown reason he expressed his desire to start reading and asked me for recommendations. I think maybe he had run out of home improvement shows to watch while I redlined my way through manuscripts every night.
I was like a kid in a candy store. Where to begin?!? I didn't want to just give him a list of books I thought he should read—he'd already demonstrated a clear historical disdain for homework, and I didn't want to squash this reading bug before it could crawl out into the light. So I tried to come up with books I genuinely believed he'd like—plus, of course, the mandatory reading of my personal favorites:
I'm happy to say that each entry on the "Must List" went over well, though he subsequently started The World According to Garp and gave up partway through, traumatized over what he still refers to as "the incident."
I pressed on. He really needed to get Adventures of Huckleberry Finn into his system, right? It's a crime for a boy of any age to not have read that book! And speaking of boys, pretty soon he started taking recommendations from his best friend Steve, which is how he came to love I Know This Much is True (ditto) and discovered his new buddy Tom Robbins.
Eventually I widened the scope of my recommendations to include nonfiction: Tom Wolfe's The Right Stuff, Keith Richards' Life, and Jon Krakauer's Into Thin Air. That's when my husband discovered a real passion for survival stories. He went on to read more Krakauer, plus Unbroken and Endurance: Shackleton's Incredible Voyage with no prodding from me. These days, he's always happy to sit next to me on the couch, swiping contentedly left on his iPad while I edit a manuscript. He just finished The Martian.
My mother (who taught me what sound "c" makes) was a first grade teacher for forty years, so she spent a lot of time during the most formative period of kids' lives teaching them to read and to appreciate books. I like to think that, twenty-five years later than usual, I did the same for my husband.
Of course, my job was a lot easier since he technically already knew how to read.
And also because he pretty much does whatever I tell him to do.