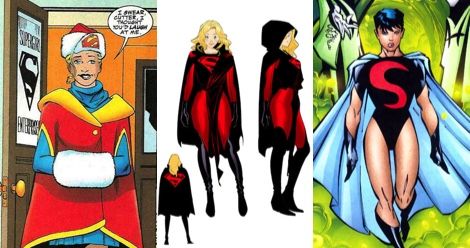 Supergirl is coming back to comics! After a brief hiatus, the Girl of Steel's adventures will be resuming in August with a new run by Marc Andreyko and Kevin Maguire, kicking off with Supergirl #21.
The announcement over at SyFy was accompanied by four new costume designs by Jorge Jimenez, ranging from slight tweaks on the classic look to vastly different. The idea of Supergirl having an assortment of costumes for different moods and purposes goes all the way back to 1970, so I'm pretty charmed by this!
In honor of these new looks, I've decided to rank every Supergirl look ever from worst to best. I've included all comics, animated, and live action versions that I could track down, but not video games because frankly I don't know anything about video games. ¯\_(ツ)_/¯ I also only included daughters of Superman if they actually went by the name "Supergirl" at some point, or we'd be here all week.
Of course, as with all aesthetic rankings, it's important to remember that this is always a matter of opinion, and that my opinions are the correct ones. Let's go!
49. This…thing. As mentioned above, back in the early '70s Supergirl experimented with a number of reader-submitted looks. Without wishing to make fun of whichever well-meaning Superfan of yesteryear sent in this number, it's unquestionably the worst of the bunch. The truss! The pirate boots! The washing-up gloves! The truss! Thank Rao it only lasted one issue.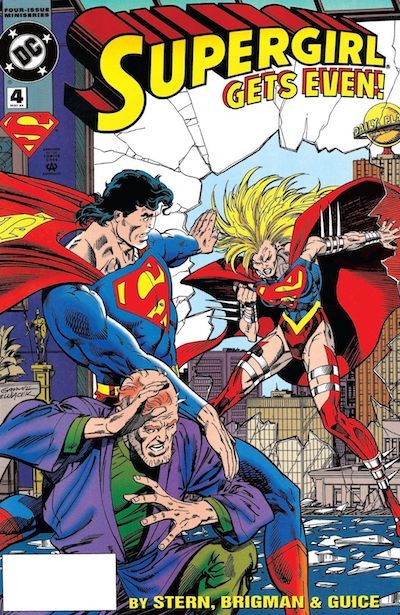 48. Killer Matrix. The '90s were kind to no one, and Supergirl was no exception. How do you think she intended to use those upper-arm spikes? On crowded subways?
47. Cir-El. Poor Cir-El. Not only was she a teen vagrant brainwashed by Brainiac into believing herself to be Superman's daughter as part of an elaborate plot to take over the world via nanovirus-infused coffee, she's also the winner of the You Didn't Even Try Awards, Supergirl Costumes Division. A bathing suit with a bedsheet tucked into the back and an S that isn't even a proper Super-shield? Aw, kiddo, I'm sorry.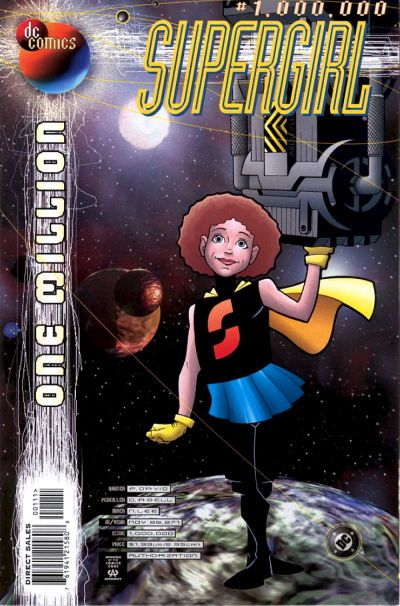 46. Supergirl 1,000,000. Ariella Kent, the Supergirl of the 853rd Century (and also possibly the daughter of Superman and Supergirl…not the related ones…you know what, don't worry about it) fared only slightly better than her maybe-aunt.
45. Elseworld's Finest. Speaking of the You Didn't Even Try Awards, this take on a grownup Kara in a world with no Superman is like someone got halfway through drawing Supergirl, got bored, and used some blue and the fill tool in Photoshop to finish the job. Minus points for the restrictive drape of the cape.
44. Ame-Comi Supergirl. Absolutely not.
43. Flamebird. Supergirl and her alternate universe doppelgänger Power Girl spent a brief time in the Bottle City of Kandor. Their powers don't work there, so they adopted armor inspired by the Kryptonian legend of Nightwing and Flamebird. (Supergirl was Nightwing.) This armor is ugly and this storyline was mostly designed to show Kara in the shower and force her to marry her evil cousin. Pass.
42. Supergirl Enterprises winterwear. Okay, this outfit is obviously meant to be a joke, but it's a good joke, so it's not dead last on the list. Still, well…Linda is clearly a very good sport.
41. Hello darkness my old friend. As you'll see, I dislike this costume in blue and I hate Supergirl in black in general, so the combination of the two is sartorial failure squared. Plus this storyline was misogynistic as all get-out.
40. Low budget Robin Hood repertory theater costume. Another early '70s experiment. The 1470s, possibly.
39. Bombshells. I'm so frustrated by this one, because most of the Bombshells designs are incredibly cute, and then there's this. Is it underwear-themed? Is it aviator-inspired? What's with those stockings? What are fingerless gloves and thigh-high boots doing in the '40s? I'm sad.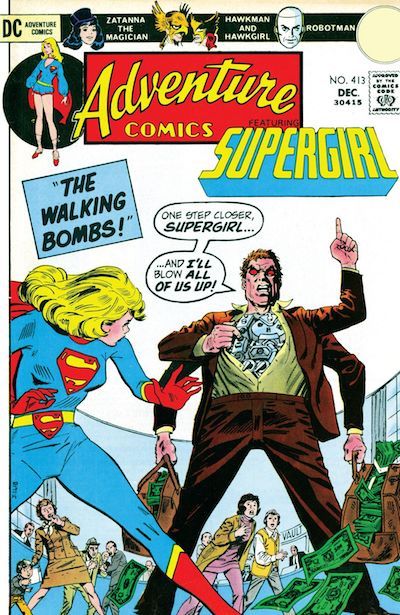 38. Flash Gordon. Well, this '70s costume is outer space-y for sure. It's also a distant third in the You Didn't Even Try Awards, meaning it didn't even try at not trying.
37. Justice League 3001. What is even going on here? Why does she have a popped collar and a weird…belly button…dollop? Why is her crotch outlined in yellow? And what on Krypton is going on with those shoulder seams?
36. Space goth. As I said, I love the idea of Supergirl having multiple costumes in rotation, but that doesn't mean I love the new costumes themselves. This moody color palette seems wrong for a hero literally powered by sunlight, and that drape in the front, besides being visually confusing, looks like it'll restrict her left arm and get constantly tangled between her legs. My thighs are frustrated just looking at it.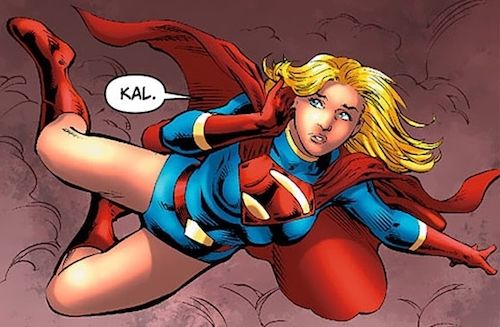 35. Earth-2. This costume, worn by Power Girl when she was operating on Earth-2 as their Supergirl, is a total mess. But I'm pretty charmed by what a specific mess it is—it looks exactly like it could have been one of those reader-submitted costumes in the '70s, which also happens to be when Power Girl debuted. I'm not sure if that was deliberate, but I choose to believe it was.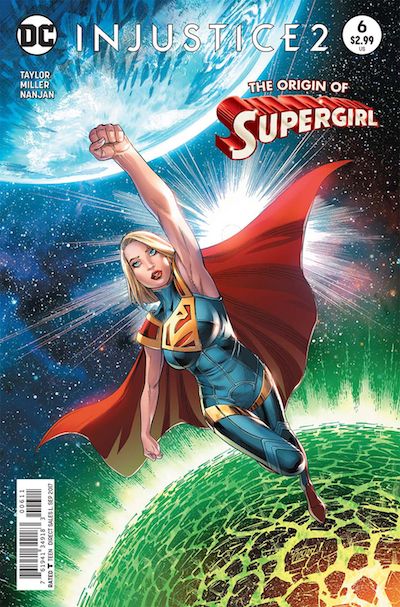 34. Injustice. I know I said I wasn't doing video games, but there's a tie-in comic! This counts! Anyway the lines are good, but it's in the details that this costume really falls apart. Why are there weird gold bands around her thighs? Why don't her boots have an inside? Why do all the structural lines radiate out from her crotch? I don't know, you guys, I really don't know.
33. Super-Wedding. In an alternate timeline, a version of Supergirl who is not related to Superman married him, which is still weird but whatever. This isn't bad as far as comic book wedding dresses go, but it isn't great as far as real wedding dresses go. The whole idea is charmingly silly, though, so I enjoy it.
32. Let's Get Physical. It's always a hilarious mistake when comics try to give a character a really current look, and this one from 1983 is no exception. The costume itself isn't bad, but woof, that headband!
31. Post-Crisis. Again, the elements of this costume aren't really bad, but those yards and yards of midriff were already dated when Kara donned this outfit in 2005, and only became more so over the six long years that she wore it. I'll always resent it for the way artists used that glorified dust ruffle to flirt with upskirt shots until Jamal Igle blessedly lengthened the skirt and put bike shorts underneath it (and oh, the outrage from certain male fans when he did!). Add to that the fact that this costume was supposedly sewn by Superman's mom and ugh. Throw it all in the garbage.
30. Justice League Unlimited. The DCAU did what they could with the above look, adding more red into the mix and resettling the skirt closer to the natural waist.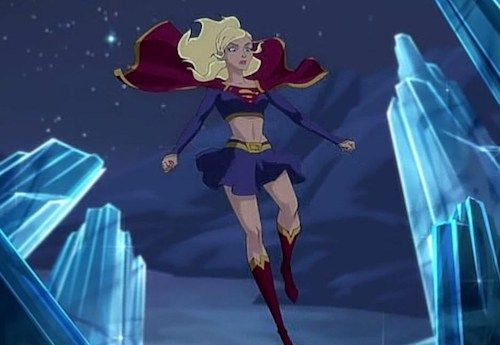 29. Superman: Unbound. This direct-to-DVD animated film tweaked it too. I like the drape of the cape over her shoulders, but that belt buckle is ridiculous.
28. The new hotness. I like the brighter palette of this version and at least she's fully clothed, but my objections to the structure of this costume still stand.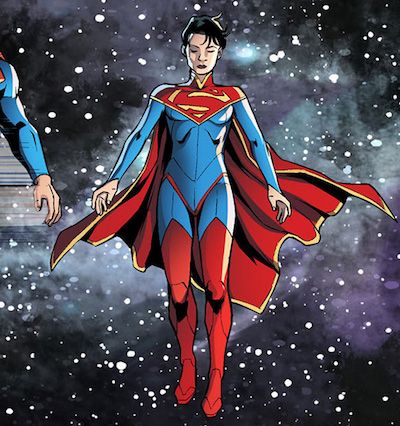 27. Lara Lane-Kent. This alternate timeline daughter of Lois and Clark from the Injustice universe is cute as a button, and I love the collar/shield/cape combo (and that the cape comes to a point!), but again, what's with the groin outlines? I know you want a pop of color there, artists, but why not just give the Supers their classic outside-unders? LET THEM LIVE.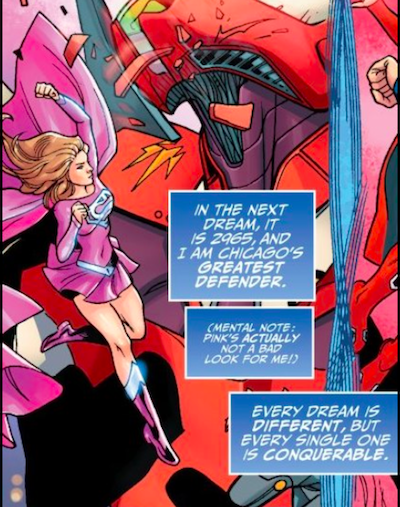 26. Pretty in pink. For a long time, most Supergirl Halloween costumes on the market were pink, which was unnecessary and maddening. But writer Sterling Gates included this look in Adventures of Supergirl, the TV show tie-in comic, to validate the little girls who wore (and continue to wear) those costumes, and that makes my heart grow three sizes.
25. Formal Superwear. The idea of Supergirl having a formal Supergown is completely ridiculous and completely wonderful and I love it with all my being. The neckline of this is very strange but I otherwise unironically adore it and would like to see more formal outfits for superheroes posthaste (ahem, Batman and Catwoman's upcoming wedding, anyone?).
24. Red Lantern. I didn't hate the Red Lantern storyline as much as I think most Superfans did. And frankly, if Kara had to become a blood-vomit-spewing ragemonster, this is a fairly stylish way to do it, especially considering that it's based on her New 52 costume and inherited that look's weaknesses as well as its strengths.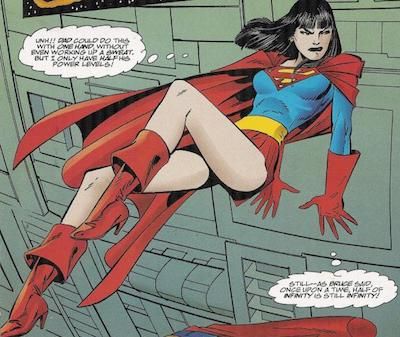 23. Kara Kent. Another alternate universe Clark/Lois daughter, this Supergirl wears a look very close to the classic one. I like the jumbo shield but I'm not sure how I feel about the high-heeled pirate boots and matching gloves.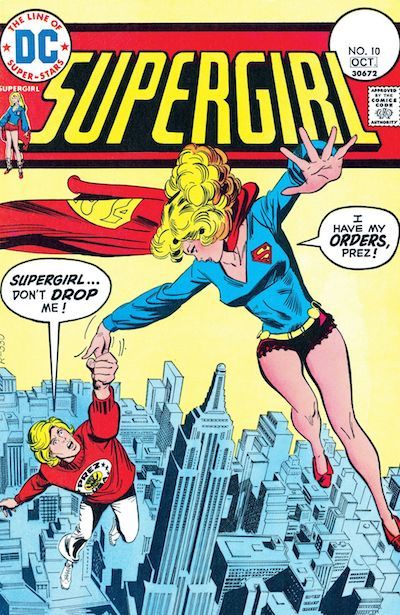 22. Summer of love. Ah, a vintage classic. This costume is undeniably both goofy and impractical—who would hang a cape from a choker? someone invulnerable, I guess—but it's so charmingly of its time that I can't help being fond of it.
21. Go-go girl. For my money, this is the best of the '70s costume experiments. The chain belt! The red accents! So cute!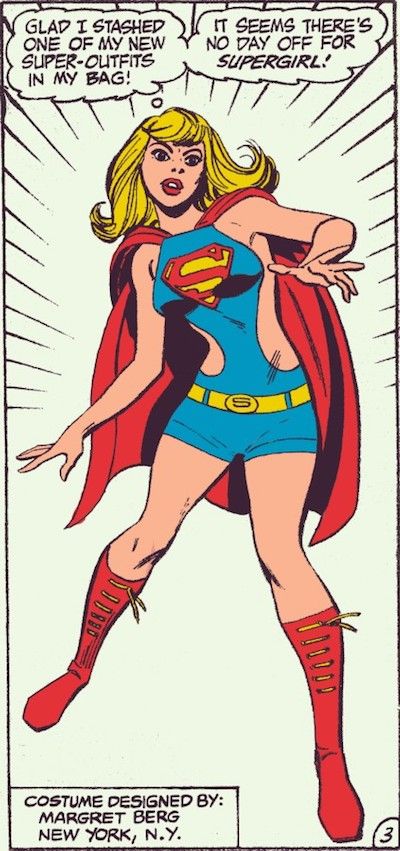 20. One Million Years BC. Look, Raqu-El Welch's costume here is terrible nonsense. I admit it. BUT I LOVE IT. It's unnecessarily skimpy and it defies the laws of physics and I DON'T CARE, it is my actual favorite from the '70s and this is my list, so there!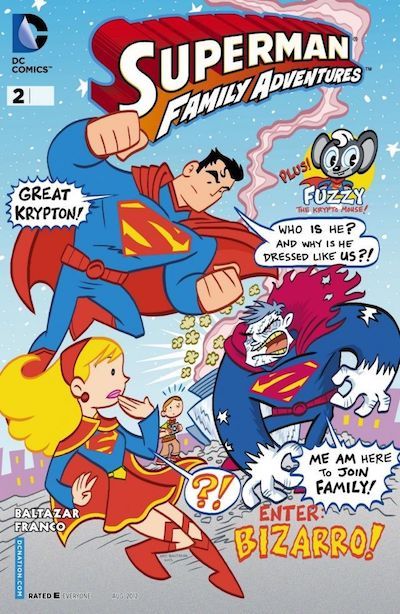 19. Superman Family Adventures. This is one of my favorite Super comics of all time, but unfortunately it came out during the New 52 era, and so even this tiny Kara was stuck with incredibly stupid boots. I'm sorry, kiddo.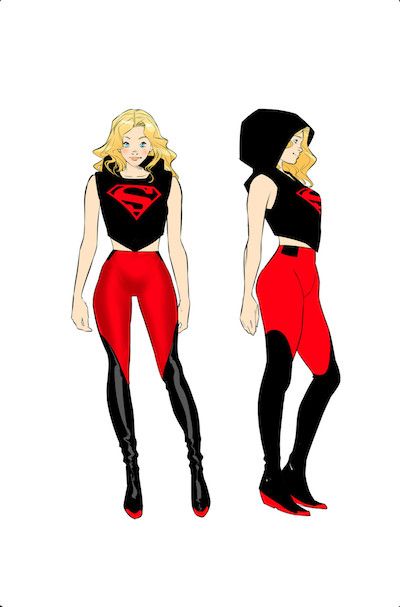 18. Crop top. Y'all know by now I don't like a somber Super-palette, so I wouldn't pick this new look for a regular costume, but as occasional leisure wear? I love it. Bonus points for being an attempt at an on-trend look that is actually on-trend.
17. Winter wonderland. Another sometimes look, this play on the Electric Superman costume is hilarious and extra-comfy. Love.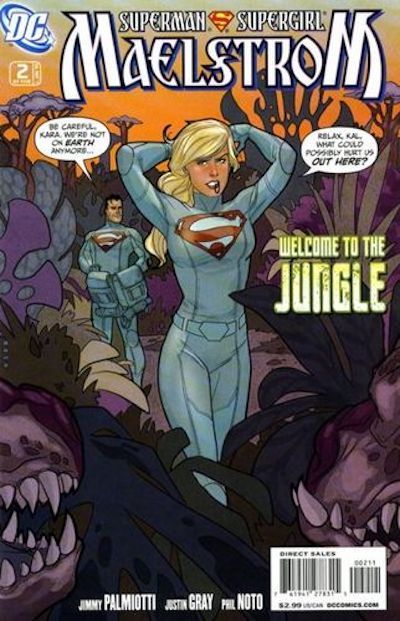 16. Maelstrom. Supergirl doesn't really need a spacesuit (well, it depends on the continuity) but this one is sleek and perfect. Bonus points for a) being gender-neutral, as spacesuits are, and b) the ponytail.
15. Gotham City Garage. I included the statue from the line that inspired the comic instead of a cover or panel because this shows the overall look best. And you guys, it's so cute. The boots! The Kryptonese on her thigh! A jacket I would wear in a heartbeat! Points deducted, though, for the goofy, pointless tattoo.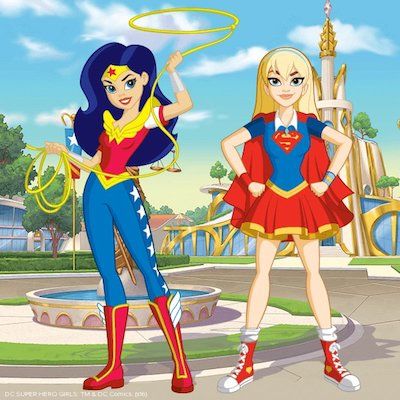 14. DC SuperHero Girls. I'll admit it took me a while to warm up to this costume—the elements seemed a little arbitrary—but now I love it. That slightly slapdash effect (the mismatched bracelets, the multiple shades of blue) is exactly how a little girl would throw a superhero costume together, and the polo collar and cheer skirt give it a fitting schoolgirl effect. Extra points for the sweet kicks.
13. New 52. From the waist up, I love this costume. The shield is great, the cape closure is elegant, and the seaming actually makes structural sense, where Superman's New 52 look was a mess of randomly armor-ish lily-gilding. Plus, this is unquestionably the best haircut any Supergirl has ever had. But those boots are sheer nonsense, and why oh why is there a big red triangle over her vagina? Especially since this was supposed to be essentially a graduation outfit. Nope, no way, absolutely not. But the hair is good.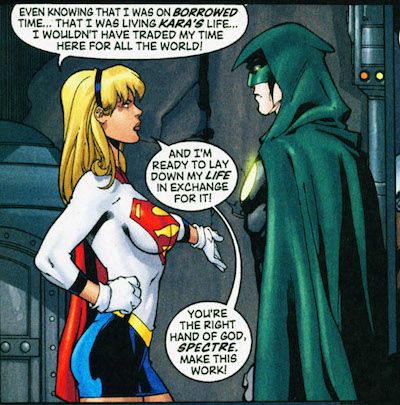 12. Many Happy Returns. This short-lived outfit is the grownup version of the classic Superman: The Animated Series look, and it's a great update. It's drawn unnecessarily tight here, but I love the belt detail and the three-quarter sleeves.
11. Smallville. Kara didn't have a proper costume during the ten-season run of Smallville (motto: no flights, no tights), but she got these togs for the Season 11 tie-in comic, and they're great. I love the way the drape and red lining of the jacket evokes both her traditional cape and skirt, and the whole thing manages to evoke Smallville's general aesthetic without being too fussy. It's the most regal she's looked since that time she was a divine being with literal wings of holy flame.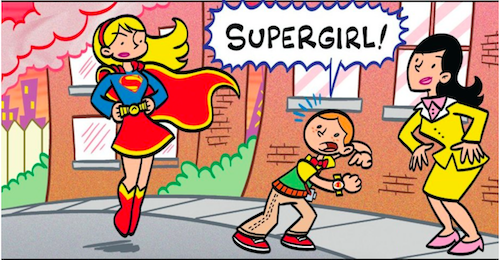 10. Super Powers. This is a very cute little Kara in a classic look but all the yellow trim seems unnecessary.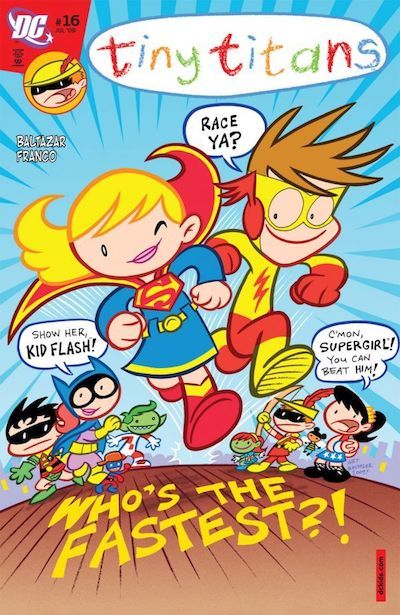 9. Tiny Titans. And again—all that yellow trim is too much for such a simple style. I'm in love with that oversized shield, though.
8. Something new, something blue. The most traditional of the new Supergirl looks is a marriage of Kara's Silver Age costume and the Rebirth ensemble. I'd like a longer skirt and shorter boots and I'm not sure the shield works with what appears to be a V-neck, but overall this is bright and clean and classic. I'm a fan.
7. Armor up. These are different iterations of the same idea, but they're close enough to combine, especially considering how long this list already is (though the one on the right is better). Anyway, like the spacesuit, Supergirl doesn't really need awesome space armor…except for how yes, yes, she totally does need awesome space armor, give her all the badass alternative ensembles, please and thank you.
6. Superman: The Animated Series. Look. I was 12 when S:TAS premiered, and this costume (later adopted by the comics version too) was everything. It's horribly dated and unnecessarily scanty but that belly shirt and those Docs are both fly and da bomb. Blame it on my generation!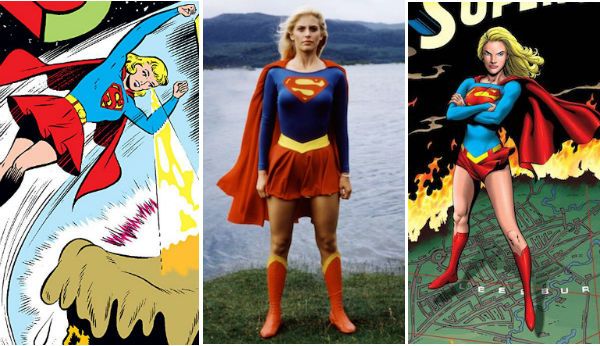 5. Supergirl Classic. This most iconic of Super-looks actually didn't make it into continuity until 1988, and didn't come close to being worn by Kara Zor-El until 2016. On the other hand, it's also the very first Supergirl costume, being the chosen look of "Super-Girl," a one-off character who popped in and out of existence a year before Kara Zor-El first landed on Earth. But it's the movie costume, and even box office stinkers stick with an audience's collective memory better than any comic. Any way you slice it, it's a classic for a reason.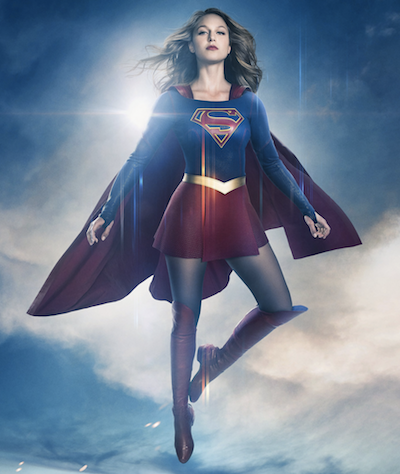 4. The CW. Very, very close to perfect. The colors are slightly too muted for my Pollyanna tastes; the skirt is a little too short and the boots a little too high. But Melissa Benoist wears it so well, and it does a great job walking that fine balance between "regal and alien" and "girlishly friendly." My one real gripe is the navy tights, which look like they didn't realize how short the skirt was until Melissa was in it and hastily ran to CVS for some L'eggs. Give her shorts or leggings, don't half-ass it.
3. Cosmic Adventures in the 8th Grade. A red skirt and blue leggings doesn't seem like such a revolutionary concept—you retain the classic skirt but eliminate the impracticalities! egads!—but this miniseries is the only time Supergirl has ever worn them. And they're perfect! Come on, comics, get it together.
2. Silver Age. You can't go wrong with the classics. Supergirl's original costume is youthful, bright, and approachable, and evokes her character perfectly. I know some people hate the skirt and wish she'd switch to pants, but for me, this costume and its beautiful simplicity are an example of getting it right the first time.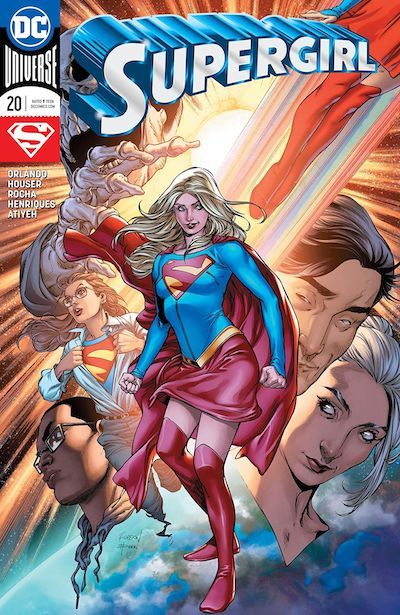 1. Rebirth. Look. In the end, it all comes down to style. How long does each artist draw the skirt? Does the colorist throw some yellow or gold embellishments on willy-nilly? Is it painted on? Do the boots have heels? Given the right artist, there's very little to differentiate between the Classic, the Silver Age, and the Rebirth costumes. And to be honest, I prefer the classic shield to the new one. But we seem to have entered an era of letting Supergirl be for girls and not just cheesecake, which means that since Rebirth, Kara's been consistently drawn in a cute, comfortable ensemble instead of ruffly body paint, and for that alone, I'm giving the new look the win.