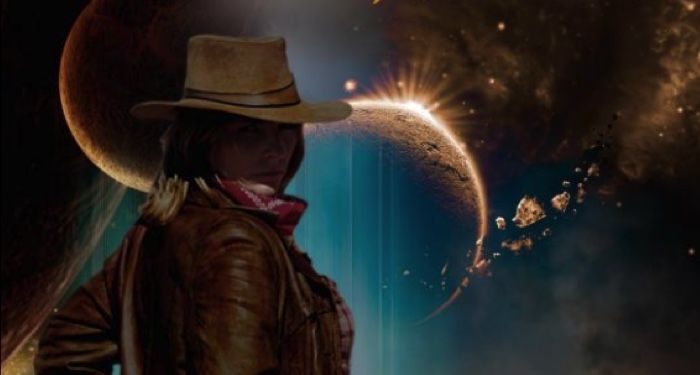 Lists
The Best of Both Worlds: Space Western Books
This content contains affiliate links. When you buy through these links, we may earn an affiliate commission.
In the literary world of genre specifications, there's science fiction, and then there's the weird little sibling who still isn't sure what in Pluto is going on but has buckled in for the ride. We're talking about space western books, and I'm totally here for that weird little sibling. It's a mish-mash of magnificence to the power of seven while shooting for stars way outside this galaxy (and the next). If you love The Mandalorian, then you have found your clan. If you think Firefly was snuffed too soon, then grab your shiny and jump aboard.
And please note, this article is best read with background music: Tank!, the Theme Song from Cowboy Bebop, the ultimate anime series and pin-up for all things space western. I love this cover performed by DA Jazz Alumni:
Cowboy Bebop is one of the best examples of the space western genre, with its forced family dynamics, traveling through space, and chasing bounties for criminals. Bebop's characters achieve so much together and regularly declare they can do it alone if they really want to. (Spoiler: no, they can't.) Gene Rodenberry once described Star Trek: The Original Series as a "Wagon Train to the stars," drawing on the space western ideal of exploring frontiers and righting wrongs across the quadrant. The Mandalorian also started strongly within space western territory, but like many things Star Wars and across the sub-genre, there is a blurring of the lines with space opera. In contrast, "space opera" tends to lean more heavily on the dramatic with grandiose storytelling of some greater universal influence. My personal litmus test comes down to the main antagonist. If they ask the ultimate question, "How is this my problem?" then you have yourself a space western. Any more care than that, and you're flying into a drama-filled space opera.
---
Space western novels are built on single characters with a single focus and often a single story arc. Sure, we love the "pew-pew" side of them, but we are really here for the disaster drama and the adopted family dragging them into the triple-star sunset. If you're into the space western novels that dance around the equally enjoyable space opera genre, check out fellow Book Riot writer Rachael Brittain's latest article on the best space opera novels.