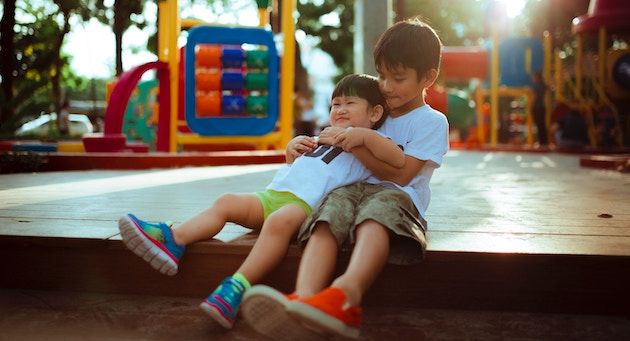 Children's
10 Sibling Books to Help Children Welcome a New Baby
This content contains affiliate links. When you buy through these links, we may earn an affiliate commission.
Picture books with engaging stories can be a great way to gently explain things to young children. Where more fact-based books can help answer more specific questions, story books allow young children to glean the nuances of a new situation. The addition of a new sibling to a family forces everyone to readjust their expectations as the family transitions to a new configuration. Some of these sibling books touch upon issues of jealousy, while others provide words to help children understand their anxiety about this change. We think these ten sibling books can be useful in helping to prepare for and support older children through the changes of welcoming a new baby into the family.
Sibling Books About Jealousy
Mia Moves Out by Miranda Paul, illustrated by Paige Keiser
This sweet picture book boils down issues of sibling rivalry to Mia's anger of having to share her room. The idea of a new sibling was fun until her beloved room becomes overrun with Brandon's toys, books, and even underwear! So what's a child to do? Mia announces she's moving out. But where should she go? The bathroom, the basement… yet something is always missing from these other spaces. Ultimately, she learns the benefit and joy of sharing.
Poppy's Best Babies by Susan Eaddy, illustrated by Rosalinde Bonnet
Poppy is excited to be big sister to not just one new sibling, but two — twins! She becomes jealous when her beloved grandmother comes to help, but spends more time with the twins than with Poppy. Poppy demonstrates resiliency and problem-solving skills when she thinks of a way to use her talent and creativity to welcome both her grandmother and her little sisters. An honest and heartwarming look at sibling rivalry and readers will identify with Poppy as she struggles with sibling rivalry — and cheer when her big heart helps her overcome her negative feelings.
This story explores the concept of sibling rivalry through the experiences of monsters. Smugg is the most terrible monster there is… until one day he learns an even more terrible monster has moved in next door! What he finds next door is that his neighbors have a new baby. She's tiny and small, how could she be more terrible than Smugg? But soon the little beast is writing on the walls, eating books, and won't stop crying. So why is Smugg starting to enjoy spending time with her?
Babies Ruin Everything by Matthew Swanson, illustrated by Robbi Behr
The arrival of a new sibling causes anger and frustration for this book's pint-sized protagonist. "The baby can't stand on one foot. He can't throw a Frisbee. And he can't whistle!" What the new baby can do is wreck her room, drool all over her toys, and complicate her birthday party plans. But the girl comes to realize that maybe she can work harder to be a good big sister and role model for her new sibling.
Sibling Books About Anxiety
Arnold aka Super Saurus is a dinosaur, so his new sibling arrives in the form of an egg. But he's not sure his parents are right — what if this isn't a new sibling, but an EGG OF DOOM? While his parents continue to prepare for a new baby, Super Saurus prepares for every possibility: a vampire-saurus, a planet-crushing robot, or even Maud the Marauder jumps out of the egg! But what happens if the Egg of Doom really does turn out to be Arnold's new little brother or sister?
Aidan is a trans boy determined to do everything right for his new sibling right from the start. But what happens if he messes up? With a little help, Aidan comes to understand that mistakes can be fixed with honesty and communication and that he already knows the most important thing about being a big brother: how to love with his whole self. A heartwarming book that will resonate with transgender children, reassure any child concerned about becoming an older sibling, and celebrate the many transitions a family can experience.
Translating the experience of a new baby to a herd of cows, this book introduces Raisin — the littlest cow in the herd. She's happy being the littlest because all the other cows dote on her. But one day, Raisin's mother has a new calf… who's even smaller than Raisin. All at once it seems like everything's going wrong, even the weather. But then, when absolutely everything is going wrong, Raisin discovers a change in herself—one that delights the entire herd. Even (and especially!) the new calf.
Sibling Books About Being Welcoming
First Laugh: Welcome, Baby! by Rose Tahe and Nancy Bo Blood, illustrated by Jonathan Nelson
In Navajo families, the first person to make a new baby laugh hosts the child's First Laugh Ceremony. As everyone — from Baby's nima (mom) to nadi (big sister) to cheii (grandfather)–tries to elicit the joyous sound from Baby, readers are introduced to details about Navajo life and the Navajo names for family members. Back matter includes information about other cultural ceremonies that welcome new babies and children, including Chinese man yue celebrations, Hindu sanskaras and Muslim aquiqa.
Today is a very unusual day! Caroline wakes up late, forgets her socks, and feels strange all the way to school. She tries to help her teacher, but everything is mixed up today and all Caroline manages to do is make a great big mess. Finally, the school day ends and Caroline rushes outside to greet her parents, who are having a rather extraordinary day themselves. In their arms, they hold Caroline's new baby sister, who has just arrived from far away. A warm and loving story about school, family, siblings, and adoption, for anyone eagerly awaiting the arrival of a new sibling.
Splat the Cat can't wait to be a big brother. So when his mom brings home a special little guest, Splat races from his room, slides down the banister, and skids across the hall, only to find his mom holding . . . a crocodile?! It's not the baby Splat was expecting, but he's determined, no matter how messy, smelly, and tricky it gets, to be the best big brother he can be!
---
Looking for more sibling books? Check out our list of middle-grade sibling books!