September Riot Read: THE SECRET HISTORY by Donna Tartt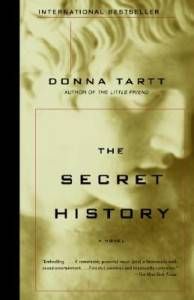 After a brief late summer hiatus, The Riot Read returns for September with Donna Tartt's The Secret History.
It's a dark, enthralling, and terrifically bookish thriller set on a college campus. We thought a little conspiracy and murder would be a nice add-in to all of the back-to-school warm fuzzies. We'll get started with some posts and a discussion schedule Monday, but now is your opportunity to go get ready and grab a copy. If you need a little more inspiration to join us, check out Michiko Kakutani's glowing review in The New York Times from the novel's original publication in 1992.