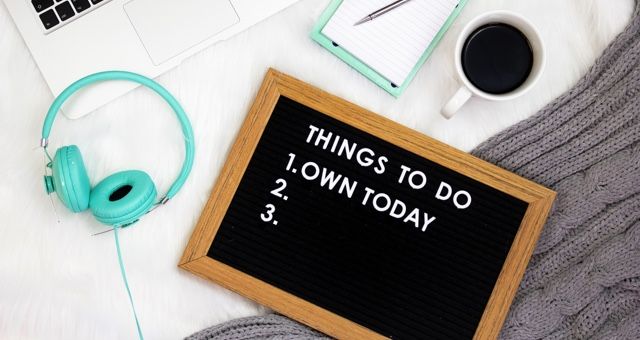 This list of self-improvement audiobooks is sponsored by hibooks – the club for audiobook lovers.
Calling all audiobook nerds! The hibooks club is waiting for you. One membership gets you 1 free book to start and an additional catalog of audiobooks for unlimited listening. After all, we've got audiobooks. You've got ears. It's a perfect match!
---
Whether you're commuting, working out, cleaning, or relaxing on the couch, audiobooks are the perfect companion for your busy life. But what if they could also bring clarity to your financial situation? Help you better empathize with others? Empower you to make healthy changes in your life? These great self-improvement listens can help you do all that, or at least guide you in the right direction.
Brave, Not Perfect by Reshma Saujani
Expounding on her 2016 Ted Talk, Reshma Saujani explores how society has shaped women to be perfect, how we can change the status quo, and overcome fears to take on new challenges. Even if you aren't someone who struggles with perfection, you will find yourself challenged in the way you approach difficulties, failure, and the unknown. A wonderful listen for people who find themselves working with or mentoring young people as well.
There is No Good Card for This by Emily McDowell and Kelsey Crowe
While there are many books about grief and going through tough times, there are few titles out there aimed towards friends and family trying to love and support those in the midst of hard seasons. What do you say when there are no right words? Can you be a steady, supportive friend without resorting to cliches? Emily McDowell, of Empathy Cards, and Dr. Kelsey Crowe, an empathy expert, offer practical, real-life advice and examples of how to be an empathetic person in the midst of trials and crisis.
Year of Yes by Shonda Rhimes
It may feel a little redundant putting Shonda Rhimes's bestselling Year of Yes on a list of great self-improvement listens—hasn't everybody read her book at this point? Maybe, but have you listened to it? Rhimes's narration of her year of saying "yes" to everything that came her way is perhaps even more inspiring than the print version. A gifted storyteller, Rhimes makes you feel like a friend she's catching up with, telling you about this crazy thing she did, how she got there, what happened, what she learned from it, and what you could learn from her experience too.
Bad with Money: The Imperfect Art of Getting Your Financial Sh*t Together by Gaby Dunn
If you have tried making a budget but couldn't stick with it, or listened to other financial advice books and felt lost, I think Bad with Money may just be the listen for you! By talking through her own life and interviewing financial experts, Gaby Dunn breaks down the systematic giant that is Money and Finances, and helps you understand this subject matter than few people want to talk about. Although this is geared more toward younger people just starting out in the world, it's a good resource for understanding the financial systems the world works in, and can help you feel less alone if you're struggling to figure out how finances work.
Burnout: The Secret to Unlocking the Stress Cycle by Emily Nagoski and Amelia Nagoski
If you find yourself constantly exhausted no matter what other self-help books you have tried, I highly recommend Burnout. Sisters Emily and Amelia help walk you through the science of stress, how it effects people differently, and how to work through the stress cycle to arrive at place where you are no longer burned out. Focusing on women, the Nagoskis explore how systematic structures factor into stress, and offer helpful breakdowns of how to approach each element. I also super appreciate the PDF worksheets that come with the audiobook. This is definitely a book I can see myself returning to time and time again.
Braving the Wilderness by Brené Brown
While one could put just about any Brené Brown book on this list, Braving the Wilderness feels both like the culmination of her previous books and a perfect place to start if you are new to Brown's work. Her narration is wonderful, warm, and engaging, exploring what it looks like to live life as our true, authentic self, and cultivate true belonging with others.
Heart Talk by Cleo Wade
You might find yourself in a stage of life where list making, goal setting, and saying yes to things just feels like too much. We all go through times when just surviving to the end of the day is our big goal. For seasons like that, Heart Talk meets you where you are, and reminds you of truth and wisdom you may have brushed aside or forgotten. Cleo Wade reads her poetry, mantras, and advice in an inviting manner—this would make for a great morning listening ritual.
What a Time to Be Alone by Chidera Eggerue
If you are need of some simple, straightforward, no-nonsense talk about discovering your self-worth, dealing with others, and how to have healthy relationships, look no further. Eggerue's easy-going narration makes this one of the most delightful and great self-improvement listens when you are need of a quick read.