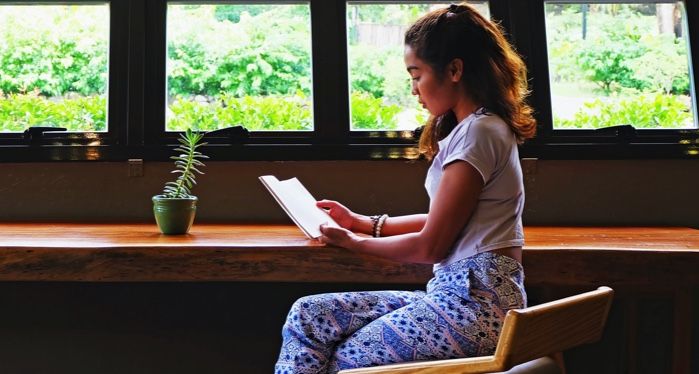 LGBTQ
20 Must-Read Contemporary Sapphic Novels
This content contains affiliate links. When you buy through these links, we may earn an affiliate commission.
Danika recently wrote a wonderful piece about sapphic YA and the various forms it takes. She mentioned that one of the reasons she enjoys reading sapphic YA is because there are a lot less sapphic novels to choose from in adult lit. Look, I'm not going to contradict the wonderful Danika, who runs the equally wonderful Lesbrary, and whose sapphic book knowledge is definitely superior to mine. I am simply here to tell you, as someone who reads more adult lit than YA lit, and as someone whose reading life revolves around queer books, that there are a lot of incredible sapphic novels out there for adults.
I'm not saying that adult sapphic lit is as plentiful as I'd like it to be. It certainly isn't. But I have read a ton of amazing sapphic novels in the last few years. So many, in fact, that I couldn't include all of them on this list of 20. I'm staring at my bookshelf right now, and several sapphic books are staring back at me, wondering why they didn't make the cut: Justine by Forsyth Harmon, Fiebre Tropical by Juliana Delgado Lopera, and Amora by Natalia Borges Polesso. (Answer: I haven't read them yet!) And because I decided to focus on contemporary books, I left out a few historical favorites: Cantoras by Carolina De Robertis, The Pull of the Stars by Emma Donoghue, and Stray City by Chelsey Johnson. I didn't even wade into the waters of the speculative.
And then there are all the upcoming sapphic novels I'm excited about! Everyone in This Room Will Someday Be Dead by Emily R. Austin (7/6), Skye Falling by Mia McKenzie (7/27), and Radiant Fugitives by Nawaaz Ahmed (8/3) to name just a few.
In compiling this list, I strove to include as many kinds of sapphic experiences and lives as possible. These books feature lesbians, bi+ women, and queer women who don't identify as bi or lesbian (hi, hello, it's me, I see you). They're written by and feature cis and trans women. Some include romance; some do not. Some are about bi+ women in relationships with men. Some are about healthy relationships and some are about obsessive, toxic ones. Some have happy endings and some don't. They're about parenting, friendship, grief, work, family, art, illness, and navigating identity. They take places in cities, small towns, and rural areas. There is queer suffering and human suffering. There's humor, heartbreak, and most of all, a whole lot of glorious, messy life.
Obviously no list of sapphic literature, even this relatively specific list of contemporary adult sapphic novels, will ever be comprehensive or representative of the myriad varied realities of queer women. There's no such thing as too much sapphic literature. Until the voices of BIPOC, trans, and disabled queer women are as plentiful as those of white cis queer women, we still have a long way to go. But this list contains some of my absolute favorite reads, in any genre, from the last few years. It's a starting place.
---
Looking for more great sapphic novels? Check out 100 Must-Read Bisexual and Lesbian Books (especially if you're looking for classics across many genres). Danika also made a great list of Bi and Lesbian Literary Fiction (which only features one book that's also on this list!) If you missed any of these sapphic books from 2019, you're going to want to fix that, pronto. And if that's not enough sapphic novels, you can always peruse our LGBTQ archives.