According to the all-knowing Google Maps, I drove approximately 2040 miles last week from my doorstep in Texas, to my brother's doorstep in Tennessee, on to my storage unit in a town two hours north of there, and back again. That does not factor in the distance I traveled when I tried to make the trip by memory and made an unnecessary detour through New Orleans that added about 3 hours to my trip. Bottom line – I traveled a lot of miles.
While my stated purpose for the trip was to visit my siblings (which I did), I had another agenda. I was there on a rescue mission. I had left my collection of books in storage when I moved from Tennessee to Texas, and after 4 years of not having enough room in the car to bring them back with me on my rare trips home, I was determined to bring them all back. I didn't quite succeed, but I came pretty close.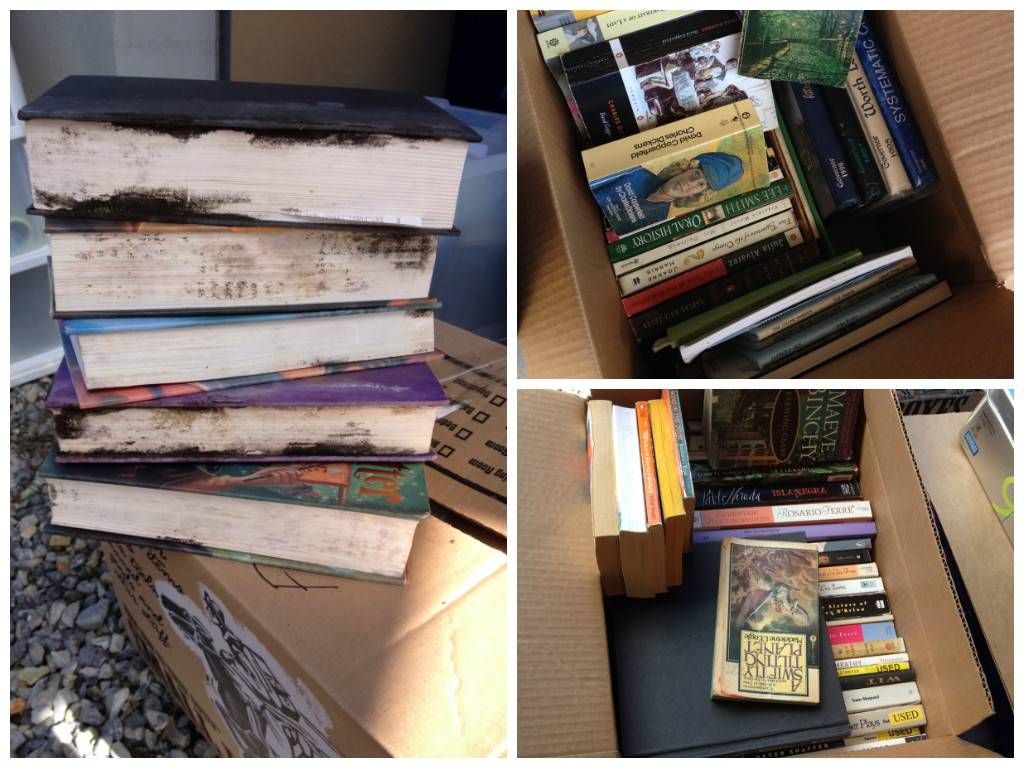 As you can see, four of my Harry Potter hardbacks, two of which were purchased at midnight release parties, suffered some water damage, resulting in mold of some sort (the other book is a collected C.S. Lewis). Very few of my hardbacks made the return trip, actually. Most of them looked like that. Of course, most of them didn't meet my current shelf-worthy status, either. If I had attempted to drive them home, I would have just ended up giving them away. I salvaged some special ones, including the other three Harry Potters (1, 2, and 5 – if you're interested), the first book I ever stood in line to get signed, and both my English and Spanish copies of One Hundred Years of Solitude.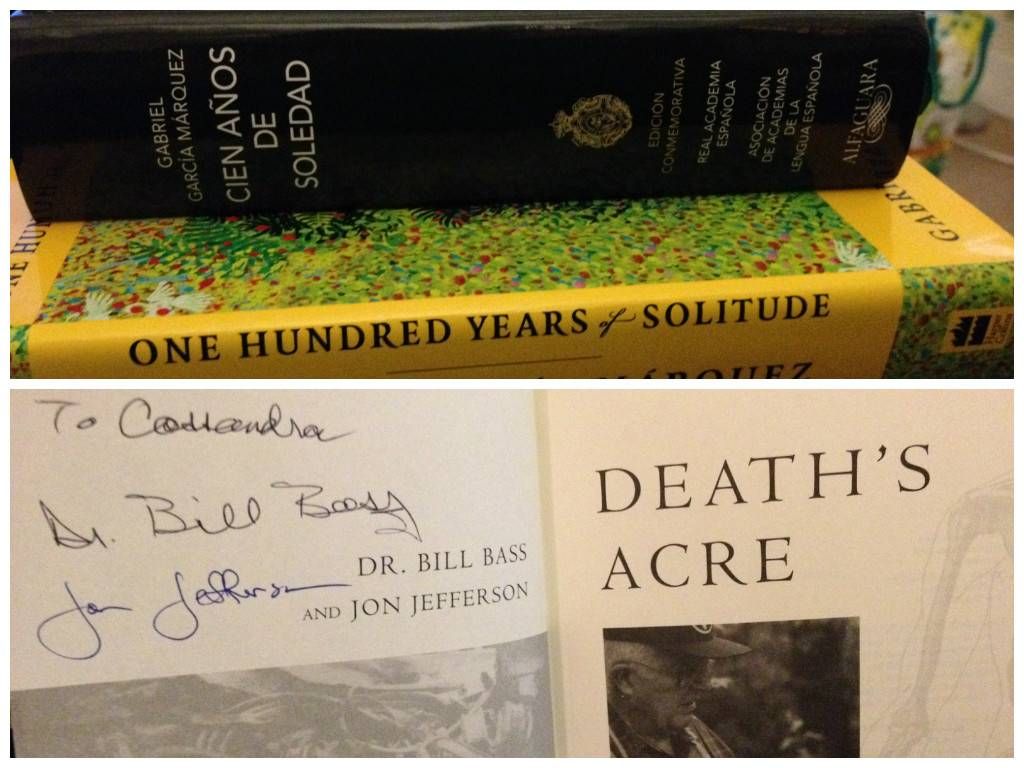 Yeah. The book I stood in line for, that I willingly gave money to the University of Tennessee Alumni Association for (resulting in endless mailings over the years) is a work of nonfiction.
"But, Cassandra, you don't read nonfiction. And you hate the classics."
I can understand why you think that. I've written about by inability to enjoy both types of books. But it wasn't always that way. It's not even always that way now. I think I'm going through a phase. This phase is characterized by new fiction, with an emphasis on speculative fiction. In years past, it was marked in other ways.
In high school, I dabbled in fantasy and in books that look at what the what the world is and what it could be. In college, I read books that explored race and gender and that led me to question history. In grad school, I dove into the classics. I read Dickens, Keats, and Shakespeare. A bunch of others too. The photo was getting crowded.
I read most of these books because it was asked of me by my instructors, but the reason they made it into the boxes is because they stayed with me. They made an impact. I got rid of plenty of the other books I read in school. But these will have home with me for quite a while.
I also recovered stacks of books by Latin American authors, both in English and Spanish. I found books that I had picked up off the remainder table and that became favorites. There were books given as gifts, books bought as research, stack of plays that I appeared in, produced, or wrote about. I have a stack for each of the years between graduating from high school and moving to Texas, and those stacks are distinct from one another. They tell their own stories. And they have little in common with the books that I have on my shelves now.
I don't know what that means exactly, but I know that I'm itching to pick up a few of my old friends and remind myself why I drove 2000 miles to bring them home.
_______________________
Sign up for our newsletter to have the best of Book Riot delivered straight to your inbox every week. No spam. We promise.
To keep up with Book Riot on a daily basis, follow us on Twitter, like us on Facebook, and subscribe to the Book Riot podcast in iTunes or via RSS. So much bookish goodness–all day, every day.