Audiobooks
Riot Round-Up: The Best Books We Read in February
This content contains affiliate links. When you buy through these links, we may earn an affiliate commission.
We asked our contributors to share the best book they read this month. We've got fiction, nonfiction, YA, memoir, and more. Some are old, some are new, and some aren't even out yet. Enjoy, and please tell us about the highlight of your reading month in the comments.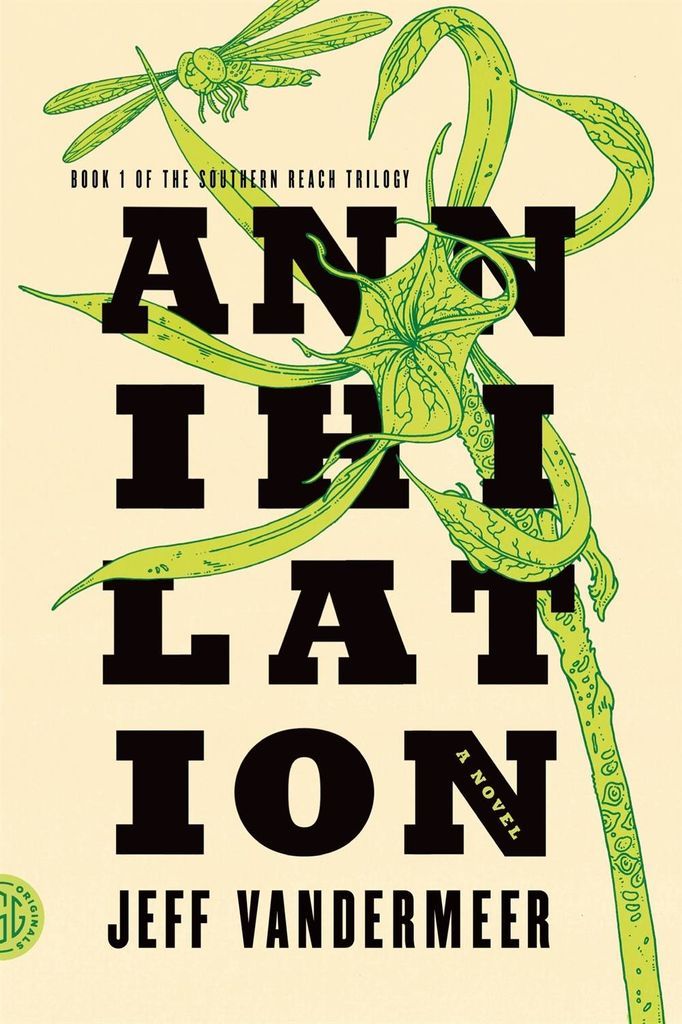 Annihilation (Book 1 of the Southern Reach Trilogy) by Jeff VanderMeer
This book is the first in a trilogy that will be released in its entirety in 2014. A section of the country, known as Area X, has been affected by an unknown event and cordoned off by an invisible barrier. Annihilation documents the events of the 12th expedition into Area X. It's easy to make surface comparisons to the television series "Lost," or the film "Stalker," but this book is its own entity. It's weird and creepy and un-put-downable. The narrator knows as little as the reader, which means everything is a mystery waiting to be solved: What event caused Area X? What happened to the previous expeditions? What is the secret of the Lighthouse? What is the main goal of the organization known as The Southern Reach? Because it is the first in a trilogy, the book asks more questions than it answers (absolutely not a complaint), but it is a satisfying read, and (I think) works fantastically as a stand-alone novel. People often say things about needing to reread a book immediately after finishing it. With this book, I actually did it. I can't wait to see where the adventure will take me in the next two books, and I'm very happy I won't have to wait years to find out. (Non-spoiler alert: I'm reading the second book, Authority [May], and it is DELIVERING.) – Casey Peterson
[buyandread isbn="0374104093″ linkshare="https://store.kobobooks.com/en-US/ebook/annihilation-4″]
Boy, Snow, Bird by Helen Oyeyemi
I went into this blind based solely on Liberty's love for it, so color me surprised to find myself wrapped up in a loose retelling of Snow White in mid-century New England, told mostly from the point of view of the "evil" stepmother. This is a creepy, strange, deceptively easy-to-read novel about race and beauty and vanity and sisterhood. And bonus, it's got lots of plot twists and WTF how did I not see that coming moments. To tell you anymore would reveal some twists, so: just read it. – Amanda Nelson
[buyandread isbn="1594631395″ linkshare="https://store.kobobooks.com/en-US/ebook/boy-snow-bird"]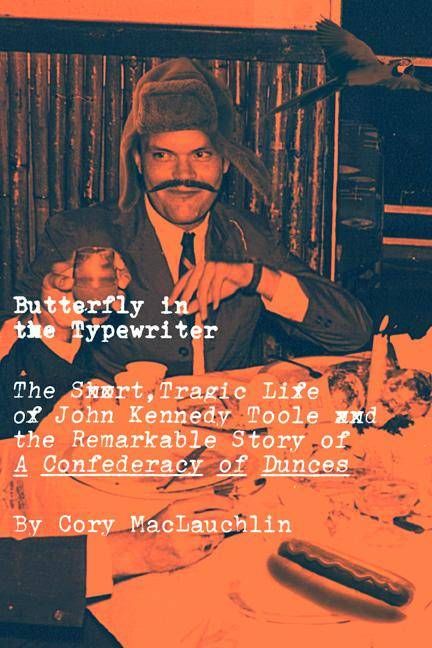 The Butterfly in the Typewriter: The Tragic Life of John Kennedy Toole and the Remarkable Story of A Confederacy of Dunces by Cory MacLauchlin
Telling people to read A Confederacy of Dunces is not a particularly original instruction, but it will always bear repeating (particularly in an age of over-educated, under-employed Millennials who might find its tragicomic antihero Ignatius J. Reilly surprisingly relevant). Since I've adored the novel since high school, I have for years been meaning to read more about its author, the brilliant, mercurial John Kennedy Toole. Cory MacLauchlin's exhaustive and endlessly humane biography, in turns out, is exactly what I was looking for.
Famously, Toole committed suicide in 1969 after his much-revised magnum opus was rejected one time too many, and only saw posthumous publication – not to mention a Pulitzer – due to the tireless efforts of his mother. However, the truth may be more complicated. Was Toole's suicide the result of what an unfeeling world has done to him, or was it instead attributable to his long, dark descent into mental instability? The reality may have been a little of both.
Diligent, eloquent and heartbreaking, MacLauchlin has produced the biography Toole deserved. Unfortunately, like all Toole's just rewards, it comes too late for him to see it. – Sean Bell
Craft Cocktails at Home: Offbeat Techniques, Contemporary Crowd-Pleasers, and Classics Hacked with Science by Kevin Liu
This self-published cocktail book is sooo worth the buy. Kevin Liu is a science writer who applies the principles of science and mathematics to cocktails. But what I really love about this book is that Liu doesn't use science to make cocktails inaccessible or more difficult to understand, he uses it to find hacks that make his—and thereby my—cocktails better. He's like the Bill Nye of cocktails, basically. "Craft" is not a synonym for "snob" here; it simply means stuff you can make yourself, and Liu is interested in finding the easiest, cheapest, and most efficient way to do that. A few reviewers on Amazon complained that Craft Cocktails at Home was too quirky and quixotic, but for me that's actually a positive. I doubt there are many people who would find EVERYTHING in this book useful. But I promise you that any cocktail drinker, from a newbie to a professional mixologist, can find SOMETHING incredibly useful and interesting here, whether it's building your own smoker or creating cocktail recipes for people who don't like cocktails. I'm going to be referencing this book for a long time to come. – Tasha Brandstatter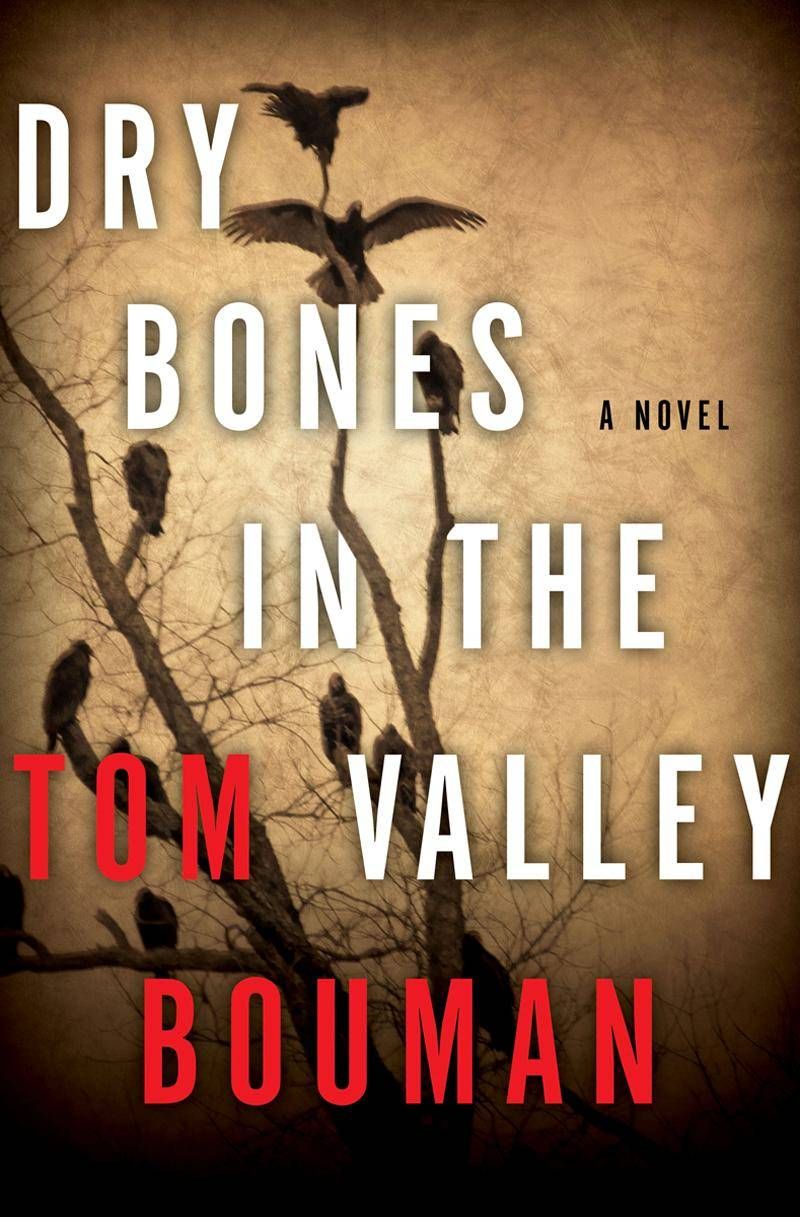 Dry Bones in the Valley by Tom Bouman (Norton, July)
I love Wiley Cash, and I love mysteries, so I certainly couldn't pass up a chance to read a Wiley Cash-recommended mystery! This debut is wonderful. It's about a police officer in rural Pennsylvania who has to solve a murder when a body is discovered in the mountains. Mixed in with the murder are meth dealers and secret family histories. It's very compelling. But what I love best about this book is the lead character, Henry Farrell. He's a regular guy. He's not a superhero – he gets his gun taken away from him by the bad guys more often than not – but he's still driven to do what he thinks is right. I hope there's another book with Henry, and if not that, at least another book from Tom Bouman. This one isn't out until July, but it's well worth the wait! – Liberty Hardy
Doubt, A History: The Great Doubters And Their Legacy of Innovation from Socrates and Jesus to Thomas Jefferson and Emily Dickinson by Jennifer Michael Hecht
Doubt is a massive book that is way more entertaining than it sounds like it would be. It's a wonderful feat of scholarship, that in my opinion is almost entirely without an agenda. Hecht makes it clear that she is not a religious believer, but this book isn't a series of arguments or histories designed to create doubt. It is simply a history of doubt itself. It says: "Here is how people doubted different religions on different continents at different times, here is the evolution of the doubt, and here are various ways in which doubt is possible." Then it backs it up with such an avalanche of history and citations that I'm ashamed that I ever considered myself a mildly learned historian. I'm a fraud. Hecht is not! – Josh Hanagarne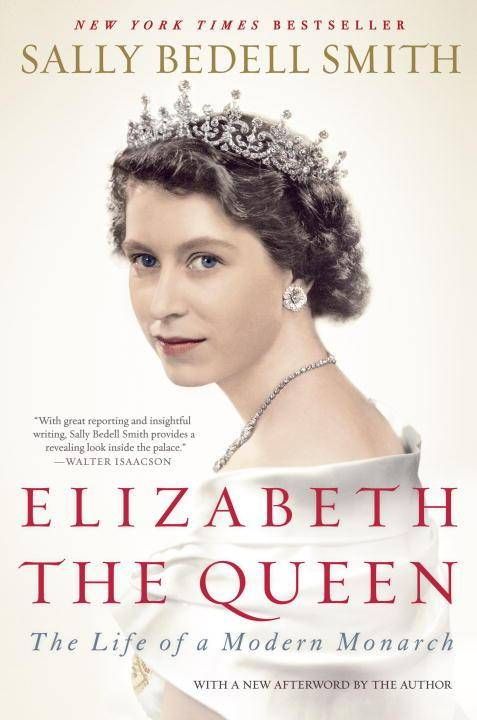 Elizabeth the Queen by Sally Bedell Smith
I don't read a lot of hefty biographies, but I fell hard for this book about Queen Elizabeth II. The book is comprehensive, starting from Elizabeth's childhood as the heir apparent to the throne and ending just a couple of years ago with her Diamond Jubilee to celebrate 60 years as monarch. I loved the way Smith balanced anecdotes about Elizabeth personally (the Queen is an avid fan of horse racing) with a look at how she approached her professional role as the monarch. It's a fairly puffy book, but I gobbled it up. (Fair warning, if you are a big fan of Princess Diana, I'd skip this one – Smith's portrait of the princess is pretty harsh in comparison to the generous portraits she paints in rest of the book). – Kim Ukura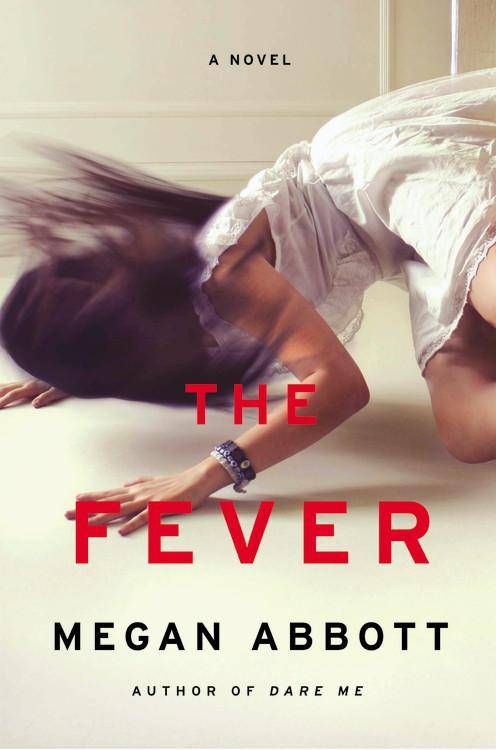 The Fever by Megan Abbott (June 17; Little, Brown)
I adore the way Megan Abbott writes teenage girls. I adore the way Megan Abbott writes the teen-girl experience. Basically, I adore the way Megan Abbott writes. Her writing itself is just sexy. This novel is a modern-day take on the notion of mass hysteria but with a delicious twist, so tasty. The Fever is deliciously, page-turningly "no, no, leave me alone, I'm almost done!" It gave me creepy dreams. Abbott nails both the reality of being a teenage girl and the hyper-reality of memory, when you can't hold on to the details of an experience but you remember how you felt, those feelings in turn magnifying and amplifying your hazy memories. – Jeanette Solomon
The Golem & the Jinni by Helene Wecker
Apparently I'm on a bit of a Jewish mysticism kick. Not too long ago, I fell hard for Stephanie Feldman's gorgeous The Angel of Losses. (I told you all about it in Inbox/Outbox, and I've been screeching about it on Twitter with some regularity.) And then, remembering that there was another book about the relationship between Jewish mysticism and everyday life that kept popping up in Book Riot posts, I added The Golem & the Jinni to my list. I finally—behind the times, I know!—read it this month, and wow I'm glad I did. It's enthralling. – Derek Attig
[buyandread isbn="0062110837″ linkshare="https://store.kobobooks.com/en-US/ebook/the-golem-and-the-jinni"]
The Good Lord Bird by James McBride
I tend to stay away from the books that get a lot of attention. I'm curious, but I wait until the buzz dies down before giving them a try. I watch. What I saw when I kept my eyse on this one, however, was the author and his music. He was always popping up in my neck of the woods with these interesting events, usually involving his band. Because of that, his book has been hovering at the edges of my book-buying mind for a while now. When I started hearing good things about the audio and the fantastic job that Michael Boatman does with the narration, I decided that I had waited long enough. The book carried me along on a 14.5 hour roadtrip, and it was arguably the best road-trip listen that I've had – and I do a lot of driving. The book has lived up to the hype, and I'm going to make it a point to introduce myself to James McBride the next time our path's cross. He's too good not to. – Cassandra Neace
[buyandread isbn="1410464857″ linkshare="https://store.kobobooks.com/en-US/ebook/the-good-lord-bird"]
Hollow City by Ransom Riggs
I bought Miss Peregrine's Home For Peculiar Children when it first came out because it had pictures in it, and I liked them. I'm pretty deep. I began reading it because I was intrigued by the gimmick of the pictures having been woven into the narrative itself, and also the story wasn't too bad either. By the end, I was enraptured with the story, and both the pictures and the gorgeous book design had fallen by the periphery for me.
Then I had to wait ages for the second book in the series to come out, and that was awful. Fortunately, when I snapped up Hollow City (and read it in the course of a day and a night) I discovered it was well worth the wait. If anything, I think the ongoing story of Jason and the other peculiar children is stronger and more brilliant in this second volume than it even was in the first book, and I'm dying for the third book. Ransom Riggs is doing an amazing job writing a fast-paced adventure narrative that doesn't forget to build its characters and examine the world in which they find themselves. The peculiar powers the children possess are varied and clever, and it's very hard not to genuinely care for these odd, shy, damaged people as the books progress. The last time I was this excited about the next in a series of books coming out, it was Harry Potter. You've gotta read these. They are a blast. – Peter Damien
[buyandread isbn="1594746125″ linkshare="https://store.kobobooks.com/en-US/ebook/hollow-city"]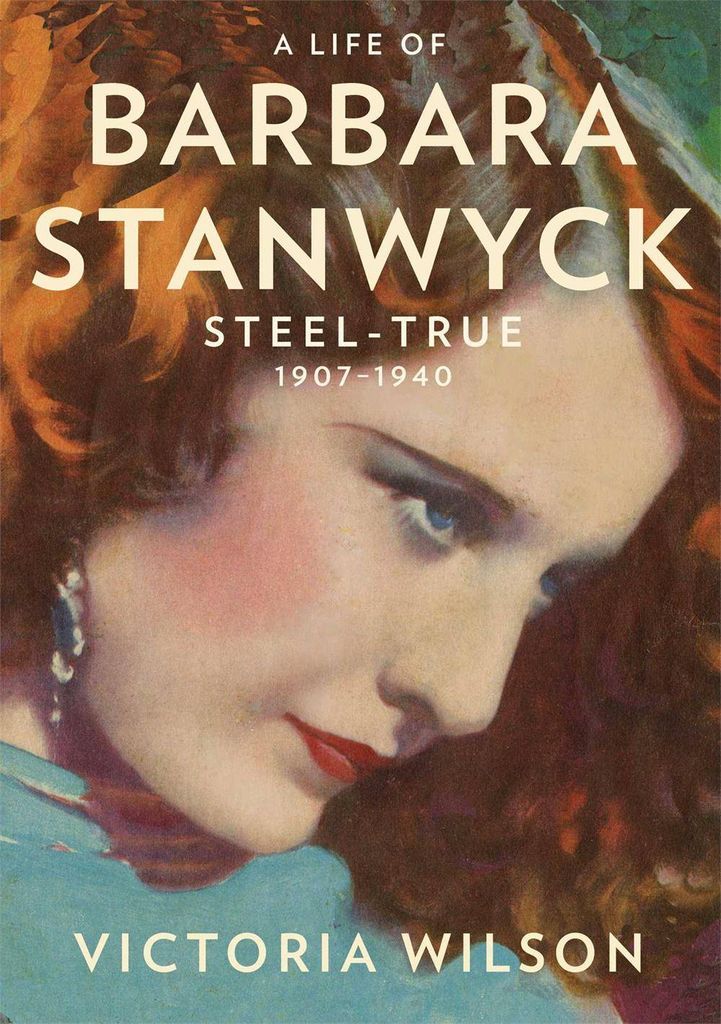 A Life of Barbara Stanwyck: Steel-True 1907-1940 by Victoria Wilson
It's just possible that Victoria Wilson has re-ignited a love of biographies in my heart. After I closed the 1,056th page of her book about actress Barbara Stanwyck, I wanted more, more, more! Specifically, I wanted to read more about Stanwyck because Wilson only covers the first third of the screen legend's life. I'm praying that Volume 2 (which will begin right around the time Stanwyck is filming Frank Capra's Meet John Doe) is on its way soon. We don't often see a Hollywood biographer give the same kind of treatment to her subject like, say, Robert Caro devotes to his multi-volume look at Lyndon B. Johnson's life; but Stanwyck seems to deserve it. She was a tough pioneer in the Golden Age of Tinseltown (she was the first actress under contract to two studios at the same time) and Wilson paints a rich, full-bodied portrait of a woman who once self-deprecatingly said, "I have the face that sank a thousand ships." Maybe Stanwyck wasn't the most conventionally gorgeous actress of her era (hello, Vivien Leigh!), but she sure could act her way out of a thousand wet paper bags. – David Abrams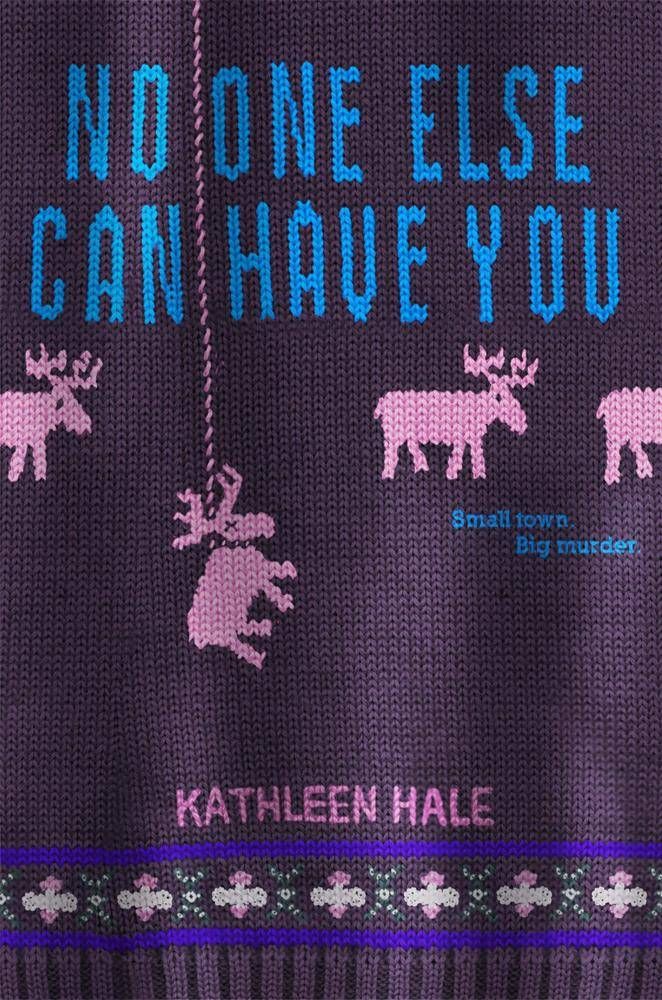 No One Else Can Have You by Kathleen Hale
Kathleen Hale is a brand-new writer after my own heart. When her best friend is murdered in the tiny town of Friendship, WI, high school junior Kippy Bushman has to use her smarts and take the law into her own hands. Guys, I can't even choose what one thing I loved best about No One Else Can Have You. There's the knitted moose sweater on the front cover. There's the portrait of life in small town Wisconsin — from the convention of addressing everyone by their full name, to eating hot dogs fried in mayonnaise. There's the awkward but hot romance that's just one small piece of who Kippy Bushman is, rather than her whole entire raison d'être. There are the complicated, real relationships; the beautifully handled issues of grief and outsidership; the ragtag friends from anger management support group. And then there's the super smart, slightly weird humor that would be right at home in a Daniel Pinkwater novel or David Lynch movie. But if I HAD to choose, the number one reason I love this book is because it's about a brainy girl who goes up against incompetent authority figures and gets criminalized, pathologized, and institutionalized along the road to justice. But still gets home in time for Hot Dog Jumble and microwaved bacon salad with her dad. I can't wait for the sequel! – Rachel Smalter Hall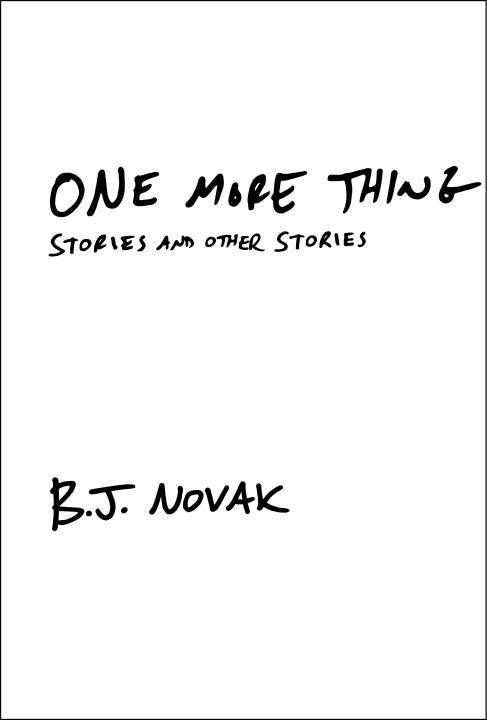 One More Thing: Stories and Other Stories by B.J. Novak
A hilariously poignant short story collection that recalls the early work of Steve Martin. While Novak is best known for his work writing, directing, and acting in The Office, this is no celebrity vanity project. Novak is legit, yo. The Tony Robbins story was a personal favorite. – Andrew Shaffer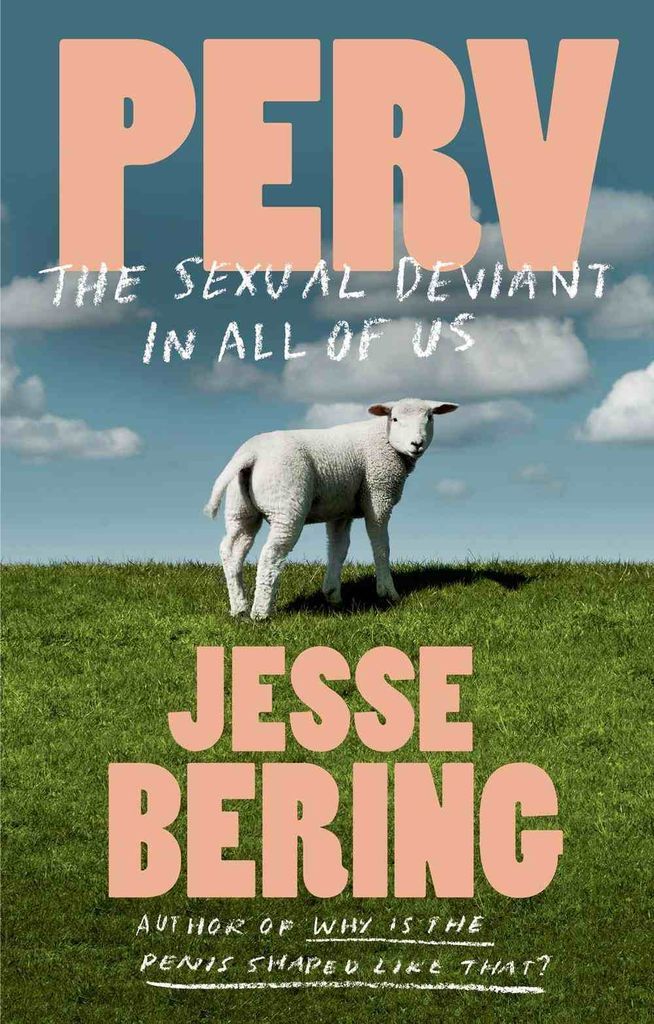 Perv: The Sexual Deviant in All of Us by Jesse Bering
After Rebecca raved about Jesse Bering's exploration of sexual "perversions" during a recent Book Riot podcast, I immediately downloaded the audio (read by the author). The combination of science, sociology, anthropology, psychology, politics, religion, humor, sex and sarcasm lit all of my lamps, and I found myself giggling out loud or wrinkling my nose in response to some bizarre fetish, usually while riding the subway. He examines even the most socially disdainful sexual preferences (like pedophilia) with a straightforward, non-judgemental eye. Bering's book did exactly what a good scientific book about sexuality is supposed to do: educate, enlighten, and entertain. I'll definitely never look at the Eiffel Tower the same way again. – Rachel Manwill
[buyandread isbn="0374230897″ linkshare="https://store.kobobooks.com/en-US/ebook/perv"]
Pioneer Girl by Bich Minh Nguyen
Pioneer Girl could have easily been just another cultural coming-of-age novel, but by tying in the pioneer narrative and Laura Ingalls Wilder, Nguyen turned it into something else entirely. It becomes an exploration of the American dream and what it means to be American. Are immigrants the new frontiersman? It's well-written, thought-provoking, and evokes waves of nostalgia and remembrance about the Little House books. – Swapna Krishna
The Princess Bride, S. Morgenstern, abridged by William Goldman
I take it for granted, given the nature of The Princess Bride's fame and the rabidity of fan culture in this day and age, that everyone knows it's a book as well as a (very faithfully adapted) movie. But then I carry it around in public, and people are like "Wait is that the novelization of the movie?" Oh friends. The Princess Bride is a story of love, vengeance, beautifulest ladies — and it's also one of the finest pieces of meta-fiction ever written. Goldman had me hooked from page one. The story is all there, and then there are the asides from Morgenstern, the Bride's original author, and then there are the asides from Goldman, the Bride's faithful abridger, and then there's the part with Stephen King, and it is just layer on top of layer of hilarity. Get yourself a copy post-haste, and then rewatch the movie. And then repeat ad infinitum, because why not. – Jenn Northington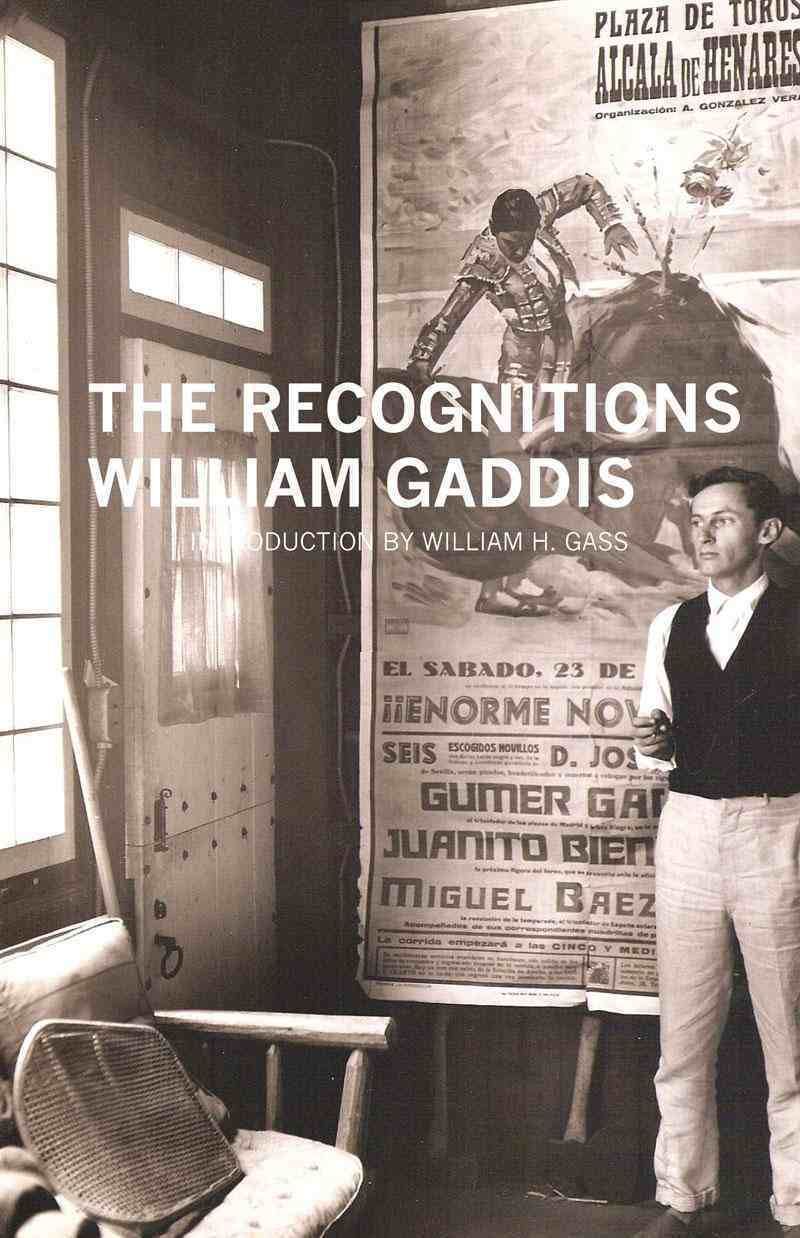 The Recognitions by William Gaddis
To be completely honest I started this book in January. It's tremendous size can be intimidating, but if you can stick it out, it is entirely worthwhile. I recommend reading something a bit less dense simultaneously, as an out from the mountain of erudition Gaddis creates. This novel is composed as a triptych and in my mind sets the groundwork for postmodernism. It'll make you laugh, groan, scoff, and take walks around the block. Just remember, this one's an ultra-marathon, not a sprint. – Aram Mrjorian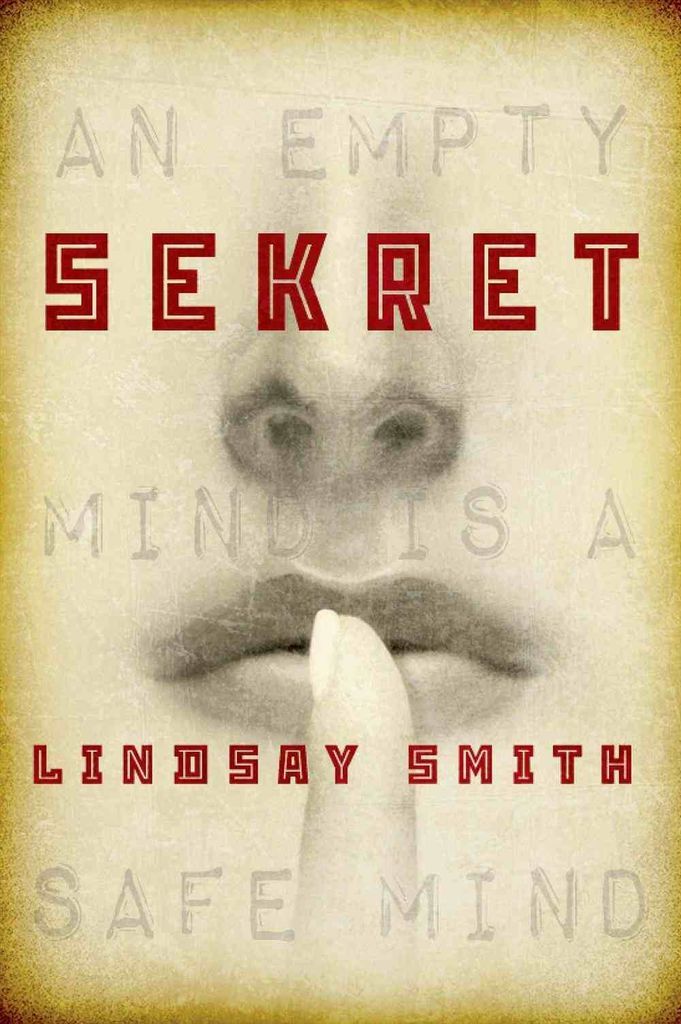 SEKRET by Lindsay Smith
Wait a second here. A debut novel with a blurb from Elizabeth Wein, the author of Code Name Verity? THE Elizabeth Wein? Hm. Okay, you've got me intrigued. I've got a few minutes, so let's crack open this here ARC and see what's insi-
[Several days of weeping later]
Sorry, sorry. I'm back.
In Smith's stunning debut novel, the first in what's going to be one incredible series, readers are introduced to a young psychic living in Communist Russia. Set during the space race, Sekret is an amazing novel that blends together everything you really want in a Young Adult book. People have special powers. There's a corrupt government. Teenagers are hiding things from one another and full of angst. There's space.
It's a thrilling read, and I'm just really excited to see where the series goes. I've never read anything quite like it, and I think that it's going to resonate well with readers who are hungry for something new and fresh. – Eric Smith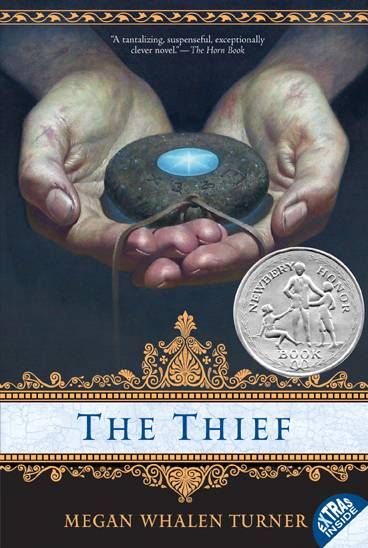 The Thief by Megan Whalen Turner
This is a late middle grade / early YA book that won a Newbery honor in the late 90's. And I think if I'd had the chance to read it then I would have loved it just as much as I loved it when I read it this month. The Thief opens with our protagonist (our very antagonistic protagonist) Gen. Gen is in prison for having stolen something from the King. …Well, Gen is actually in prison because he bragged about getting away with stealing from the King. He'd had never been caught otherwise because he is the self-proclaimed best thief ever. And now Gen has been approached by the King's Magus with the promise of freedom… if he agrees to steal a very special something for the King. And that's as much plot as I can give you because what follows is so full of twists and turns that I just want you to experience it. It was an exciting, wonderful read (to the point where I read all 4 books in the series in 6 days). So seriously, go read it. Then join the rest of us rabid MWT fans on the internets while we salivate for the next book. –Preeti Chhibber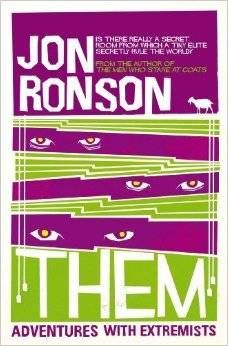 Them: Adventures with Extremists by Jon Ronson
I have a friend who believes the world is ruled not by democratically elected presidents and prime ministers, but by a shadowy cabal of businessmen and aristocrats hellbent on bringing the entire world to heel. And they have a giant owl for a mascot. That's right, my name is Edd McCracken and one of my friends is a conspiracy theorist. Let's just say I'm not, but for the most part it means there's never a dull conversation to be had with him. Every fluctuation in world affairs can be accommodated into this indefatigably inclusive worldview. Nothing is random; everything is orchestrated. It would be a comforting thought if what was apparently being orchestrated wasn't the destruction of freedom, liberty, and kitten gifs. Journalist Jon Ronson is also fascinated by people who hold these opinions. This is a collection of adventures into their overlapping worlds from the pre 9/11 days. That was an event that brought conspiracy theory out of the extremes and into the mainstream. Now several conspiracist tenants are touchstones for major news organisations. Ronson's tales of radical Muslim clerics, white supremacists, alien lizards, Bilderberg Group hunters, and raiding a New World Order picnic with conspiracy-theorist-in-chief Alex Jones, pass no judgement on their subjects. Ronson is the intrigued outsider, wondering how so many disparate groups could adhere to so similar a narrative. In this jumpy, paranoid world he is the closest we have to a reliable narrator. In the end it seems that rich, powerful people do some sketchy things, giving events a Rorschach-like quality: you see what you want to see. – Edd McCracken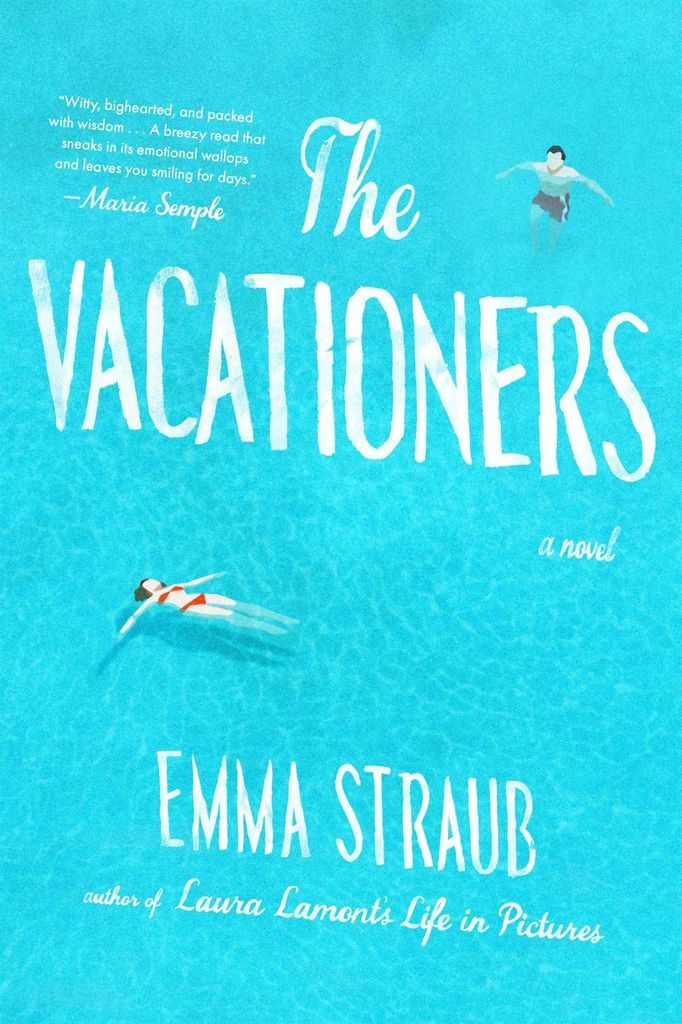 The Vacationers by Emma Straub (Riverhead Hardcover, May 29)
All is not well when the Post family leaves their swank New York City home for a two-week vacation in Mallorca. Franny and Jim should be celebrating their 35th anniversary but are instead working through the fall-out from Jim's career-ending affair with a much younger woman. Their adult son Bobby is on the outs with his longtime girlfriend, and their 18-year-old daughter Sylvia, whose high school graduation is the stated reason for the trip, is recovering from Facebook-related humiliation. The only relatively stable members of the group are Charles and Lawrence, friends who the family who have just gotten married and are years into an attempt to adopt a baby. Over the course of the vacation, secrets are revealed, deep cuts are made deeper, and, in the magical way of family and marriage, some healing occurs in the silent moments.
Straub's characters are suffused with humor and humanity, their relationships every bit as fragile and flawed–but also resilient–as we know to be true of real life. Their story is at once a validation of our own families' dysfunctions and a reassurance that we can mend the broken places. Straub understands that even the relationships that look perfect from the outside are held together by rubber bands, glue, and leaps of faith. This novel is an utter delight and the perfect read for a sunny afternoon. It rings with truth and shines with the confidence of a writer hitting her stride. – Rebecca Joines Schinsky
The Whiskey Baron by Jon Sealy (Hub City Press, April 1)
I love a stellar debut novel. Larthan Tull's whiskey empire is on the verge of collapse after two of his runners are shot dead in the middle of the street, directly in front of his business front. The sheriff comes to investigate and the murders are penned on a man named Mary Jane Hopewell. We are given an atmospheric tour of a mill village in 1932's South Carolina, complete with a sweet unassuming old lady who runs the largest bootleg operation east of the Mississippi. Sealy brings smoldering suspense to the yard, and I was reminded of Tom Franklin, Ron Rash and Wiley Cash. Perfect for fans of Southern fiction. – Emily Gatlin
The Wind-Up Bird Chronicle by Haruki Murakami
I didn't know much about Murakami until last year but boy-oh-boy-oh-boy am I hooked after reading The Wind-Up Bird Chronicle. Interestingly, I was okay with not understanding exactly what was going on all the time that Toru was wandering around looking for his missing cat and missing wife, sitting at the bottom of a well to think (and finding that the well was actually a portal to another universe? dimension?), or meeting all kinds of otherworldly people with strange powers or evil tendencies. All I know for sure is that the language, in its quietly seductive way, sucked me into the story, where the past, present, and future are anything but linear. – Rachel Cordasco
Wonderbook: The Illustrated Guide to Creating Imaginative Fiction by Jeff Vandermeer
I read quite a bit in the last month, books of all sorts; novels and novellas and short stories.Every one of them was "genre"; fantasy, horror or science fiction. But a book about how to write fiction of that sort actually blows them all out of the water.
Wonderbook is a big book, so full of advice and thoughts on writing that "bloated" is almost a good word to describe it, if not for the negative connotation. In it, Jeff teaches would-be genre writers everything there is to know about the craft, with plenty of diversion and examples. It is an illustrated guide, so there are also plenty of images. There is instruction, inspiration, pragmatic advice, interviews with writers, examples of prose styles… everything! It also looks good on a coffee table.
You can tell that this is something Jeff both knows a lot about AND that he has a sincere passion for genre writing. If you have even the smallest interest in writing genre fiction, this book is for you. Wonderbook is full of wonder. – Johann Thorsson
________________________
Sign up for our newsletter to have the best of Book Riot delivered straight to your inbox every week. No spam. We promise.

To keep up with Book Riot on a daily basis, follow us on Twitter, like us on Facebook, and subscribe to the Book Riot podcast in iTunes or via RSS. So much bookish goodness–all day, every day.