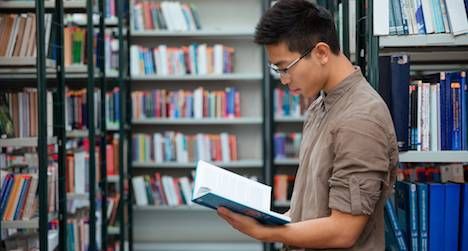 Lists
Riot Round-Up: The Best Books We Read in February
This content contains affiliate links. When you buy through these links, we may earn an affiliate commission.
We asked our contributors to share the best book they read this month. We've got fiction, nonfiction, YA, and much, much more- there are book recommendations for everyone here! Some are old, some are new, and some aren't even out yet. Enjoy and tell us about the highlight of your reading month in the comments.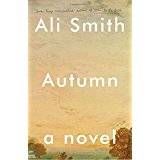 Autumn by Ali Smith
Ali Smith's newest novel continues to convince me that she is an otherworldly being operating on a whole different level of consciousness. This book made my brain giddy with happiness, as she dropped concise comment after comment about life and death and politics into the beautiful threads of the narrative. Hailed by the New York Times as the "first great Brexit novel," Autumn follows a May-December friendship between 100-year-old Daniel and 30-year-old Elizabeth. Neighbors when Elizabeth was small, Daniel taught her about 1960s female pop artists and started Elizabeth down her career as a writer. Now Daniel is in hospice, the United Kingdom is in turmoil, and Elizabeth doesn't know how to make sense of love in her life. Narrated by both of them, this book is a brilliant, sweet tale of gentle souls with unique minds against the harsh cold of the world. It's possibly her best one yet.
— Liberty Hardy
After the Fall by Kate Hart
I was surprised by how much this debut young adult novel affected me. I loved the complicated relationship between a young woman from a poor, single parent family and two brothers from a well-adjusted, more affluent family in a familiar Ozark setting. All the characters were complex and flawed, and the depiction of a hard-partying crowd of high school kids felt very true. It brought up important issues of consent in romantic relationships, and the ending felt like a sucker punch in the gut, which was apparently just what I needed this month. While not a perfect novel—the transition between different points of view didn't always work—it was an enjoyable read.
— Molly Wetta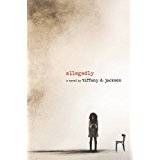 Allegedly by Tiffany D. Jackson
A piercing story about 16 year old Mary Jackson living her life on the margins after allegedly killing a baby when she is nine years old. This book will take readers on a gamut of emotions. The pacing of the story, intricate plot, and compelling characters will stay with readers long after reading.
Christina Vortia
The Animators by Kayla Rae Whitaker
I loved this book about two women who get to behave exactly like male artists (who Jenny Offil might call "art monsters"). Sharon and Mel are the best kind of difficult women: driven, self-loathing, southern, crude, and talented as all hell. Their bad behavior isn't always in service of their creative goals but it is always excused that way. This book is also one of the few books I've read lately that's about what it means to live in a body– pleasure, all sorts of fluids, disfunction, and all. If you're a fan of stories about problematic "creative geniuses" read this book.
— Ashley Bowen-Murphy

Black Man in a White Coat by Damon Tweedy
A look at one man's experiences as a black doctor and how the issues of race have influenced him. For example, on his first day at Duke University medical school, one of his professors assumed he was a custodian and asked him to fix the lightbulbs. This was in the 1990s. WTF. It's been a really interesting book so far (I'm not quite finished). I like that Tweedy doesn't shy away from his own prejudices that he had and learned to overcome in his practice.
— Kristen McQuinn
Born a Crime by Trevor Noah
I'm joining the club of other Rioters who have read and loved this one. Something you should know about me: memoirs are NOT my jam. I can count on one hand the memoirs I've read and enjoyed, so I was honestly shocked by how much I loved reading Born a Crime. Noah can tell a story like nobody's business, and very often his tales weave tragedy and comedy together in the best way imaginable. I also have to admire Noah's bare-bones honesty; he really doesn't front at all. If you're the type of person who wants a book that can make you laugh and cry in public, this is the one you've been looking for.
— Tasha Brandstatter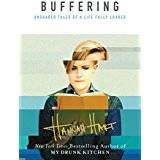 Buffering: Unshared Tales of a Fully Loaded Life by Hannah Hart
This collection of narrative essays explores stories that Hannah has not told on her popular YouTube channels. Hannah, of My Drunk Kitchen fame, writes raw, honest, and heartfelt stories about her childhood and dealing with her mother's mental illness, her father's religious stringency, and her own sexuality. This book is a great look into struggles of coming into adulthood, dealing with family, and growing up in a less than perfect environment. I listened to the audio, which is read by the author, and I highly recommend this format because Hannah Hart gives an excellent audio performance.
— Amanda Kay Oaks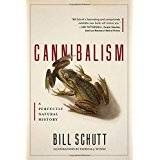 Cannibalism: A Perfectly Natural History by Bill Schutt
I read some excellent books in February, but nothing made me as gleefully happy as this book did. Lest you think I am an aspiring cannibal, it's important to know that this is not a gruesome, sensational retelling of cannibalism among modern serial killers; Schutt respectfully stays away from that in favor of exploring the history of cannibalism from a biological and anthropological viewpoint. So no Jeffrey Dahmer, and plenty of spiders sacrificing themselves up to their young and slugs getting so tangled up in reproduction they have to chew their genitals off to escape! It's a fun, entertaining read, and Bill Schutt's insatiable curiosity for his subject is infectious (although I don't think I'll be eating placenta like he did). If you're a fan of Mary Roach, you'll definitely want to check this out.
— Gina Nicoll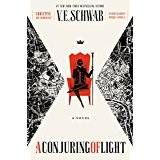 A Conjuring of Light by V. E. Schwab (Tor Books, February 21, 2017)
The final book in Schwab's Shades of Magic series brings all the tension, conflict, and romance home to roost in this final installment. Picking up from the incredibly tense cliffhanger at the end of A Gathering of Shadows, Schwab hits the ground running and doesn't let up for the first third of the book, as the sentient, all-consuming Osaron invades Red London for its own deific ambitions. To say too much of the plot would be to give too much away, but needless to say, Schwab has never been in finer form. Her prose is violin-string tight and just as sharp and melodic. Her characters have never been truer, their pain and their fear and their power and their loves in full bloom and on full display as the worlds they know and love are on the verge of collapse. While I'm not quite finished with the book, this is certainly one of the best books I've read this month, and quite possibly the year to come. Schwab's passion for this world and these characters is the bright, molten love guiding the reader through this final installment, and as I fast approach the end, I have complete faith that not only will she stick the landing, she will make it look effortless. If you've not read this series yet, you now have no excuse. You're missing out on one of the best series in fantasy in quite some time.
–Marty Cahill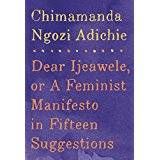 Dear Ijeawele or A Feminist Manifesto in Fifteen Suggestions by Chimamanda Ngozi Adichie (Knopf, March 7)
In We Should All Be Feminists, Adichie distilled the essence of feminism into a powerful 64-page treatise. Now, in Dear Ijeawele, she goes a step further and covers every feminist topic you can imagine–domestic chores, gendered language, female sexuality, objectification, race, and much more–in the space of 80 pages. I am amazed at Adichie's ability to communicate so effectively and efficiently. If you liked We Should All Be Feminists, you will LOVE Dear Ijeawele.
— Kate Scott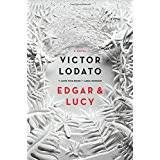 Edgar and Lucy by Victor Lodato (St. Martin's Press, March 7, 2017)
To start with, the cover on this book is a thing of beauty. I've talked about the cover art on this advanced reading copy more times than I'd like to admit. But most importantly, this is the engrossing story of a boy with albinism and the relationships he shares with his emotionally stunted mother, his suffocating grandmother and the ghost of his psychologically impaired father. Time and reality shifts keep it from being a simple tale of a young boy and Lodato's writing brings you into the minds of each of his characters. I am about two-thirds of the way through and it is already in serious contention for my favorite book of 2017.
— Elizabeth Allen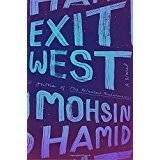 Exit West by Mohsin Hamid (Riverhead, March 7)
Saeed and Nadia, a young couple keeping their relationship secret, escape their war-torn South Asian country (We are never told where exactly they're from) through mystical doors that transport migrants from safe place to safe place. The doors appear all over the globe and people step out into new countries easily. But being a refugee is not easy, and they must always be on the lookout, and as they learn to start over and survive, Saeed and Nadia's relationship moves through peaks and valleys. I was in a trance while I read Exit West. Mohsin Hamid's writing is flawless, enrapturing, and left me breathless.
— Ashley Holstrom

The Golem and the Jinni by Helene Wecker
I must admit, the first thing that drew me to this beauty is its gorgeous cover. The blue-and-gold front is just too tempting to resist. But the story within its pages gives the cover a run for its money: engaging characters and immersive setting combine to transport us from our couches to 1899 alternate-reality New York. It's like Alladin for adults!
— Dana Rosette Pangan

Hidden Figures by Margot Lee Shetterly (William Morrow)
I committed a book nerd faux pas by going to see the movie Hidden Figures before actually reading the book. As with almost all adaptations, getting to the original has definitely been worth it. Margot Lee Shetterly's book is much broader than the movie, and does more to put the work of the black female mathematicians and engineers in the context of their time and place. It's a wide-ranging read that I've enjoyed making my way through this month.
— Kim Ukura
The Inexplicable Logic of My Life by Benjamin Alire Sáenz (Clarion Books, March 7, 2017)
This book is written with the same beautiful prose that we all experienced in Aristotle and Dante Discover the Secrets of the Universe. It is about Salvadore and his father Vicente, but it's also about Salvadore and his best friend Samantha, and it's also about Salvadore and his dying grandmother Mima, but it's also about Salvadore and his mother that died when Sal was a young child and the birth father that he never met. Filled with complexity and beauty, the author shines once again at writing about relationships and the complicated business of growing up. This is one gorgeous novel.
–Karina Glaser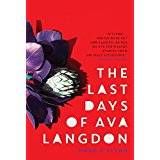 The Last Days Of Ava Langdon by Mark O'Flynn
This book is such a gem. Ava is an unforgettable character. Similarly to Mrs. Dalloway, the novel follows a day in the life of elderly Ava Langdon, an eccentric hermit on the verge of publishing her next bestselling novel. Known as a general menace to everyone in town (possibly having something to do with the fact that she carries a machete and once chopped a library book in half with it, and that she enjoys crossdressing and pretending to be Oscar Wilde), Ava makes her own rules. As the book progresses, it's increasingly clear that Ava is neither mentally nor physically stable. I really loved this book. It's heartbreaking and hilarious. I can't remember the last time I literally laughed out loud. O'Flynn writes such enchanting characters, and I'm so happy he brought Ava to life.
— Jan Rosenberg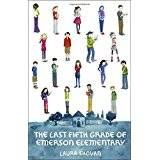 The Last Fifth Grade of Emerson Elementary by Laura Shovan
Rioter Karina Glaser recommended this audiobook as one of the best of 2016 on the Book Riot end of year audiobook round-up, and I'm so glad I took the recommendation. The story is told through the poems of a fifth grade class dealing with the impending closing of their school – in addition to more day-to-day problems that are no less serious or personal. The poetic nature made the audiobook was one of my favorites I've ever listed to – 7 narrators doing 18 different voices bring the entire class and their stories to life – but the form of the book makes me want to get a hard copy as well just to see the words and the ways the poems come together in acrostic and diamante poems. But in whatever form you like, just track this book down in one shape or another.
— Trisha Brown
Modern Romance by Aziz Ansari
I was having a bad Saturday. Facing a lot of doubt and running errands, this audiobook was at the library. Since I admire Aziz Ansari for his comedic writing and acting, I picked this up. Aziz improvises as he listens to the music cues and talks about recording this book. He discusses his mishaps with flirting via text, as well as worse transgressions, and how technology has changed courtship in this day and age.
— Priya Sridhar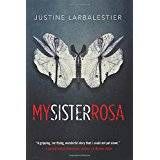 My Sister Rosa by Justine Larbalestier
A YA novel about a boy who is the only person in his family to recognize his ten-year-old sister, Rosa, for what she is: a psychopath. It sounds like the premise of an episode of Law & Order (and probably is), but this book really avoids the sensationalism of prime time TV. It looks at the nuances of psychopathic behavior, how that manifests in children, how it should be addressed by family members and therapists, and the nuances of living with such an unusual family dynamic. That being said, it's creepy as hell…if you enjoyed the slow-burn dread of Mother, Mother by Koren Zailckas, you'll really dig this book.
–Katie McLain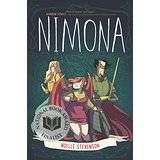 Nimona by Noelle Stevenson
I told one of the women in my writing critique group that I was obsessed with Lumberjanes, and she was all, "Dude. You have to read Nimona." A graphic novel by one of the cowriters of Lumberjanes, based on Stevenson's web comic, Nimona spotlights the perfect pairing of a not-so-evil villain and his new sidekick, a shapeshifter with a dark side and a shady past. The novel was delightful. Silly. So much fun. And unexpected! ME WANT MOAR.
— Steph Auteri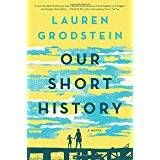 Our Short History by Lauren Grodstein (Algonquin, March 21, 2017).
Despite the premise, this is an uplifting, life-affirming book. Karen is a 43-year old mother of a 6 year old boy, Jacob, and is dealing with Stage IV ovarian cancer. Jacob's father broke up with Karen when she became pregnant, and now that Jacob wants to know his dad, she contacts him – and finds out that he's more than happy to get to know his son. This gave me all the feels. I didn't want it to end.
— Jaime Herndon
Piecing Me Together by Renée Watson
A friend began raving about this immediately when she finished it, so when the Call Number Box included it as their February title and it hit my door the next day, I knew it was going to be a match made in reader heaven.
This is powerful story about class, about how you find yourself, how you lose yourself, and what it means to be a black girl in America. Jade attends a fancy high school on scholarship, but she takes the bus from her poor neighborhood in Portland. When she's recruited for a mentorship program and is taken around the city to visit places she's never been able to before, Jade isn't thrilled — why does she, the poor girl, only get to see her city and not travel to a foreign country like many of her classmates get the opportunity to do?
Watson writes with tremendous heart, but she doesn't shy away from highlighting the tough moments of growing up, either. There is a really thoughtful exploration of friendship, particularly of the intersectional variety, as well as the microaggressions that can happen on a daily basis within them. Jade is a girl who describes herself as "big" in ways that authentically capture the feeling of having a body that doesn't fit a certain mold — and through the story, we see Jade is okay with this. It is simply who she is.
This is a smart, savvy look at race; more than just looking at race relations, this delves into race challenges within the black community. It's written in tight, taut prose and packs a punch in a few amount of pages. One of the best YA titles of 2017 so far.
— Kelly Jensen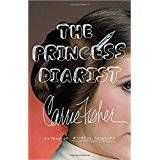 The Princess Diarist by Carrie Fisher
I knew this was going to be good, so as I usually do, I put off reading it for a while. When I finally got to it, I was sucked in immediately. Carrie Fisher is at once hilarious and thought-provoking, and her commentary looking back on the time of the filming of Star Wars, as well as her diary entries, are fascinating. I'm definitely going to read her other writing when I get the chance.
— Jessica Yang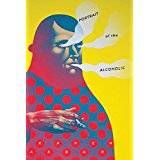 Portrait of the Alcoholic by Kaveh Akbar
This slim collection of poetry is definitely filled with more energy than anything else I read in February. Don't let the name mislead you. Yes, on one level Akbar's chapbook examines the perplexities and defeats of addiction, but underneath there are more immediate inquiries about spiritual fatigue, the construct of masculinity, and finding meaning in the mundane. Given the title, perhaps it's ironic that there are so many memorable lines and moments of bizarre clarity. It's a new take on a timeless problem, one executed with more exuberance than ennui. I loved it. (Sibling Rivalry Press)
–Aram Mrjoian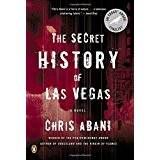 The Secret History of Las Vegas by Chris Abani
Everything about this novel was fantastic which left me kicking myself for not having read Abani sooner but excited that I have his back catalog to dive into. The writing is excellent; the story is captivating, disturbing, and dark; and the fringe characters create so much uniqueness and depth–from the conjoined twins (Fire and Water) to Sunil (a doctor that specializes in sociopaths)–that I could not put this book down. Abani expertly blends literary fiction, mystery, and horror as a detective tries to solve a slew of murders which he becomes convinced must have been committed by the conjoined twins that he found bathing near a barrel filled of blood. Sunil, while not convinced the twins are murderers, is fascinated by understanding them–when he's not busy reliving his dark past or falling in love with Asia. Definitely a book that will stay with me a long time.
— Jamie Canaves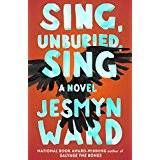 Sing, Unburied, Sing by Jesmyn Ward
If you are looking for the heir to the mantle of Toni Morrison, look no further than Jesmyn Ward. In her new novel Ward dives into poverty, addiction, interracial relationships, and much more through the eyes of a young woman and her adolescent son. The story is tense and deftly narrated, but it is also deeply rooted in archetypes and magical realism. The everyday becomes the epic in this fantastic novel that is sure to appear on most Best Books of 2017 lists.
— Jessica Woodbury
Unconventional by Maggie Harcourt
I spent many happy hours binge reading this British YA novel set in the world of fan conventions. Lexi has been helping her dad run events her whole life, and she's great at it — but meeting a hot new author has her flustered. This has all the things I love most about YA novels: it's funny, emotionally intense, and just the right amount of sweet — and, because it's British, also full of delightfully awkward moments which are far more reminiscent of my adolescence than some of the rainbows and unicorns you sometimes get elsewhere. Note: you can't get this book in American bookstores (yet; I'm hoping US publishers see sense), but it's available postage-free and at a low price on BookDepository.com.
— Claire Handscombe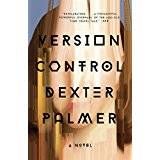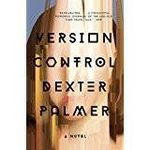 Version Control by Dexter Palmer
Almost from the moment I picked it up, I was completely caught up in this book about a woman named Rebecca whose husband is building a causality violation device (not a time machine!). The early chapters of the book read like a typical relationship drama, but it's set in the near future, and Rebecca gets these occasional feelings that something about the world just isn't right. Then, everything changes, but no one seems to know it. What's interesting is that even when circumstances change drastically, essential aspects of the characters remain the same. As you'd expect from a time travel causality violation novel, the plot gets kind of loopy, but the mind-bending qualities make the human story even more interesting. I had a great time reading this.
— Teresa Preston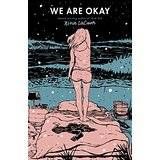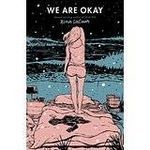 We Are Okay by Nina LaCour
I, however, am definitely not okay after reading this book. I'm not usually one for quieter books, but gave this one a shot because I loved LaCour's Everything Leads to You and am so glad I did because this book swept me away. It left me feeling hollowed out, but in a wonderfully cathartic way. LaCour effortlessly transitions from the near-past to the future scenes without any of the awkward feelings of displacement that can sometimes plague books told in that way. Also, I really want to go buy some nice soup bowls at a pottery shop.
— Sarah Nicolas