Newsletter 1
We Remember Robin Williams' Most Bangarang Bookish Movie Roles
This content contains affiliate links. When you buy through these links, we may earn an affiliate commission.
I was in the locker room of my gym last night, putting away my water bottle, when I looked up at the wall-mounted TV and saw something ridiculous.
It didn't make sense that Robin Williams could be dead. How could a person whose voice and face were such a part of my childhood be finite?
He had to be hiding somewhere, impersonating a fictitious housekeeper or paying a visit to Never Never Land for an imaginary food fight with the lost boys. Or maybe he was just taking a nap in his magic lamp (iiiiitty bitty living space).
I can't think of another actor who has embodied so many vivid characters, many of which came from books — or loved books.
Let's remember.
Robin Williams, Dreams with Sharp Teeth, 2008.
Williams appeared as himself in this documentary on writer and essayist Harlan Ellison.
Andrew Martin, Bicentennial Man, 1999.
Based on a short story by the esteemed Isaac Asimov.
Chris Nielsen, What Dreams May Come, 1998.
Based on the novel by Richard Matheson: an author who I've never read, but who comes highly recommended by a fellow Rioter.
Patch Adams, Patch Adams, 1998.
Williams played the titular character in this movie based on the book Gesundheit: Good Health is a Laughing Matter by Patch Adams and Maureen Mylander.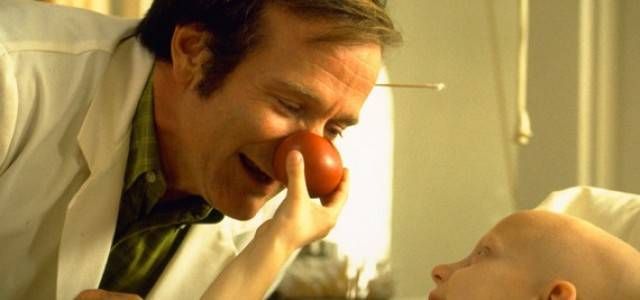 Professor Philip Brainard, Flubber, 1997.
Goofy Flubber was based on a short story by Samuel W. Taylor called "A Situation of Gravity."
Osric, Hamlet, 1996.
Based on a play by a guy named Shakespeare.
Armand Goldman, The Birdcage, 1996.
I was hoping I could justify including The Birdcage! It turns out the movie is based on a play by Jean Poiret.
Alan Parrish, Jumanji, 1995.
How terrifying and awesome was this movie? I haven't seen it since I was 10, but thinking about it still gives me a visceral reaction of simultaneous horror and delight. The movie was based on a book by Chris Van Allsburg, also called Jumanji.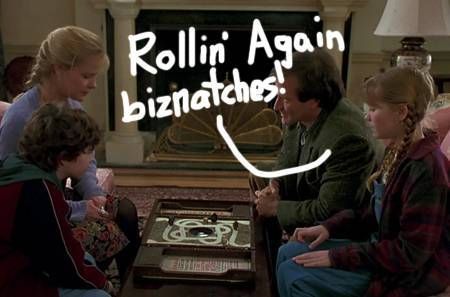 Apparently there's talk of a Jumanji remake, which makes me roll my eyes. Why redo something that was perfect the first time?
The Father, In Search of Dr. Seuss, 1994.
I only just discovered that this movie exists. But given its subject matter and that it also features Patrick Stewart, Billy Crystal, Christopher Llyod and archival footage of Winston Churchill, Joseph Stalin and Adolf Hitler, I am now officially curious.
Daniel Hillard / Mrs. Doubtfire, Mrs. Doubtfire, 1993.
Did you know Mrs. Doubtfire was based on a book? It was: Madame Doubtfire by Anne Fine.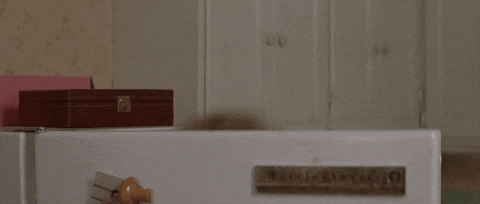 Peter Banning, Hook, 1991.
There aren't many movies I have a deeper, wilder love for than Hook.
Williams plays Peter Banning, a grown-up Peter Pan who has forgotten his past. When Captain Hook finds a way to reach into Peter's new life and steal something precious to him the stuffy, grown-up Pan must re-learn how to fly, both literally and metaphorically.
If you haven't seen this movie, you absolutely must watch it immediately. Unless you hate joy.
Parry, The Fisher King, 1991.

In The Fisher King, Williams' plays a man enraptured by story of the Holy Grail of Arthurian legend, a story in so many books that it's not even worth deciding which to cite.
John Keating, Dead Poets Society, 1989.
This movie is a lot of things, and one of those things is the love story between the written word and the readers whose lives it transforms. It's no wonder that this one in particular touches our bookish hearts.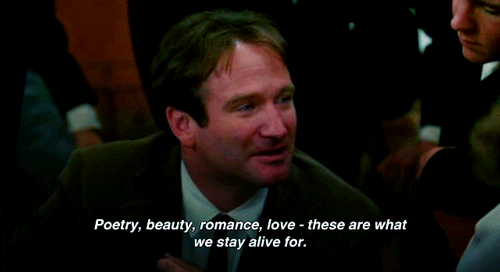 The Frog/Prince Robin, Faerie Tale Theater's The Frog Prince, 1982.
When I was little, I had a VHS copy of this recorded from the TV. I didn't realize Robin Williams played the Frog Prince in my memory until I started writing this post.
Dr. Malcolm Sayer, Awakenings, 1990.
This Oscar-nominated movie is based on an Oliver Sacks book of the same name. I haven't read Awakenings, but I have read Sacks' The Man Who Mistook his Wife for a Hat, and it's fascinating.
Popeye, Popeye, 1980.
This sailor man is best known from the animated cartoon, but he started out as a comic strip.
A mere sampling of an incredible filmography from a remarkable man.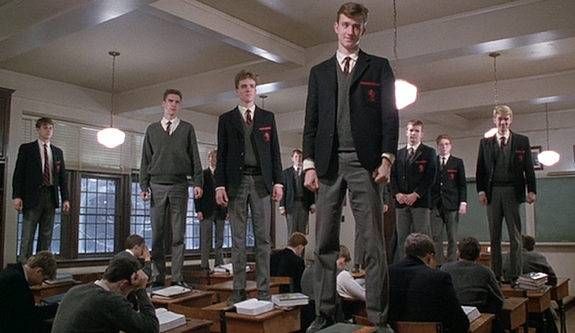 Thank you, Robin Williams.
Save