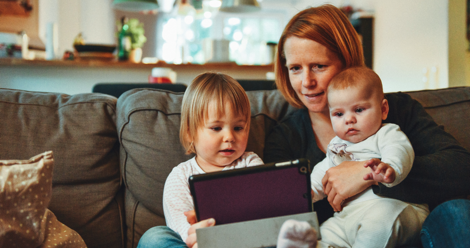 Children's
Realistic Fiction Books for Kids and Teens: A Beginner's Guide
This content contains affiliate links. When you buy through these links, we may earn an affiliate commission.
Realistic fiction can be defined as a genre of writing in which the characters, setting, and events are made up but could be real. The word "fiction" indicates that the story is imagined, while the word "realistic" means it is true-to-life. These stories resemble real life because they reflect real experiences—things people like you and I go through. Once you get into the world of adult books, you'll see the term "literary realism," but today we're focusing on realistic fiction books for kids and teens. We'll cover the elements of realistic fiction, discuss some classics of the genre, and provide a few great contemporary recommendations.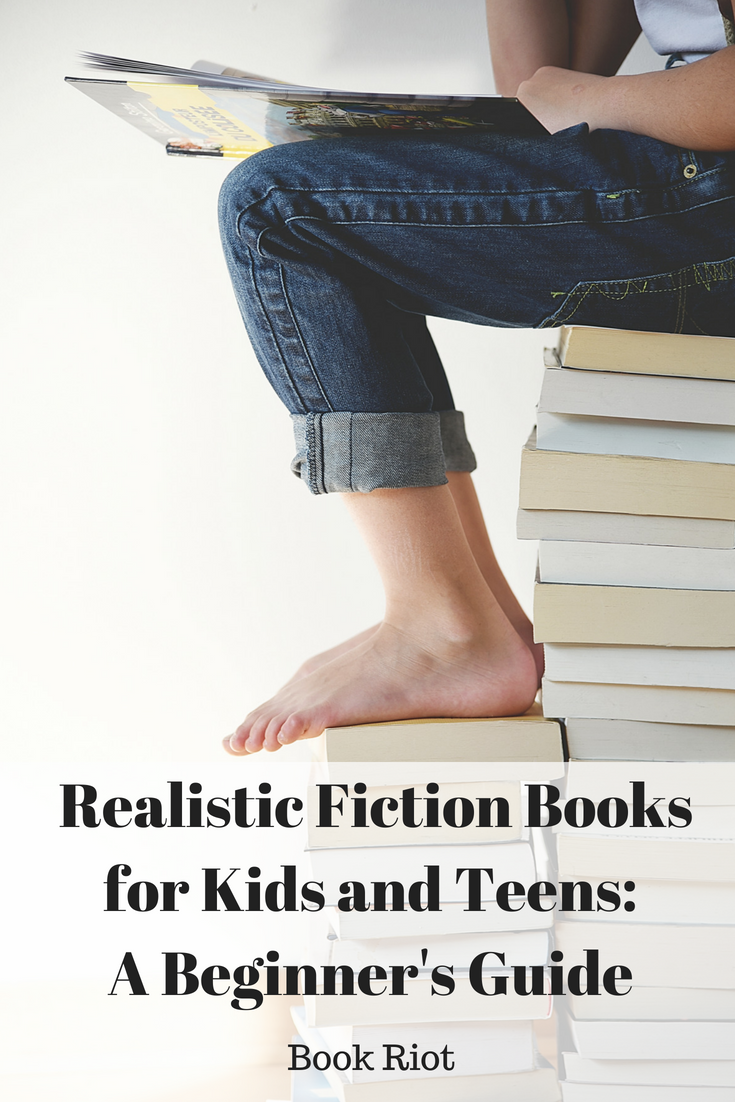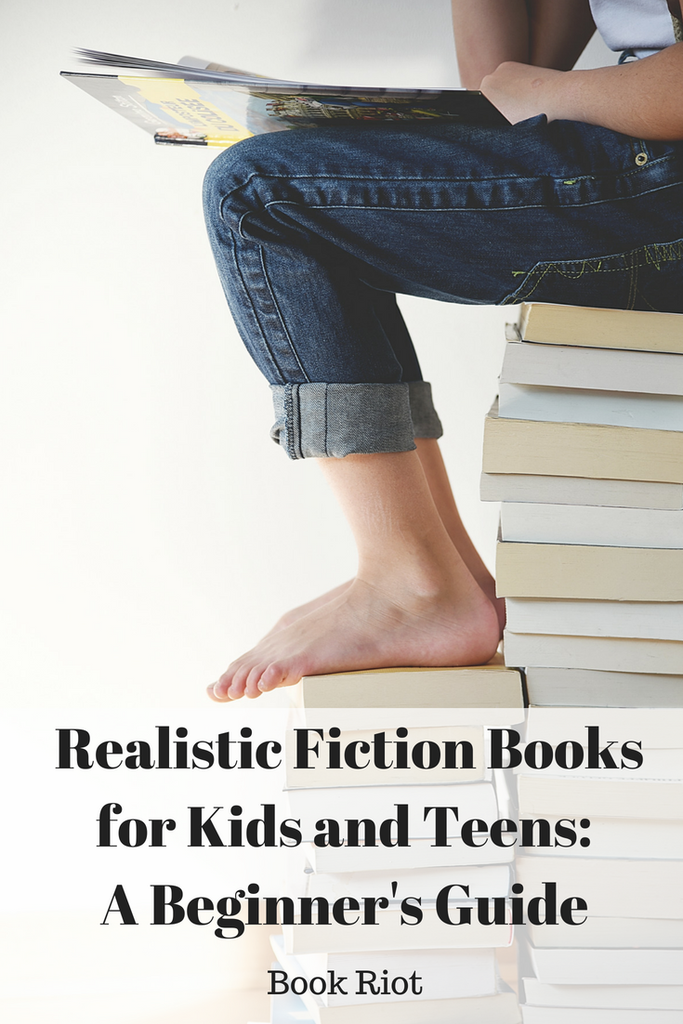 Elements of Realistic Fiction
Look for the following elements of realistic fiction to see if a story fits into the genre.
Characters. The people and animals in realistic fiction stories could exist in the world as we know it. That means no superheroes, no talking pets, and no fairytale creatures. A realistic character might remind you of yourself, or they might help you understand people of a different culture, religion, gender, sexuality, level of ability, or socioeconomic status. Reading about realistic characters with different experiences can help us empathize better with the people in our real lives.
Setting. Realistic fiction stories usually take place in an ordinary part of the real world—a setting that is not just possible but likely. Think somewhere like a school or neighborhood, not outer space. The exact town or school can be made up, but it has to resemble real places that we know exist on earth.
Events. The characters in realistic fiction books deal with real-world problems that drive the story. Maybe they're being bullied at school, dealing with family issues, or struggling with friendship drama—these are all problems that you or people you know might go through. Often realistic fiction books deal with social issues, like racism, LGBT+ rights, mental health awareness, and more.
Time. Most realistic fiction stories take place in the present or recent past from the time they were written. A story set long ago is more likely to fit into the historical fiction genre. However, some classic realistic fiction children's books will seem like historical fiction to modern readers—just remember they were contemporary when they were written. Let's dig into some of those examples, from picture books to YA.
Classic Realistic Fiction Children's Books

Stevie by John Steptoe (1969)
At first, Robert resents having little Stevie around, the boy his mother watches during the week. But once Stevie's family moves away, Robert realizes what he misses about his "little brother." Stevie was a landmark picture book for its realistic portrayal of black childhood, and it launched author John Steptoe's twenty-year literary career. Watch Gordon from Sesame Street read Stevie aloud!
One day, a young boy came up to librarian Beverly Cleary and asked, "Where are the books about kids like us?" There weren't many, so she set out to write some. This tale about an ordinary third-grade boy and his adopted stray dog led Cleary to write dozens more beloved realistic fiction children's books that are still in print today.
Eleven-year-old orphan Anne Shirley comes to live with brother and sister Matthew and Marilla Cuthbert. Her arrival is a disappointment, though—the siblings thought they were adopting a boy. Anne must win over the Cuthberts and the rest of her new community on Prince Edward Island. This memorable redheaded heroine has inspired numerous film adaptations and charmed her way into the hearts of countless readers.
Fourteen-year-old Ponyboy Curtis' world is divided into two groups of people: socs, who have money, and greasers, who don't. Ponyboy's a proud greaser—one of the eponymous social "outsiders"—until a violent gang incident goes too far. S.E. Hinton wrote The Outsiders in high school and sold the book at 17. Her work's success proved that teens were hungry for realistic fiction that engages critically with social issues; this helped establish the precedent for many of today's YA bestsellers.
Contemporary Realistic Fiction Children's Books
Writing realistic fiction for children really took off in the second half of the twentieth century. This genre doesn't shy away from major social movements and issues, so these books are a great way to educate readers on important topics. Today we're seeing more diversity than ever before so more kids can see themselves represented in fiction. Here are some great contemporary realistic fiction books for kids and teens that highlight what's been happening in the genre recently.
Realistic Fiction Picture Books

When Ada Twist starts speaking at age three, she begins spewing as many "Why?" question as she can think of. In second grade, she begins researching smells "both the stinky and good," until her experiments get out of hand and land her in trouble. Ada's interest in science is empowering, and her experiments remain believable for her age—her constant questioning reminds me of another curious kid I know. As the books says, "She asks lots of questions. How could she resist? It's all in the heart of a young scientist."
I know we said realistic fiction character aren't superheroes, but Isaac's powers aren't really superhuman—he just has Asperger's syndrome. In the book, Isaac explains how his Asperger's gives him "powers" but can also make his social interactions more challenging. It's a great way to introduce kids to the concept of autism and can help them better relate to those on the spectrum.
Big Red Lollipop by Rukhsana Khan and Sophie Blackall
When Rubina gets invited to a birthday party for the first time, her mom insists she takes her little sister Sana. Rubina's embarrassed because that's not how things work in their new country. She begrudgingly brings Sana along, and she ends up stealing the show and Rubina's party favor: a big red lollipop. This sweet story explores a specific part of the immigrant experience while reminding readers that some things, like sibling rivalry, are universal.
MIDDLE GRADE Realistic Fiction Books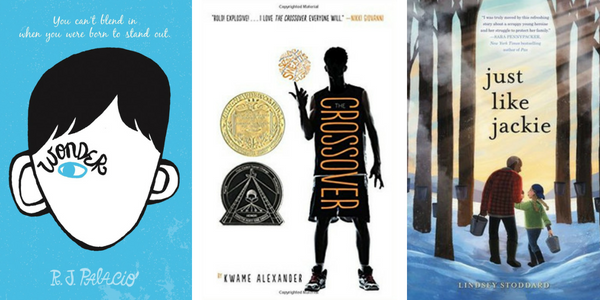 Wonder by R.J. Palacio
Auggie Pullman is a normal fifth grader getting ready to start public school for the first time. The only issue? He was born with a facial deformity that draws unwanted attention wherever he goes. The story follows Auggie through his fifth-grade year as he makes friends, deals with bullying, and shows the school what a wonder he really is. It demonstrates how, as my friend who teaches elementary school put it, "Kids adapt!"
Twelve-year-old Josh Bell and his twin brother Jordan are unstoppable on the court. Their relationship shifts, however, when Jordan gets his first girlfriend. Just when Josh thinks he can't handle any more change, their dad's health takes a turn for the worse. This story about brotherhood, basketball, and beats is narrated in verse, which makes it a great, quick book for reluctant readers. It won the 2015 Newbery Medal, and it'll win you over, too, whether or not you're into sports.
When faced with a family tree project at school, eleven-year-old Robbie doesn't know where to start. She's doesn't look like her dark-skinned grandfather, but he doesn't like to talk about the past, so her deceased mother remains a mystery. As his memory gets worse, Robbie fears she'll lose him, and all her family history with it. When her mounting stress leads to a violent outburst against her bully, she ends up in a therapy group at school where she discovers that she's not the only with a complicated family.
YA Realistic Fiction Books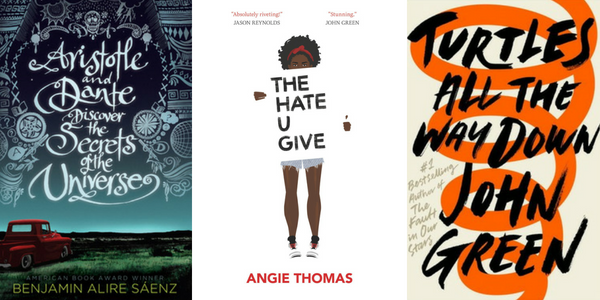 Aristotle Mendoza doesn't understand other teenage boys, and he has no real friends until he meets Dante Quintana at the pool one summer in El Paso, Texas. Together, they set out to discover the secrets of the universe—and of themselves. Though set in 1987, this 2012 book deals with plenty of enduring teen struggles—family issues (Aristotle's brother is in prison), sexuality (Dante realizes he like boys), and cultural identity (what does it mean to be a Mexican-American?).
This critically-acclaimed book deals with the tough issue of police brutality. The story follows 16-year-old Starr Carter, who is in the car with her childhood best friend, Khalil, when he's shot by a white police officer. This book provides a first-person perspective of life inside the Black Lives Matter movement, while also dealing with other relatable teen topics—friendship drama, community ties, and interracial romance.
Sixteen-year-old Aza Holmes struggles with obsessive-compulsive disorder. Her anxiety periodically hijacks her brain, causing her to get swept-up in all-consuming thought spirals. This makes everything in her life a little more worrying, from friendship to school to kissing to trying to solve the mysterious disappearance of her old friend's billionaire father. Aza's narration brings readers into the head of someone who doesn't feel at home in her head, giving them a new perspective on what it's like to live with mental illness.
What are your favorite realistic fiction children's books or teen reads?