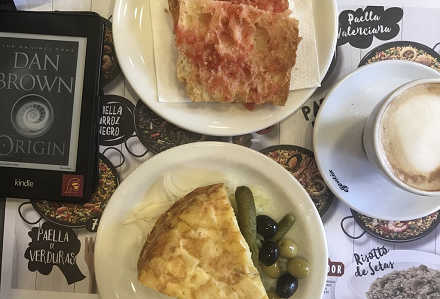 Newsletter 1
Reading While Traveling: Discovering ORIGIN at its Origin
This content contains affiliate links. When you buy through these links, we may earn an affiliate commission.
Back in September, I waved adios to the U.S. and its many garbage fires, setting off on a seven-week adventure in the UK. I'd found a couple of work/volunteer opportunities out there, the first of which entailed helping to run a vacation rental business. I helped with the day to day activities of managing a B&B and glamping site and in return got to live with an English family in their beautiful country home. I'd work for half the day then read in front of a fire on most nights. Reading while traveling? I was in my zoniest of zones.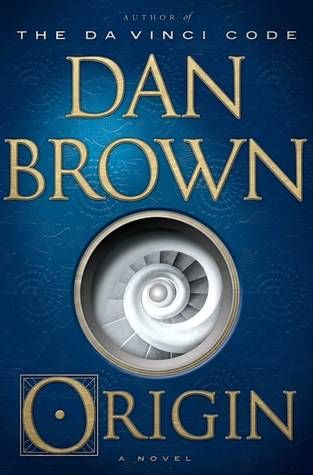 On an unusually sunny morning in October while on a walk with the family dog, it hit me. "Son of a f*cking biscuit!" I blurted aloud. "IT'S DAN BROWN DAY!" I grabbed my phone from my back pocket immediately to buy the ebook of Origin. Never mind that I was in the middle of the woods with a hyperactive dog staring at me like, "So the way this works is when I bring you the ball, you throw it again." I wanted to read that sucker ASAP.
Thanks to looming freelance work deadlines and projects at the country house though, I didn't get to it until almost an entire week later. When I did finally get to it, my jaw dropped as I read the first page. I had no idea the book was set in Spain, in large part in and around Barçelona. At that very moment, I was sitting in a café. Eating pan con tomate and tortilla española. Sipping a café con leche. In Barçelona.
I was more jazzed, this felt like fate. My work commitment was originally for two separate projects in England and Scotland for six weeks, but the second project fell through at the last minute. I decided that I'd fill the time that should have been occupied by that gig exploring more of England. Then one evening on a whim, I looked up what it would cost to travel to another country instead. I came across a €9.99 flight to Barçelona and booked it faster than you can say patatas bravas.
What followed were some seriously perfect moments of readeriffic bliss. I'd fill my days with sightseeing (and sangria), then would dive into Origin whenever I could. I felt both "Whoa! I've been there!" joy and "I just read about that!" glee. I got it when Robert Langdon talked about the soaring spires of the Sagrada Familia; I'd marveled at its intricate stonework, its colorful stained glass windows and the sheer magnitude of Antoni Gaudí's masterpiece. When Langdon described Parc Güell, I couldn't wait to see it; when I wandered through its maze of grottoes, I thought of Ambra Vidal describing them as seemingly carved by the wind and rain.
This experience was electric; reading about all these places I'd traveled to as the backdrop (and often focal point) of a book allowed me to enjoy both that book and my adventures in a deeper, more vibrant and satisfying way.
There is too something very special in reading about places you've never been to. That OMG-that-sounds-magical-and-wow-is-that-a-flight-sale? sensation that overtakes you when a writer describes a place in perfect vivid sensory detail? It's the literal entire reason I traveled to England back in March for the first time. I'd spent a lifetime reading about the bustling streets of London, the seaside majesty of Cornwall, the rolling green landscapes of the English countryside and a myriad of other English gems. Reading about places that I'd never seen fanned the flame of my wanderlust and compelled me to see all of these places for myself, or at least try.
In that moment, though, seated at a café eating tapas in La Rambla with the sun warming my face and Origin open in front of me, I was thankful for the ways in which reading about a place while traveling in that very place are a delightful treat for the reader's soul. I thought back to reading White Teeth in London, re-reading Pride and Prejudice in Bath, or even discovering The Mothers while sitting in my hometown of San Diego. It felt like I'd stepped right into the stories. This, my friends, is SO rad.
I've decided to make this a reading and traveling ritual, of packing a book set in my destination whenever possible. The question is: where to next?