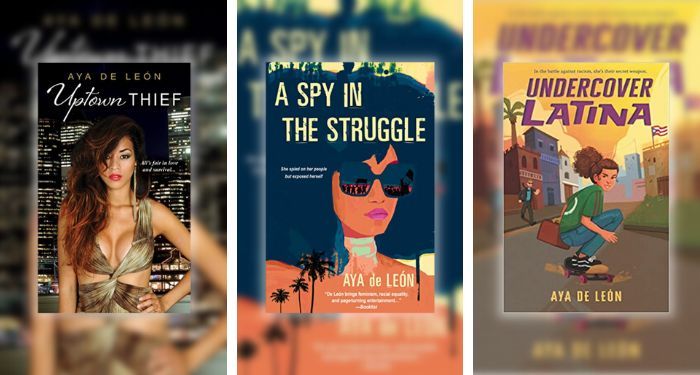 This content contains affiliate links. When you buy through these links, we may earn an affiliate commission.
"The heist tale is all about wealth redistribution. Where was the caper with the women of color who win for all the right reasons and get away with it? Clearly, I would have to write it."
The quote above is from Aya de León in a 2014 Bitch Media article with Andrea Tsurumi, Two Latina Authors Plot a Feminist Takeover of Chick-Lit. It's a pretty good summation of why I picked up Aya de León's debut novel, Uptown Thief, and have since proceeded to grab every new release. Years later, I am still always excited for the new adventure she'll take me on.
So far, she's created nine books that help fill in gaps where publishing is severely lacking, with the novels being fun, smart, social issue themed, and entertaining. She's an author whose upcoming book announcements always make me excited and also one of the authors I get bummed out about because not enough people know about her books. But they definitely should, especially since she has something for fans of series and standalones, adult and children, and she blends genres in her adult books, giving readers who love crime fiction and the romance genre a two-for-one deal.
Like many authors, Aya de León's bio speaks to the many hats she wears/has worn, including acquiring editor for a climate justice fiction imprint (Fighting Chance Books), teaching creative writing at UC Berkeley, penning a serialized YA novel on Orion, and according to the Orion page bio, she's currently working on the pilot for an upcoming adaptation for her Justice Hustlers series. I'm already making all the popcorn!
Below I'll walk you through three different places to start with her work, and maybe, like me, you'll end up reading your way through her catalog and then have to excitedly wait for the next release.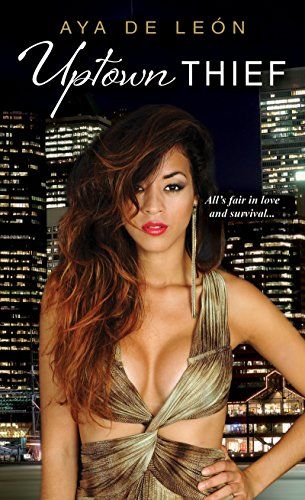 Are you a fan of the film Hustlers? Do you wish there were more sex-positive novels? Have you ever thought Robin Hood in the form of a group of sex workers stealing from terrible men (CEOs) to fund a women's clinic would be awesome? If you said yes to any of the above, then this is the book for you — and spoiler: it is awesome!
In Aya de León's debut novel, she mixes genres to give readers a heist crime novel that marries a romance novel which tackles real social issues while also just being fun and kick-ass!
Another plus of this series is that, like romance series often do, each book focuses on a different MC, letting you select one — or all! — whose plot sounds like a fit for your current reading mood. The series contains The Boss, The Accidental Mistress, and Side Chick Nation.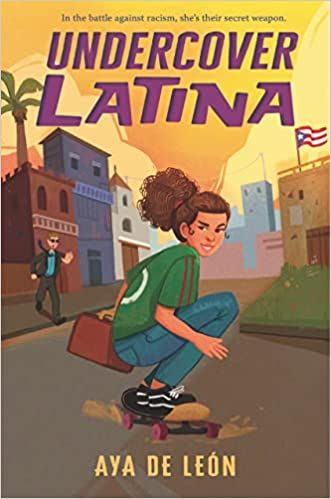 If you read middle grade novels and/or work in any capacity that puts middle grade titles in children's hands, here's a great one filled with action, family, friendship, fandom, mystery, spies, first crushes, and an exploration of what it means to be Latina.
At 14 Andréa Hernández-Baldoquín finds out her parents are part of a world organization of spies, and they need her to join in on a mission: go undercover at a high school in California to befriend the estranged son of a white nationalist. Problem? Along with the danger of being a spy, Andréa will have to drop the accent in her name and pass as not Latina, while fitting into a new school, and navigating a crush. ¡Ay, Dios mío!
Bonus: If you listen to audiobooks, Victoria Villarreal does a great narration!
For fans of standalone novels who want an undercover crime novel that marries a romance novel with spice, you should start here.
Yolanda Vance becomes a pariah in the legal field after she hands over evidence in a raid of the firm she works at. So she goes to work for the FBI as a lawyer, except that's not why the FBI hired her. She's going on an undercover assignment instead because she's a young Black woman they think can relate to teens to infiltrate a teen activist group the FBI has labeled as extremist. Not only will she be forced to confront many of her long-held beliefs — including being anti-love — she'll also find out the previous informant, sent by the FBI, was murdered…
You can also pick up her 2022 standalone with a focus on environmental issues, That Dangerous Energy, and her 2021 standalone coming-of-age with romance set in the music industry, Queen of Urban Prophecy.
I hope you have as much fun as I have reading your way through Aya de León's novels. And if you're looking for other authors' Reading Pathways, I've got you covered.