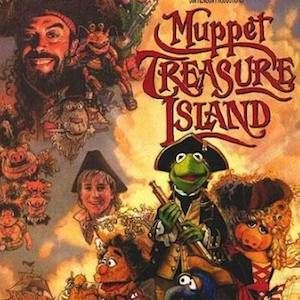 This content contains affiliate links. When you buy through these links, we may earn an affiliate commission.
Kermit (spoken): It's the Muppet Show, with our very special guest star, BOOKS! Yaaaaaaaaaay!
Have you ever noticed how freaking literary The Muppets are? I thought it might be time for a roundup some of the best literary connections from the oeuvre of everyone's favourite felt-based movie stars.
Feature-Length Literary Adaptations
The Muppet Christmas Carol (1992). For my money, this is the best adaptation of the Dickens classic ever. Not only is Michael Caine an emotionally honest Scrooge even among a cast of Muppets, but the tone is just perfectly executed. When in doubt, light the candle, not the rat.
Muppet Treasure Island (1996). Perhaps less successful as an adaptation, this movie is still an awful lot of fun. After all, why shouldn't Miss Piggy play a gender-bent Benjamina Gunn, ex-lover of Captain Smollet? (Also, the tribal pig named Spa'am led to a lawsuit by the Hormel company. No, seriously. They thought Spam being associated with a pig was defamation.)
The Muppets' Wizard of Oz (2005). This one… I mean, I love me some Muppets, and I love me some race-bending casting of classic characters, and I love the idea that David Allen Grier and Queen Latifah are married in some alternate movie universe, but this one doesn't come together so well. It's a great kids movie, but there's not a lot a here for adults (I've watched it three times in adulthood though, so).
Bookish Sketches
Muppets do Lewis Carroll's Jabberwocky (according to Scooter, it's the weirdest thing the Muppet Show ever did).
[youtube]https://www.youtube.com/watch?v=nm9o6DH_uzE[/youtube]
Veterinarian's Hospital tries (sort of) to "do" Shakespeare.
[youtube]https://www.youtube.com/watch?v=f2Wt3uct9_k[/youtube]
Animal interprets All Quiet on the Western Front.
[youtube]https://www.youtube.com/watch?v=nU0lANrlAF0[/youtube]
Great Books for Muppet Fans
Jim Henson: The Biography. This book was my favourite biography from 2013, and it's a great read for anyone who has an interest in the Muppets, Sesame Street, or Fraggle Rock. It's also a really interesting book about life as a creative person and an innovator. You'll learn a lot about how Jim Henson changed the world of children's entertainment and about the motivation behind many of the great man's works.
A Tale of Sand. This was the only screenplay Jim Henson wrote but never saw realized. In this publication, artist Ramón Pérez turns this undeveloped screenplay into an exquisitely beautiful (and totally triply-weird) comic. Pérez uses a particularly effective technique where, by including pieces of the screenplay in conversation with our protagonist. It works to remind you of the genesis of the project even as you become immersed in the landscapes.
Starting in October, you'll be able to get your hands on new Fraggle Rock stories from your local comic shop. Kate Leth and Jake Myler have taken the helm of this new limited run comic, and you can read all about it here.
A Few Literary Facts You Might Not Know
Fraggle Rock was written by Toronto poets b.p. nichol and Dennis Lee. The two writers made substantial contributions to poetry as experimental writers; b.p. nichol is a renowned concrete poet, while Dennis Lee became most famous for his poems for children. Both men made substantial contributions to the depth and artistry of the songs in the series, and you can read more of their work here and here.
In Phillip Roth's Sabbath's Theater, one of the protagonist's great regrets is a missed lunch meeting with Jim Henson.
… it would have been Sabbath who was the fellow inside Big Bird, Sabbath who had got himself a star on the Hollywood Walk of Fame.
Henson's series The Storyteller was created to explore mythology and European folk tales in a contemporary context. It has since been adapted into a really interesting comic series from Archaia.

Did I miss anything? I love all things Muppets-and-Books related, so share what you've got for me in the comments below.
Save