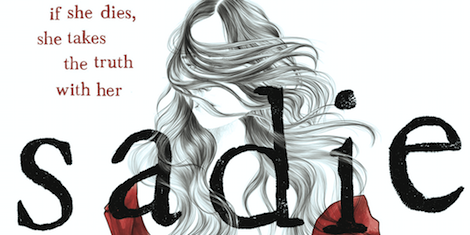 Lists
Violence, Girls, and Power: 10 Potent Quotes From SADIE by Courtney Summers
This content contains affiliate links. When you buy through these links, we may earn an affiliate commission.
YA author Courtney Summers is no stranger to this category of books, nor is she a stranger to writing the dark, the gritty, and the sometimes bleak world of being a teenage girl in today's world. Her upcoming book Sadie, to be published September 4, has received significant buzz: along with being selected as a Book Expo America Editor's Buzz Pick, it's earned a slew of starred reviews and critical acclaim. Buzz continues to build around the book, thanks in part to the development of a podcast based off the book. If you love true crime podcasts and haven't yet tuned into The Girls—a fictional crime podcast based on the book—then treat yourself now.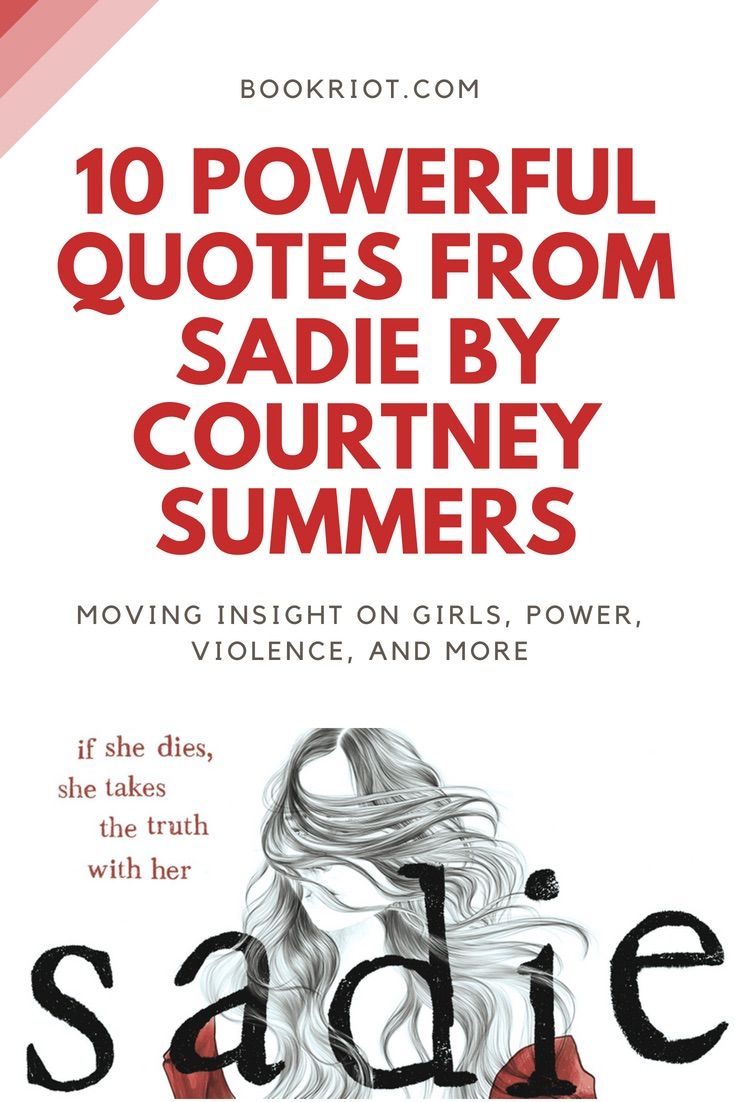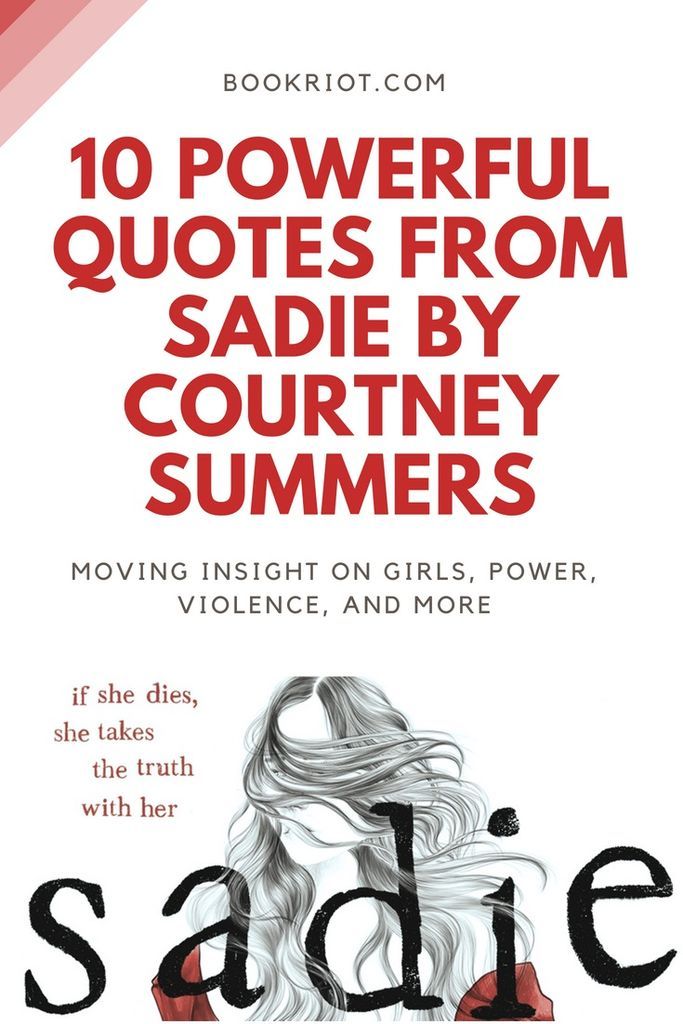 What makes Sadie a special book is that it takes what Summers is known for and turns it up ten notches. Sadie is set up as a dual narrative; one part follows West McCray, a true crime podcast host as he works to unravel the story of a girl named Sadie who, after the death of her younger sister Mattie, has gone missing from her small, impoverished town. The second narrative is the real-time story of Sadie's. We follow as she works to hunt down the person she believes killed her sister in order to enact revenge upon him. Will West find the answers before we, as readers, know the truth?
This is a book that shines a light on our culture's obsession with dead white girls. West's podcast is compelling and engaging because we know this story and we want this story. We're a culture saturated with dead girl narratives that, as Alice Bolin brilliant explores in her collection of essays Dead Girls, works not to solve the crime and understand why a girl is dead; rather, they're stories meant to prop up the white male who is uncovering the secret. He is, as he's always been in our culture, the hero. Everyone else, including and especially the dead girl, is simply there for him to take the voice from.
But because of the way the narration is structured in Sadie, this trope is not only subverted, but it's examined critically through the very actions we experience alongside Sadie herself. She is an angry girl, out for literal blood. But she's also a girl of deep love for her younger sister, bitterness and utter frustration against her mother, and hurt from years of living not only without much money or financial security, but also from living with a stutter that many take to mean she is a weak, incapable girl.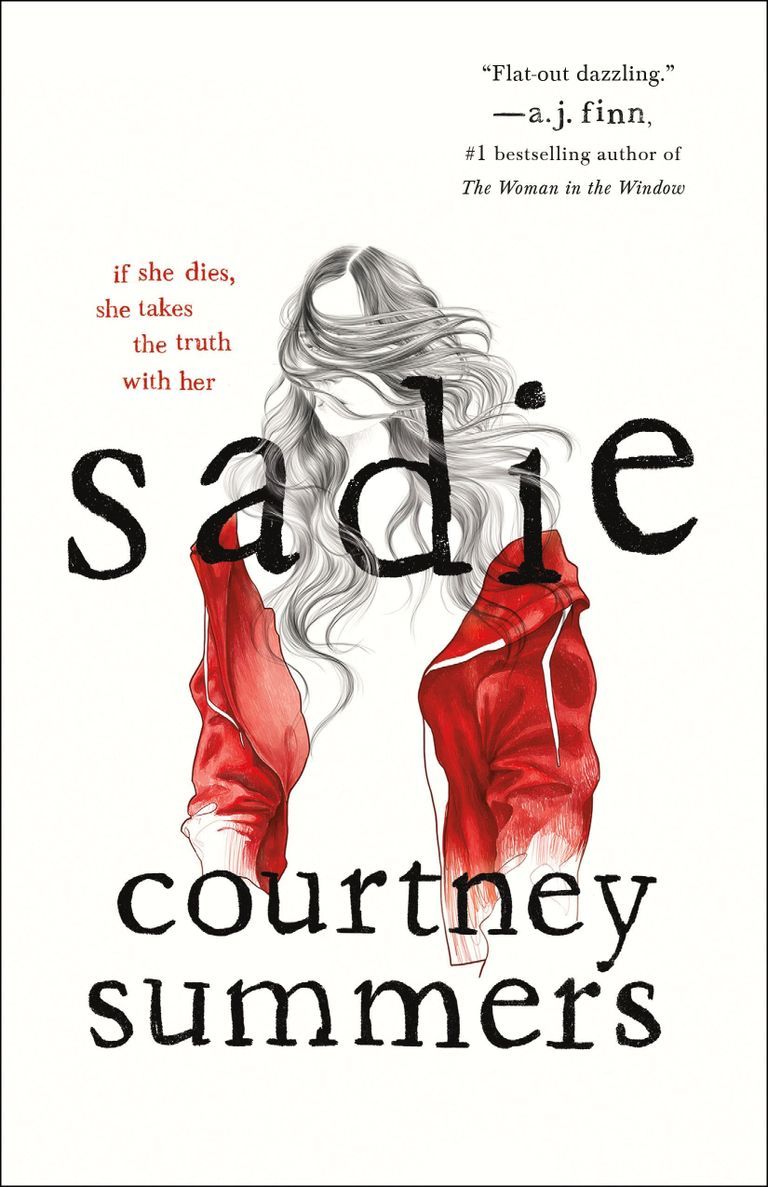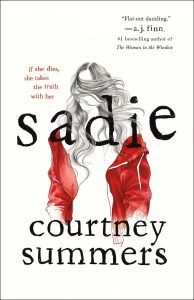 This is a brutal, pulsing, and compulsively readable book that throws into question what it is that makes a YA book just that. The publisher, Wednesday Books, is a new imprint from Macmillan which seeks to publish those books which fall squarely into the "crossover" market, garnering readers from both the YA world and the adult. Given that West McCray is an adult male and Sadie herself a 19-year-old, as well as the complexity of the topics explored, Sadie easily has appeal to both readerships.
Likewise, the writing itself is explosive. Its tight, gut-punching prose and careful observance make it easy to forget that, as much as this is a book meant for our entertainment, it's also biting commentary on how we treat girls as disposable, as toys for our own enjoyment.
Check out these 10 spoiler-free, excellent quotes from Sadie by Courtney Summers about girlhood, violence, poverty, and power, then put the book on your fall to-read list. If you love audiobook or are taken with The Girls podcast promo for the book, you might want to listen to Sadie on audio—it will feature over 30 different voices.
You aren't supposed to answer violence with more violence but sometimes I think violence is the only answer.
And it begins, as so many stories do, with a dead girl.
You owe it to yourself to dig a little deeper. Don't decide what you don't have before you know what you do.
A body might not always be beautiful, but a body can be a beautiful deception. I'm stronger than I look.
I want to live my life on the internet. Everything is perfect there.
But love is complicated, it's messy. It can inspire selflessness, selfishness, our greatest accomplishments and our hardest mistakes. It brings us together and it can just as easily drive us apart.
It can drive us.
But just because I can be soft doesn't mean I'm stupid.
This is survival, what she's doing right now. I recognize it. A girl who bulldozes a person by being ten times herself in front of them.
Money burns fast. Knowing that doesn't get easier with age and it's worse when you learn it young. The beauty of childhood is not entirely grasping the cost of living; food just appears in the fridge, you have a roof over your head because everyone does and electricity must be some kind of sorcery, like right out of Harry Potter or something, because who could ever put a price on light? Maybe it's not even that you believe in magic. It's that you never really had to think about any of it before. Then one day you find out you've been walking the razor's edge all along.
I often think about what Claire said to me in the apple orchard in Cold Creek. How when she asked me why I was looking for Sadie, I told her I had a daughter of my own because it felt like the most noble thing I could offer her at the time. Claire got mad at me, rightfully, for using my daughter as a reason to see the pain and suffering in her world, and as an excuse for my fumbling attempt to fix it.