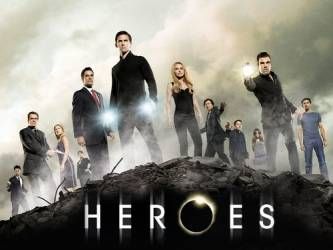 Fiction
Pop Culture Pairing: TV Shows That Should Be Books
People who smugly say they never watch television because they're too busy reading Very Important Litera-toor are missing out because there are some intensely literary shows out there. These are shows that are already superbly written, but that I would like to see in the hands of some of my favorite authors. Here are a few shows that would be scrumptious in novel form:
1. Mad Men– I know Richard Yates is usually the person people name when talking about a book version of Mad Men because suburbs! Alcohol! Despondent depression! Conformity in the '50s! (Also known as Revolutionary Road). But I'd like to see Margaret Atwood write an episode of this show. She's great at suburban ennui (hello, The Blind Assassin) and her treatment of the female characters (who, let's be real, are the most interesting) would be fascinating.
2. Firefly– I'm a new convert to the show and its sad, solitary season. I would love to see Neil Gaiman take on this hilarious (and yet oddly full of torture and death) Western-style space opera.
3. Friday Night Lights– This is a tough one because I can't really think of many literary authors who would treat small-town Texas life (complete with equally fervent reverence of God and football) with respect and not condescension, but the show would make a great multi-narrative novel. It needs treatment from a good sports writer. I know the show itself is based on a non-fiction book that I haven't read, but I still think it needs to be fictionalized to same all the juicy tidbits.
4. Heroes– A huge cast, lots of fighting, and an update on an old genre? Justin Cronin, please. The show got a bit goofy (unintentionally), and Cronin can take potentially silly stuff and make it dramatic, serious, and affecting.
5. Monk– Agatha Christie. Monk is supposed to be a loose interpretation of a quirky modern-day Sherlock Holmes, but he strikes me as more of a Hercule Poirot character. He's fussy, fastidious, and neat. And Monk's way of laying out his reasoning to solve the crime ("here's what happened") fits Christie's neat endings where every clue is accounted for and every detail is noticed.
I crowd-sourced the idea, and got a few shows-that-would-make-good-books from Twitter:
@Katie_in_MA1: I've always thought Love Actually would have made a beautiful novel or collection of short stories.
@brandonjcarr: The Sopranos seems like it should have been a book series. Like The Godfather, but with ducks.
@joe_hill1: To answer @deadwhiteguys, I think BREAKING BAD would've been a remarkable novel. Or series of novels.
@SarahJLA1: Carnivale
@packmatt731:The Shield would have been compelling as a trilogy of novels. The rise, reign & fall of Vic Mackey
@joshhanagarne: Cormac McCarthy writing the premier for the suddenly-uncancelled Season 4 of Deadwood.
@thezacksmith:I consider BB, THE WIRE and MAD MEN to be the Great American Novels of the last decade.
@beatzo: Breaking Bad is the Greatest Novel Stephen King Never Wrote.
@BookArista: I would love for Jasper Fforde to do Pushing Daises. He already does sci-fi mystery. He'd be perfect!
@geekstarter1: This is an impossible question. @neilhimself? Or maybe the literary offspring of @joe_hill and David Mitchell? (On what author should write LOST)