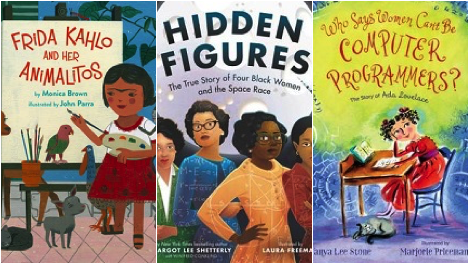 Children's
25 Biographical Picture Books For National Women's History Month
This content contains affiliate links. When you buy through these links, we may earn an affiliate commission.
Happy National Women's History Month! This March, celebrate with some biographical picture books. Ranging from women in STEM fields to women active in social justice movements and the arts, these are great for children (and parents!) looking to learn more about women both familiar and lesser-known.
STEM
When Ada Lovelace was a child, her mother decided she wanted her to be nothing like her romantic and unreliable father, Lord Byron (yes, that Lord Byron), and filled Ada's childhood with math and science. The end result was Ada's contributions to Charles Babbage's analytical engine and her recognition of computer's abilities to do more than just calculate. Laurie Wallmark's prose is casual and fun, and Marjorie Priceman's whimsical illustrations include real equations.
Grace Hopper was a computer scientist and a U.S. Navy rear admiral who revolutionized computer programming by creating a code that allowed computers to communicate "in English." Tracing Grace's life from her childhood taking apart clocks to her (second) retirement from the Navy at 80, Laurie Wallmark and Katy Wu tell Amazing Grace's inspiring story with fun and whimsical illustrations and some of Hopper's own quotes.
Before Jaws arrived and made everyone super hostile toward sharks…everyone was already hostile toward sharks. Except Eugenie Clark, who made it her life's work to study the deep's most infamous predators and dispel the myths surrounding them. Clark's fascination with marine life led her to get several degrees and dive (sometimes solo!) into shark-inhabited waters. Perfect for young ones interested in the ocean and in some of its most-feared inhabitants.
If you liked Hidden Figures, whether it be the film, the book, or the young reader's version of the book, you won't be able to take your eyes off this picture book. The stories of Mary Jackson, Christine Darden, Katherine Johnson, and Dorothy Vaughn are accompanied by illustrator Laura Freeman's bold and bright illustrations which prove to be perfect for this story.
DANCE
This biography of Raven Wilkinson explores the lesser known origins and career of the first black ballerina to dance for a major touring company. Though Wilkinson was able to tour, it wasn't without threats to her safety, and eventually she left the U.S. to dance with the Dutch National Ballet where she was able to dance for royalty (as she was told she one day would). Wilkinson's triumphs inspired Misty Copeland, who contributes a foreword, and Wilkinson herself ends the book with a statement.
Mexican ballerina and choreographer Amalia Hernandez is brought to life by Duncan Tonatiuh, using his signature style (inspired by ancient Miztec art). When she created El Ballet Folklorio de Mexico, she introduced the traditional dances of Mexico's indigenous groups to the world. Though Hernandez died in 2000, the company continues her mission today.
ART
This biography of Frida Kahlo is downright beautiful, zeroing in on Kahlo's special relationship with her pets, who inspired and shaped her life and her art. While it makes for a great intro for children who may not know much about Kahlo, it also takes a new angle to Kahlo's life and work that those of us who know a little about her may not have known about. And bonus, there's also a Spanish version: Frida Kahlo Y Sus Animalitos
What's your favorite classic Disney movie? Cinderella? Peter Pan? Alice in Wonderland? Do you know who did the concept art for those? Mary Blair, whose art was deemed too difficult to animate by the male animators, despite the studio loving her imaginative use of lines, colors and shapes. Brigette Barrager's illustrations are magical and bold, and this makes for a delightful read for aspiring artists who will enjoy the
Polka dots! Polka dots everywhere! Yayoi Kusama is a Japanese contemporary artist known for covering her creations (which range from paintings to sculpture to installations) in, you guessed it, polka dots. (You may have seen some of her Infinity Rooms on Instagram!) This picture book includes recreations of Kusama's original work, including photographs, and makes for a great introduction for young readers into a fascinating and talented artist.
ARCHITECTURE
You're probably familiar with the Vietnam Veterans Memorial, but you're less likely to know the woman who designed it: Maya Lin. Born to Chinese immigrants in Ohio, she was an undergrad at Yale when her design won a public contest. Though she beat out over a 1,000 other designers, controversy almost kept Lin's memorial from being constructed. Jeanne Walker-Harvey's book is beautiful, with a muted palette and bursts of color, and Lin's story is inspiring and lyrically-written.
Iraqi architect Zaha Hadid was totally uninterested in all the traditional boxes, rectangles, and squares dominating design. This picture book traces the life of the "Queen of Curve" and the creation of architecturally-adventurous, non-rectangular buildings like the London 2012 Olympics's Aquatic Center, Michigan State's Broad Art Museum, and the Guangzhou Opera House in China.
LITERATURE
Before Harper Lee was Harper Lee, she was Nelle Harper Lee, a scrappy tomboy living in Alabama who liked watching her lawyer father at work. She drew upon her childhood when writing To Kill A Mockingbird, and Bethany Hegedus follows Harper from rambunctious childhood to elusive adulthood, with a cameo from Lee's childhood friend Truman Capote.
For those of us who have been low key waiting for an adorable Jane Austen picture book, look no further, we have it! This adorable book traces Austen's life and writerly ambitions (and Qin Leng's illustrations are perfect, did I mention that?), from her father's massive library full of male writers to her determination to write grounded stories about families, society, and romance. This book is as charming as its subject.
performing
In this biography of Lena Horne, readers get a good look at her life as a performer and civil rights activist. The lyrical prose balances Horne's career triumphs and struggles with the fight for civil rights at the time, including Horne's experiences with segregated venues, and the paint and collage artwork from Elizabeth Zunon is dynamic and just as interesting as Horne's story.
Written in blank verse, this biography of Josephine Baker is just as well-researched as it is illustrated. It follows performer and civil rights advocate Baker from her childhood in St. Louis to her life in Paris. Quotes from Barker are woven throughout, making it a read as vibrant and exciting as Baker herself.
SOCIAL JUstiCE
In this free verse picture book, Lesa Ransome tells Harriet Tubman's story in reverse. The prose is lyrical and beautiful, and the illustrations are gorgeous, and even adults will get a lesson about Tubman (did you know that as a slave she went by Minty?) in thorough and enjoyable look at all Harriet Tubman accomplished. This also was named a Coretta Scott King Illustrator Honor Book at the 2018 ALA Youth Media Awards.
A fun-to-read and even-more-fun-to-look-at picture book about RBG's ambition and rise to the Supreme Court. This biography traces all of RBG's disagreements, from her dissenting to having to write with her right hand (she's a lefty) to giving up her legal career for motherhood. A must-have for inspiring dissenting and thoughtful kids and of course for people looking to add to their collection of RBG memorabilia.
When Audrey Faye Hendricks was a child, she and her family had dinner with Martin Luther King Jr. Watching then adults around her fight for civil rights, Audrey wanted to take part too . She was the youngest participant in the Children's March of 1963, which sent Audrey to jail for one week. Bonus: it comes with a recipe for Mrs. Hendrick's hot rolls, baptized in butter.
Malala Yousafzai authored this picture book herself, after the success of her memoir, I Am Malala. Alongside gorgeous, bronze-accented illustrations from Kerascoet, Malala retells her dreams of a magic pencil to redraw a world of equality, tracing her interest in education to the assassination attempt that nearly ended her life.
Tracking feminist icon Gloria Steinem from childhood to her awakening to inequalities faced by women, to the eventual creation of Ms. magazine, this book uses bright watercolors (all just as cool as the cover art) to introduce young readers to Steinem and her activism.
Ten years before Brown v. Board of Education, Sylvia Mendez was denied entry to a "Whites Only" school in California. An American citizen of Mexican and Puerto Rican descent, Mendez and her family helped end school segregation in California by taking their case to federal court in Mendez v Westminster. Duncan Tonatiuh brings his style to a lesser known story of civil rights.
POLITICS
Author Michelle Markel packs this biography with details about Hillary Clinton's journey, from her activism as a young woman to her political career in Washington D.C. Illustrator LeUyan Pham covers the pages in thoughtful and detailed illustrations that are historically accurate and inspiring. A great book for people looking to introduce children to Clinton's accomplishments and to the ever-growing role of women in politics.
athletics
When Bobbi Gibb ran the Boston Marathon for the first time, it was in secret, against the wishes of her father and the race's organizers. Her training took her across the country and eventually to the starting line. Bobbi Gibb collaborated with the authors and illustrators to bring this book to life and it makes for a great read for everyone, but especially for young runners and athletes needing a reminder about what they're capable of.
fAshion
Black designer Ann Cole Lowe was a "best kept secret" in Hollywood. Though she designed dresses for Olivia de Havilland (when she won her Oscar) and Jackie Kennedy (her iconic wedding dress), Lowe never received the recognition (or the money) she deserved. Laura Freeman's colorful illustrations serve well here in an exploration of a little-known figure's hardworking life.
In this bold and beautiful book, Kyo Maclear tells the story of fashion designer Elsa Schiaperelli. Deemed ugly by her family, Schiaperelli once tried to grow flowers on her face (and "waited to bloom. Waited to bloom."). She worked alongside surrealist artists like Salvador Dali and created a bright shade of pink she called "shocking pink." That pink is employed generously by illustrator Jamie Morstad, who matches Maclear's poetic retelling of the fashion icon's life.